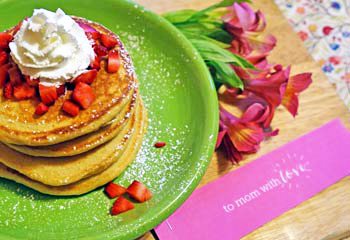 Printables: Coupons for Mom, Reinvented
Back in elementary school, do you remember clipping coupons for Mom? No, not the kind that save you $1.00 on frozen green beans. The ones Mom could redeem for breakfast in bed or chores like dinner dishes (done by you). Even if you were too young to recall, we're sure Mom does. In fact, she probably still has them all stashed away somewhere in a scrapbook. This Mother's Day, remind her of those fond memories and create new ones with our grown-up remix of printable coupons for Mom.
Treat her to some together time with a lovely spring brunch, a spa day or a fun outing with her favorite grand kids. If her Mother's Day wish is more time off to do other things she enjoys—like reading a good book in her hammock—then surprise her with printable coupons for help with home and garden chores. Even better, fill in the blank with your own unique idea—after all these years, you surely know Mom best.
How to create your own coupon book
Print the coupon set
Cut out individual coupons
Assemble the book
Add your custom coupons
Staple the booklet together with cover on top
Present to Mom with her favorite flowers, a box of sweet treats and a card
Ready to Redeem
Pencil in the dates as soon as Mom's ready to redeem. And don't forget to let us know how it went (if you're not too busy mopping Mom's floors).