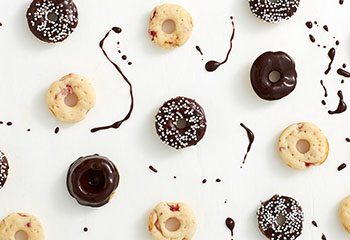 Celebrate National Donut Day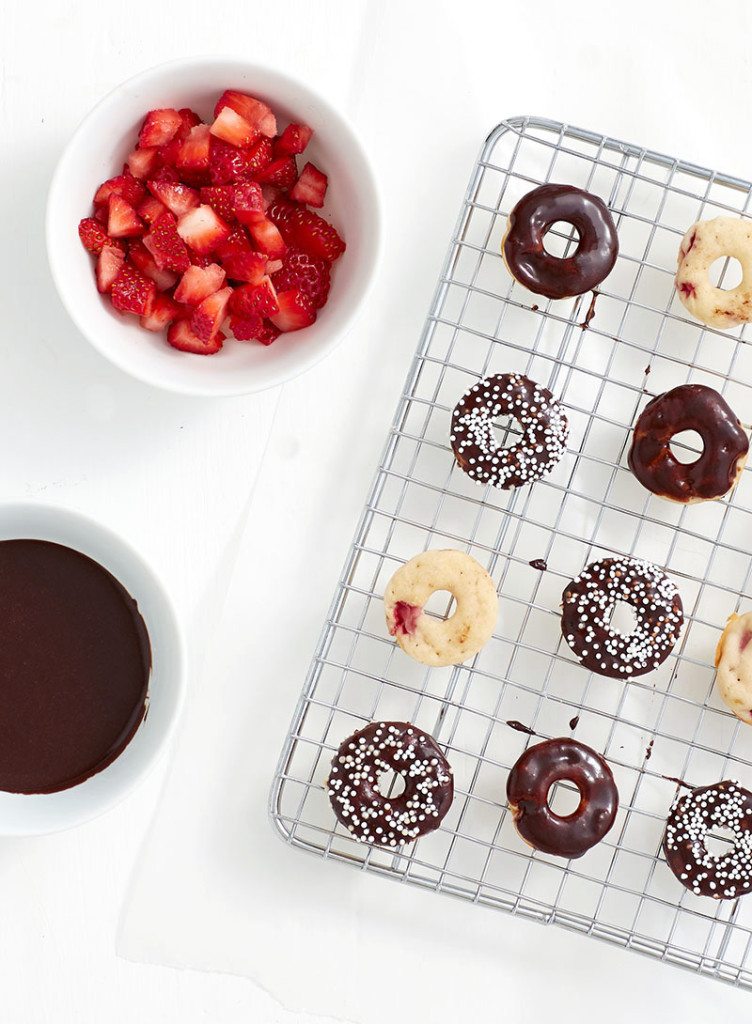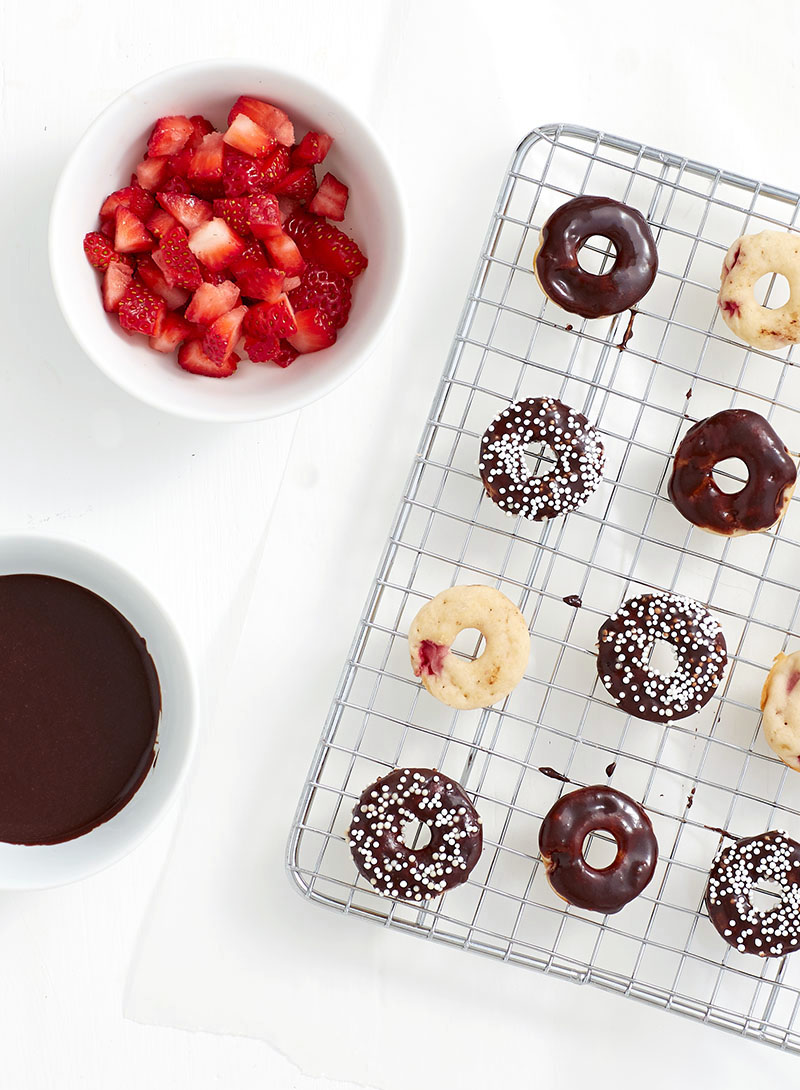 Mini Chocolate-Covered Strawberry Donuts
Ingredients:
Donuts
2 cups all-purpose flour
1 cup sugar
1 teaspoon baking powder
¾ cup milk
2 large eggs
2 tablespoons butter
1 tablespoon vanilla extract
1 cup diced strawberries
Icing
1 cup powdered sugar
4 tablespoons unsweetened cocoa powder
3 tablespoons coconut milk
1/2 teaspoon vanilla extract
Sprinkles, optional
Directions:
Preheat oven to 425 degrees.
Whisk together flour, sugar and baking powder in a bowl until combined.
In a separate bowl combine milk, eggs, butter and vanilla.
Add wet ingredients to dry ingredients and mix until well combined, then stir in diced strawberries. Pipe the mixture into a non-stick mini donut pan (if you don't have a piping bag cut the corner off of a sandwich bag and pipe batter through the hole).
Bake for 6-8 minutes or until you can insert a toothpick and remove it without any batter sticking to it.
While donuts are baking make the icing by whisking together powdered sugar, cocoa powder, 2 tablespoons of coconut milk and the vanilla extract.
If the icing seems too thick add another teaspoon of coconut milk. If it seems too runny, add additional cocoa powder until you achieve desired thickness.
Remove donuts from oven and allow to cool for 5 minutes. Then dip each cooled doughnut into the chocolate glaze.
Let the excess glaze drip back into the bowl.
Let the glazed donuts rest a few moments so the frosting hardens. Serve, and enjoy!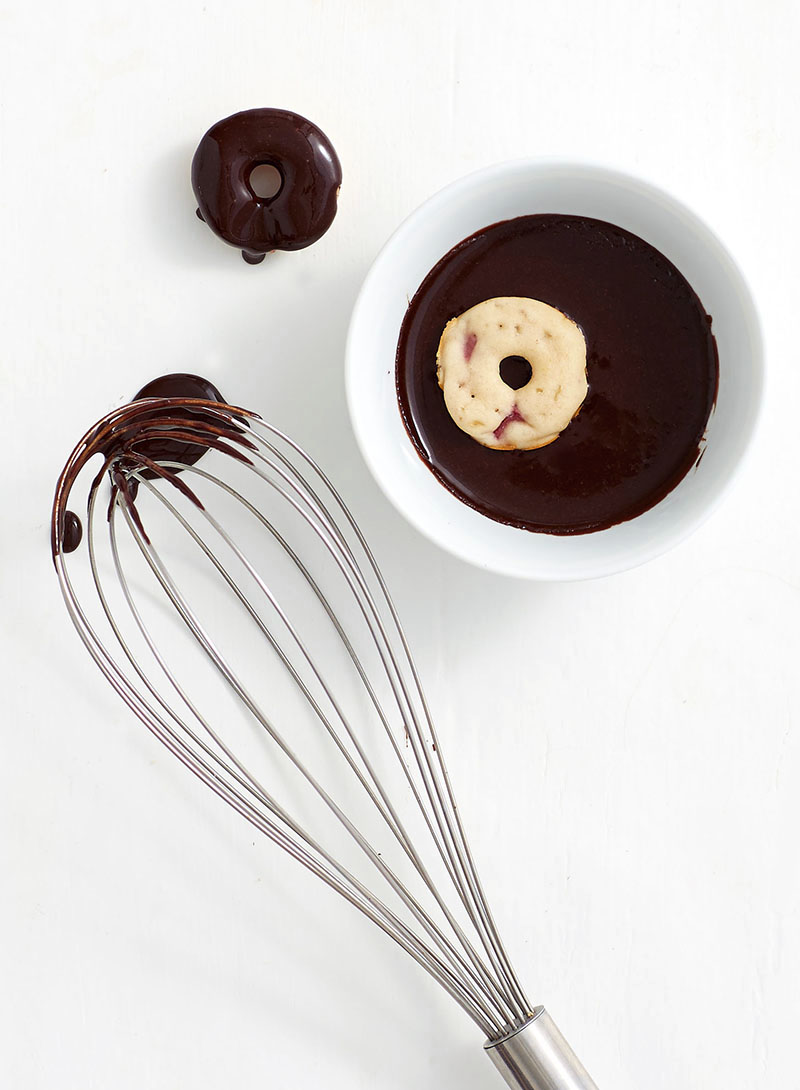 Now that you've made all those delicious donuts, you can't possibly eat them all yourself. Okay, maybe you could, but Donut Day would be way more fun with a few friends. Host a Donut Day party at your house or bring the party to the office and celebrate with co-workers.
Since donuts were mean to be dunked, we're serving ours in adorable mini milk jugs with paper straws and scalloped paper tags decorated with mini donuts and festive phrases or stickers.
If you prefer to dunk in a hot cuppa, slice a slit in the donut and attach it to a paper coffee cup. Decorate them with stickers or markers.
For the finishing touch, hang a sign above the table so everyone knows you're celebrating National Donut Day. There are plenty of blank flag kits that you can customize to any occasion.
Donut Worry, Be Happy
Do you have a favorite donut recipe? Do tell! And give us all the delicious details about your Donut Day soiree. If you want to make someone's day far away and can't send a box of donuts, treat them to our delicious cake truffles and pops. They kinda look like donut holes and taste just as amazing.