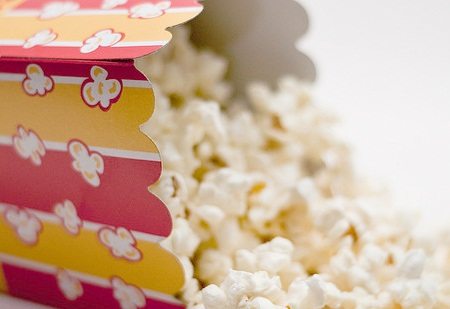 20 Classic Food Scenes in Film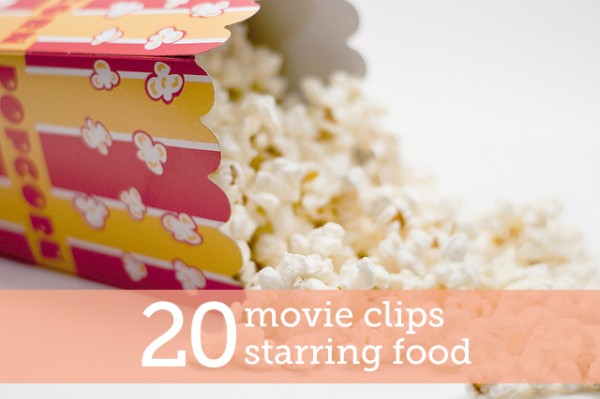 With the 2014 Oscars just around the corner, we've been on a bit of a movie binge trying to screen all the contenders. Our film feast reminded us of one of the things we love most about all movies — the food scenes. They're often the most memorable moments. Dancing bread rolls. A cup of rich melted chocolate. Scenes so delicious, we just had to share. Enjoy our favorite clips, in no particular order.
1. Forrest Gump
That box of chocolates that he clings to — during what appears to be a warm Alabama day — for the entire movie would surely have melted by now, right? No matter. Even if it had, it would just validate perhaps the most famous and oft-used line from any movie of the past 20 years. Momma sure did give him a lot of good advice throughout the years.
2.

A Christmas Story
It is likely every parent has faced the conundrum of how to deal with a picky eater. In this scene, it's clear Randy's parents — particularly his father — are at their wit's end. From, "you better eat, or I'll give you something to cry about," to suggesting they hold Randy's mouth open with a crow bar and simply shove the food in, Dad is just about out of ideas. But his mother, who happens to be the greatest movie mom of all time, has a better plan: she asks Randy to show her how the piggies eat. It may have caused a mess, but it got him to eat his food.
3. When Harry Met Sally
She wants the pie heated with the ice cream on the side, but only if it's strawberry. Otherwise, just whipped cream, unless it's out of a can. In that case, nothing except the pie, unheated, of course. How hard is that? This scene shows Sally is a woman who knows what she wants, even if she is a little high-maintenance.
4. Willy Wonka and the Chocolate Factory
A film that takes place inside the world's most secretive candy factory is bound to have delicious food scenes, and "Pure Imagination" is the best. Willy Wonka presents a world of wonder and the children lay eyes on the inside of the factory for the first time. This scene gives new meaning to the phrase "like a kid in a candy store." Oompa Loompa, doom-pa-dee-do.
5. Animal House
In this scene, John Belushi takes the "all-you-can-eat" part of a cafeteria much too literally. Still, his endearing antics show that the comedic possibilities of food are endless. For all those who have been to college, this scene certainly evokes memories of trays piled high with questionable cafeteria food.
6. Groundhog Day
Only geniuses like Harold Ramis and Bill Murray could find humor in the concept of repeating the same day over and over again for eternity. When Murray's character, Phil — like the groundhog, Punxsutawney Phi l— has his second run-in with deja vu he decides to do a complete 180 and live every day as if it were his last. He starts off by indulging in a spread of breakfast sweets washed down with a pot of coffee.
7. Chocolat
Deliciously tempting, this scene, and the movie overall, teaches us all a valuable lesson: we would be fools to give up chocolate for Lent.
8. Gold Rush
When you're using a couple of dinner rolls to do a song and dance number, there's really nothing that needs to be said. In one of Charlie Chaplin's most famous scenes, he shows that there's nothing wrong with playing with your food.
9. Elf
It doesn't matter what you're eating, syrup should always be involved, especially when it's an integral part of a balanced diet. As Elf explains, sensible eating involves three different types of candy, and of course syrup. One wonders if that includes the syrup found in a two-liter of Coke?
10. Julie and Julia
In the never-ending learning process of cooking, Julia Child was the master. Amy Adam's character finds out from Child's book that it's the simple tricks that turn a good meal into a great meal. Don't crowd the mushrooms, and you can never have too much butter.
11. Austin Powers in Goldmember
The third installment of the James Bond spoof features the hero and villain in another time-traveling paradox, in which Powers must stop Dr. Evil's plan to cause a global flood. But there is something very important to establish in this plot line: Mini-Me loves chocolate; Scotty don't. No one can resist Belgian chocolate, but Mini-Me is not one to share. These two can never seem to get along.
12. The Breakfast Club
Bender has nothing to eat, so he just hates on everyone else's meal. From Claire's sushi, to Brian's soup, to Andrew eating his own weight in sandwiches, it's quite the eclectic mix of food. All that nourishment was certainly necessary to get them through that Saturday.
13. Eat Drink Man Woman
That is quite the feast. Nothing like fresh fish and hen to ensure the most balanced of meals. But when one spends all day cooking a single dinner meal, no matter what it is, the amount of effort put in has to mean that it's bound to be good.
14. Uncle Buck
This scene tests the physical limits of pancake making. When Uncle Buck is called in to watch the children, he treats the little ones to a breakfast they'll never forget. Spare the toast, all we want are those gargantuan pancakes.
15. Lady and the Tramp
In a scene parodied and copied a thousand times over, Lady and the Tramp are sharing a plate of pasta and touch lips when they accidentally pick up the same strand of spaghetti. It's the innocence of puppy love, and it pulls on our heart strings every time.
16. The Blues Brothers
When the Brothers go to their former trumpet player's current place of employment, a restaurant where even the soup is $10, what can possibly go wrong? Between harassing the table next to them, chowing down on shrimp cocktail and drinking Dom Perignon out of the wrong glass, the Brothers are insatiable. They can only be satisfied by four fried chickens and a coke, served by a judgmental Aretha Franklin.
17. Home Alone 2
All alone in New York City during the holidays, who can blame young Kevin for ordering a little room service? He tries every last bite of chocolaty goodness on the menu. Unfortunately, not even turtle doves will save him from his father's wrath once he sees that bill.
18. Marie Antoinette
When sampling dresses and getting a three foot tall hairdo, there's no better time to enjoy platefuls of delicious treats. Even the dogs seem to agree.
19. Mrs. Doubtfire
Cooking can be so challenging. When Robin Williams' character attempts to make a meal for the children, he finds that he's in way over his head. After accidentally dumping a year's worth of basil onto the meat, he leans a little too far over the stove, causing him to burn his, ahem, costume. It's nothing that spending $150 on take-out can't fix.
20. Hook
This scene from Steven Spielberg's adaptation of the classic Peter Pan fable is the build-up to a truly colorful food fight. Straight-and-narrow Peter Banning has three days to learn to fly lest the pirates and Lost Boys be launched into a full-scale war. First, he must remember how to use his imagination. That's why this scene is so important. It may seem like a cavalcade of insults, but it's really about inspiring Peter to think more creatively.
photo credit: Joakim Wahlander