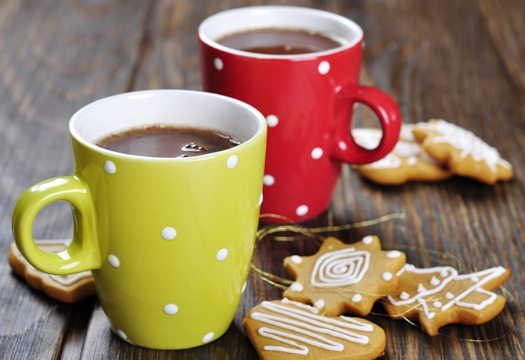 8 Recipes: A Very Merry Holiday Toast
The stockings are hung, the presents nestled beneath the tree and the Christmas turkey is roasting in the oven. It's the perfect time to toast the season with a frothy mug of cocoa, a fizzy gingerbread martini or another of our favorite holiday drink recipes.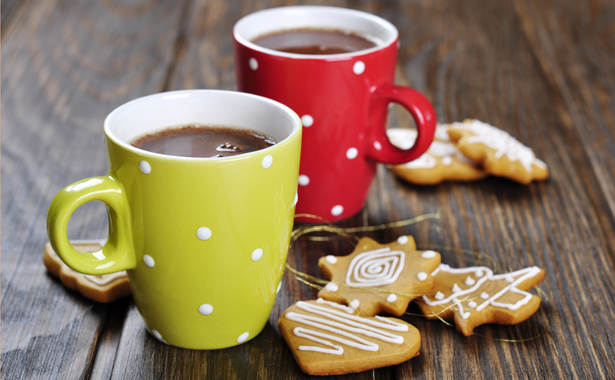 Classic or Not-So-Classic Cocoa
A toasty holiday favorite everyone can enjoy, kids and adults included.
2 cups milk
2 cups half-and-half
1 cup Semi-Sweet Chocolate Chips
1 teaspoon sugar (optional)
Variations: Orange rind, orange syrup, cinnamon sticks, raspberry syrup, Abuelita Chocolate, mint extract, Peppermint Patties, whipped cream and chocolate shavings
To make classic hot chocolate
Combine milk with half-and-half in a small saucepan.
Warm over medium-low heat, then stir in chocolate chips.
Stir until melted (though there will still be particles of chocolate throughout).
If it's too chocolaty for you, splash in a little more milk.
If it's not quite sweet enough, add 1 teaspoon sugar.
Serve in mugs with whipped cream.
Cocoa 2.0
Go beyond classic cocoa with these variations.
Orange Hot Chocolate:
Add 4 slices of orange rind as you warm the milk mixture. Add a splash of orange syrup if you have it, but it isn't necessary.
Raspberry Hot Chocolate:
Add 3 tablespoons raspberry syrup to the hot chocolate. Drop a couple of raspberries into each cup.
Mint Hot Chocolate:
Drop 1 to 2 miniature peppermint patties into each mug before adding hot chocolate. Stir to melt.
Mexican Hot Chocolate:
Substitute 2 discs of Abuelita chocolate for the chocolate chips. Simmer cinnamon sticks in the saucepan with the hot chocolate. Add 1 cinnamon stick to each mug before serving.
Garnish any and all variations with whipped cream or chocolate shavings.
---
Napa Valley Winter Punch
We love the warmth of the spices paired with zesty citrus.
1 1/2 cinnamon sticks (3 to 4 inches long)
2 whole nutmegs
1 1/2 TBSP whole allspice berries
1/3 cup sugar
2 cups agave nectar
2 1/4 cups your favorite sweet rum
1 1/4 cups fresh lemon juice
1 1/4 cups fresh orange juice
1 teaspoon bitters
1 ice block
Lemon and orange slices
Instructions
Place cinnamon and nutmeg in a resealable plastic bag; crack into pieces using mallet or rolling pin.
Transfer to spice grinder. Add allspice; blend to coarse powder.
Transfer 1 tablespoon to shallow dish; mix in 1/3 cup sugar. Set spiced sugar aside.
Stir remaining spice powder in medium saucepan over medium-high heat until just beginning to smoke, about 2 minutes.
Remove from heat. Cool for 5 minutes. Repeat heating and cooling process 3 more times until spices are very fragrant but not burned.
Add agave nectar; bring to boil. Reduce heat; simmer 5 minutes. Strain through sieve into bowl. Cool.
Mix 3/4 cup spice syrup, rum, lemon juice, orange juice, and bitters in punch bowl. Add ice and citrus slices.
Rub 1 orange slice around rim of 8 glasses to moisten; dip glasses into spiced sugar.
Place glasses around punch bowl.
---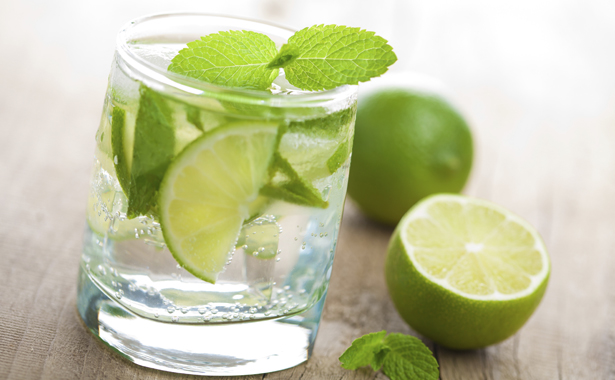 Christmas Caipirinhas
A Brazilian drink with a Christmas twist.
Peel from 4 large limes (green part only; removed with vegetable peeler in 2-inch-long strips)
1 cup fresh lime juice
8 slices peeled fresh ginger (1/4-inch-thick)
1/4 cup agave nectar
30 large fresh mint leaves
10 fresh mint sprigs for garnish
1 cup Brazilian rum
3 cups ice cubes plus additional for serving
5 cups ginger beer or ginger ale
Instructions
Combine lime peel, lime juice, ginger, agave nectar and 30 mint leaves in mortar or medium bowl.
Using pestle, muddler or handle of wooden spoon, crush lime peel, ginger, and mint leaves together.
Transfer mixture to large pitcher. Stir in rum. Cover and refrigerate.
Add 3 cups ice cubes to lime mixture in pitcher and stir to blend.
Stir in ginger beer.
Fill 10 cocktail glasses with ice cubes.
Strain or pour cocktail mixture into prepared glasses.
Garnish each drink with a mint sprig.
---
Mexican Eggnog
This recipe pairs bourbon and tequila in the same nog — a delicious twist to the original.
3 parts egg nog (homemade or store-bought)
1 part Sauza Conmemorativo Tequila
1 part Maker's Mark Bourbon
Dash of cinnamon
Instructions
In a shaker filled with ice, combine Egg Nog, Tequila and Bourbon.
Shake to combine.
Strain and serve chilled with a dash of cinnamon on top.
---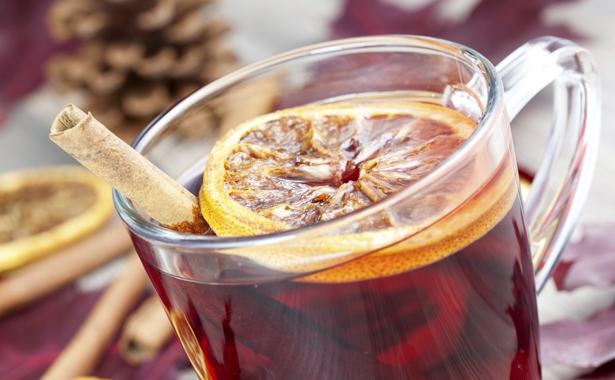 Mulled Wine
Savor the season with a traditional spiced wine first sipped by ancient Romans and still enjoyed today all over the world.
4 cups apple cider
1 (750-ml) bottle red wine
1/4 cup agave nectar
2 cinnamon sticks
1 orange, zested and juiced
4 whole cloves
3 star anise
4 oranges, peeled, for garnish
Instructions
Combine the cider, wine, agave nectar, cinnamon sticks, zest, juice, cloves and star anise in a large saucepan.
Bring to a boil and simmer over low heat for 10 minutes.
Pour into mugs, add an orange peel to each and serve.
---
Candy Cane
The adult version of everyone's favorite Christmas sweet.
1 oz. strawberry Vodka
1 oz. peppermint schnapps
1 oz white creme de cacao
1/3 oz grenadine
crushed peppermint candy
half and half
tonic water
Instructions
Pour the vodka, peppermint schnapps, white creme de cacao, and grenadine into a cocktail shaker with ice.
Shake well.
Pour into a cocktail glass rimmed with crushed peppermint candy.
Fill with half-and-half.
Top with a splash of tonic water.
---
Gingerbread Martini
A classy holiday cocktail featuring fresh crushed gingersnaps.
Crushed gingersnaps
2 tablespoons ginger beer (plus some extra for your glass rims)
2 tablespoons vanilla-citrus liqueur
1 1/2 tablespoons Bailey's Irish Cream Liquor
1 tablespoon agave nectar
2 teaspoons whipping cream
Ice cubes
Instructions
Dip glass rims in ginger beer and crushed gingersnaps.
Store glasses in freezer up to 2 days.
Stir together ginger beer, vanilla-citrus liqueur, Bailey's Irish Cream, agave nectar and whipping cream in a cocktail shaker.
Add ice cubes; cover with lid, and shake vigorously until thoroughly chilled (about 30 seconds).
Strain into a chilled martini glass.
Garnish, if desired.