So you decided to host Easter at your house this year. But as time is ticking, you realize you are not fully prepared. Figuring out the Easter egg hunt, decorations and meals have taken most of your time and you forgot one very important element – Easter dessert!
No need to worry. We have compiled 45 of the easiest and yummiest Easter desserts out there. Not only are they pretty to look at, but they'll leave your guests wanting more. Check them out!
1. Easy Easter Cookies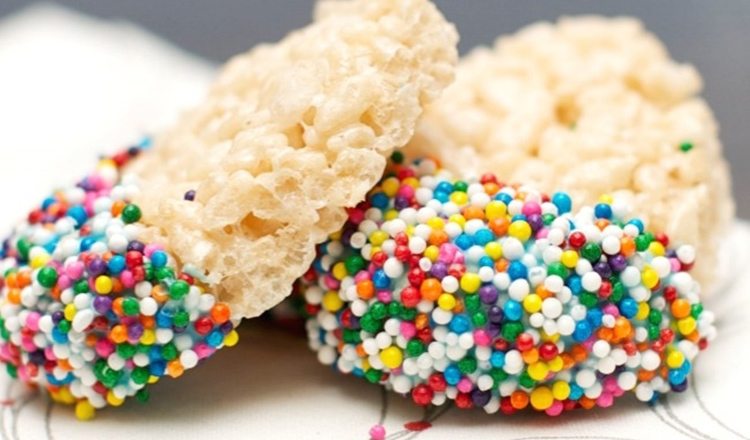 Star Wars mania doesn't stop at the movie theatre. This eggalactic rice krispy brings all planets aboard for an eggnificant crunchy and colorful treat. All aboard? Thanks to Spaceships and Laser Beams for their awesome Easy Easter Cookies.
2. Salted Caramel Easter Popcorn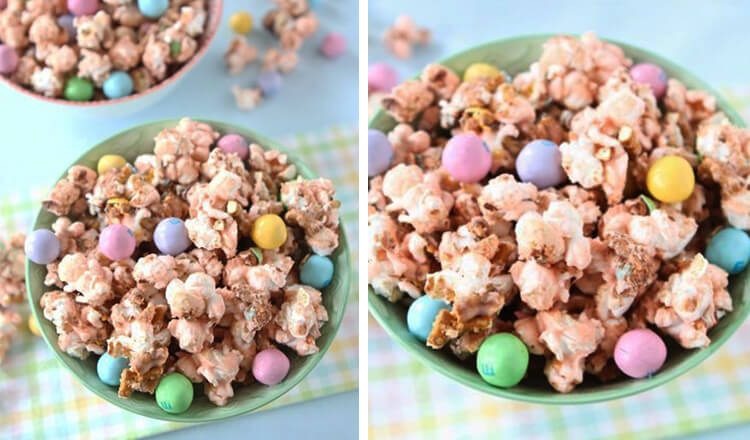 Sweet, salty, crunchy and chocolatey taste springs right out of this Easter popcorn treat that'll make your senses go to popcorn heaven. Thanks to Two Peas & Their Pod for the Salted Caramel Easter Popcorn recipe.
3. Cute Garden Carrot Cupcakes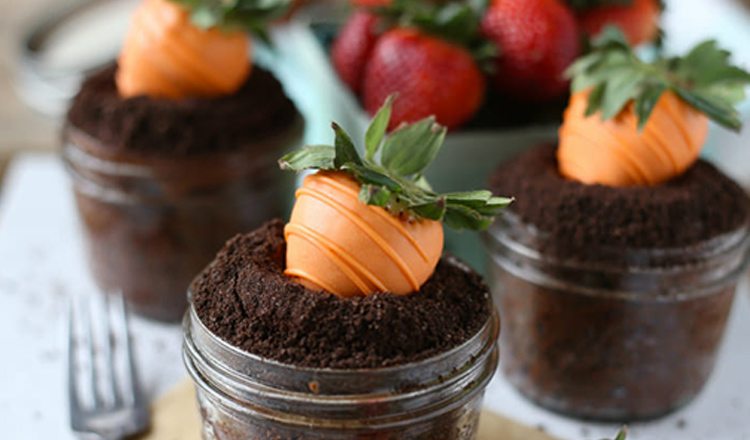 Every-bunny is going to want to hop right into these cute and dirty mason jars filled with all you'd ever want chocolate and topped with a berry-sweet carrot straight from your kitchen garden! Thanks to Your Cup of Cake for the Cute Garden Carrot Cupcakes recipe.
4. Cheesecake Carrots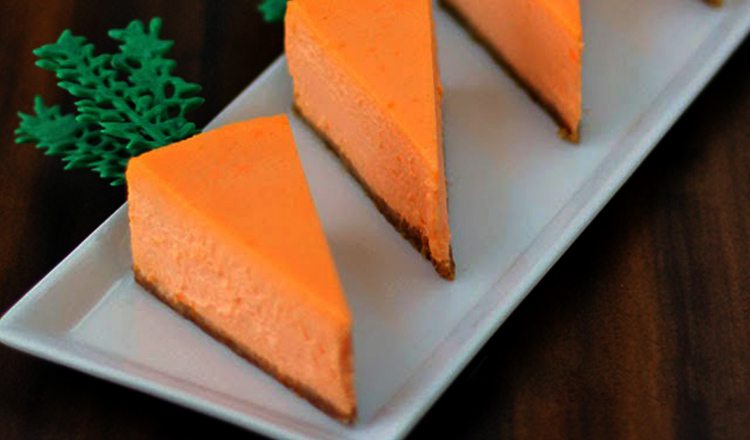 How creative is this? Cheesecake desserts turned carrots (wink, wink). This is one of the freshest takes on Easter desserts that your guests will enjoy, with real citrus AND carrot juice over vanilla wafers. Thanks to Hungry Happenings for the Cheesecake Carrots recipe.
5. Mason Jar Lemon Meringue Pies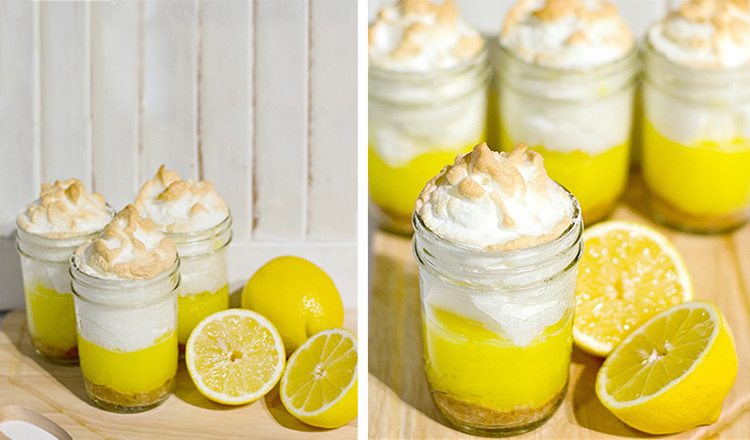 When life gives you lemons, make a meringue pie! You can almost taste Spring in lemon, this brightly yellow lemon meringue pie is a unique approach to your Easter celebration. After all anything lemon is an automatic classic dessert, and even more so when you put it in a mason jar. Thanks to It All Started With Paint for the Mason Jar Meringue Pies recipe.
6. Homemade Cadbury Creme Eggs

Why did the egg hide? Because it got covered in chocolate! Eggstravaganza at it's finest, this creme de la creme yolky surprise deserves it's own egg-hunt ground. Thanks to Not Without Salt for the Homemade Cadbury Creme Eggs recipe.
7. Mini Egg Fudge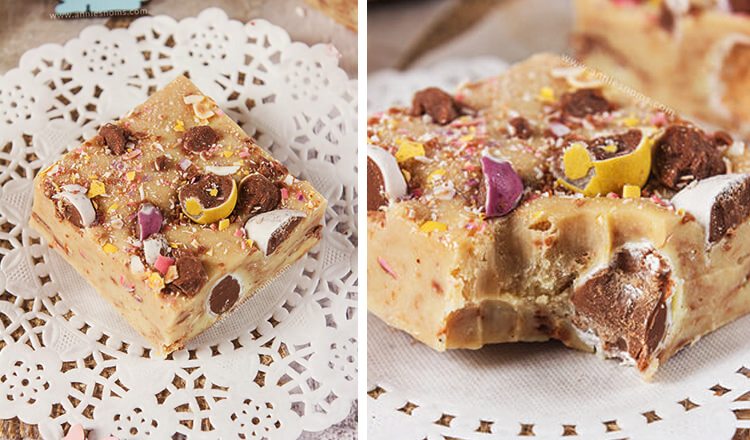 This mini treat is delicious! A nice option to your Easter dessert table, fudge with cracked eggen-ems on top. Sinfully good. Thanks to Annie Noms for the Mini Egg Fudge recipe.
8. Chocolate Peanut Butter Peeps Skillet S'mores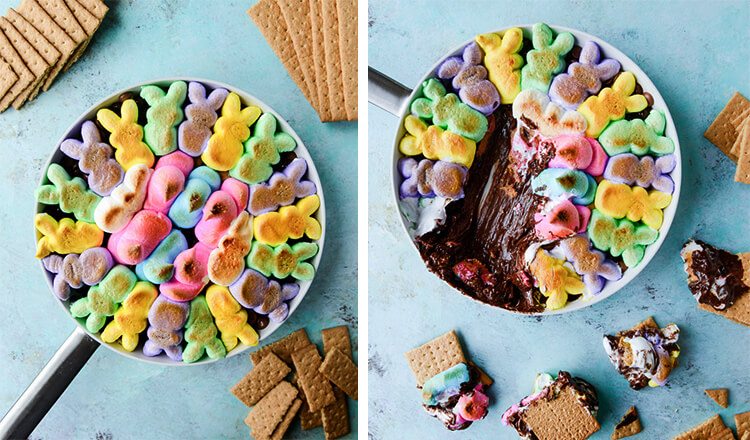 It's Easter for peeps sake! Have some fun…and bake the peeps. Yes, this is a Peeps s'mores momento that nobody's probably dared to try because melting those cute chicks and bunnies seems cruel, but trust me, it's a sad thing to waste if you're not having them with graham crackers, peanut butter and chocolate. Thanks to How Sweet It Is for the Chocolate Peanut Butter Peeps Skillet S'mores recipe.
9. 4-Ingredient Easter Egg Oreo Truffles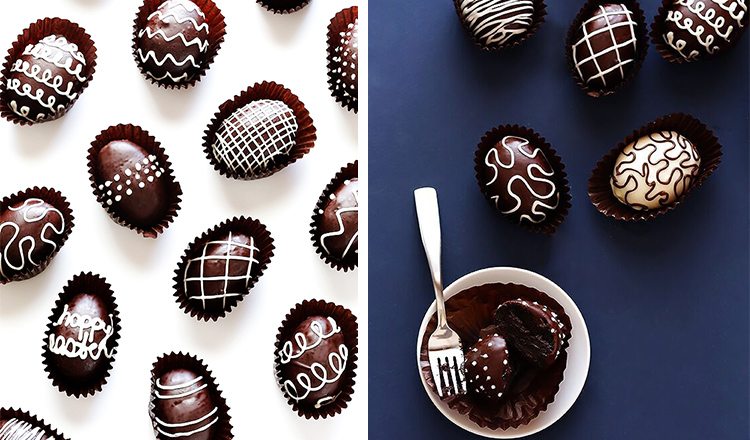 These eggs are trufflelicious! I mean, who doesn't love Oreo's? Try this four-ingredient easy-to-make recipe and be the chick magnet of the party. Thanks to Gimme Some Oven for the 4-ingredient Easter Egg Oreo Truffles recipe.
10. Carrot Cake Cookies With Cream Cheese Frosting

So long as you think of this as an Easter dessert and no more, you should be obsession-free. Otherwise, these can be highly addicting. Just like carrot cake but in a cookie — cream cheese frosting and all! Oh-My-Egg-hunt! Thanks to Cooking Classy for the Carrot Cake Cookies with Cream Cheese Frosting for the recipe.
11. Rock Candy Carrots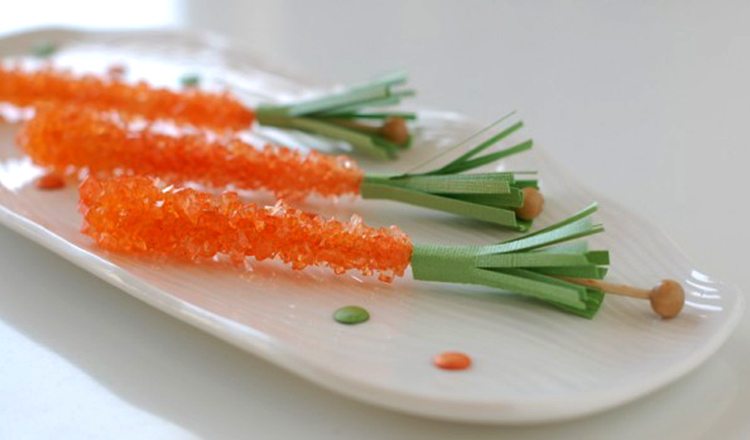 Trying to do away with the carb-filled desserts this holiday? Not into baking? Check out these DIY rock candy carrots to serve at your next party. Thank you to No Biggie for the Rock Candy Carrots recipe.
12. Ambrosia Trifles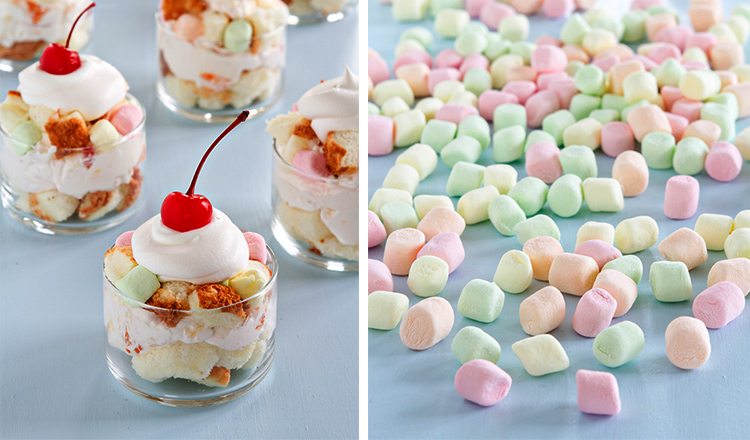 A party favorite, this "Spring Is Here" cup is just the right amount of angel cake, marshmallows, whipped cream with a cherry on top and most importantly, the sweet, tangy, fresh-fruit taste of ambrosia salad. Thanks to My Baking Addiction for the Ambriosa Trifles recipe.
13. Easter Egg Sugar Cookies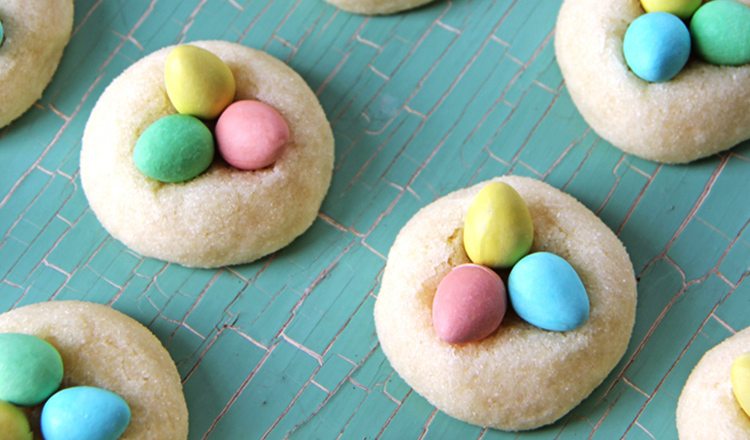 You can NEVER go wrong with sugar cookies. They are such a dessert staple, they're almost taken for granted. Give them a boost this Easter and decorate them with eggs. Thanks to A Pretty Life for the Easter Egg Sugar Cookies recipe.
14. White Chocolate Easter Bunny Bark Bites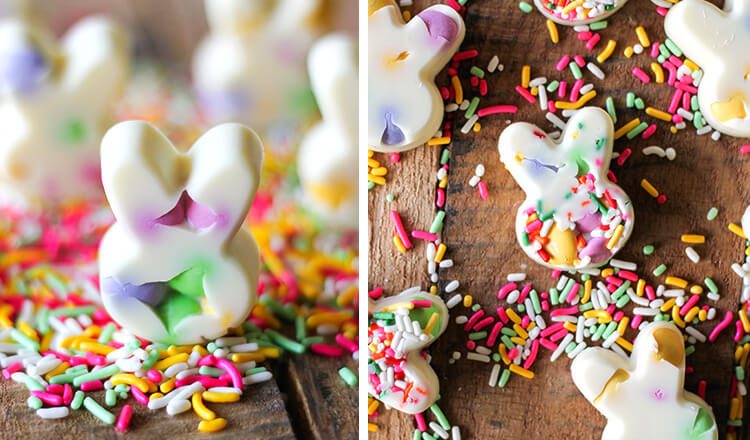 What's HOPpening! These bunnies bark! They also come in small bites and different colors, that's what's HOPpening this Easter holiday! Thanks to NO.2 Pencil for the White Chocolate Easter Bunny Bark recipe.
15.  Chocolate Easter Egg Nest Cake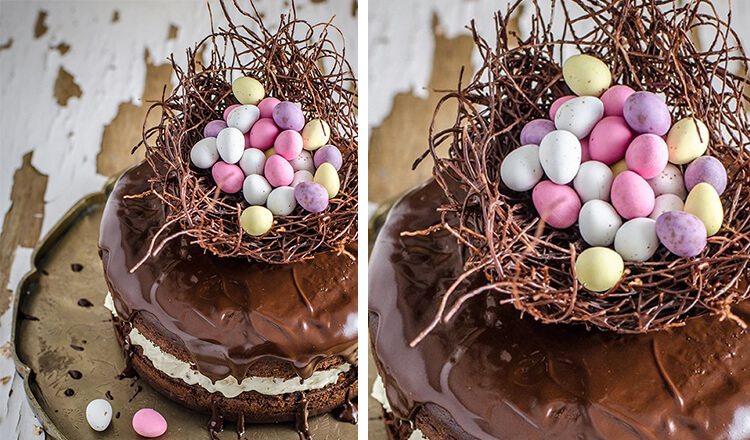 Have Eggstra time for a fancy shmancy dessert this Easter? Then follow your heart's nest. This cake will make an impression at any of your Easter gatherings, no one will know how simple it was to make. Thanks to Chew Town for the Chocolate Easter Egg Nest Cake recipe.
16. Bunny Bark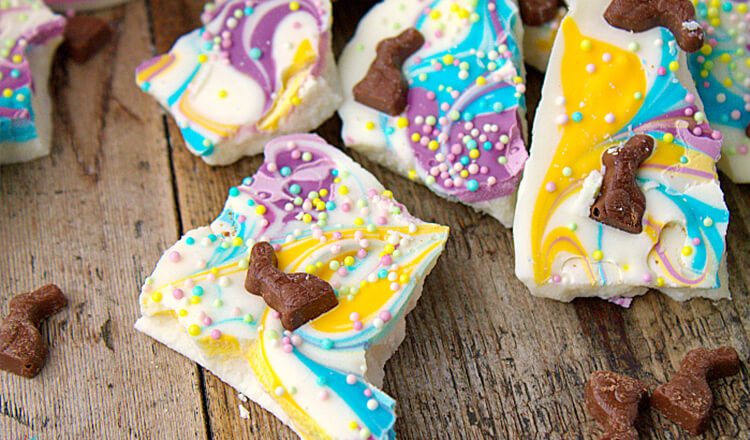 Woof! Woof! Somebunny is barking. Don't get past this Easter holiday without giving these bunny barks a shot. Wrap them in a treats bag, place them in your kid's Easter basket and watch as they hop away into happily-ever-after. Thanks to This Silly Girl's Life for the Bunny Bark recipe.
17. Cadbury Mini Eggs Cheesecake Dip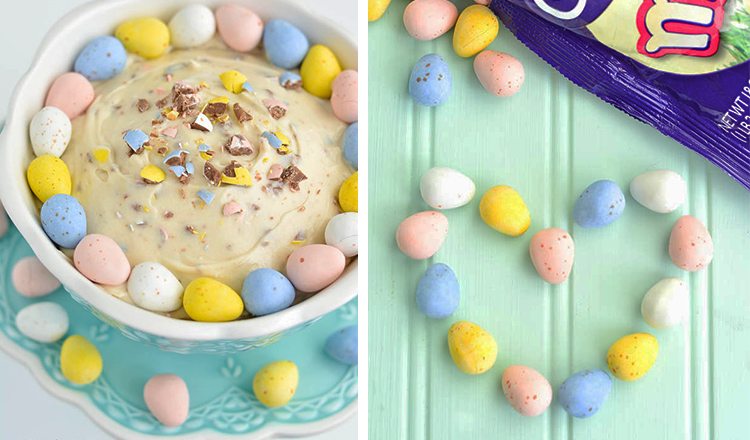 Get your family dipping into this cheesecake addiction while you get the rest of the party menu served. Thanks to A Pumkin and a Princess for the Cadbury Mini Eggs Cheesecake Dip recipe.
18. Cheesecake Filled Easter Eggs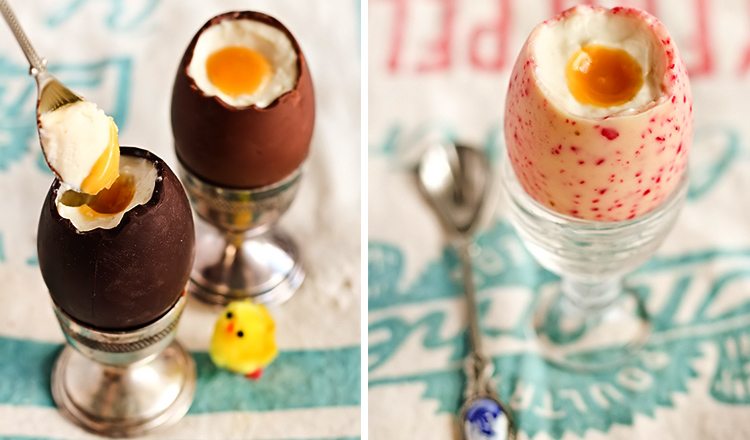 End the thrill of the hunt with this delicious sweet eggscape that'll leave your friends screaming "give me more eggs!" Thanks to Raspberri Cupcakes for the Cheesecake Filled Easter Eggs recipe.
19. Vanilla Cotton Candy Easter Cupcakes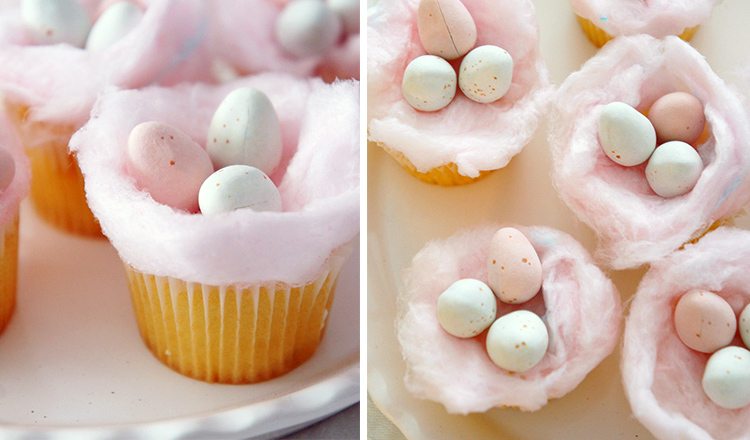 Wanna skip the egg-dye this Easter? Here comes Peter Cottontail! These cute cupcakes are just the right alternative to your Easter craft. Your kids will enjoy helping out in decorating them just as much as eating them. Thanks to The Sweetest Ocassion for the Vanilla Cotton Candy Easter Cupcakes recipe.
20. Cotton Candy Nests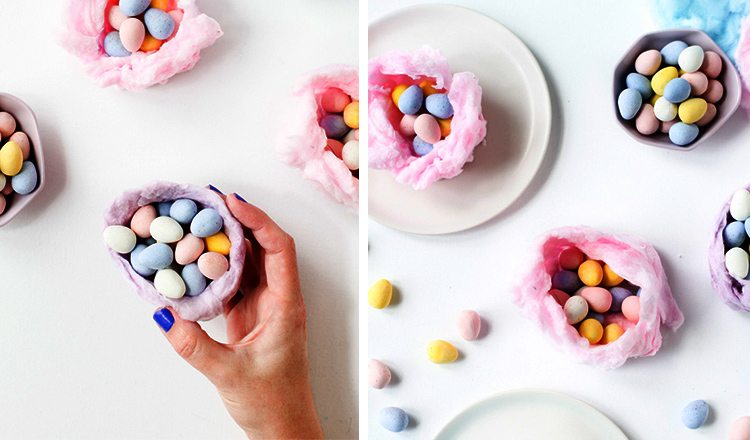 Name this your magical sugar-high! Fluffy and almost too pretty to eat, your kids will want to hatch these Easter eggs nested in cotton candy in a heartbeat! Thanks to Paper & Stitch Blog for the Cotton Candy Nests recipe.
21. Spring Confetti Bars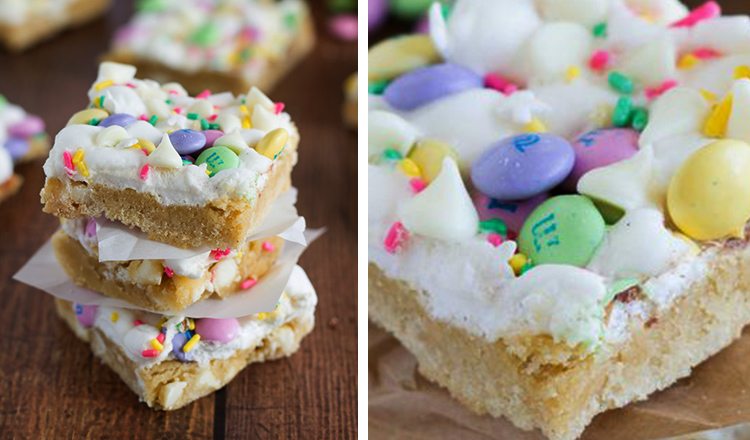 Color-Me-Happy this Easter…let the confetti fall!! These confetti bars scream spring fun delight. Make them for a family and friends Easter party or send your kids with a batch of these for a school potluck, they're sure to be a pleaser. Thanks to Chelsea's Messy Apron for the Spring Confetti Bars recipe.
22. Spring Gourmet Meringues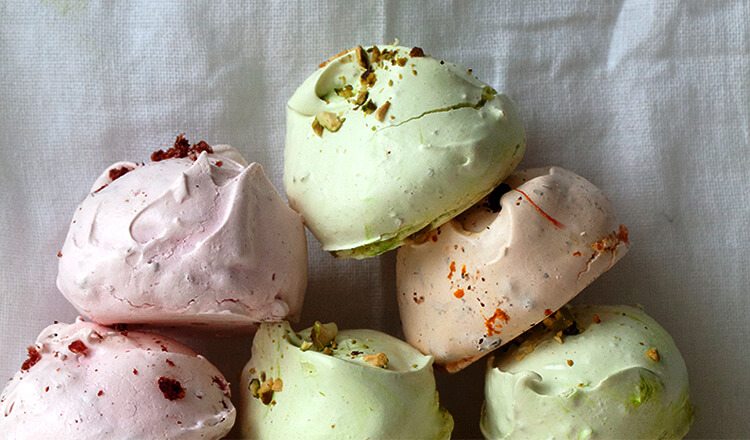 This speggtacular dessert will not only make for a classy display but it will taste outstanding. Thanks to Style Sweet CA for the Spring Gourmet Meringues.
23. Pink Lemonade No Bake Cheesecake Parfaits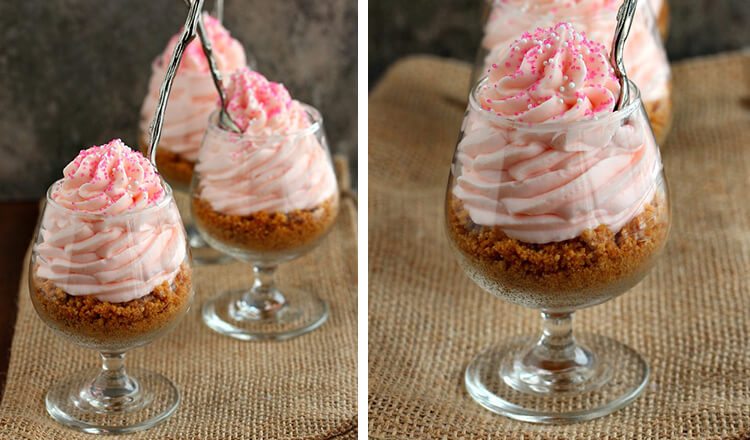 More pink lemonade parfait-vor! This is a simple yet elegant treat for the Easter ladies. Thanks to Cravings of A Lunatic for the Pink Lemonade No Bake Cheesecake recipe.
24. The Carrot Cake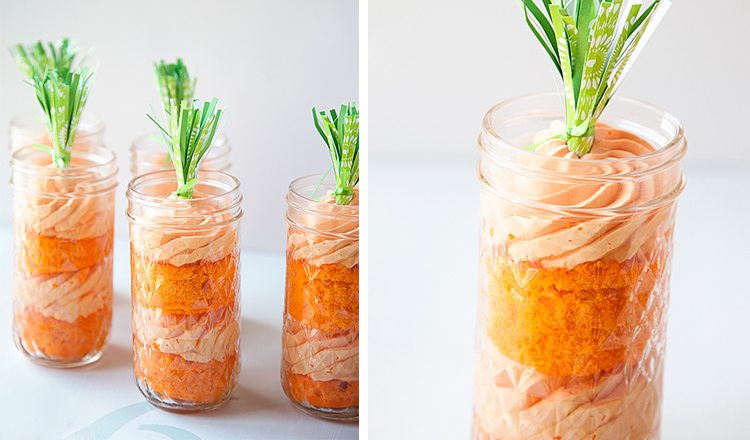 Bury your Easter goods in a glass jar and decorate with something colorful and you'll surely make your guests want to dig out more of that dessert! Thanks to Whipperberry for The Carrot Cake recipe.
25. Dragon Fruit Smoothie Bowl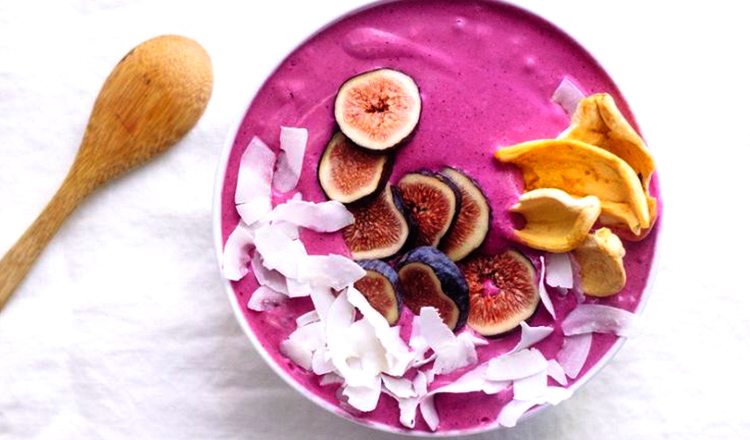 Just in time for Easter weather, this fully-nutritious bowl of all sans-rabbit goods like dragonfruit will be a sure standout at the dessert table. Spikey taste, eye-catching colors and rich in flavor. Thanks to Nutrition Stripped for the Dragon Fruit Smoothie Bowl.
26. Honey Bunny Ice Cream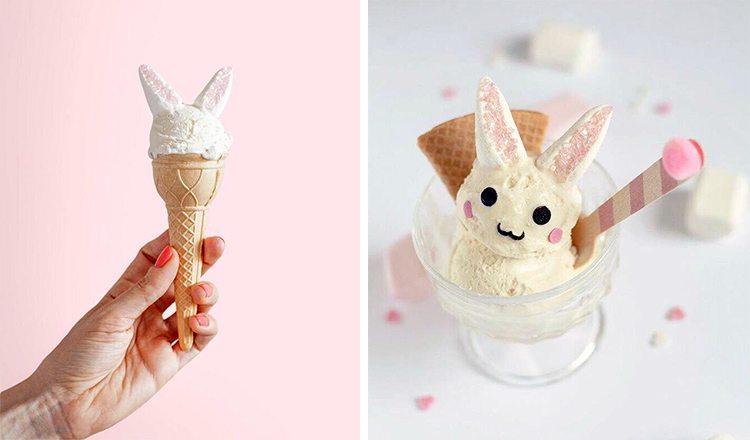 Oh hunny bunny, you'll want to double and triple scoop this treat! It comes in your favorite flavor with soft and gooey marshmallow ears. Enjoy or it'll melt before your eyes. Thanks to Pop & Soda for the Honey Bunny Ice Cream recipe.
27. Cake Batter Cinnamon Rolls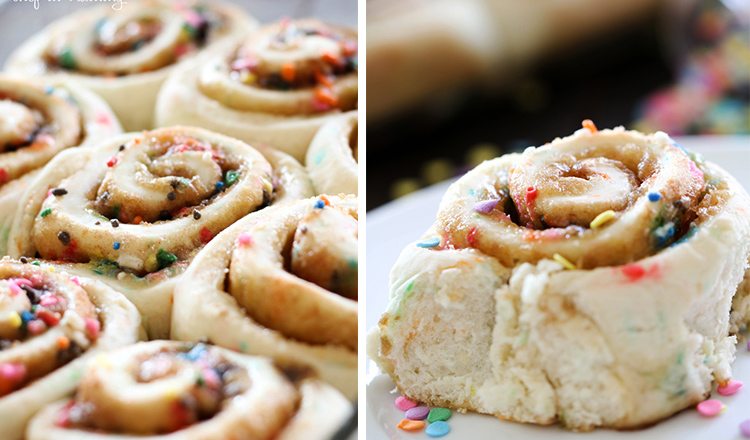 All the colors of spring are sprinkled over and in between this melt-in-your-mouth cinnamon roll that is perfection at its core made with bread flour. Warm it up and serve it with a jug of milk, it'll bring sprinkles of fun to your party! Thank you Chef In Training for the Cake Batter Cinnamon Rolls recipe.
28. No Bake Cake Batter Truffles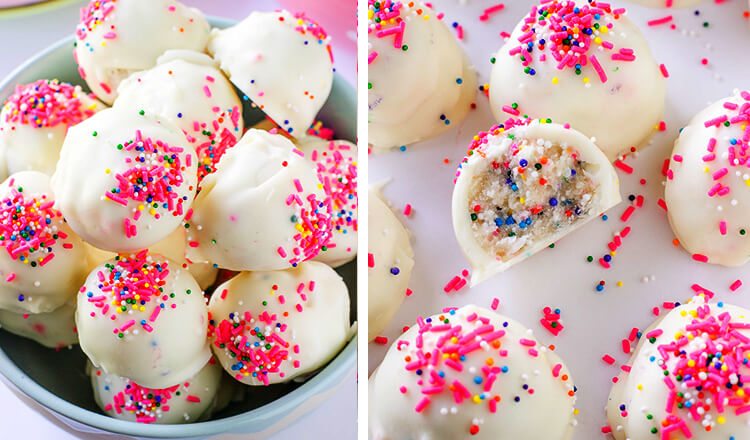 Don't put all your eggs in one basket this Easter! Save room for the truffles!! Filled with batter and covered in almond bark, these mini egg-looking treats will make your basket the envy of the hunt! Thanks to Deliciously Sprinkled for the No Bake Cake Batter Truffles recipe.
29. M&M Ice Cream Cake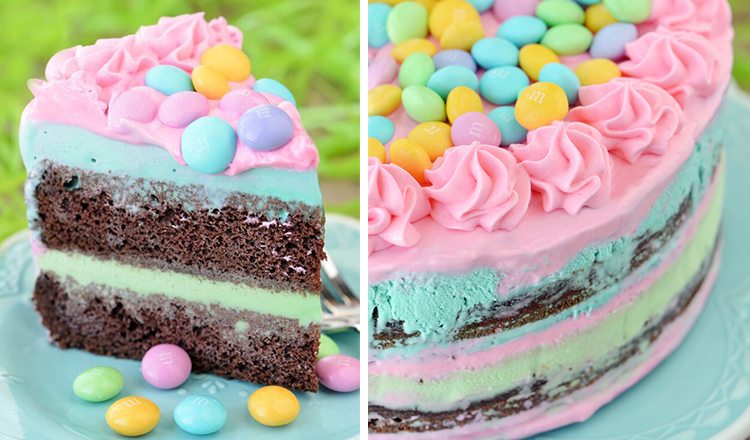 Meet the ultimate Easter cake your kids will love! Ingredients include: layers of ice cream, cake, frosting, and M&Ms. It will make you shake your tail! Thanks to The Gunny Sack for the M&M Ice Cream Cake recipe.
30. Whoppers Robin Eggs Milkshake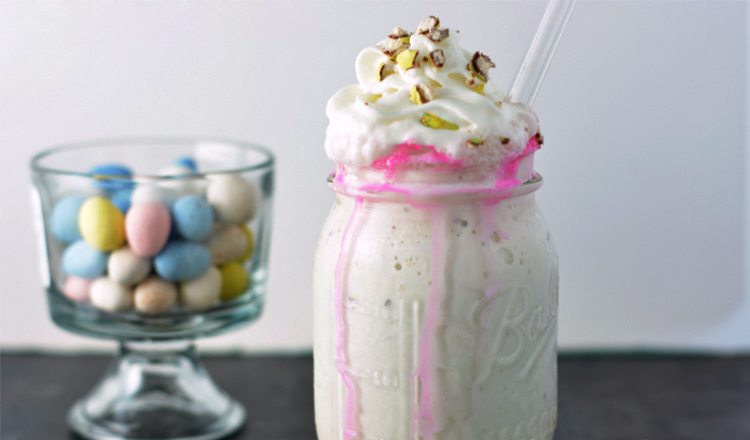 You'll probably need to eggsercise a little extra to shake off the calories from this Whoppers, milk and vanilla ice cream shake – but promise it's worth it! Thanks to The Pennywise Mama for the Whoppers Robin Eggs Milkshake.
31. Confetti Oreos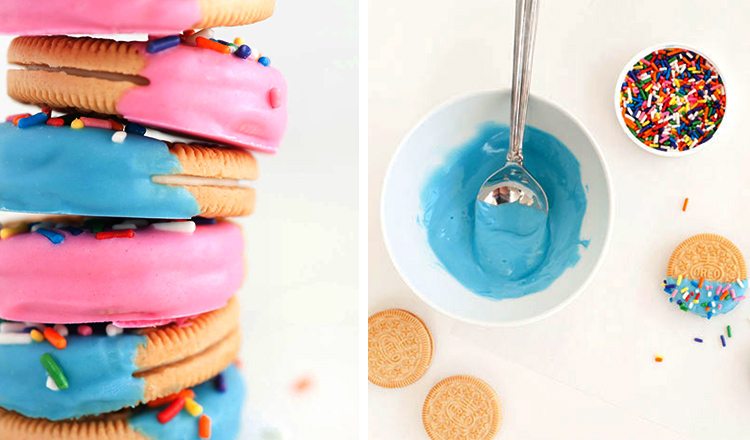 You know it's spring when pastel hues take over your door wreath, clothes, and food! These festive Golden Oreo cookies are alive in color and taste for the Easter party craze. Thanks to Sprinkles for Breakfast for the Confetti Oreos recipe.
32. Misty Minty Peppermint Patties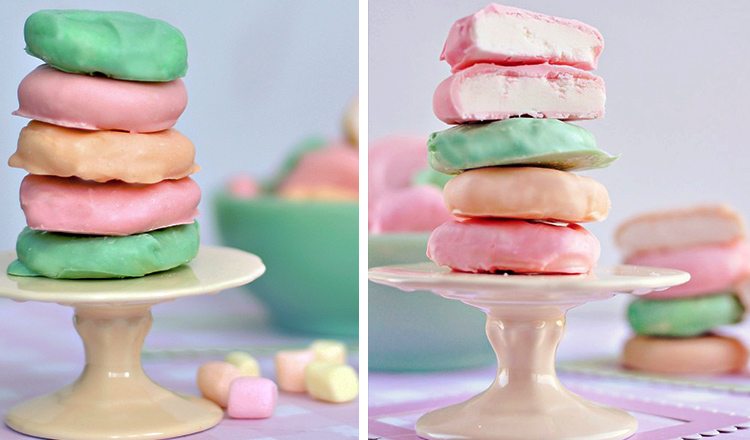 A fine mint-confection that sits well after any entree. Fresh taste yet sweet enough to be all the dessert you need to end your meal. Thanks to Sweetapolita for the Misty Mint Peppermint Patties recipe.
33. Cotton Candy S'mores&Sprinkle Marshmallows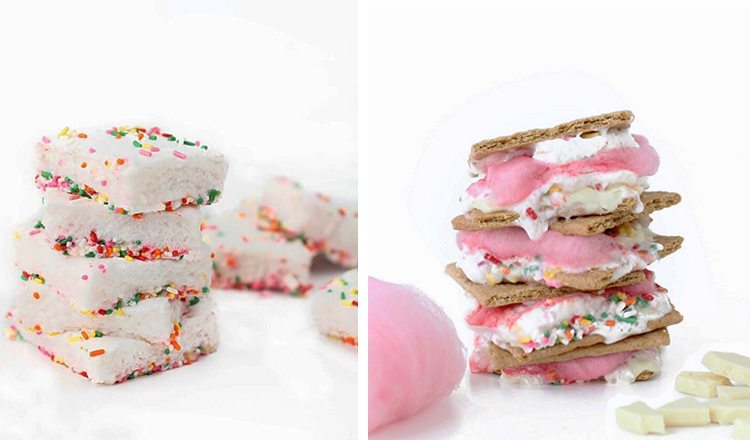 Get ready to do the hipity-hopity dance on repeat for every one of these you try. Sugar-overload but a Funtastic treat for everyone at your party. Thanks to Aww Sam for the Cotton Candy S'mores & Sprinkle Marshmallows recipe.
34. Raw Vegan Key Lime Pie with Coconut Cream Topping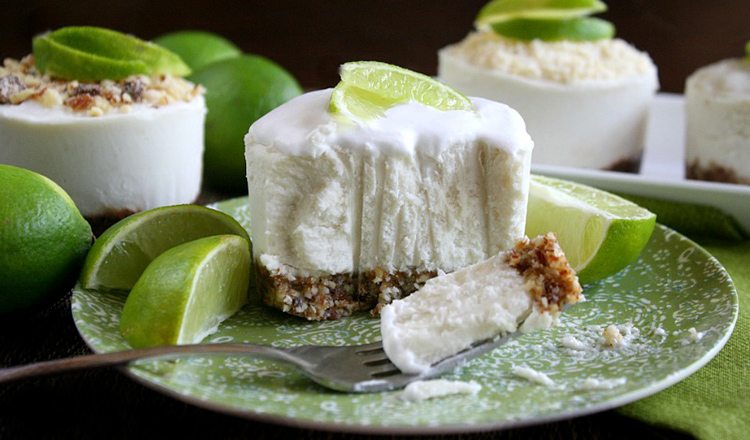 If you're looking for a healthier treat, there's no need to worry about joining the sugar madness with all the other bunnies out there. You can still have fun during Easter with alternatives for your sweet tooth, like this no-bake, dairy-free key lime cheesecake. WOW your guests! Thanks to The Healthy Family and Home for the Raw Vegan Key Lime Pie with Coconut Cream Topping recipe.
35. Hibiscus Strawberry Curd Tarts with Toasted Meringue Gluten Free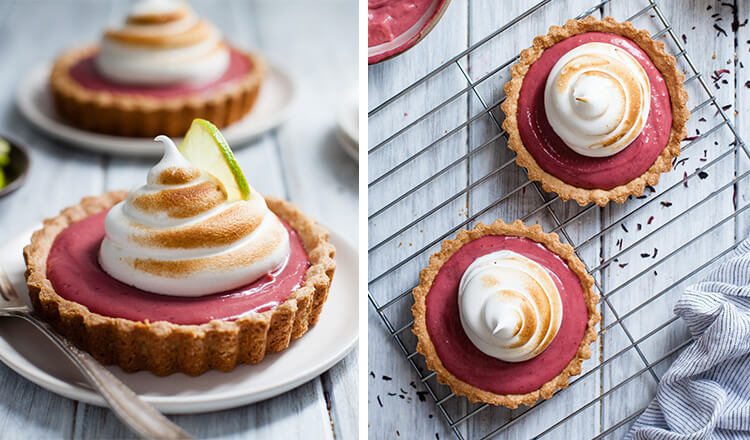 Small, yummy, healthy, and filling. Enchant your guests with these beautiful and tasty little pieces of heaven. With spring sneaking up on us, this tart makes a great welcoming of the season. Thanks to Snixy Kitchen for the Hibiscus Strawberry Curd Tarts with Toasted Meringue (gluten-free) recipe.
36.Mango Sorbet Bars

Be chill this Easter with clean cut easy to make mango sorbet that includes a crusty-chewy-gooey bar. Perfect for the gluten-free/vegan enthusiasts with a raw option. No bunnies were harmed during the making of this dessert. Thanks to Radiant Rachels for these vegan Mango Sorbet Bars recipe.
37. 4 Ingredient Ice Cream Pie With Peanut Butter Krispie Crust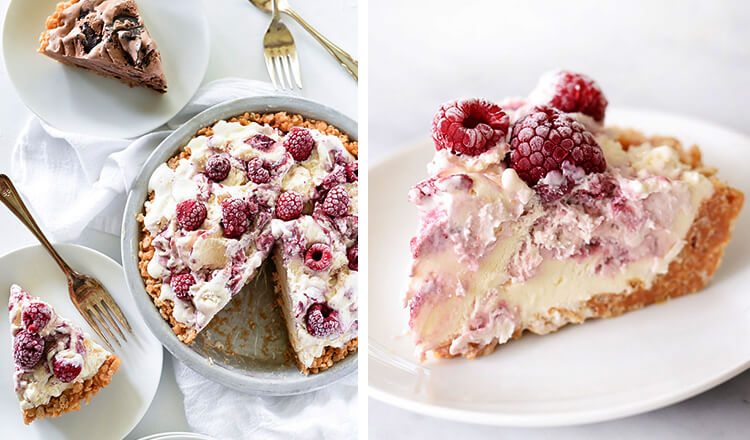 This passed down recipe from grandma will bring your family to the dinner table like no-bunny's business. An eggscellent spring dessert with fresh fruit and creamy ice cream. Did we mention the peanut butter krispie crust? Go ahead, feel the eggs-citement! Thanks to Foodie Crush for the 4-ingredient Ice Cream Pie with Peanut Butter Krispie Crust recipe.
38. Fruit Pizza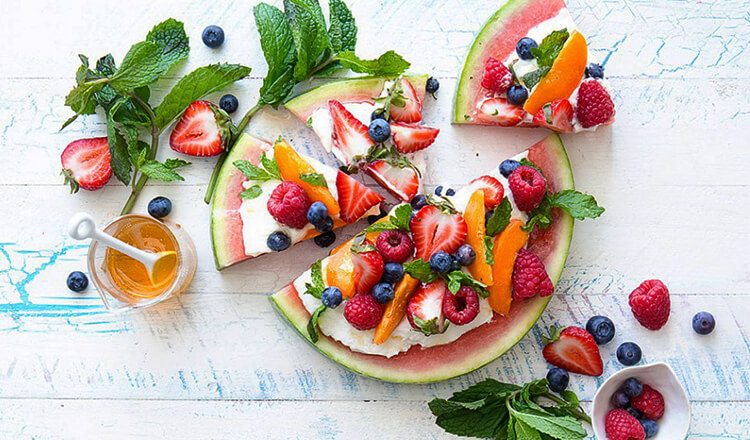 Unlimited pizza anyone? This is the kind of pizza you can eat without the weight guilt. Served fresh with honey whipped cream, using only your favorite fruit toppings and garnished with mint leaf, this is an Easter Sunday delicacy. Thanks to Bakers Royale for the Fruit Pizza recipe.
39. Mini Mason Jar Blueberry Pie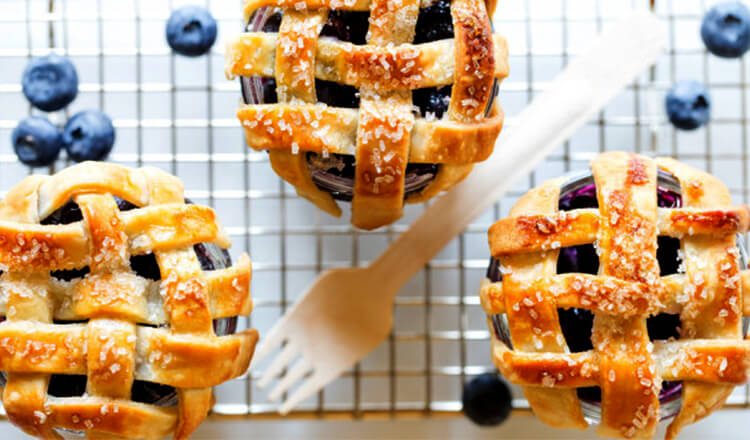 Mason Jars are a hit, fill them up with blueberry pie and you're suddenly everyone's best friend. Thanks to Handmade Mood for their Mini Mason Jar Blueberry Pie recipe.
40. Spumoni Trifles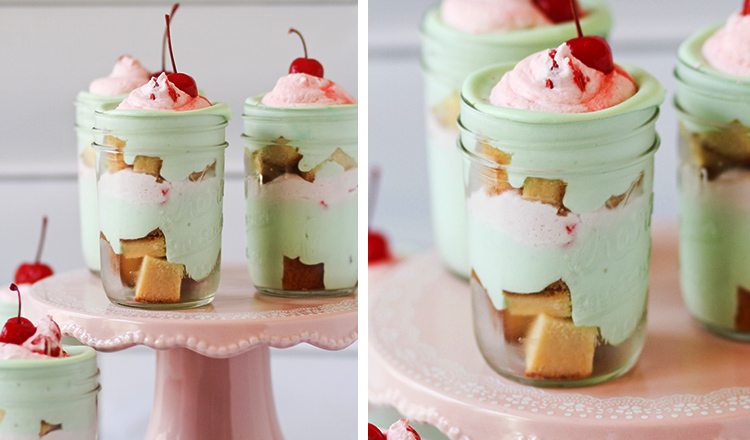 Stuff pistachio and pound cake in a jar and declare yourself glorious. Be bold and serve up something different this holiday. Go the eggstra mile! Thanks to Confessions of a Cookbook Queen for the Spumoni Trifles recipe.
41. Lavender Earl Grey Madeleines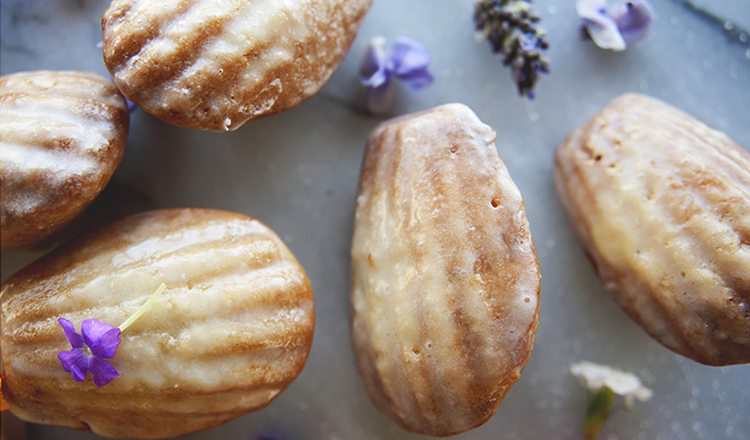 The perfect bite size dessert to pair with a hot tea while you enjoy your Easter Sunday afternoon. Smell the lavender and Earl Grey in these romantic madelines and share the love with your guests. Thanks to Lauren Conrad for the Lavender Earl Grey Madelines recipe.
42. Easter Basket Cookie Cups

Cute and petite, these reminiscent cookie cups offer a flashback of Easter basket nostalgia with the pastel colored M&M's sitting atop. Given the peanut butter flavor, it just adds a warm-hearted feel to it. Thanks to Lil' Luna for the Easter Basket Cookie Cups recipe.
43. Raw Kiwi Banana Tarts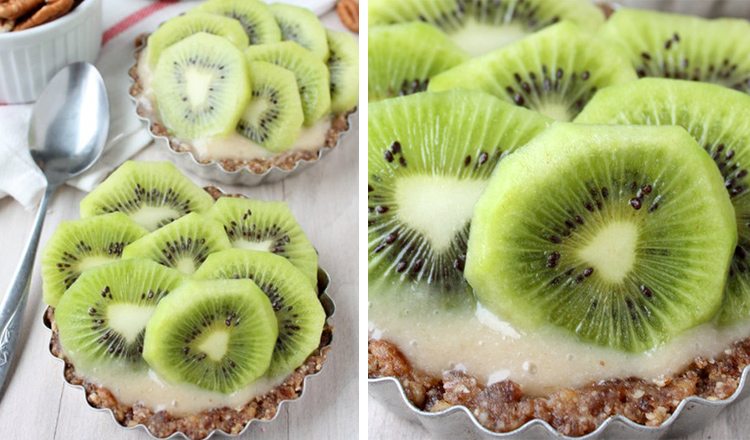 A bite of nature in a tart. Fresh, as in raw fresh and naturally sweet from the banana filling and dates in the crust, the kiwi layered on top is a nice touch to this sugar-free dessert. Thanks to The Kitchen Paper for the Raw Kiwi Banana Tarts recipe.
44. Grapefruit Chia Seed Pudding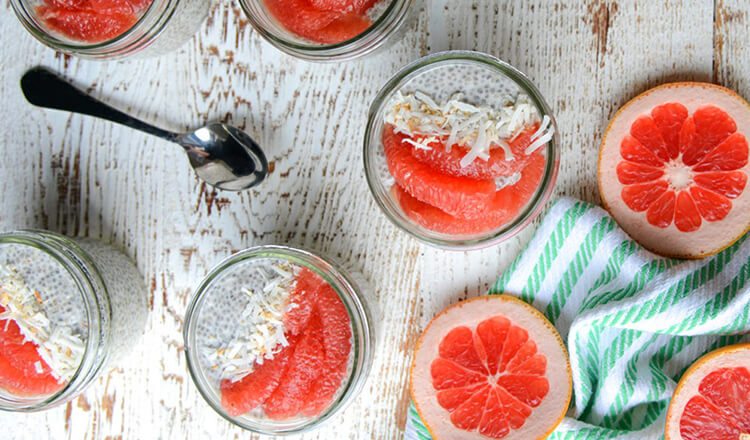 There are always ways to eat healthy while satisfying your sweet tooth. Expect this full-bloom flavorful dessert at your Easter gathering to be a nourishing hit! Thanks to Real Food Whole Life for the Grapefruit Chia Seed Pudding recipe.
45. Apricot With Goat Cheese and Orange Honey Walnut Syrup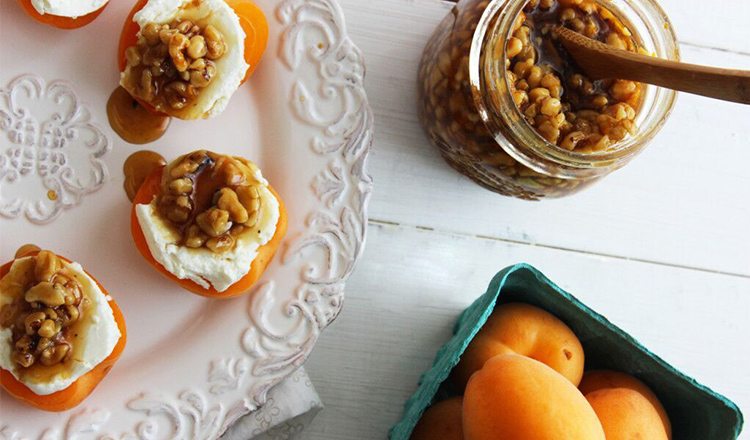 What's cracking for Easter? Imagine a sweet version of deviled eggs, where apricot replaces the egg and goat cheese the yolk while smothering a walnut-honey over it. Simple to make, looks beautiful and tastes divine! Thanks to La Casa De Sweets for the Apricot With Goat Cheese and Orange Honey-Walnut Syrup recipe.
See, that was easy! Now you can continue with your planning. Don't forget that with every delicious Easter dessert, there is always room for some Easter Brownie pops! Put those delicious treats inside of a monogrammed Easter basket and create memories that will last for years to come!