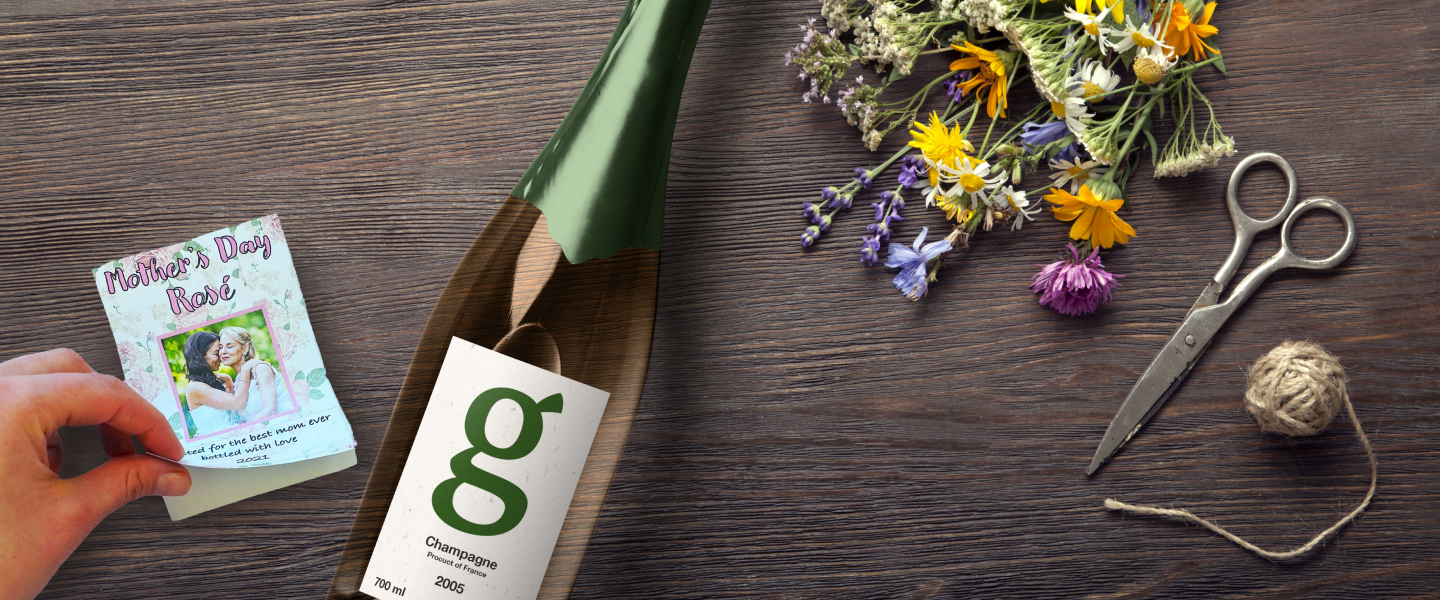 Mother's Day DIY Craft: Personalized Wine Bottle
Let's be honest, this past year has not been easy, especially for Mom. Have you seen her lately? She makes Super Woman look lazy. She's the teacher, the boss, the cook, the homemaker and everything in between. That's why, this Mother's Day, get her something she actually wants (and deserves)…wine!
For the 'Half Glass Full' Type of Mom
One of the things I have missed most this last year is getting together with my mom and sister for a casual glass of wine. So, this year, I'm going all out – I'm going to surprise my mom for an in-person happy hour with her favorite bottle of rosé. For the perfect Mother's Day DIY craft, and for an added layer of surprise and personalization, I turned the rosé bottle into a keepsake we can drink and then repurpose.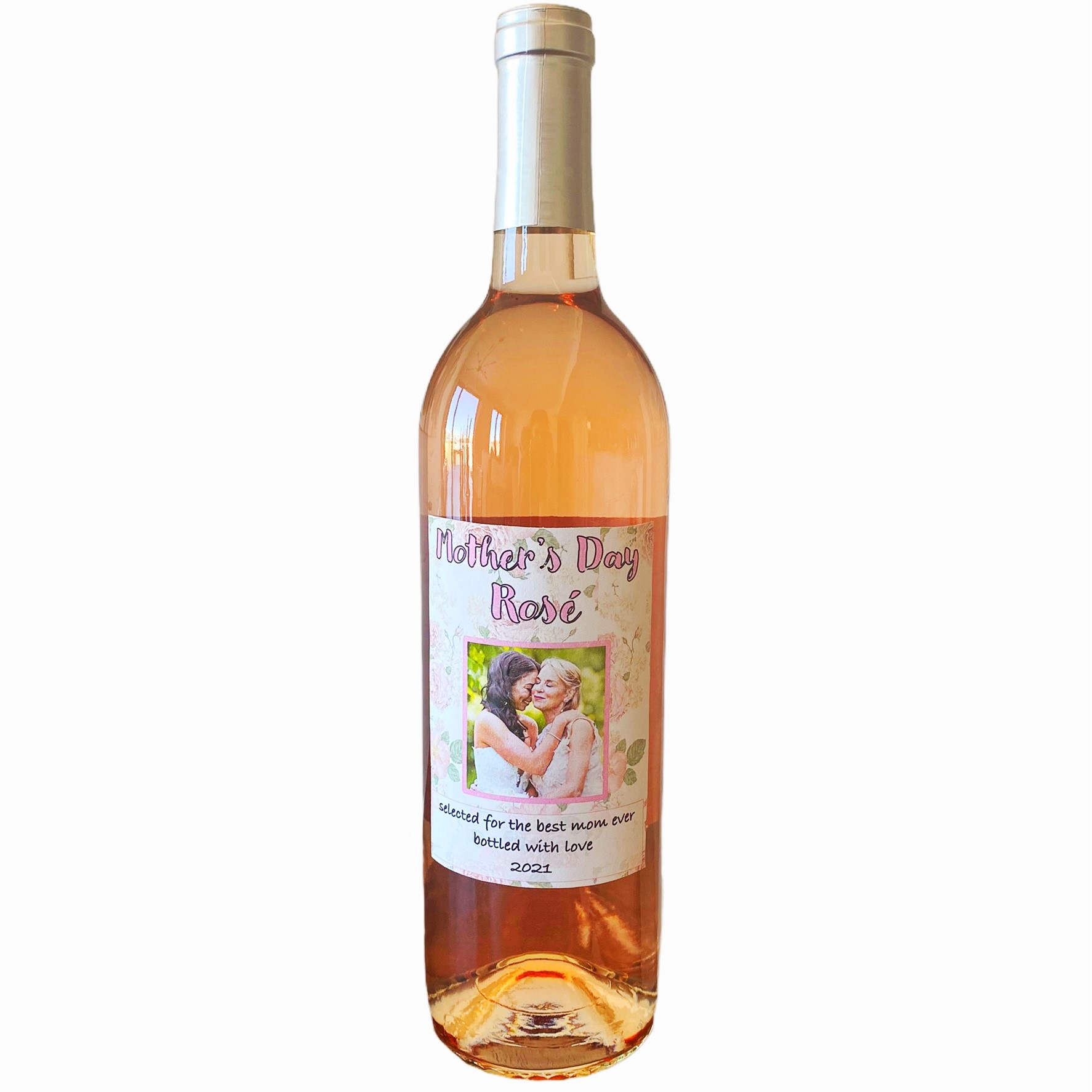 Creating Your Own DIY Mother's Day Wine Bottle
I created a custom rosé bottle label for her in Adobe Photoshop and replaced it with the label on the bottle. If you don't have Adobe Photoshop, there are tons of easy ways to make or buy your own DIY wine labels such as:
All you need is sticker paper to turn a simple wine bottle, into a personalized DIY gift for mom.
Now that you picked your method, I'll tell you a little bit about what I did to give you some additional ideas.
Make It Personal to Make It Special
I used a photo of the two of us to really make it personal. To get an inspirational Mother's Day message across, I asked my mom to share her favorite quotes from women that inspire her, and I used those on the bottle as well.
I wanted this gift to be something special that we could share (aka drink) together, but I also wanted her to be able to keep it after and repurpose it as a vase. If you are looking for something personalized and creative to share with a special person in your life, I highly recommend this! This is the perfect Mother's Day DIY gift.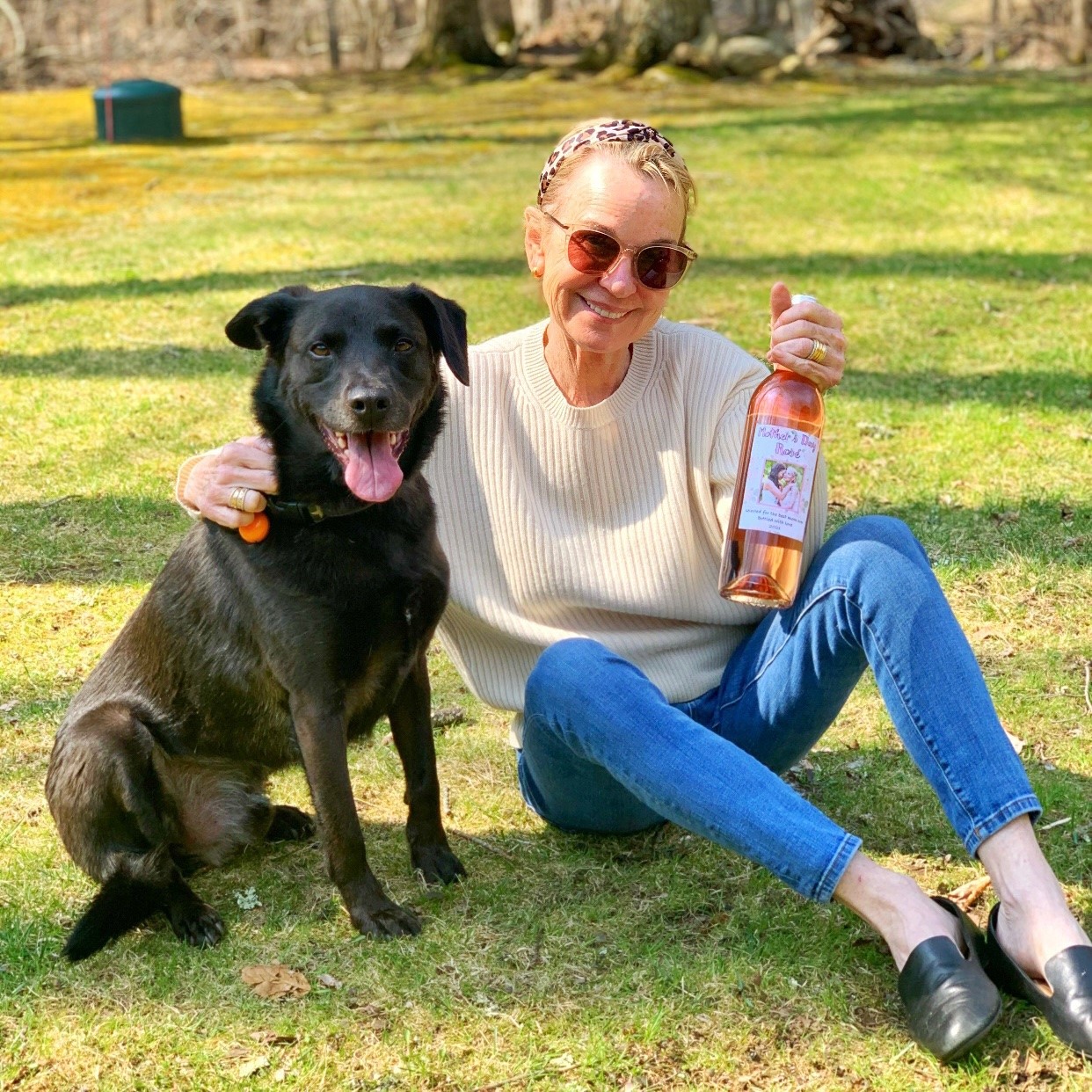 Supplies You'll Need for DIY Mother's Day Wine Bottle:
– Wine bottle of your choice (or another type of alcohol or non-alcoholic bottle that mom loves)
– Large bowl or vase to soak the bottle in to remove the label
– Avery sticker paper for your label
– Scissors for cutting
– Computer, if you want to create your label digitally, plus a printer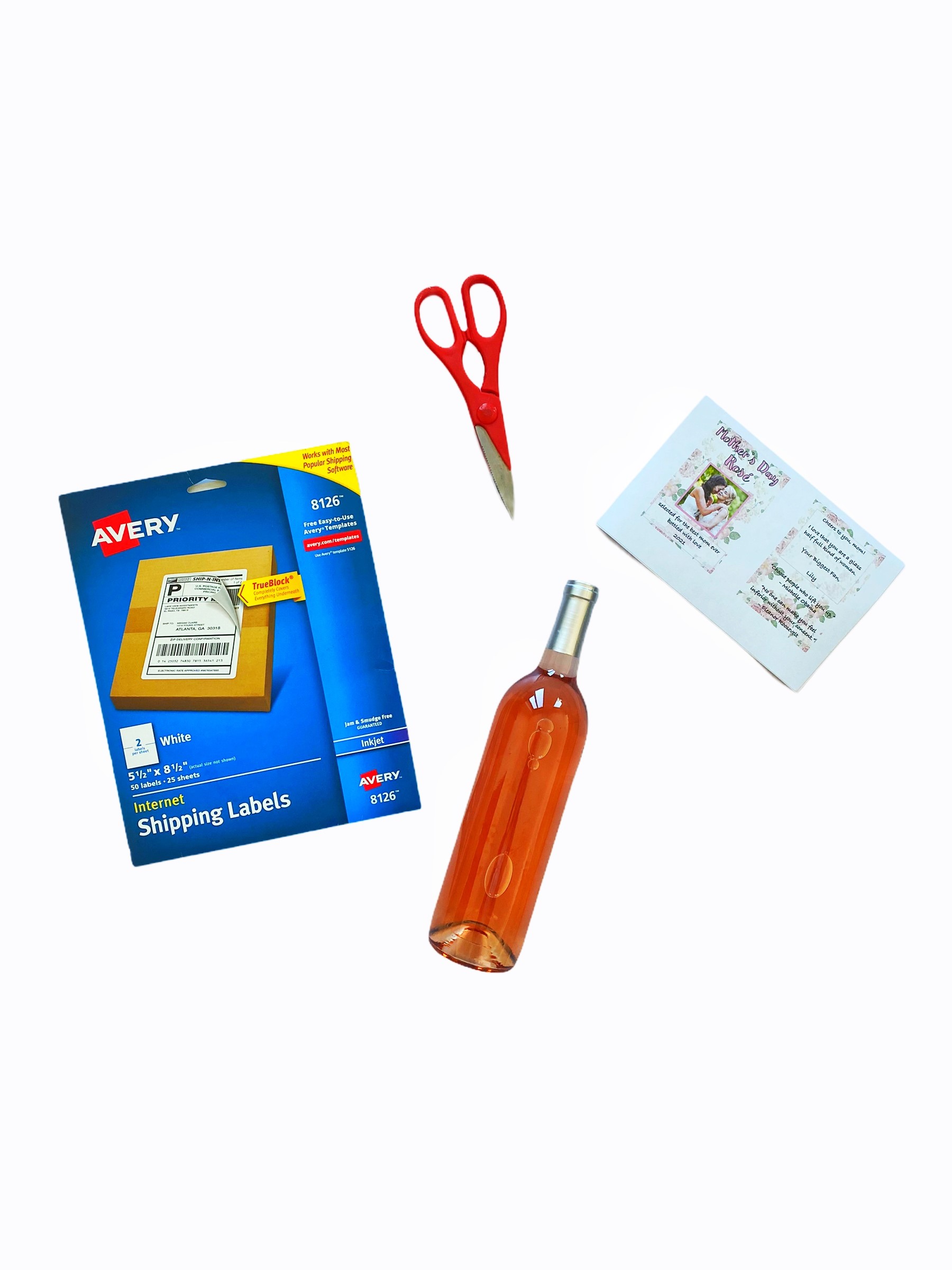 Steps to Create Your Personalized Wine Bottle for Mom
Step 1) Gather the supplies you'll need. Most importantly, you'll need: an alcohol bottle of your choice, Avery sticker paper and scissors
Step 2) Soak the bottle in a vase full of water and remove the label.
*Tip: Soak it overnight for easier removal, you should just be able to peel it off
Step 3) Create your custom bottle label. You can do this on the computer, or you can make one by hand (just make sure to do it on sticker paper)
Step 4) Print your custom labels onto Avery sticker paper and cut it out.
Step 5) Measure out your cut-out label and eyeball the placement you'll want on your alcohol bottle
Step 6) Peel the back part of your label off and stick your personalized label onto your bottle
Additional Ideas with DIY Mother's Day Gift
Now that you gave mom her favorite wine with a sweet personalized label, even when the wine is gone this a gift that can keep on giving with a keepsake wine bottle. Mom can use this as part of her entertaining décor, as a unique wine bottle vase, or as a unique "pitcher" for water.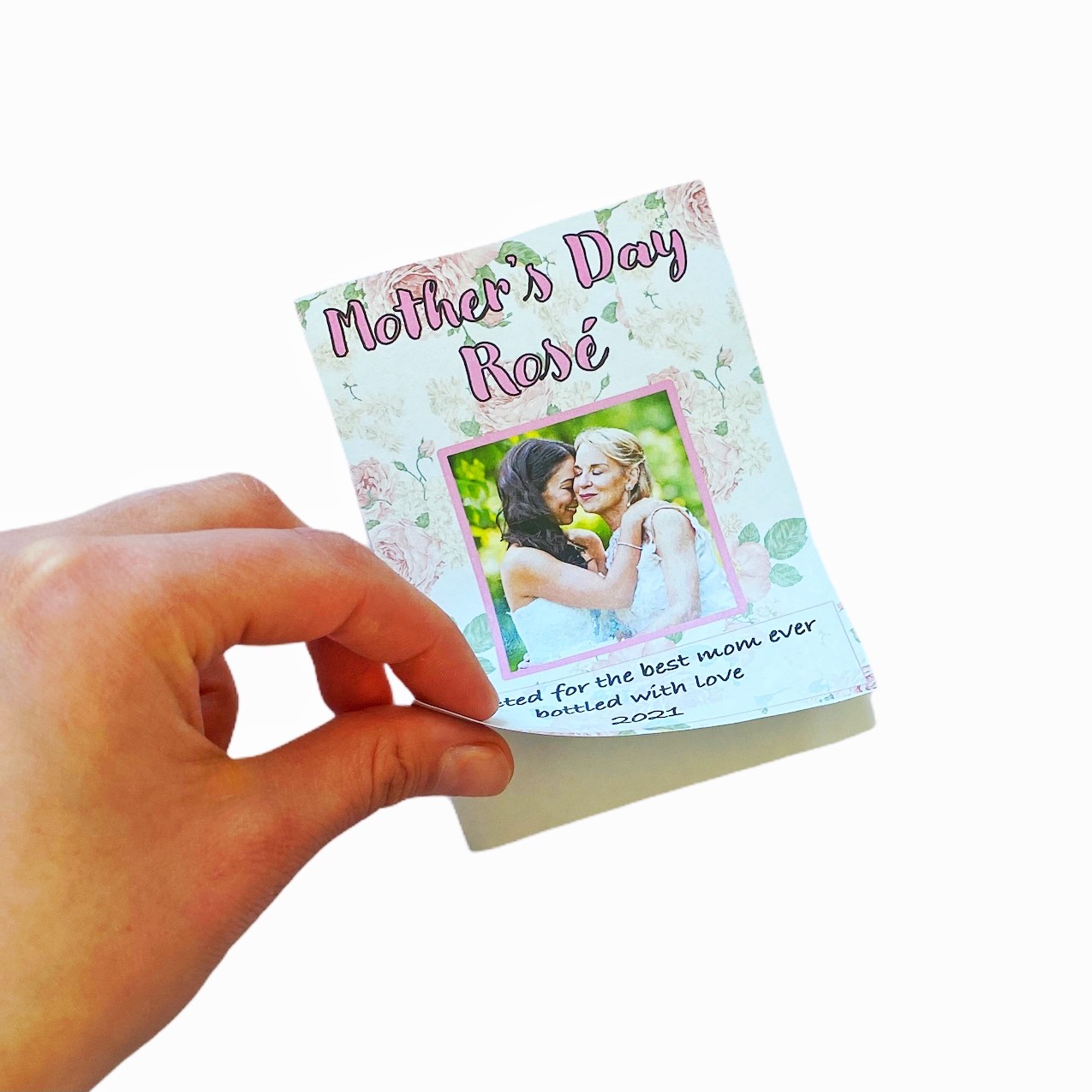 Does Mom love her personalized wine bottle? Check out these other accompaniment DIY gift ideas:
Personalized DIY wine glasses
Chocolate covered strawberries or Mom's favorite dessert will pair perfectly with wine.
Set up a Mother's Day wine tasting with different wines mom loves (or is about to love).
Charcuterie boards to go with mom's personalized wine, to make it feel like she is at her very own vineyard.
Plan a special meal whether you cook it, or bring in!
Thanks for reading – Happy Mother's Day, and cheers to all the moms out there!