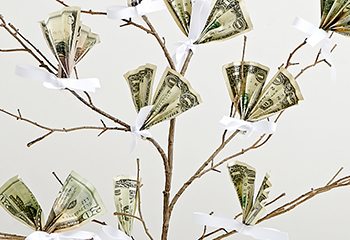 Wedding DIY: 7 Creative Ways to Gift Cash
Dollar Bill Bride & Groom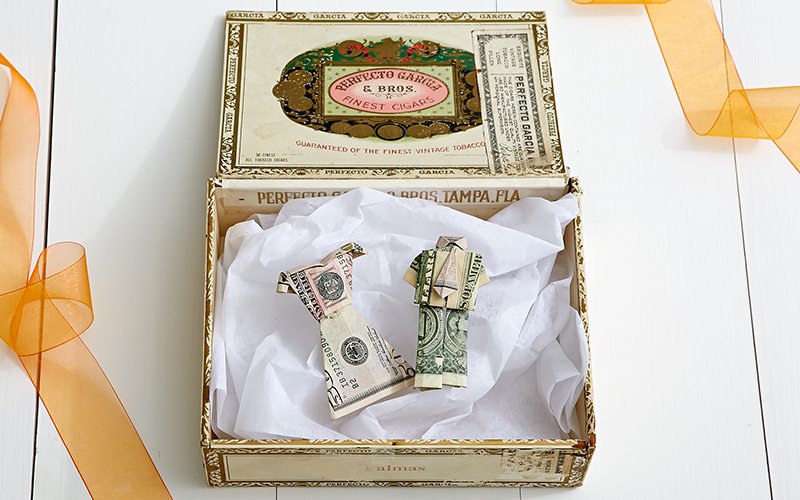 The award for best-dressed wedding gift goes to this origami bride and groom. Homemade Gifts Made Easy has step by step instructions and how-to videos. Present the pair in a decorative box (we used a vintage cigar box). Or attach them to a card and surround with paper hearts and if you're really artistic, sketch the lovely couple's faces.
Cash Cake
Then again, you could also stand the dollar Mrs. and Mr. atop a wedding cash cake. Heathers Hobby has a handy video that tells you how to roll up dollar bills and tie with ribbons for a showstopping twist on the traditional dessert.
Tree of Love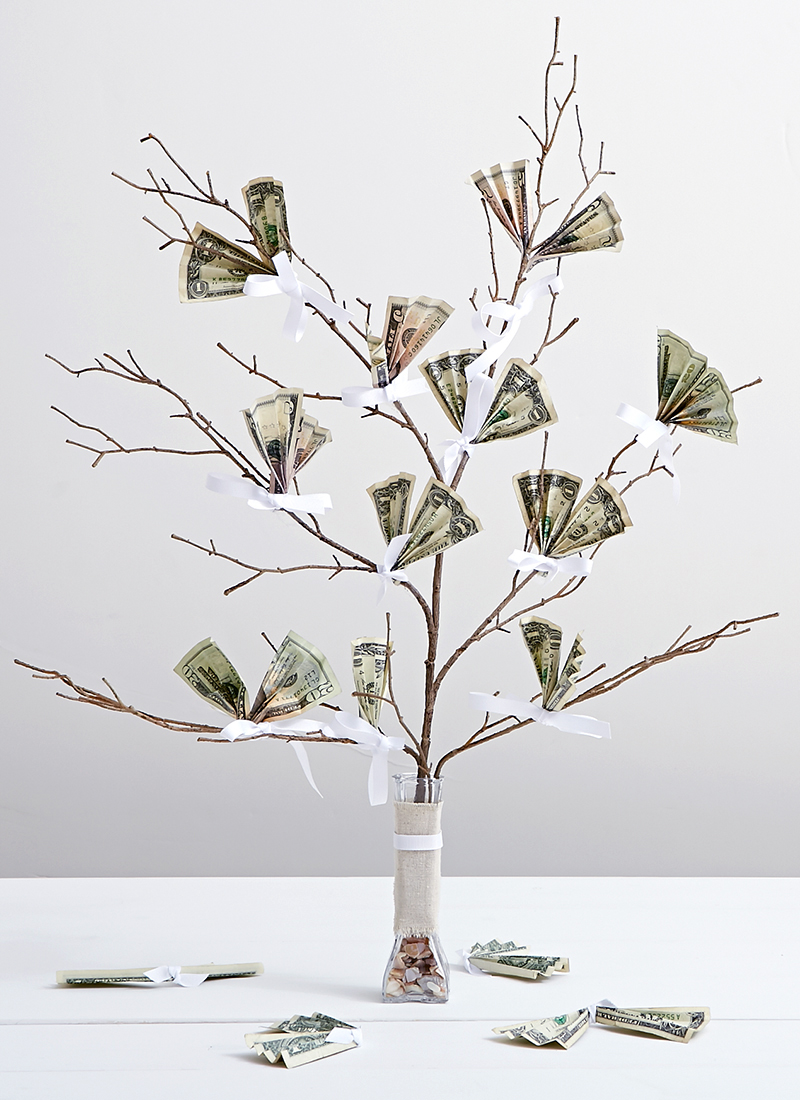 Celebrate the growth of new love. Fold bills into fans and attach them to a branch with ribbons. Stand the branch up in a bud vase filled with river rocks. Make it even more lifelike with a tutorial from Skip To My Lou that shows you how to make flowers instead of fans. If you're a bride-to-be looking for a tactful way to encourage guests to gift cash, use an empty money tree as a table centerpiece and provide guests with clothespins or paper clips to add their dollars.
Hearts & Dollars
Follow Snapguide's snappy how-to and turn your dollars into a romantic origami heart.
Wedding Bling
Surprise them with matching wedding rings or bracelets made of cash. Wrap them in an elegant velvet jewelry box to carry the theme and make the gift more unexpected. Instructables and blogger Stephanie Lynn have simple step by steps for both.
Wine Bottle Toast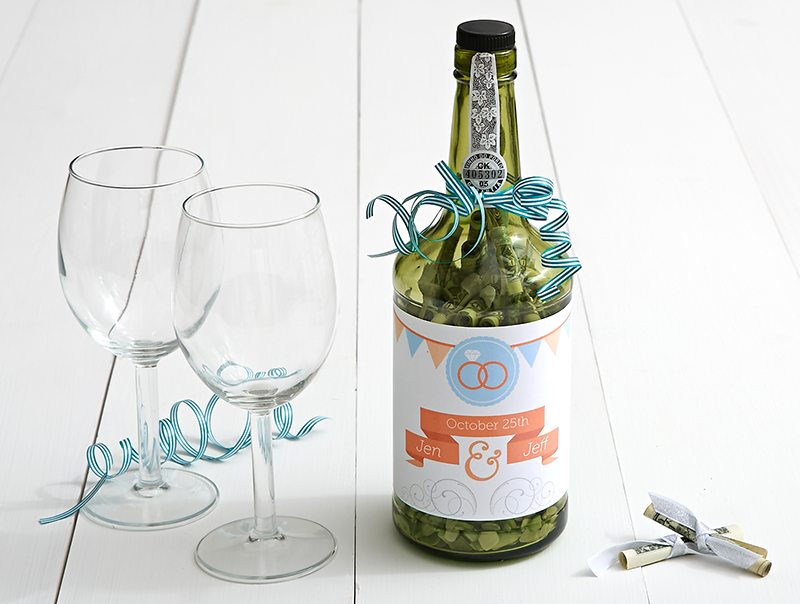 Upcycle a wine bottle into a thoughtful wedding gift. First, clean and dry the bottle, then fill it with rolled dollar bills. Make a personalized label with the names of the betrothed and date of the wedding for them to save as a keepsake. If you'd like to give more than just cash, pair it with wine glasses from their registry. Bonus: you get to drink the wine to empty the bottle!
Bears, Dragons and Koi, Oh My
If you're an origami genius like Won Park then any animal you can make with origami paper, you can probably make with cash. We especially love Park's elegant koi fish. If like us, you're no origami guru, then the internet is full of novice video guides for constructing everything from dragons and bears to penguins. Check out justorigami.com's sweet and simple butterfly.
Cash In
What did you make? What did the bride and groom say? Tell us all about it in the blog comments.