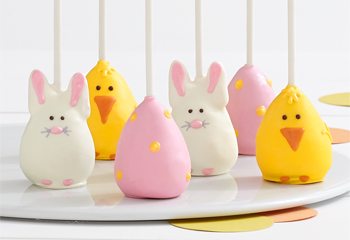 Our resident cake pop artist Marsha Johnston has one of the sweetest jobs in the company. She's the mastermind behind this decadent favorite's craftsmanship and design. Besides honing our process — all our cake pops are decorated and dipped by hand — she also creates fresh designs for each season. Recently, we had a chance to chat with her about the inspiration behind our spring collection.
The Spirit of St. Patrick's Day
"St. Paddy's day is always associated with shamrocks and good luck. So we transformed those themes into a delicious cake pop that makes people smile. After all, not everyone gets into the spirit by drinking green beer (that includes me)."
From the Easter Bunny
"Our Easter pops were designed with children in mind — a gift for Grandma to send when she doesn't live close, complete with fudgy bunnies, chicks and hand-painted eggs. I also love to give my neighbors gifts for every holiday they celebrate; this seems like the perfect way to let them know I'm thinking of them. I have a gallery of photos with kids of all ages enjoying Easter pops I've created."
Mom's Favorite Things
"As for Mother's Day … we love anything feminine and played around with hats, shoes and purses of all sorts. These pops were a tribute to mom and her favorite accessories."
Spring for it!
Embrace the season and send a taste of spring to someone you love.