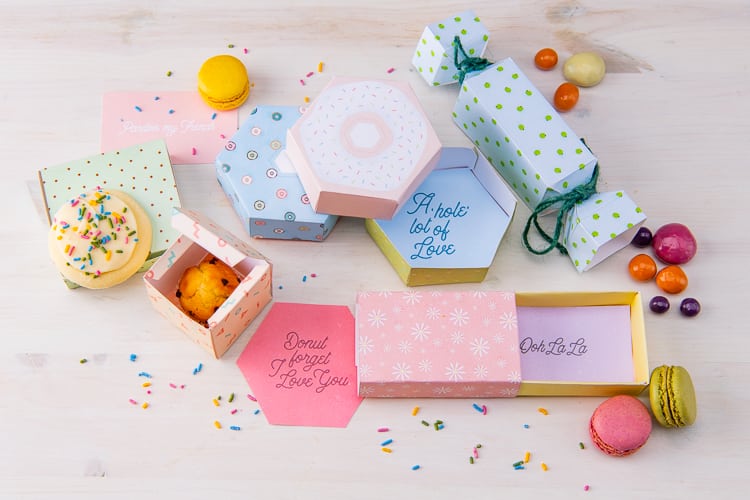 10 Printable Dessert Boxes for Your Favorite Treats
Getting ready to plan your next celebration? Don't forget the sweet treats! This time forgo the large decorative cake. Custom cupcakes, donuts and cookies are all the rage right now, so it's time to try your hand at creating some smaller treats for your guests to enjoy.
Of course, presentation is everything, so how you package your desserts is just as important as the spread during the party. Use these custom dessert box printables to surprise your guests and send them home with something to remember!
What is a printable dessert box?
A printable dessert box is a small, individualized dessert box used to package your favorite treats. Choose a dessert, like a donut or cupcake, then print the template on sturdy paper and fold into a 3D box!
Dessert boxes are a great way to dress up individual party favors, or to give to a friend or family member to celebrate their achievements!
How to Make a Dessert Box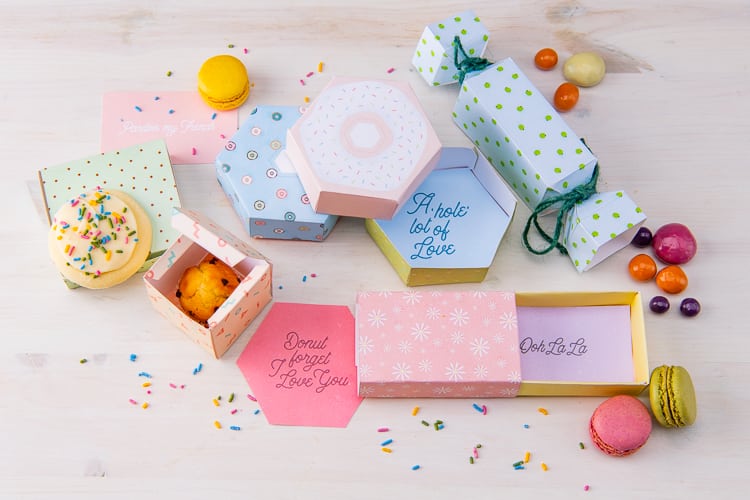 Materials
The key to a sturdy dessert box is the choice of paper, so you won't want to skimp on quality. We recommend something like heavy construction paper or card stock. Since the boxes will require folding and cutting to create, make sure the paper you choose is pliable.
Scissors
Precision cutter
Tape or glue
Sturdy paper
Ribbon or twine
Directions
Making the dessert boxes can be done in six simple steps. To assemble the design you've chose, follow the instructions below.
Download a dessert box PDF.
Print the designs from the PDF onto your choice of paper (card stock or construction). Note that each printable includes a top and bottom.
Following the solid lines, cut out the templates.
Fold the box inward following the dotted lines.
Apply tape where needed.
Insert custom printables from PDF.
Dessert box printables
When it comes to desserts, we love options, and so will your guests. Whether you've chosen to make gourmet donuts or try your hand at French macarons, we've put together a couple boxes for each occasion. The best part — they are simple to make and won't cost you an arm and a leg, so you can spend more time planning the other details of your event. Simply download each printable and follow the lines to for where to cut and fold.
Donut boxes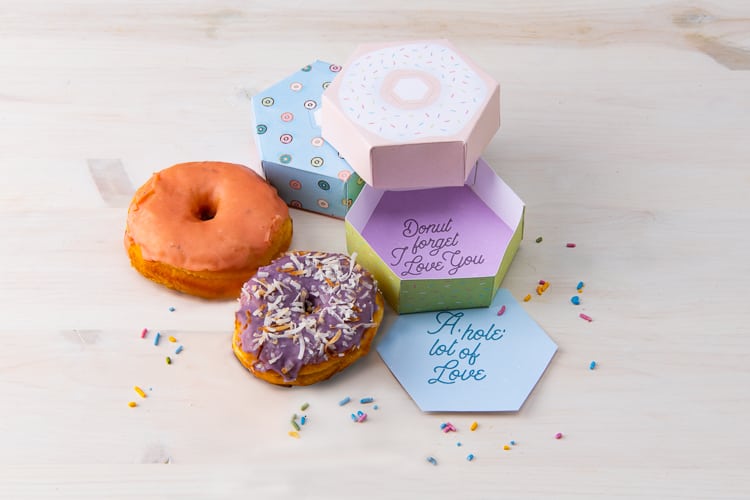 Cupcake boxes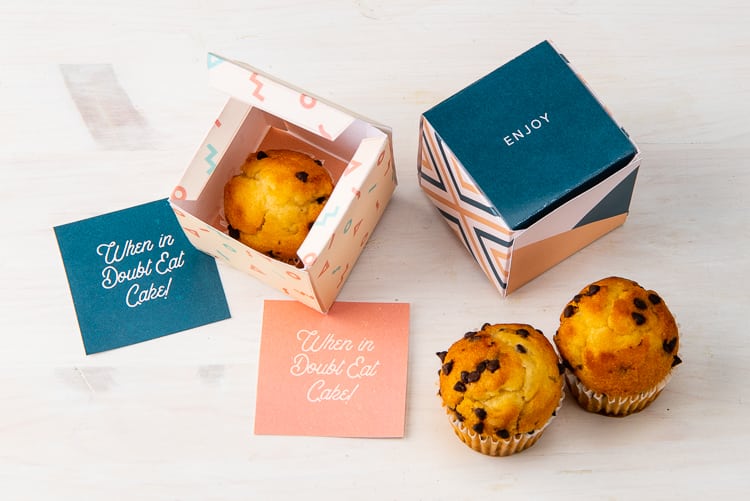 Cookie boxes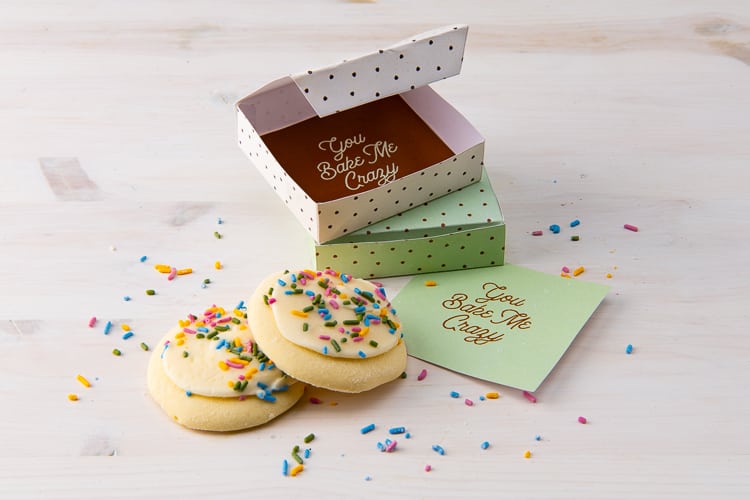 Macaron boxes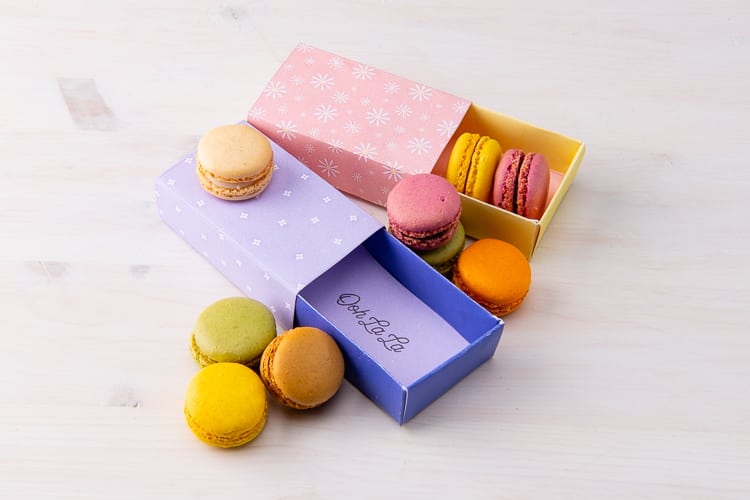 Candy boxes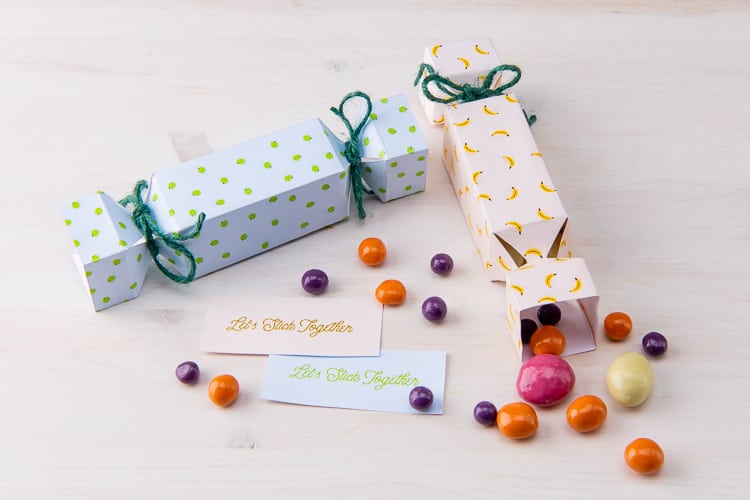 Now that you've accomplished the creation process, you're ready to start choosing the treats to fill each box. Once that's done, you'll have custom dessert boxes that will surprise and delight your guests — and at a fraction of the price. Don't forget the printable puns for an extra surprise upon opening the box!