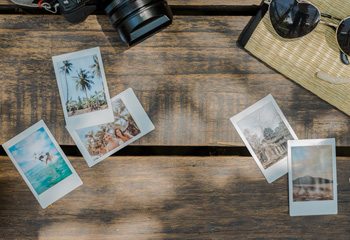 Fun Photo Scavenger Hunt Ideas + Printables
Scavenger Hunt Game Rules
Here are a few suggested photo scavenger hunt rules. You can modify them depending on location, age group and amount of people participating.
Each team or individual will be given a sheet with a list of items. You must find all items and snap a photo. Once the timer ends, whoever has the most pictures wins.
If participating as a team, you must always stay together. One cannot wander off and try and find items on their own.
Do not enter private property. If you need to ask a neighbor for an item or permission to take picture, do so.
Play fair. Remember it's all in good fun and there is no need to ruin someone's good time.
All items must be photographed on one phone or camera. It's much easier to keep track that way.
Make sure you set parameters within the search to avoid anyone getting lost.
It is best to set a reasonable time limit, an hour is enough to accomplish most of the items above.
Do not take a photo of two items together. They must be in separate pictures.
If you're setting point values to each item, make sure you are specific.
Check off any found items in order to keep track. At the end of the challenge, your team will be asked to show a picture for each item checked off.
Beach Fun Photo Scavenger Hunt
The beach is a great place to find fun photo opportunities. People skating around, catching some rays, or hitting the waves. Just make sure to not get your phone wet!

Summer BBQ Photo Scavenger Hunt
It wouldn't be summer without a BBQ and yummy food. If you're quick enough to snap a pic of someone's plate before they eat it, you're on your way to victory. If you're looking for the berries, make sure you scan all the desserts. There may be berries hidden in some cupcake recipes. Oh! And don't forget to look in a mirror, you may be wearing polka dots or sunglasses.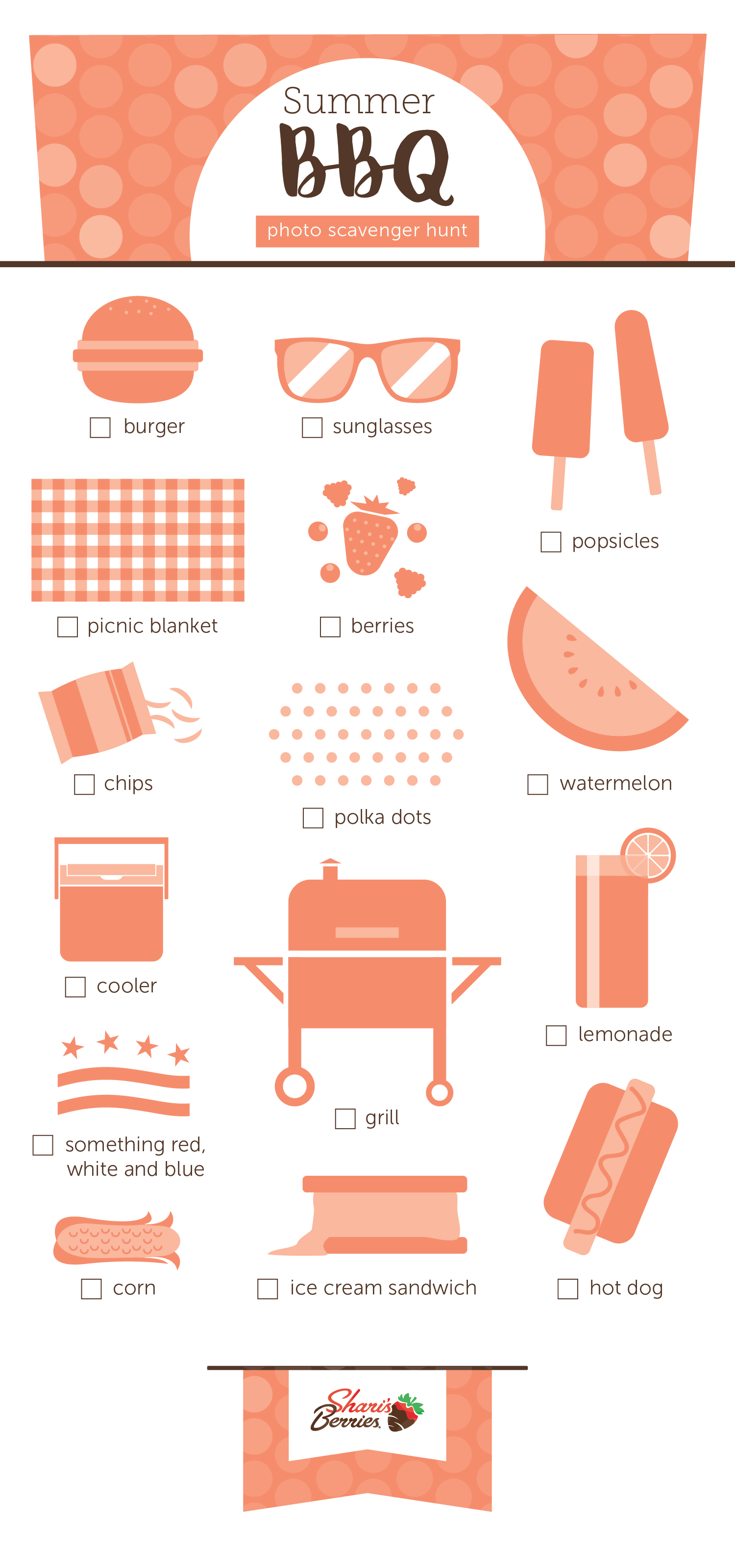 In the Neighborhood Photo Scavenger Hunt
Everyone enjoys a good stroll through the neighborhood. So gather up some of your friends or neighbors and snap pictures of things you may find right on your street. Just make sure you to ask permission if the item is in a neighbor's home.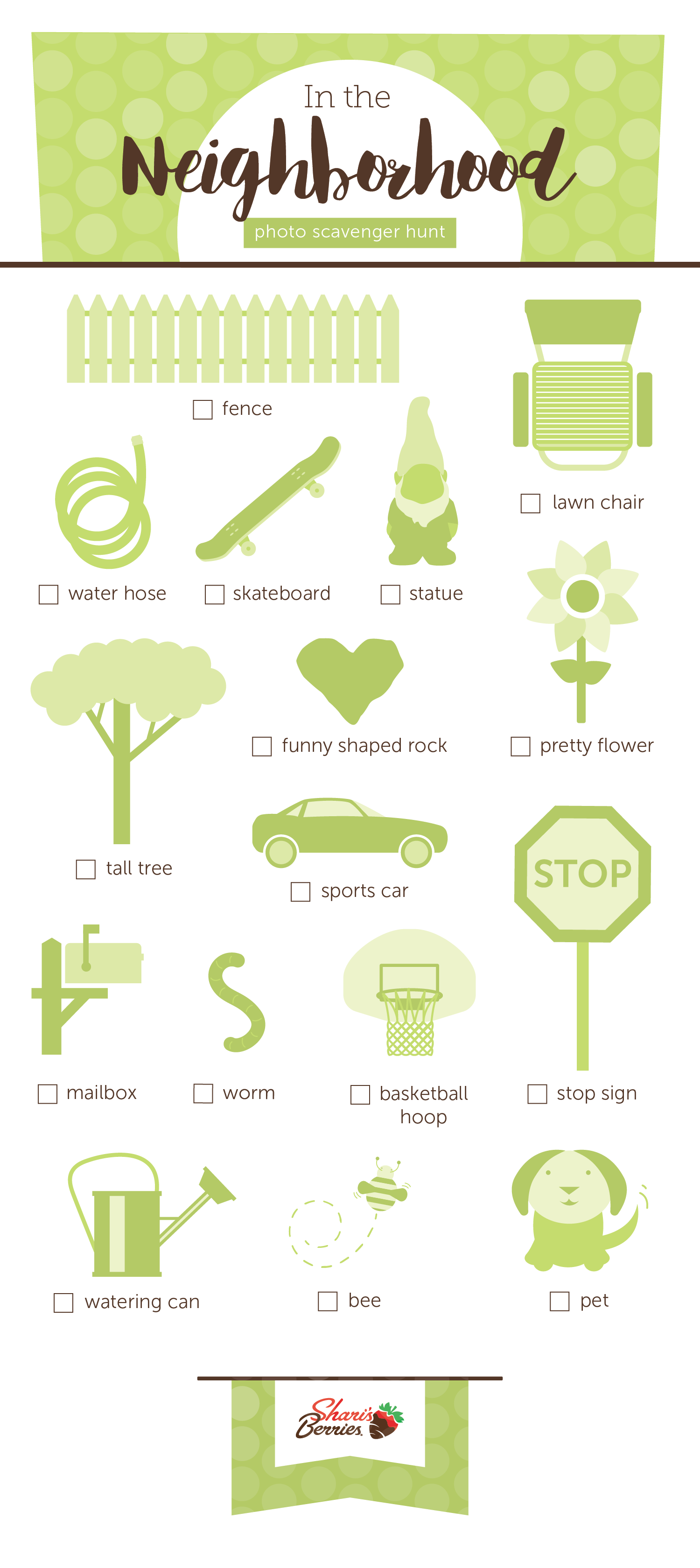 Amusement Park Photo Scavenger Hunt
Make a trip to the amusement park even more memorable by snapping funny photos! Between all the rides, games and prizes to win, you'll have to make some time to get a little competitive. Remember to look behind you, as there are always fun characters walking around!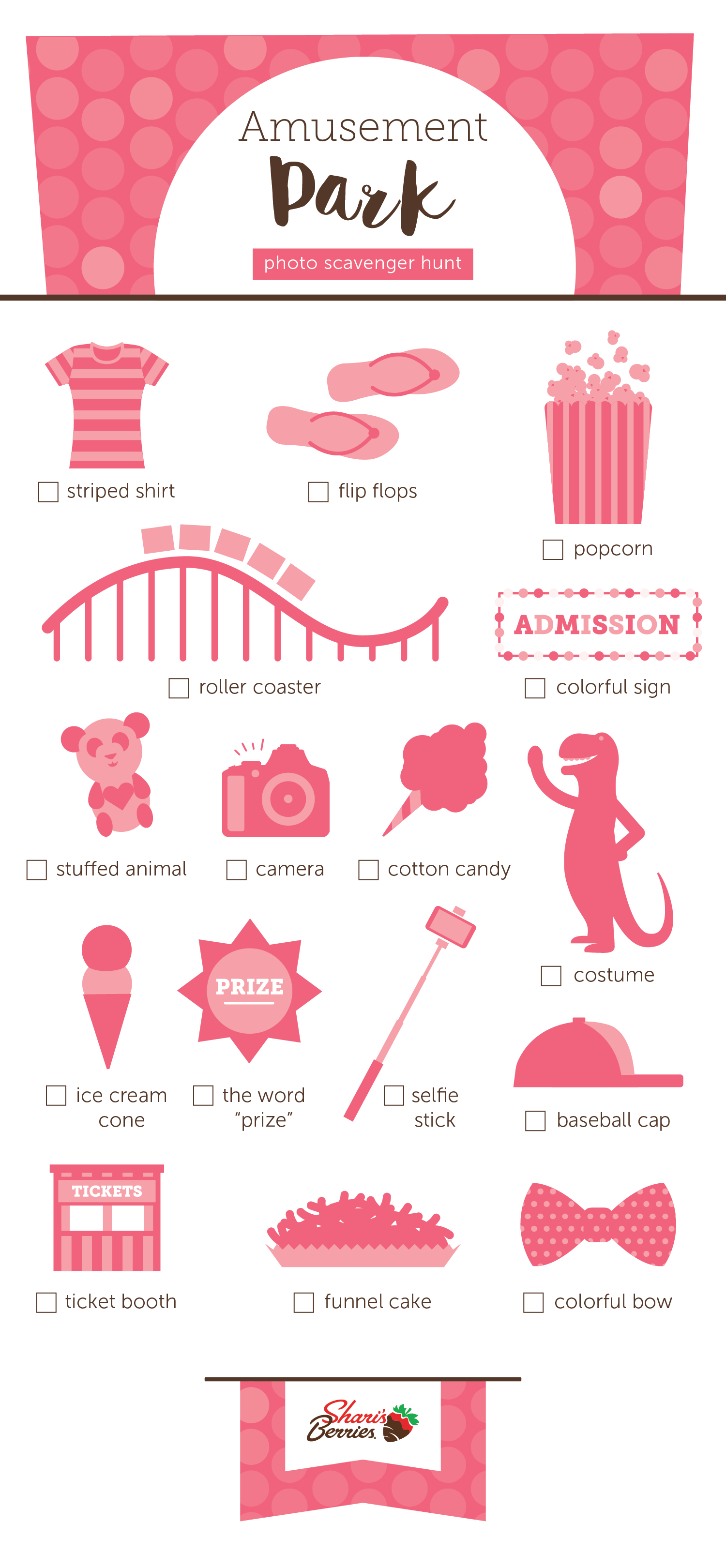 Additional Ideas
If you don't live close to a beach or amusement park, don't worry! It's easy to create your own photo scavenger hunt challenge. Just think of a place where there will be a lot of different photo opportunities and plan accordingly. If you want to make it more challenging, pick a theme for you photo scavenger hunt. Here are a few suggestions to get you started.
Local mall – The mall is a great place to find goofy hats or other costumes to take pictures! It's also a great place to interact with people. For example, you can add "someone wearing a green shirt" to the list. Just make sure you have their permission to take a photo with them.
Downtown – If you live close to a city center, this is a great option for you scavenger hunt. It's central to many different types of stores and restaurants, and probably has fun statues or fountains to take photos with.
Park – A local park provides plenty of jungle gyms to pose with. You can theme your hunt and act out scenes from favorite movies or TV shows at various locations in the park.

Sweet Prizes
As mentioned, the point of the scavenger hunt photo challenge is to have fun and discover new things. The prize can be anything you'd like, but what better way to reward the winners, or wind down, than with some yummy summer gifts—perfect for kids and adults!