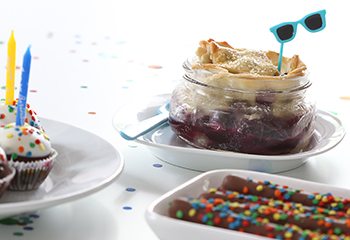 Unique Birthday Recipe: Mason Jar Blueberry Pie
I never had a problem with this, because the pies (well, sweets in general) were always my favorite part of the meal. Through the years, my mom and grandma were always in charge of making them. You see, I come from a long line of excellent pie makers.
In keeping with the tradition, last year I spent a lot of time teaching myself how to make a delicious pie with my A Year of Pie series on my blog. I can't say I'm an expert, but I definitely learned a thing or two.
Today, I wanted to share a few of my tips and help you create some adorable pies that are worthy of a birthday celebration.
Instead of creating a traditional pie, I thought it would be fun to mix it up. Here, I'm going to show you how to make these cute and delicious Mason Jar Blueberry Pies.
In Central Pennsylvania, blueberries are at their peak right now and ready for picking, Whenever baking (or cooking), I think it's smart to use ingredients that are in season to get the best flavor.
With the filling planned, let's talk dough. Making the crust can often be one of the most intimidating parts of creating a pie. However, once you find a recipe that you like and practice a bit, it becomes as easy at pie. (Pun intended.)
However, to keep things simple, I decided to use a store-bought crust for this particular recipe. I wouldn't recommend this for a more traditional pie, but it works well for this version. Plus, it will save you some time.
With some other fun and celebratory touches planned, I think we're ready to start baking. Let's take a look at the recipe.
Mason Jar Blueberry Pies
4 pies
Ingredients:
1 package (2 rolls) refrigerated pie dough
3 1/2 cups blueberries
1/2 cup sugar
1 tablespoon all-purpose flour
1 teaspoon cinnamon
1 tablespoon water
1 egg, lightly beaten
Coarse sugar for dusting

Directions:
In a large bowl, mix together the blueberries, sugar, flour, cinnamon and water. When stirring, break up a few of the berries to release some juice. Allow to sit for 15-20 minutes.
Preheat your oven to 350 degrees F.
On a lightly floured surface, unroll your pie dough. Using a rolling pin, roll out the dough to increase its size by 15%. Next, cut three circles out of one of the pieces of pie dough and another circle out of the second piece of dough. Each dough circle should be about 1 1/2 inches larger than the rim of your mason jar. With the remaining dough, use a star cookie cutter to cut out four stars. These stars will be the tops for your pies.
Place a cut dough circle into each mason jar, being careful not to stretch the dough.
Next, evenly divide the blueberry mixture among the dough-lined mason jars. Place a star cut from the dough on top of each pie. Trim off any access dough from the rim.
Lightly brush the dough with the egg wash and sprinkle with coarse sugar. Place the mason jars on a cookie sheet for baking.
Bake for 30-35 minutes or until the crust is golden and the filling is bubbly.
That's it!
Serve warm on a plate garnished with colorful flatware and sunglasses for fun. I'd say these Mason Jar Blueberry Pies are ready for a celebration. I think my mom and Gram would approve.
I'm serving them with these Birthday Cupcake Brownie Pops (with built-in candles) and some Birthday Pretzel Rods. This is my kind of birthday party!
With just a little effort and creativity, you can create a traditional treat with a twist and always be party-ready. Happy baking, friends!
Michael Wurm, Jr. is the blogger behind the widely popular lifestyle blog, Inspired by Charm, where he shares his love and tips for a decorated life. Whether it's ideas for easy decorating, a delicious recipe, entertaining inspiration, or a unique DIY project, his goal is to provide the tools and ideas for everyone to live a happy, colorful life.