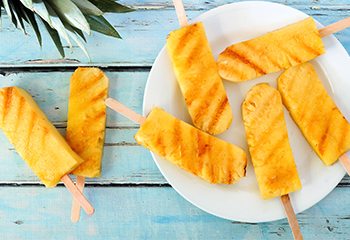 8 Grilled Fruit Ideas for Your Summer BBQ
There's a reason why grilled fruit tastes so good. When you place it on the grill, some of the water evaporates from the produce which concentrates the sugars and gives you that amazing caramelized surface. The flavors really start to pop! Convinced you're ready to give it a go? Here are some tips and must-try recipes that will make you the hit of your next barbecue.
How to Grill Fruit
Preheat the grill. Heat your grill to medium-high heat (between 350–450F) for about 10–15 minutes. Make sure you clean the grates so the surface is clean when you put your fruit down!
Prep your fruit. Once you've picked out which fruit you're going to grill, clean the fruit and cut it into chunks, slices, wheels, etc. Rub your fruit in a neutral-tasting oil that's suitable for high heat (safflower and grapeseed oil are great choices!).
Choose a spice. Dust the cut sides of your fruit with whatever spice you desire. Our personal favorite? Sugar! It helps the rinds from sticking and gives it that decadent caramelized finish we all crave.
Place fruit on the grill. You can put it directly on the grill or in a grill basket. Let it sit for a few minutes before checking for grill marks. Fruit might stick to the grill in some cases which is totally fine! It usually takes about 3–5 minutes until grilled to perfection but you can check every couple minutes for doneness.
Serve and enjoy!
What kind of fruit can you grill?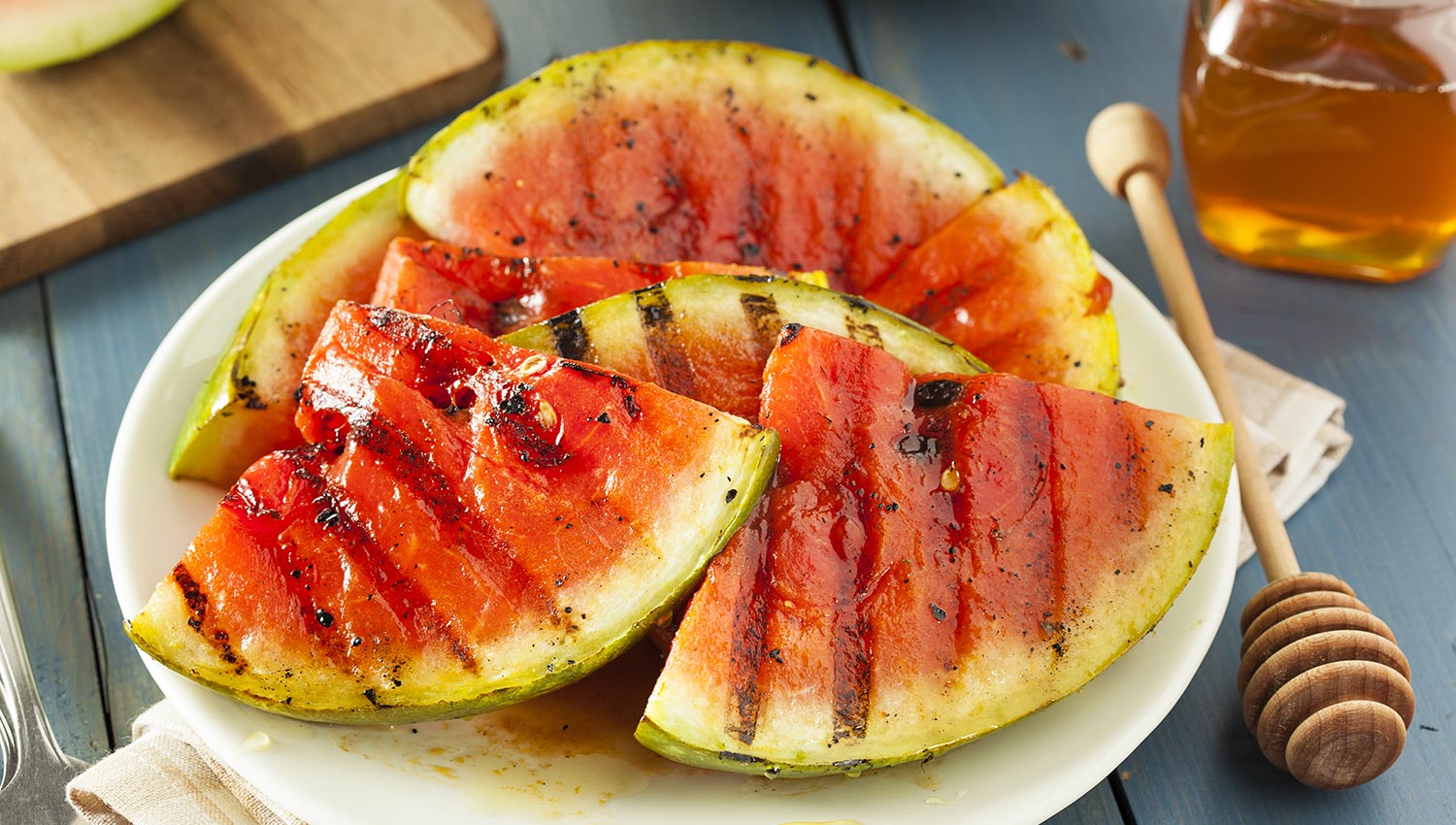 Apricot: Cut your apricot in half and brush each half with oil. Place it on the grill cut-side down for about a minute and 30 seconds. Turn it over and continue to grill for about a minute or until golden brown, then remove it from the grill.
Avocado: Cut your avocado in half and remove the seed. Drizzle with oil and place cut-side down on the grill for about 2–3 minutes.
Banana: Cut the banana in half lengthwise but make sure to leave the peel on. Place it cut-side down on the grill and cook for about three minutes. Brush with your mixture of choice (honey is a great option!) then grill for about five more minutes.
Cantaloupe: Peel your cantaloupe and cut into wedges. Brush with oil and grill each side for about 3–5 minutes.
Cherry: Toss your cherries in balsamic and place in a grill pan. Grill for about five minutes, turning with a spatula a few times.
Fig: Cut the fig in half lengthwise and coat in oil and brown sugar. Lay the fig cut-side down and cook for about 3–5 minutes.
Mango: Cut the mango in half and remove the seed. Brush each side with vegetable or canola oil and place flesh-side down on the grill. Cook for about 2–3 minutes.
Nectarine: Cut your nectarine in half and brush with oil. Place on the grill cut-side down and grill for about four minutes.
Peach: Cut your peach along the seam all the way around. Remove the pit by twisting it in half. Brush each side with vegetable oil and place on the grill cut-side down. Let it sit for about 3–4 minutes before taking off the grill.
Pear: Cut your pear in half lengthwise and core. Brush with oil and place it cut-side down. Grill for about 4–5 minutes.
Pineapple: Everyone's favorite fruit to grill! Peel, core and cut your pineapple in rings. Coat with oil, place the pineapple rings on the grill and cook for 2–3 minutes per side.
Plum: Cut the plum in half and remove the pit. Brush the cut sides with oil and place cut-side down for about two minutes.
Strawberry: Cut your strawberry in half or leave whole based on your preference. Coat in balsamic vinegar and sprinkle with sugar. Leave on the grill for about 1–2 minutes.
Watermelon: Cut your watermelon into ½ inch thick slices and brush each side with oil. Grill each side for about 2–3 minutes or until you see grill marks.
How long do you grill fruit?
One of the things we love most about grilling fruit is that it takes little to no time at all! Most fruit generally cooks in about 3–5 minutes, some even less. For the perfectly cooked, charred-to-perfection piece of fruit, take it off the grill when you start to see grill marks. Larger fruit will like need a few extra minutes or so to fully caramelize.
Tips for Grilling Fruits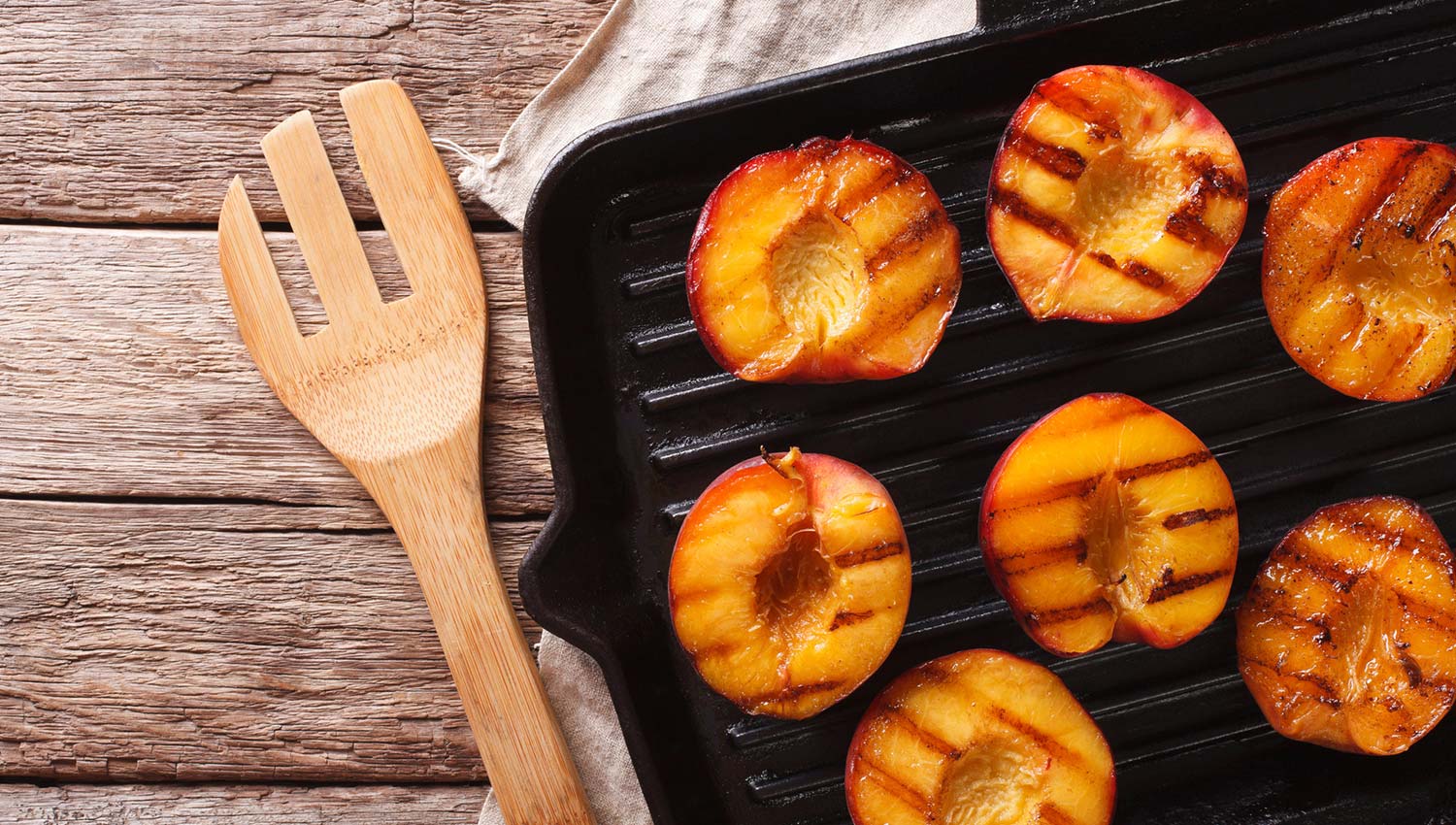 For smaller fruit (like strawberries and cherries) place them on a skewer! This will make it easier to turn and also ensure they don't fall between grill grates.
Sugar works great on lemon and lime wheels to garnish cocktails and desserts!
Make sure the fruit you choose is ripe, but not too ripe. If it's a little firmer, it'll hold up better on the grill. And don't worry, it'll still taste caramelized and wonderful!
Use neutral oils as much as possible. Safflower oil, grapeseed oil and melted, unsalted butter are all great choices and will help prevent your fruit from sticking.
Be patient! For the perfectly grilled piece of produce, let it sit on the grill (untouched!) for at a few minutes before checking to turn over.
Let your creativity shine! Grilled fruit is extremely versatile and works for both sweet and savory options. Mix and match your pairings as the ideas pour in.
Try grilling with the skins on with softer fruit (bananas!) in particular. This will help them maintain their shape.
Try topping your fruit with different toppings before and after grilling! Sugar, lemon juice, honey, cinnamon, etc all help to enhance the flavor.
Grilled Fruit Recipes

With summer just around the corner, it's never too early to start preparing your favorite grilling recipes! This year, surprise family and friends by incorporating berries, citruses and other fun fruits into the mix. Whether adding to a savory dish, concocting a delicious dessert or garnishing a cocktail, grilled fruit will no-doubt be the hit of your next get-together. We hope this handy recipe guide presented some much-needed inspiration!