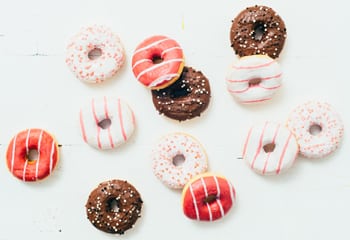 Donut and Wine Pairing for Every Personality
Donuts are one of the most popular breakfast foods, but recently they've taken the party scene by a storm. From donut walls to wedding dessert buffets, these round confections have everyone's mouth watering at all hours of the day. So how do you make this sweet treat even more festive? Pair it with your favorite wine, of course! From crisp whites to full-bodied reds, there's a perfect wine for every gooey, glazed donut on your list.
Try these donut and wine pairings out at brunch, or plan a date night and try your favorite varieties with your sweetheart. For a special touch, add a romantic gift to your dessert table and watch your significant other swoon over these delightful combinations.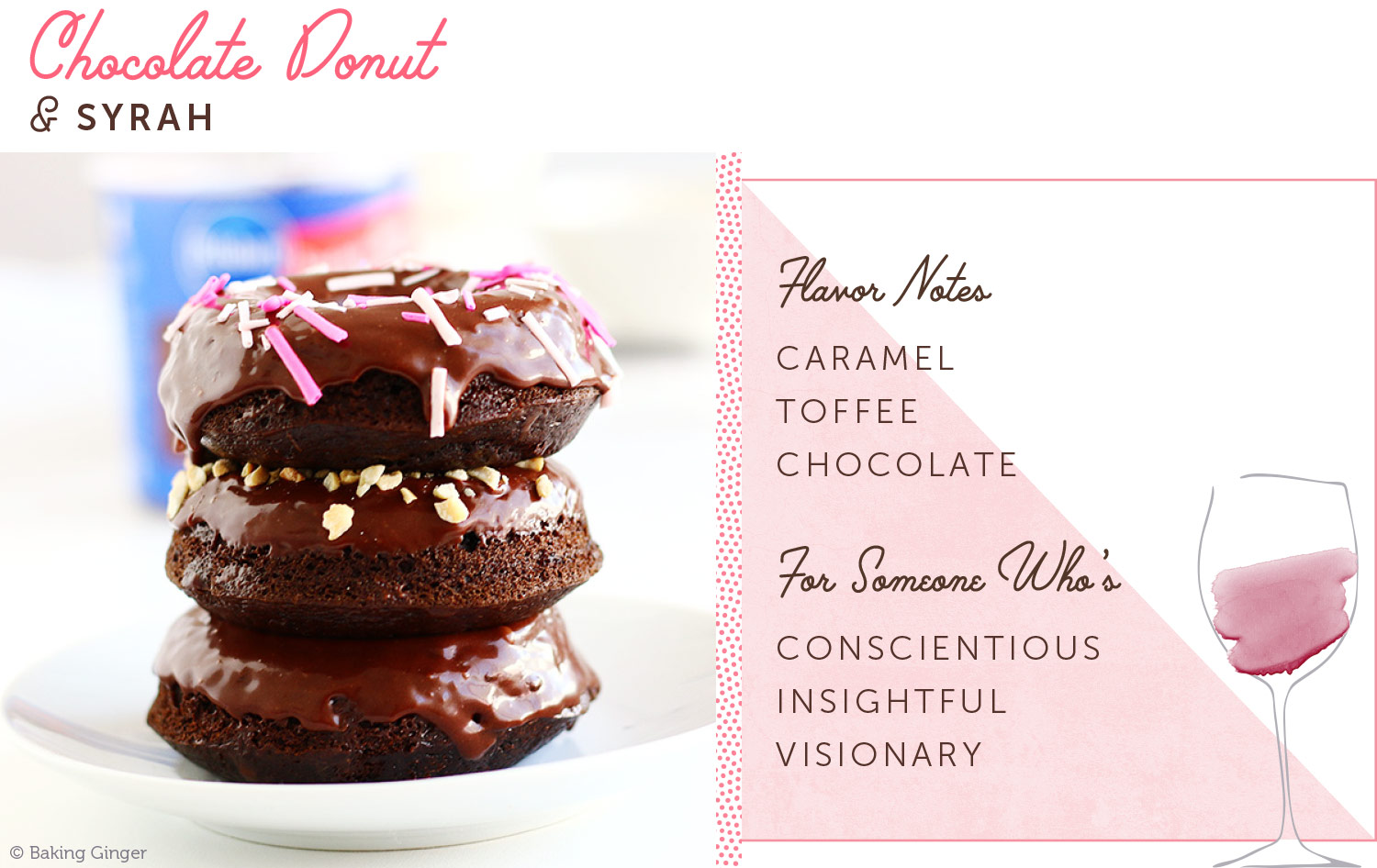 Photo courtesy of Baking Ginger.
Pairing wine with chocolate is a classic combination and chocolate donuts are no exception. To prevent a bitter aftertaste, pair the chocolate donut with a sweeter red syrah. Try choosing a wine blend that has notes of caramel or toffee for a delicious mix.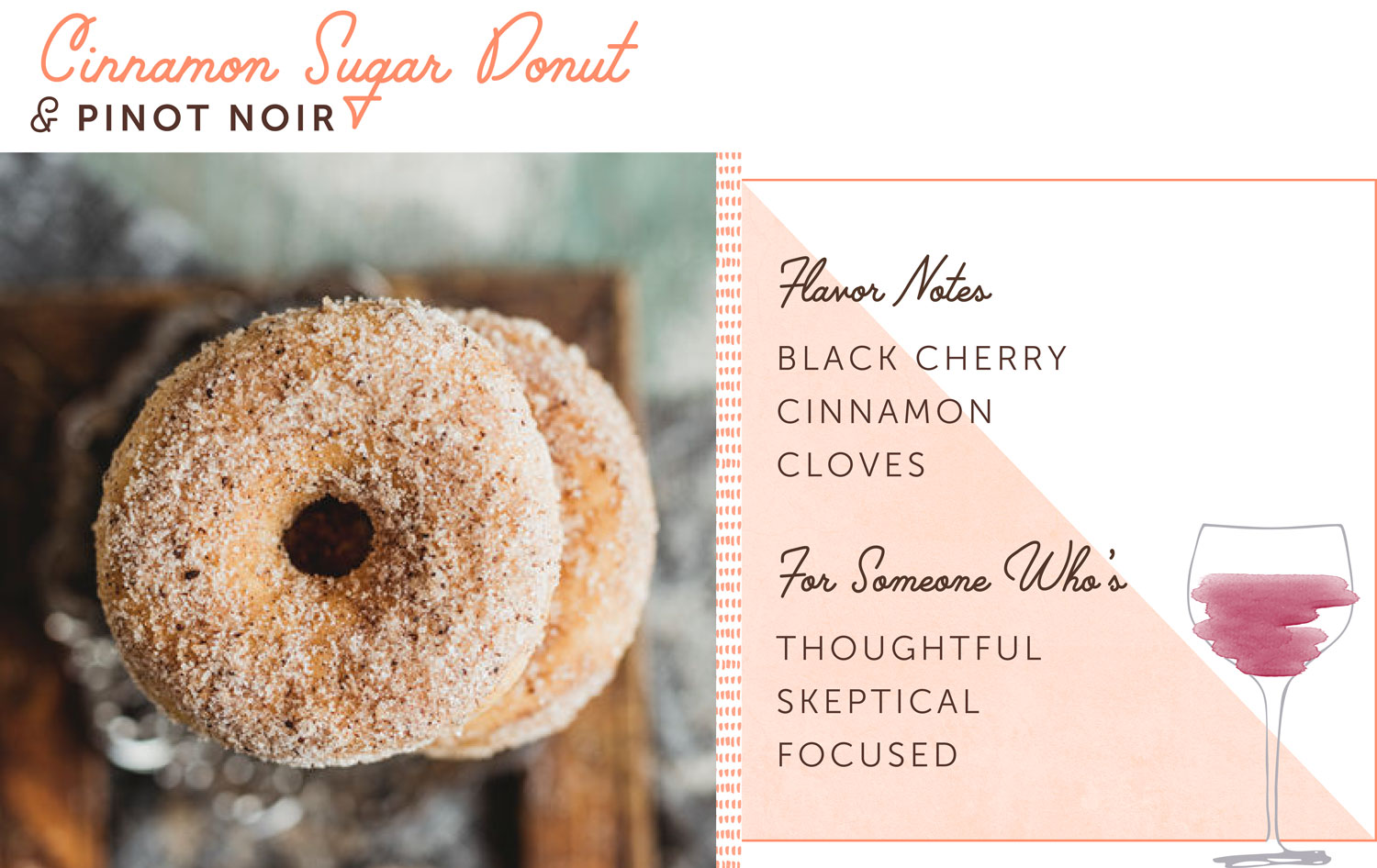 Pinot noir has a high acidity and a rich, fruity flavor that can stand alone. However, its notes of black cherry, potpourri and cloves blend well with the spice of a cinnamon sugar donut. The result? A unique and flavorful combination that'll leave you craving more.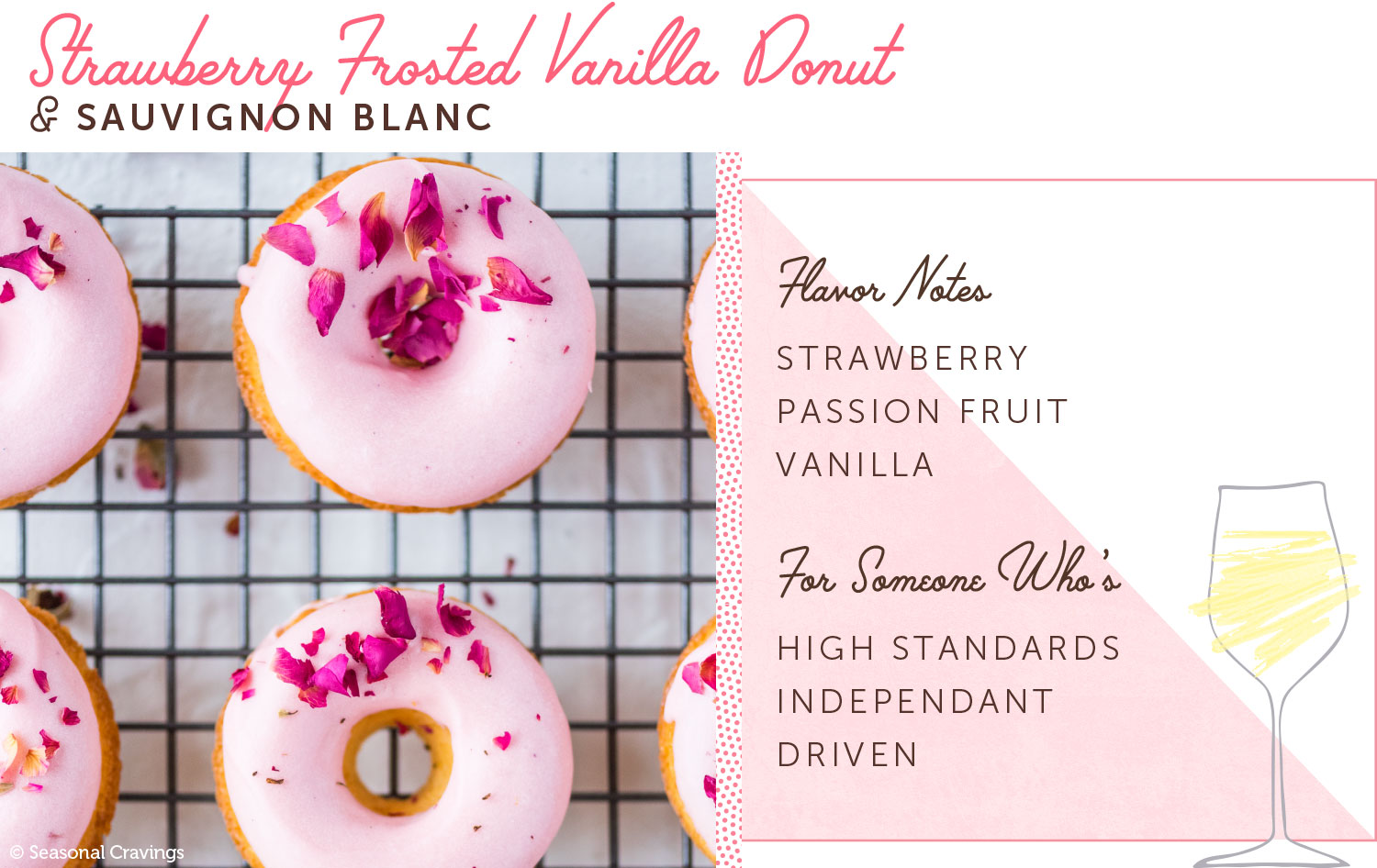 Photo courtesy of Seasonal Cravings.
Capture summertime flavors by pairing fresh strawberry frosted vanilla donuts with a sweet sauvignon blanc. These grapes, originating from the Bordeaux region of France, are used in sweeter dessert wines. For a refreshing twist, try pairing your strawberry frosted donut with a sparkling variety of sauvignon blanc and some chocolate dipped strawberries.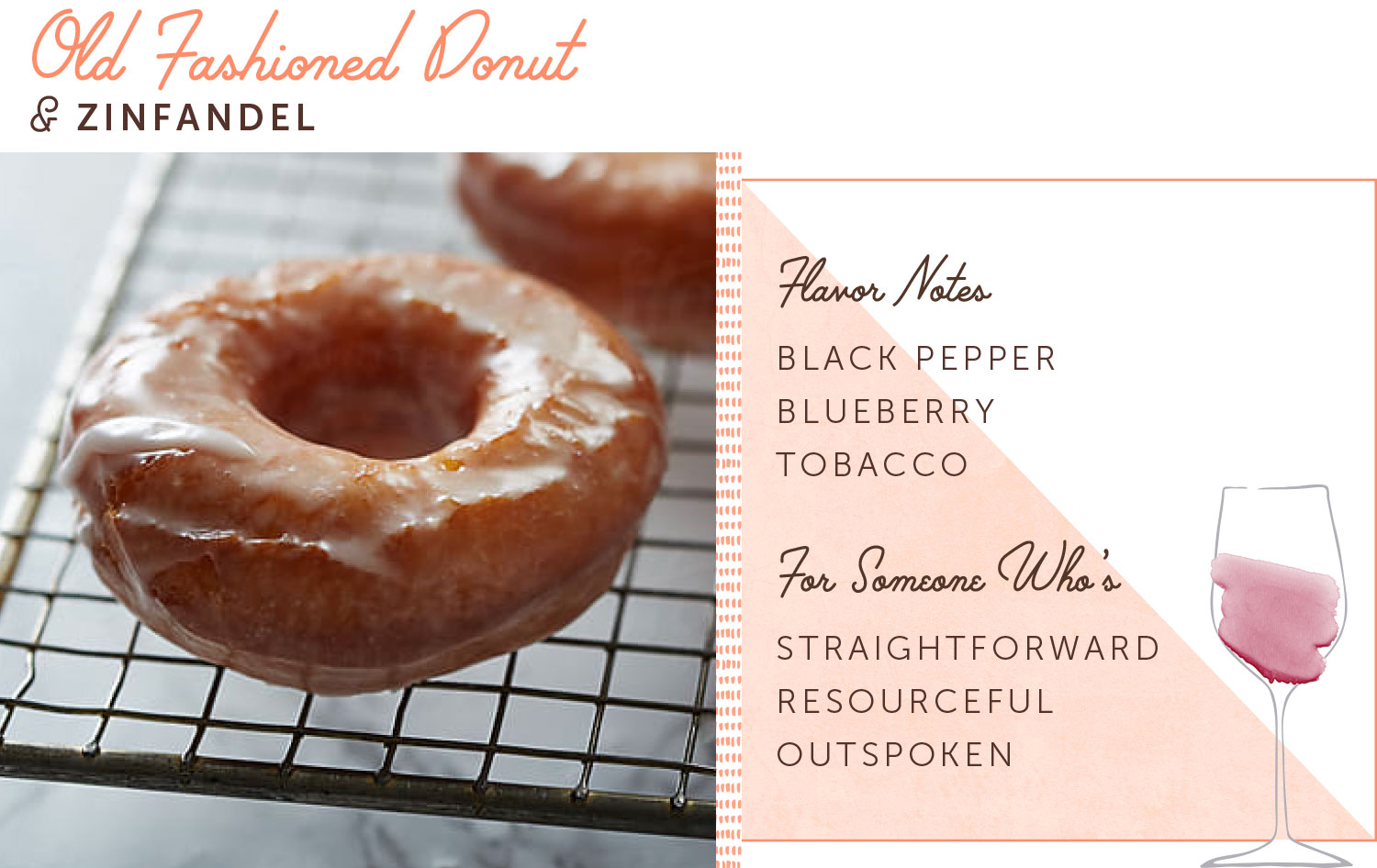 Popularized in California, zinfandels have a bold, fruity flavor that is very dry and distinct. Pair a glass with a simple, less-sugary donut (like an old-fashioned) to create a balanced and full pallet. You'll taste spicy notes in both the wine and donut that you may not have noticed before.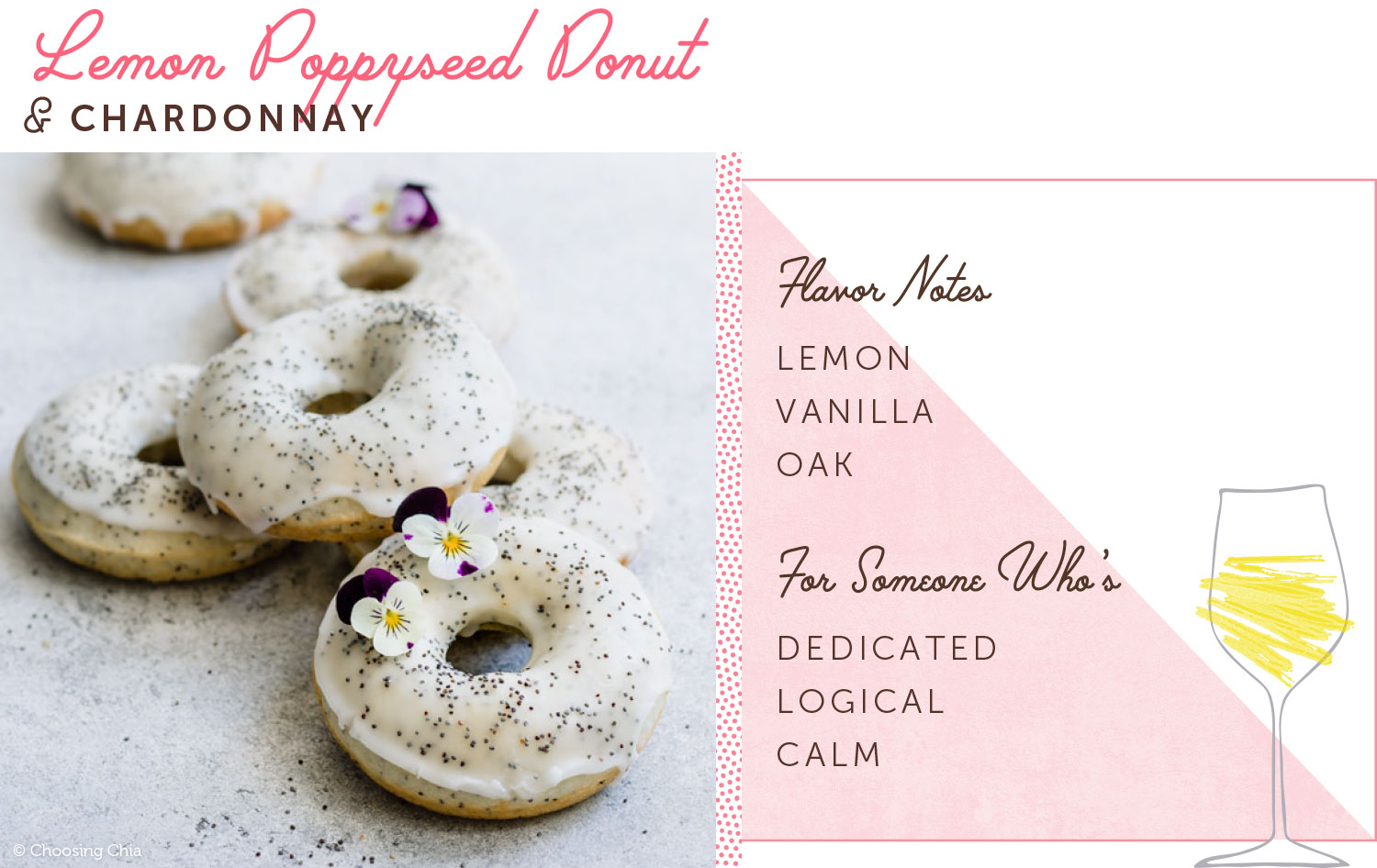 Photo courtesy of Choosing Chia.
You've paired your lemon chicken with wine, but what about your lemon poppy seed donut? The fresh citrus notes in the donut pair well with a simple and classic chardonnay. Chardonnay is a popular dry white wine with an oaky finish that holds hints of vanilla. Choose a chardonnay that has hints of citrus to get a full palate.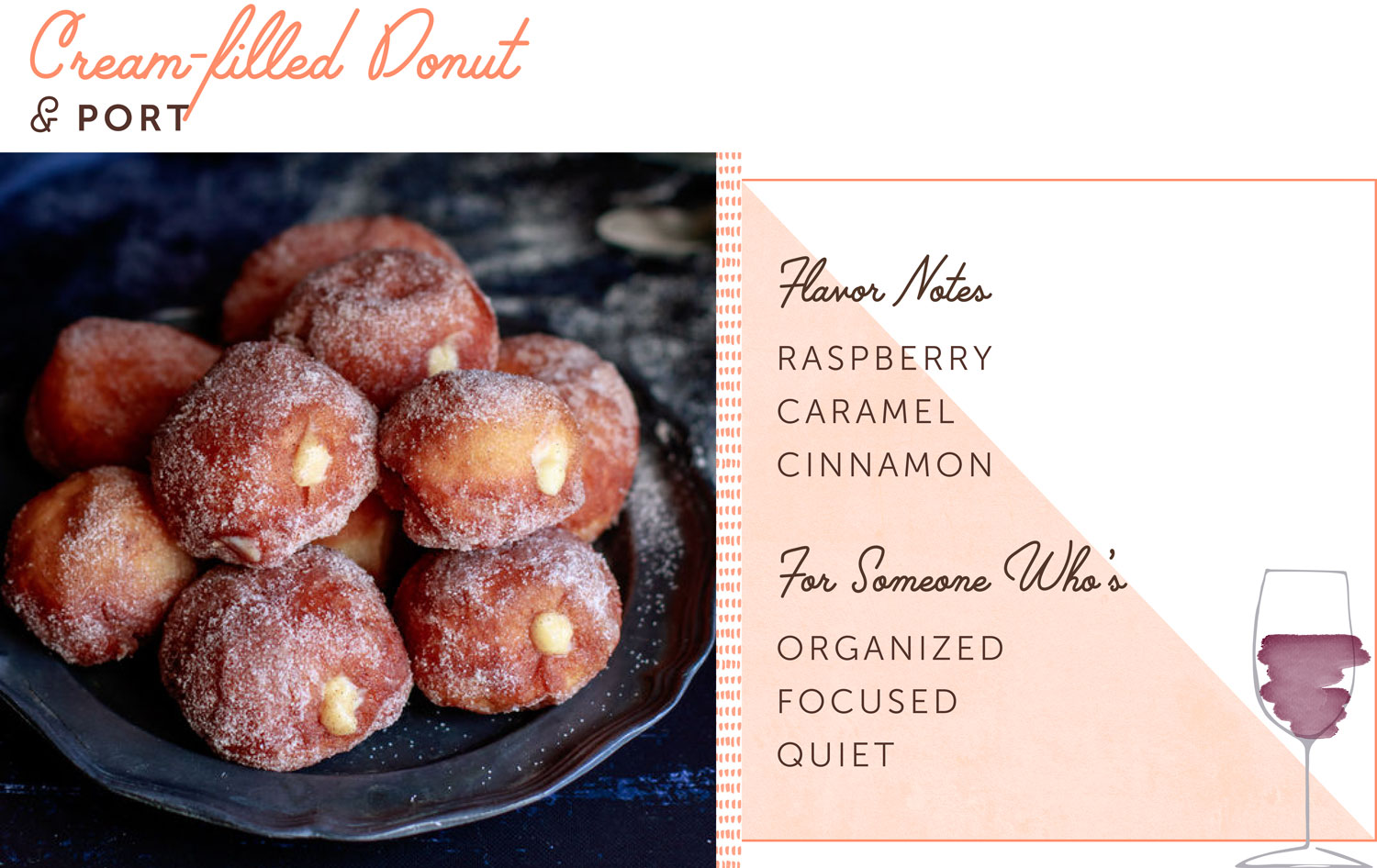 Port wine is a dessert wine; it has sweet notes of raspberry, blackberry, caramel, cinnamon and chocolate. A creme filled donut pairs perfectly with port, complementing the flavors of the wine and leaving a silky smooth aftertaste.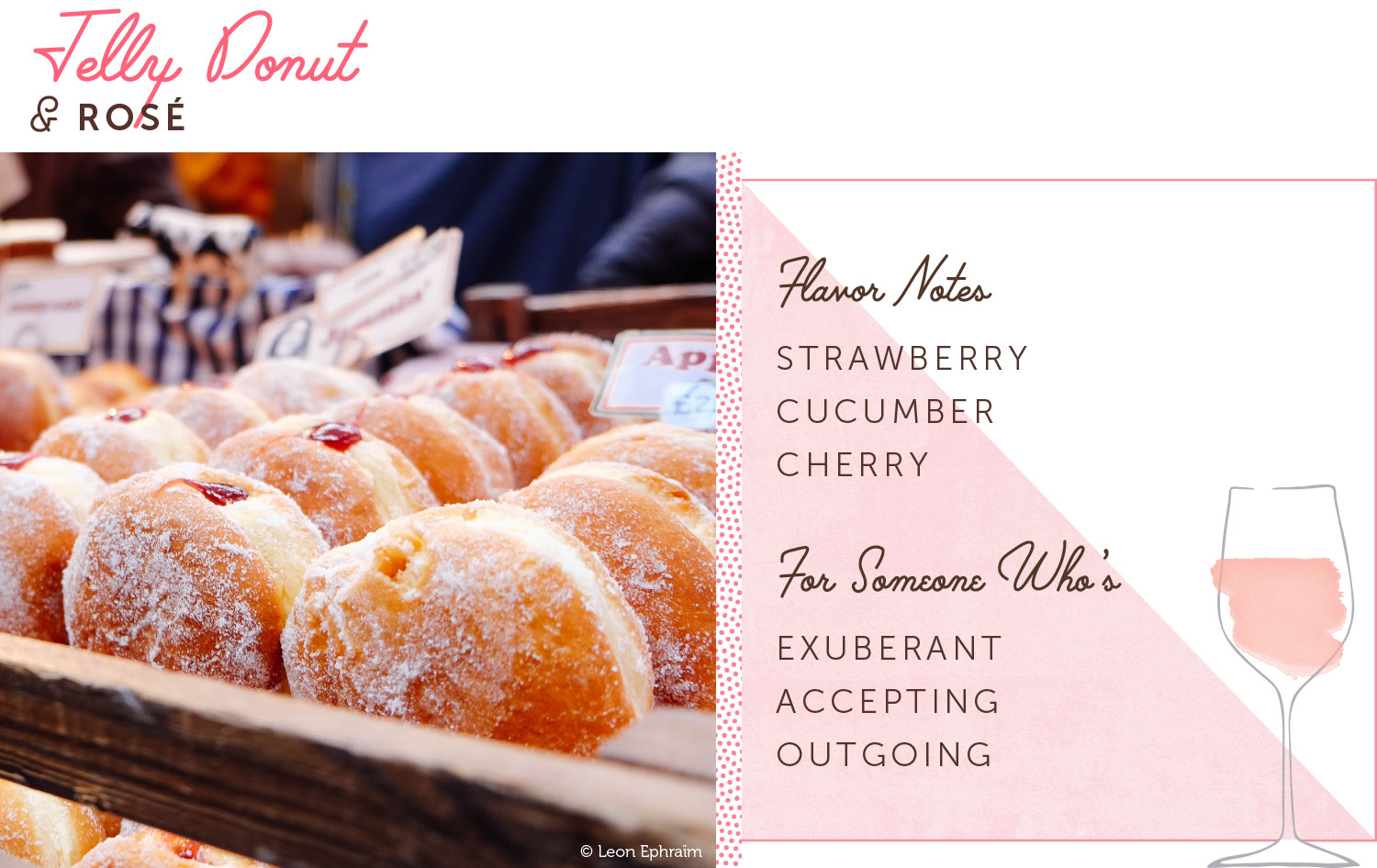 Pair the fruity notes of a rosé with an equally fruity jelly donut for a fragrant mix. The slight bitterness that is often lingering in rosé will cut down the sweetness of the jelly donut, so you won't finish feeling sugared-out.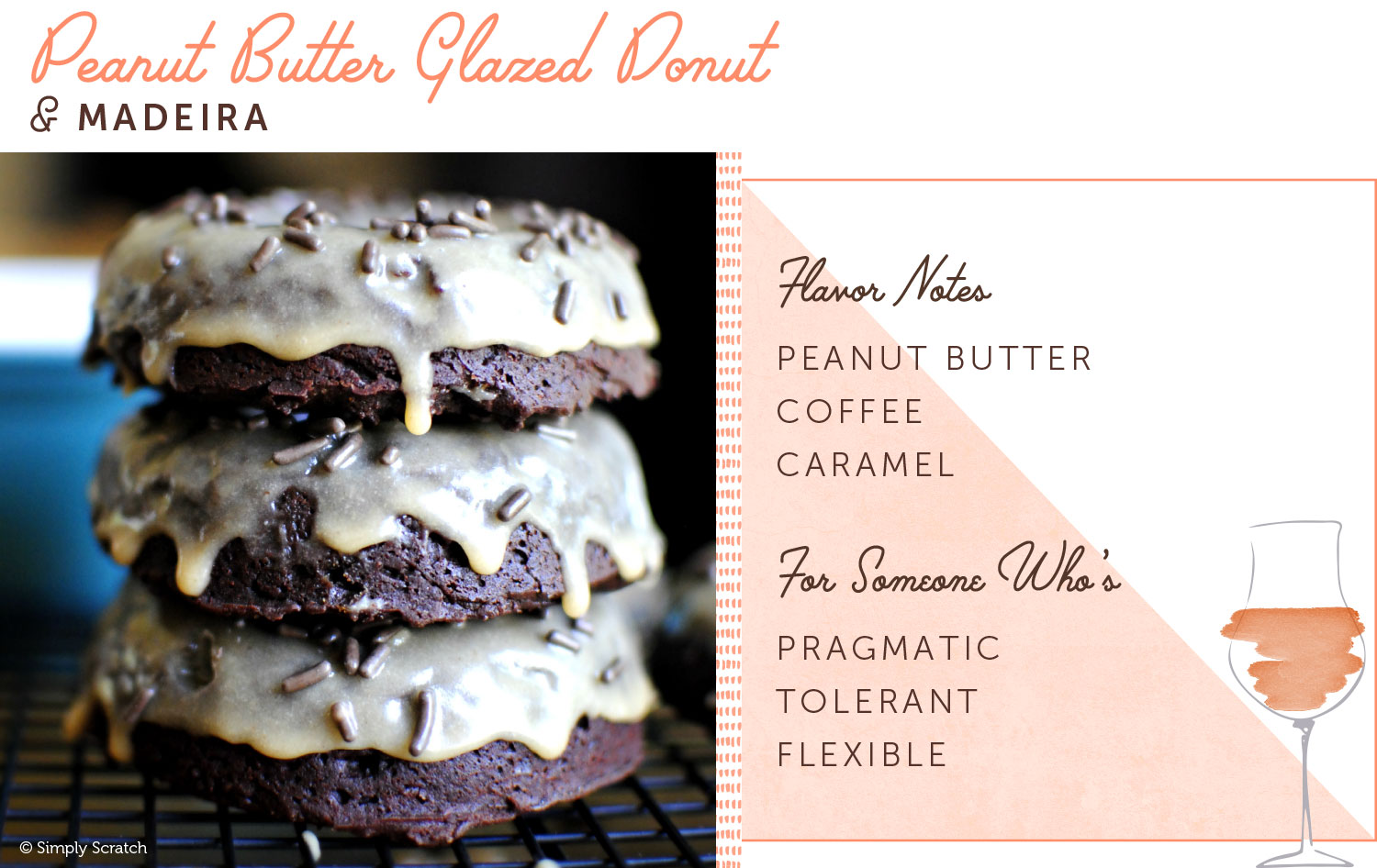 Photo courtesy of Simply Scratch.
For all you peanut butter lovers out there, this combination will leave your mouth watering. Pairing a peanut butter glazed donut with the coffee and caramel flavors of a Madeira is a unique twist that you'll crave again and again. Madeira wine comes from the Portuguese islands of Madeira, and you can find blends that range from sweet to dry, depending on your preferences.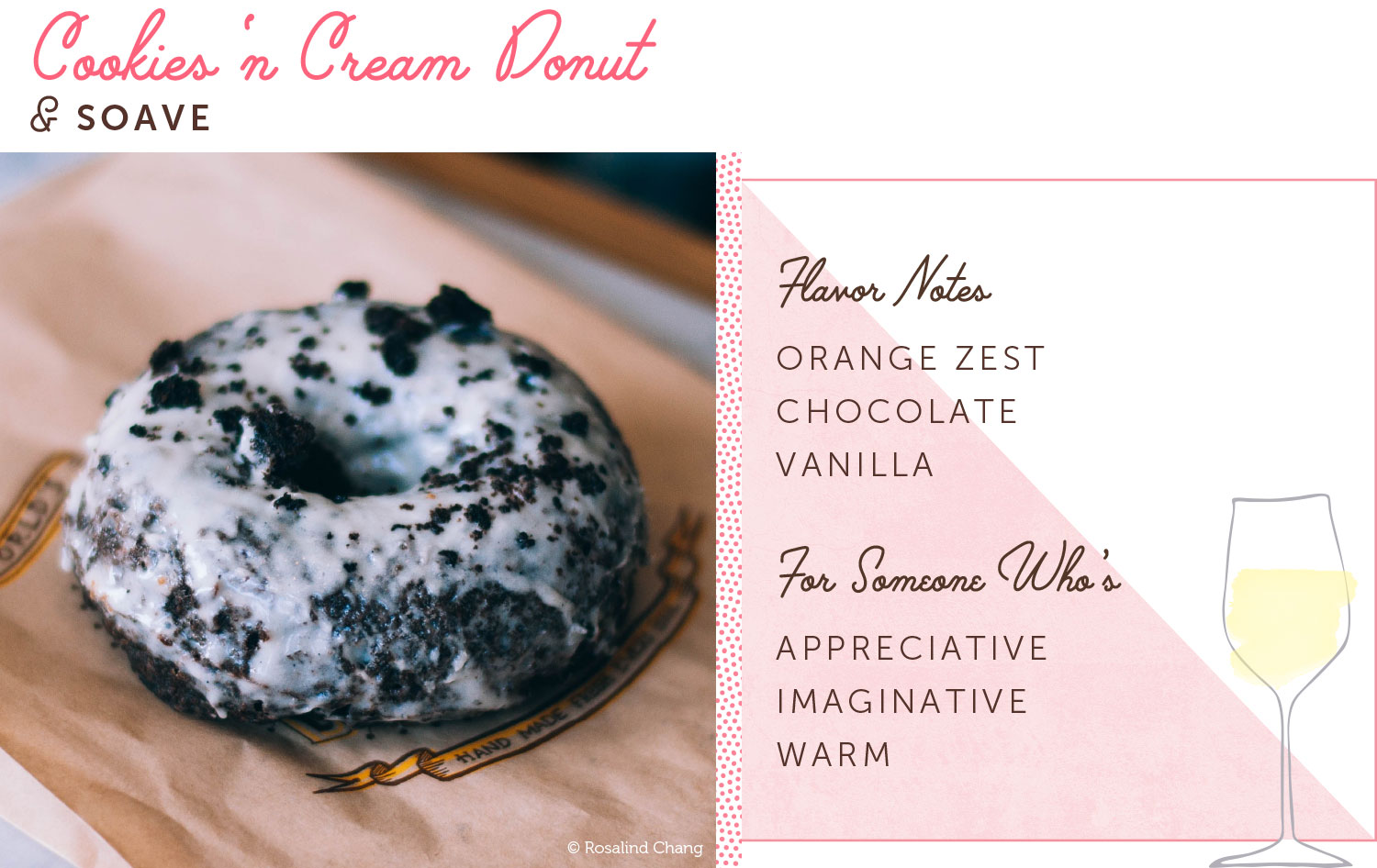 Cookies 'n cream donuts are mouthwateringly sweet, so try pairing one with an acidic, dry wine to produce a full palette of flavors. Soave is a dry white wine that comes from the Veneto region of Italy, close to Verona.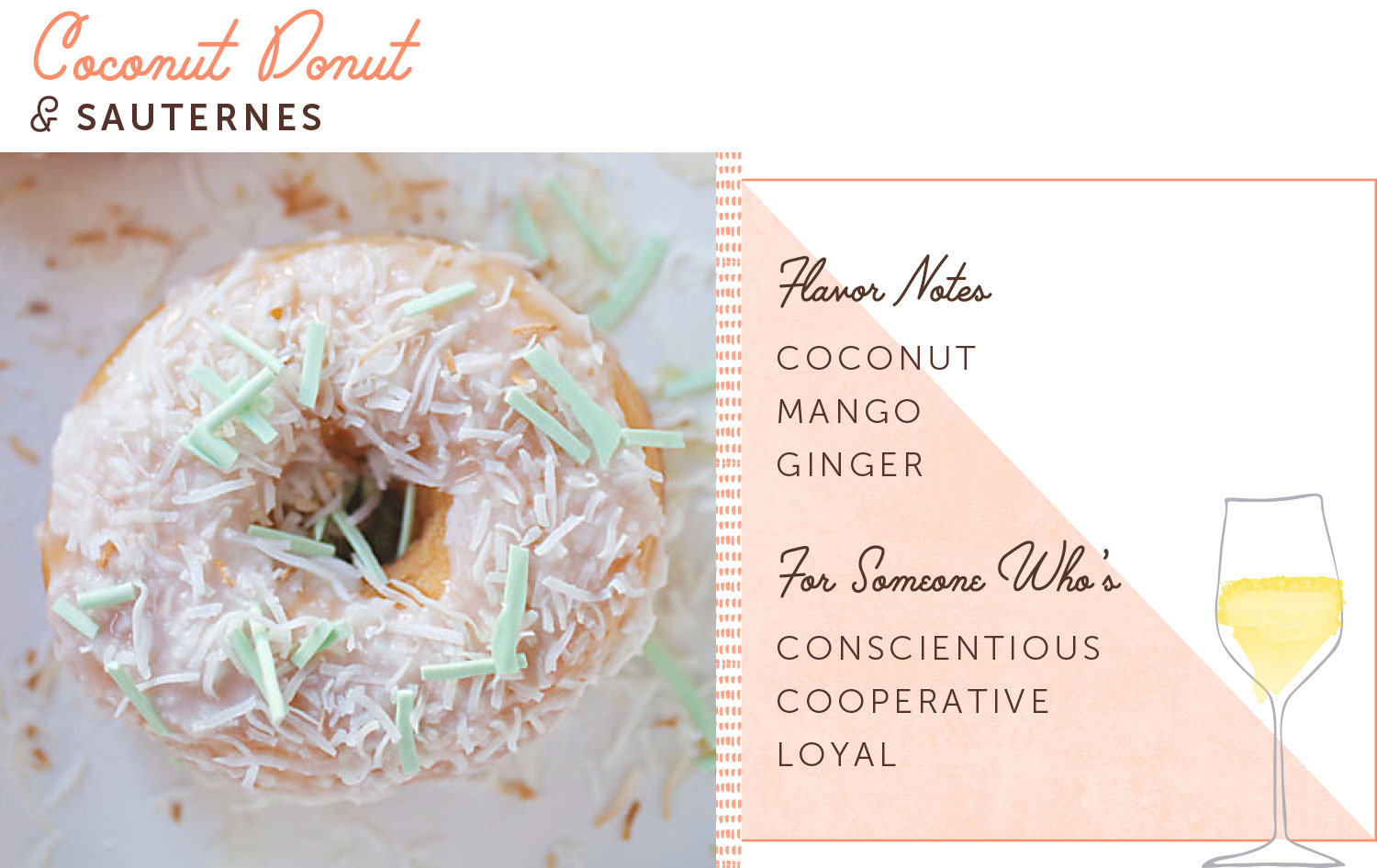 Sauternes, originating in the Bordeaux region of France, have sweet flavors of caramel, mango, coconut, ginger and honeyed apricot. Pair with a coconut donut to bring the tropical notes to center stage.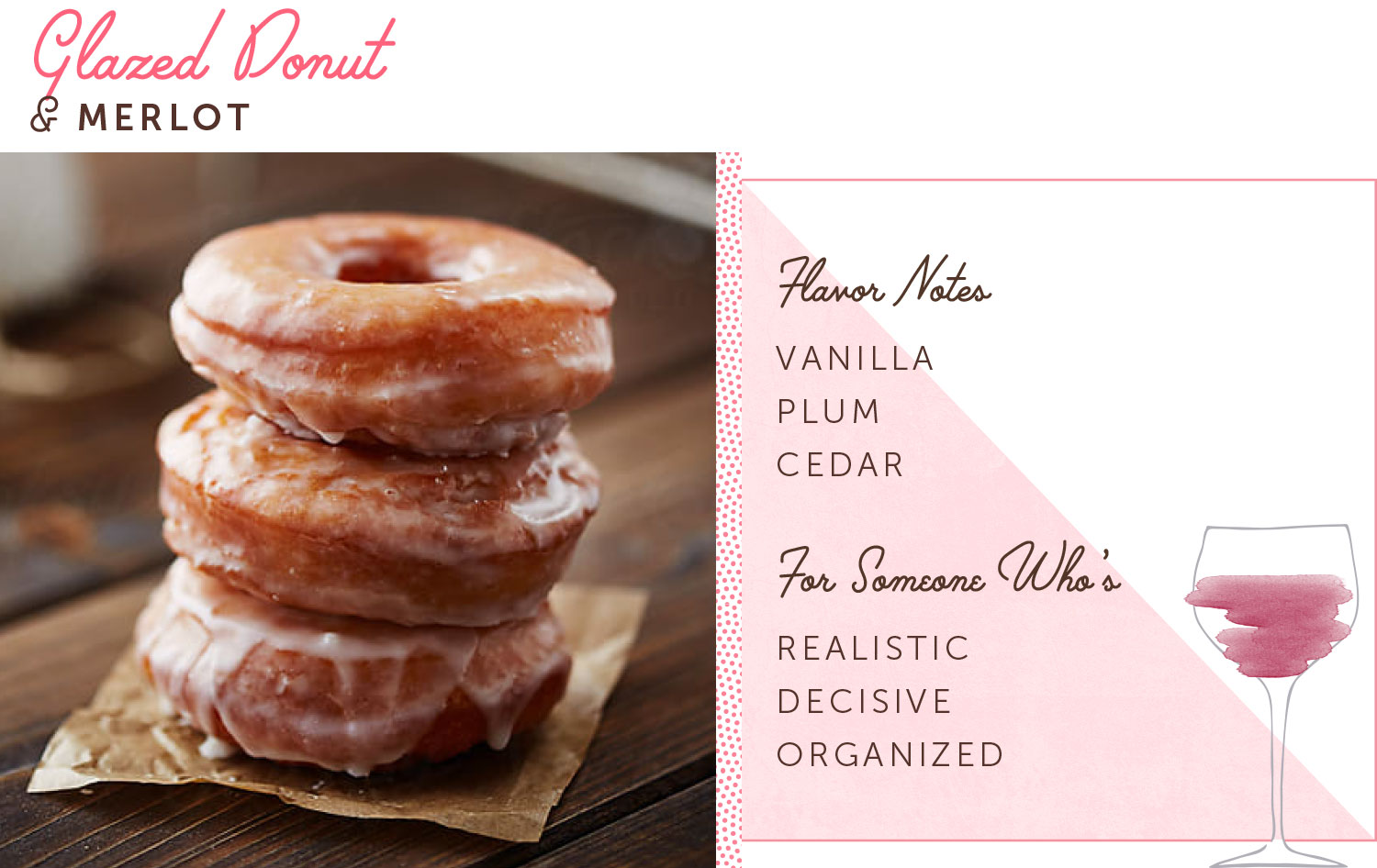 The classic donut deserves an equally timeless wine pairing. Merlot is a popular wine that has a medium acidity and soft finish. The vanilla flavoring of the simple glazed donut will combine with the dark plum and cedar wine notes to create a crave-worthy combination.
No matter your baked good preference, there is a donut and wine pairing for you. By mixing trendy donut flavors with classic wine blends, you'll gain a better understanding of the wine and a greater appreciation for donuts. Bon appetit!

References:
Vinepair I Food & Wine I Wine Enthusiast I Decanter.com I Kitchn I Wine Folly