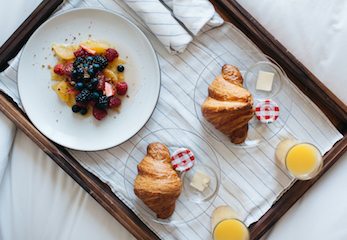 45 Breakfast In Bed Ideas + Recipes That Will Impress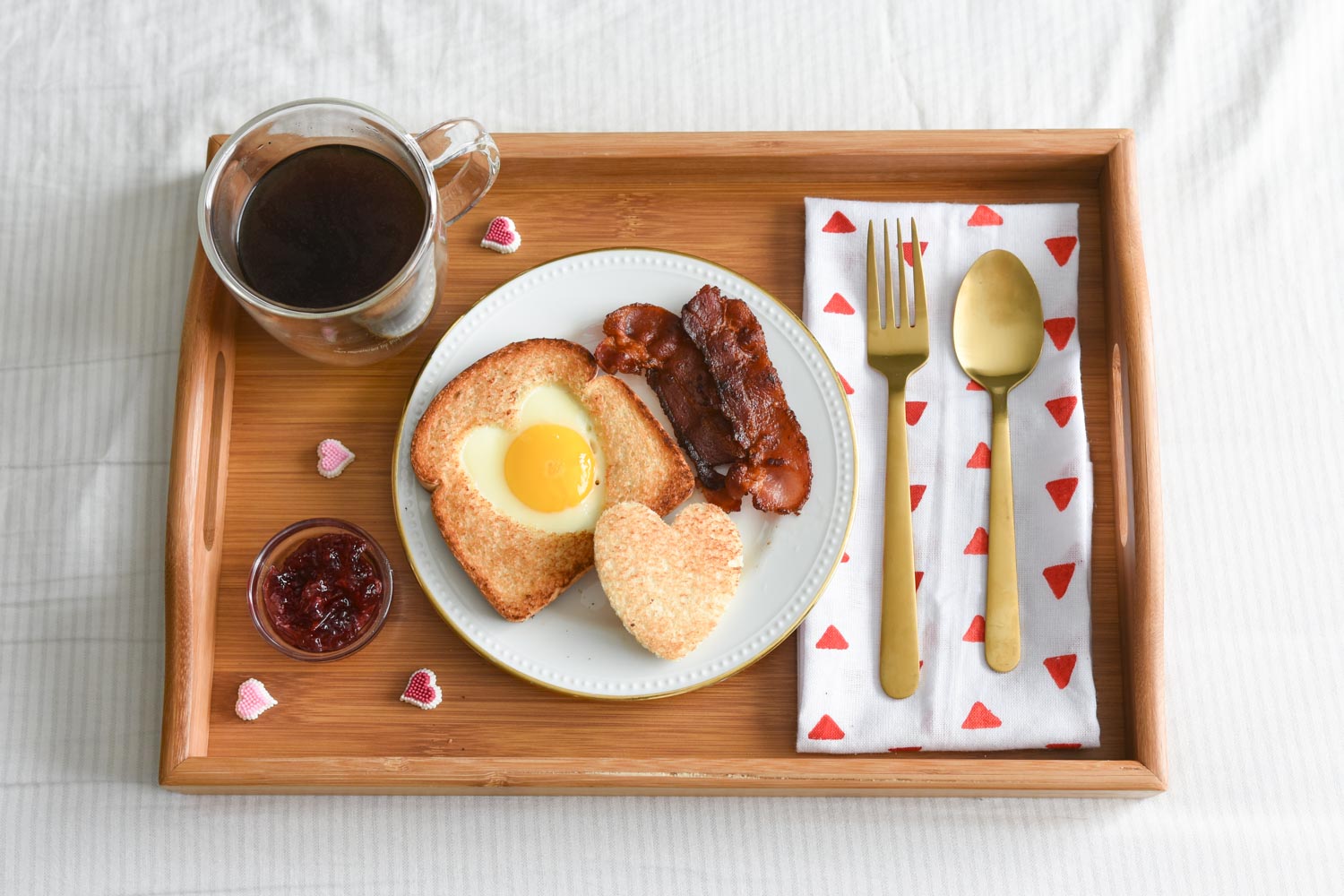 Want the kids to help out? They will have fun using cookie cutters! This recipe calls for a heart cut out right in the middle of the toast. It's a pretty detail…and the kids will enjoy watching the egg cook inside. Include jam and all the fixings to go along with it.
Ingredients:
1 piece of toast
1 heart cookie cutter
1 egg
2 strips of bacon (optional)
Instructions:
Find a 2-3 inch heart-shaped cookie cutter and cut the center of the toast with it.
Heat butter in a pan and place toast and heart cutout in. Wait for one side to brown.
Turn the toast and cutout over to brown the other side.
Carefully break an egg into the empty heart toast and cover the pan.
Cook until the egg turns white and solid. This should take about 3-4 minutes.
Once the egg is to your liking, turn heat off and serve.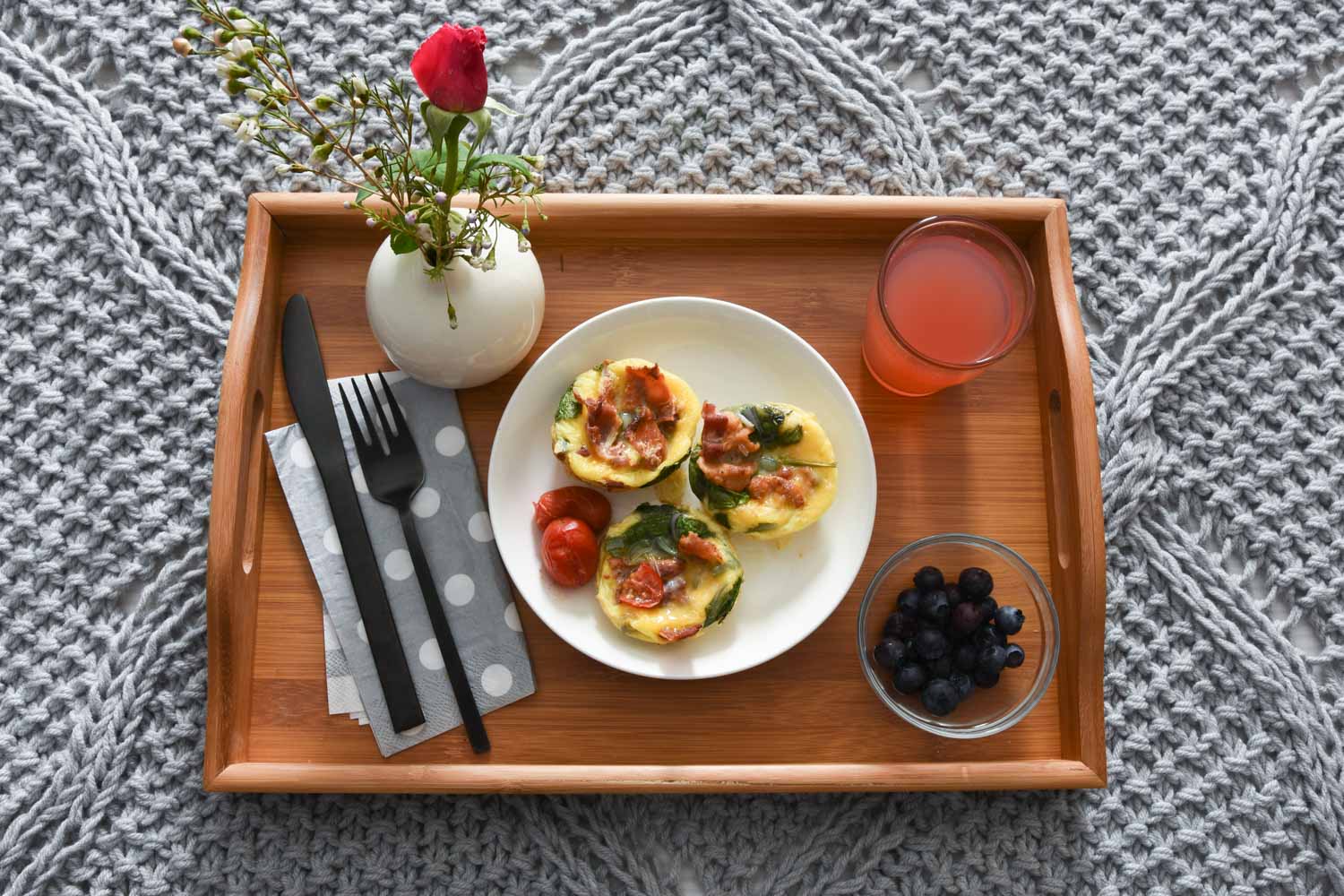 Bacon, mint, tomatoes and eggs make this delicious frittata. These can be pre-made the night before and are easy to heat up the next day. It saves a lot of time and you can focus on decorating the tray with a beautiful rose instead of scrambling in the morning. Include some fruit or a sweet treat to balance out the saltiness of the eggs.
Ingredients:
6 eggs
1/2 cup milk
1/4 teaspoon salt
5 strips of bacon
5 mint leaves
Instructions:
Break bacon and mint leaves into smaller pieces.
Mix all ingredients together in a bowl. Season as desired.
Grease muffin tin — this mixture should make about 12 frittatas.
Spoon mixture into muffin tin 1/4 cup at a time.
Bake for about 25 minutes at 350F.
Remove carefully and serve.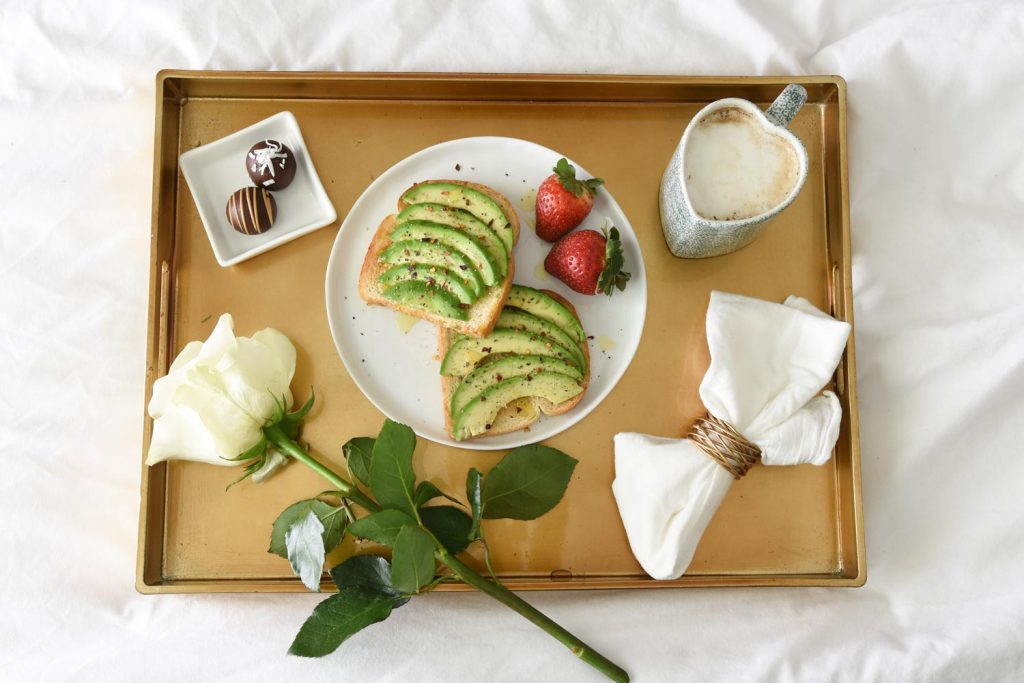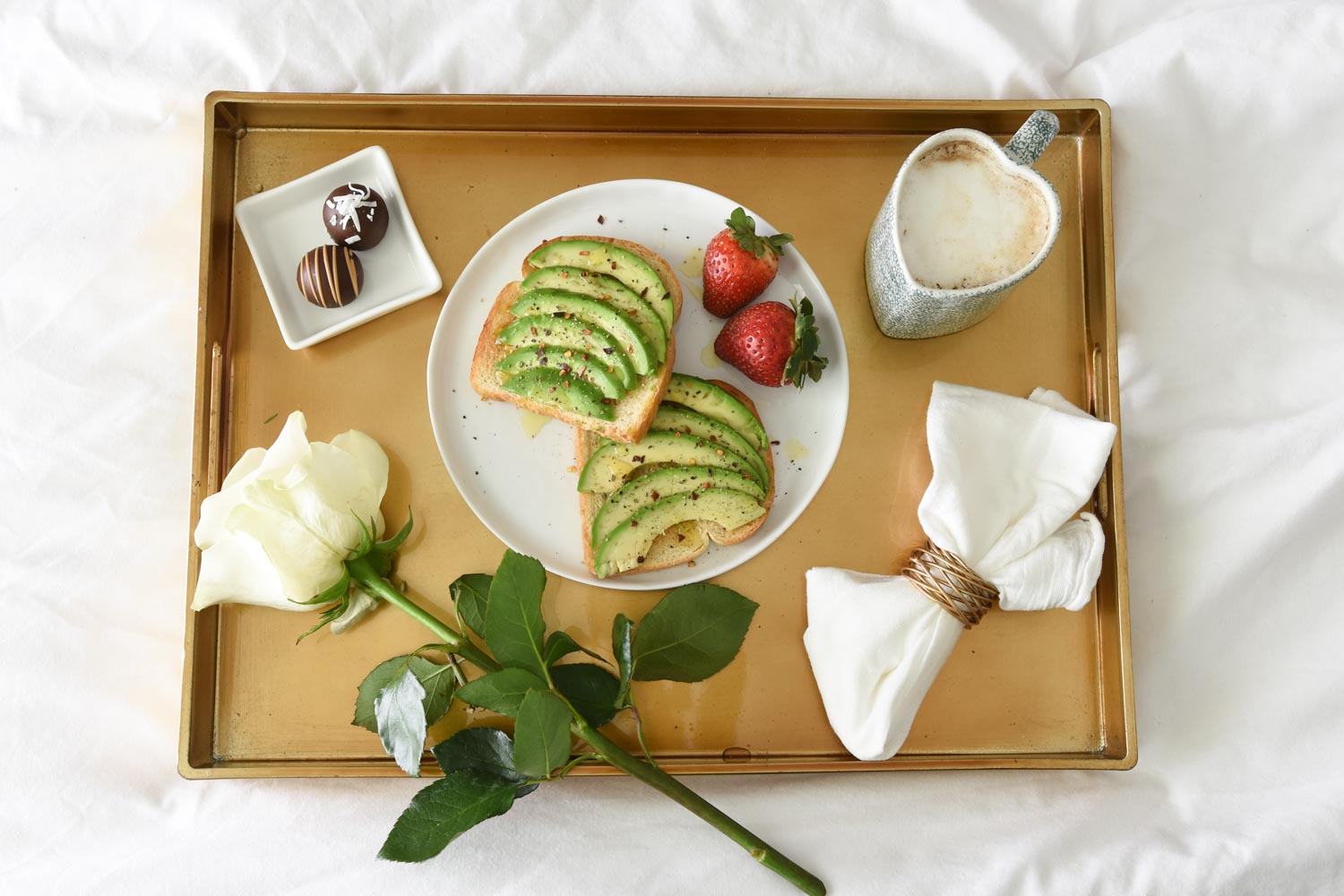 A really quick and easy thing to whip up is toast with fresh avocado. We decided to slice ours, but you can also mash it with their favorite spices or herbs. Sprinkle in some red pepper flakes, sea salt, pepper and a dash of olive oil for added flavor. An easy way to dress up your tray is by adding a fresh flower and a sweet treat to end the morning right.
Ingredients:
1 avocado
2 pieces of toast
1 pinch of crushed red pepper
1 pinch of salt
1 teaspoon of olive oil
Instructions:
Toast 2 pieces of bread.
Cut avocado into thin slices and place on top bread.
Top with red pepper and salt, and drizzle with olive oil.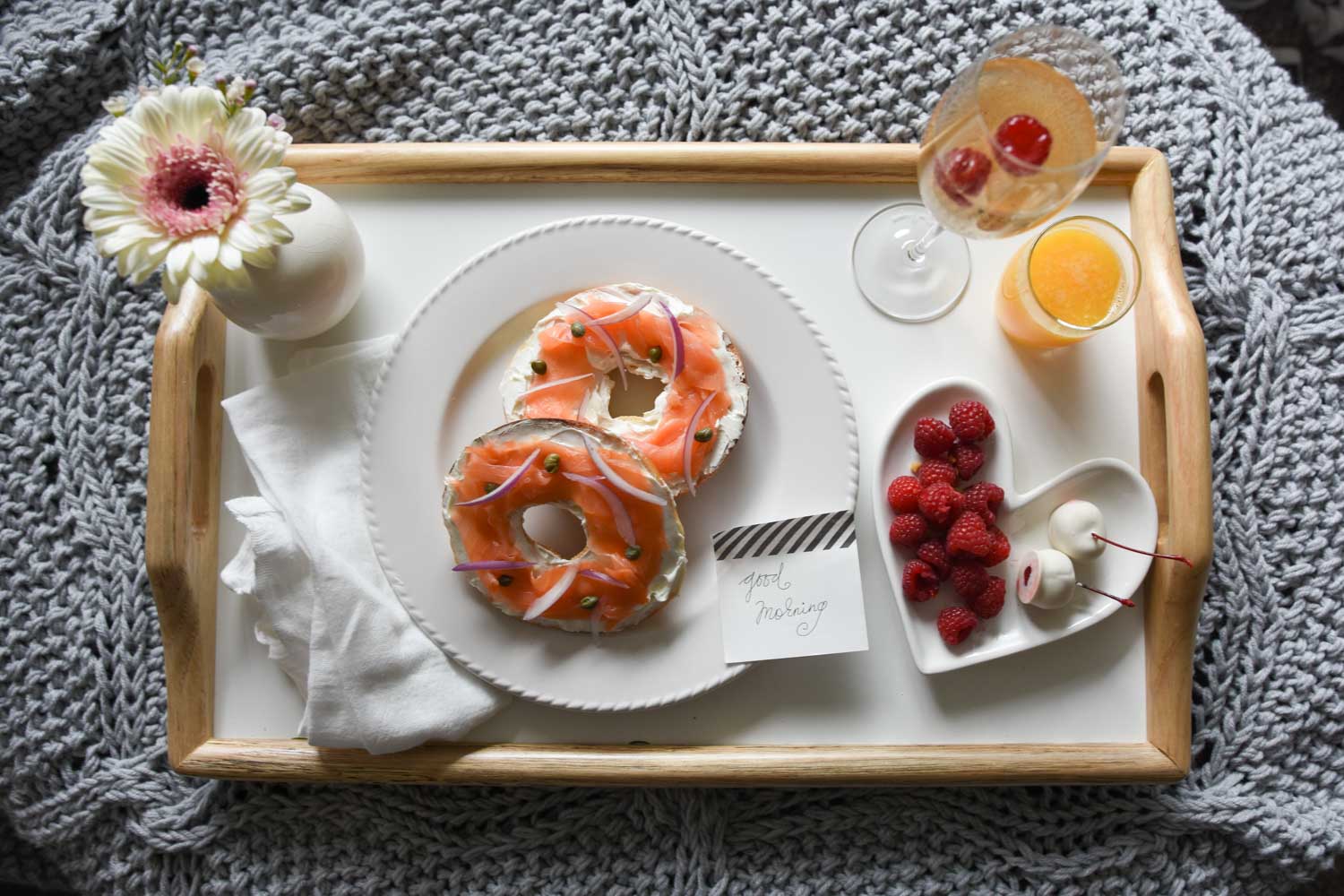 Who doesn't love a fresh bagel in the morning? There are many ideas for bagel toppings. If you prefer to keep it simple, a nice jam, fruit or even savory meat like prosciutto will do the trick. Don't forget, brunch simply isn't the same without a fresh glass of champagne and chocolate dipped cherries.
Ingredients:
Bagel
Cream cheese
Lox
Red onions
Capers
Instructions:
Cut your favorite bagel in half.
Place bagel in toaster.
Remove and wait until it cools off. This will prevent the cream cheese from melting.
Spread the cream cheese (add as little or as much as you'd like).
Layer on the lox.
Top with red onions and capers.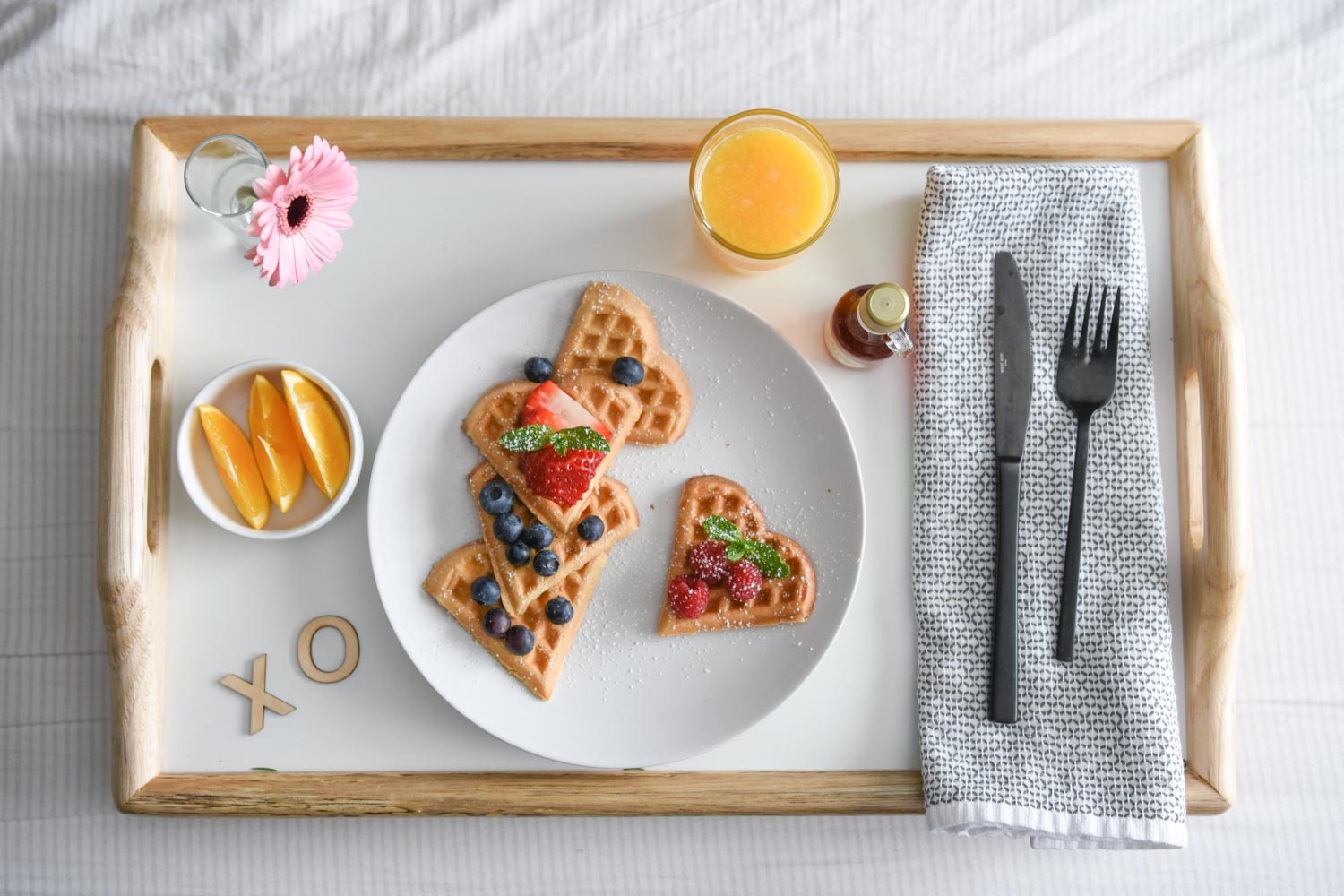 If you are looking for a simple and sweet idea, heart-shaped waffles will do the trick — they're not only yummy, but pretty. Top them with your loved one's favorite seasonal fruit. Always include a napkin and silverware, since eating in bed can get a little messy. We suggest you purchase a heart-shaped waffle maker to make this breakfast even more romantic!
Ingredients:
Waffle mix
Blueberries
Raspberries
Strawberries
Powdered sugar
Instructions:
Buy your favorite waffle mix and follow the instructions on box.
Place batter in the waffle maker and close. It should take about 4 minutes to cook.
Make sure that the waffles are browned and crispy before removing.
Cut the pieces to make individual hearts.
Serve and top with your favorite fruits, powdered sugar, syrup or honey.
Tips For The Perfect Breakfast In Bed Surprise
If you want to surprise your loved one but don't know where to start, check out our tips for the perfect breakfast in bed surprise.

40 Breakfast Ideas For Your Valentine
Still need more ideas? We've got you covered. Depending on what ingredients you have on hand or how much time to make, there is always something easy and delicious for every palette. One of these recipes is sure to impress!

Roasted Sweet Potato & Kale Breakfast Hash by The Minimalist Baker
Breakfast Pizza by B. Britnell
Angel Eggs by A Spicy Perspective
Fried egg and Serrano Ham Breakfast Sandwich by Honey and Figs Kitchen
Super Eggs Benedict by Jamie Oliver
Simple Cheese Omelette Recipe by Food Republic

Buckwheat Pancakes with Warm Berry Sauce by One Green Planet
Pineapple Upside Down Pancakes by Grandbaby Cakes
Oreo Cookie Pancakes by Minimalist Baker
Mint Chocolate Chip pancakes by The Idea Room
Banana Walnut Waffles by Joy The Baker
Churro Waffles by Mostly Homemade
Red Velvet Waffles by Real Housemoms

10 Toast Topping Ideas by Shari's Berries
Baked Blueberry Lemon French Toast by Damn Delicious
Savory Feta Cheese French Toast by Diethood
French Toast Donuts by Kirbie's Cravings
Banana and Nutella Stuffed French Toast by Just a Taste
Tomato Breakfast Toast by The Almond Eater

Make-Ahead Fruit and Yogurt Breakfast Parfaits by Iowa Girl Eats
Coconut Banana Oats Bowl With Crunchy Black Sesame Quinoa Cereal + Mango by Half Baked Harvest
Baked Fruit 3 Ways by A Beautiful Mess
Beautiful Breakfast Tart by the view from great island
Fruit Salad with Honey-Mint Lime by Savory Sweet Life
Mixed Fruit Breakfast Casserole With Coconut by the Foodie Affair
Acai Smoothie by Eating Well

Strawberry Mint Sparkler by Serious Eats
The Best Bloody Mary Recipe by Foodie Crush
Grapefruit and Rosemary Mocktail by Place of My Taste
Orange Carrot Ginger Juice by Gimme Some Oven
Matcha Latte by The Pioneer Woman
Mocha Shake by Vanilla and Bean

Peaches and Cream Monkey Bread by Pint Sized Baker
Easy Lemon Cream Danish by Crazy for Crust
Blueberry Croissant Puff by The Girl Who Ate Everything
Flourless Cinnamon Bun Breakfast Cake by The Big Man's World
Bacon and Egg Puff Pastry by Well Floured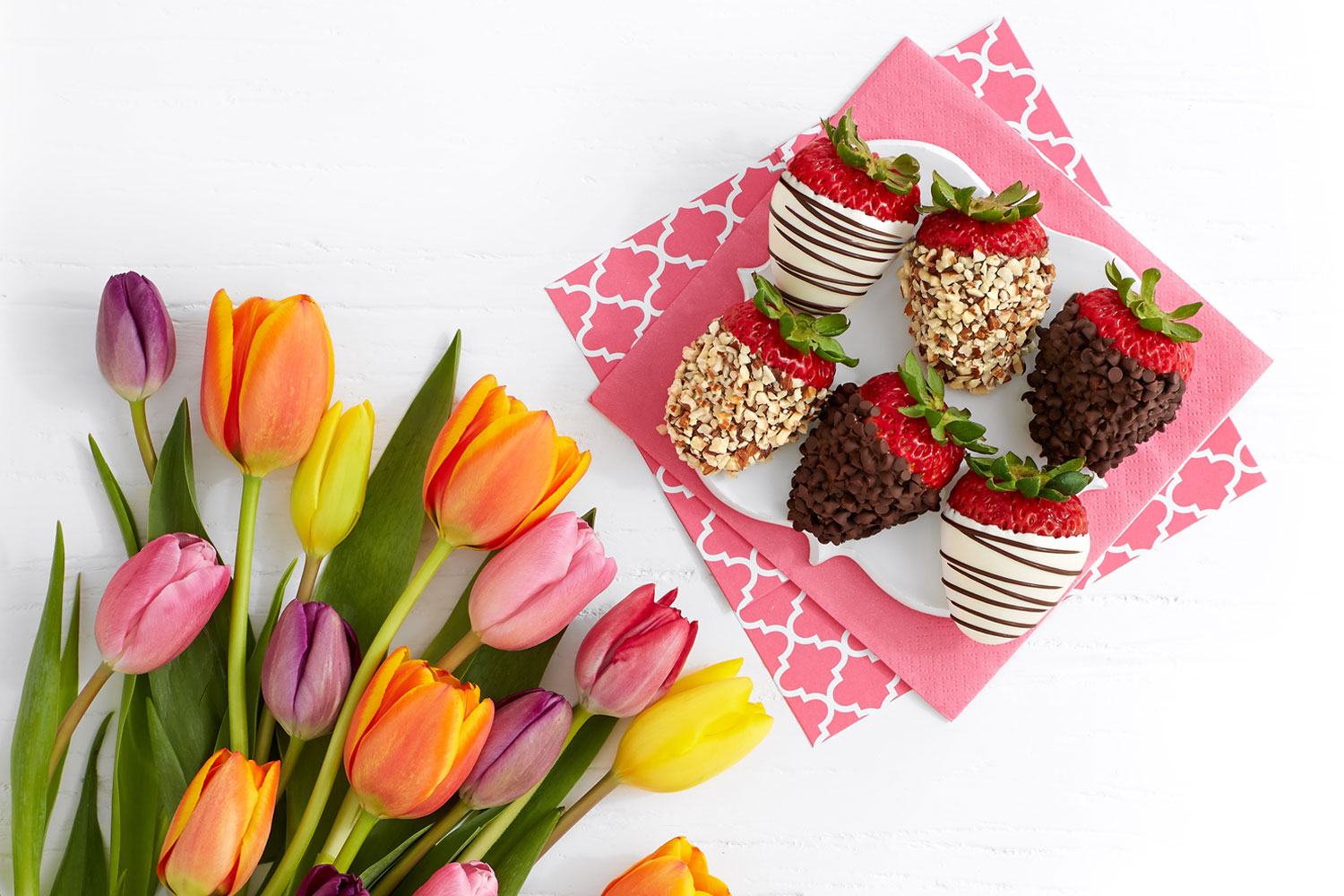 As you can see, a way to someone's heart is through their stomach. With all these breakfast ideas, you can surprise your sweetie on any special day. Don't forget to plan ahead and order your flowers and berries for the ultimate breakfast in bed surprise.