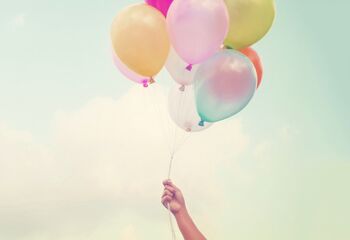 100 Birthday Wishes for a Friend
The truth is, there is a birthday every single day of the year – and oftentimes we find ourselves attending multiple birthday parties a month! Although birthdays parties are a good time, this means that birthday card duty is in full effect, so you might as well be prepared. Sure birthday cards do the trick, but a personal message can make the smile a little bigger!
In order to keep the birthday spirit alive, we've created a handy generator with 100 birthday wishes for a friend to inspire your next birthday card – or speech! Pick your mood and theme and have fun clicking through a variety of birthday quotes. We have even included a "belated" section because, let's face it, sometimes it's tough to keep track. Either way, your friend will thank you!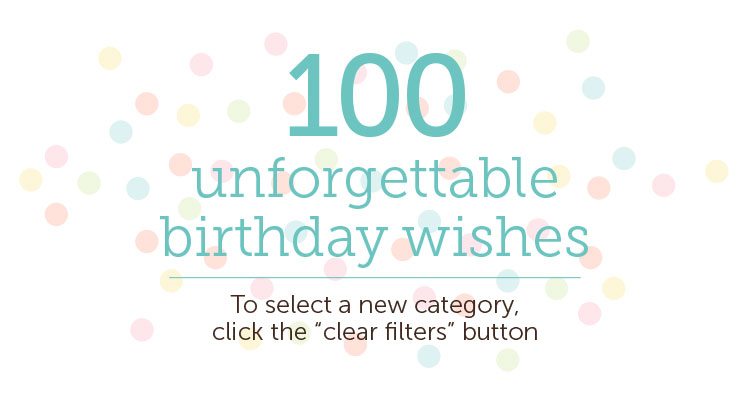 So, you are still younger than the age you will be on the next birthday. Have a special celebration!
— Unknown
Hey, can you blow out all these candles by yourself or should I call our local fire department?
— Unknown
So bring your good times and your laughter too. We're gonna celebrate a party with you!
— Kool and the Gang
You are more beautiful than Cinderella! You smell like pine needles, and have a face like sunshine!
— Bridesmaids
All the world is a birthday cake, so take a piece, but not too much.
— George Harrison
The secret to staying young is to live honestly, eat slowly, and lie about your age.
— Lucille Ball
Whatever with the past has gone, the best is always yet to come.
— Lucy Larcome
The more you praise and celebrate your life, the more there is in life to celebrate.
— Oprah Winfrey
Every year on your birthday, you get a chance to start new.
— Sammy Hagar
You are never too old to set another goal or to dream a new dream.
— Les Brown
And in the end, it's not the years in your life that count. It's the life in your years.
— Abraham Lincoln
I blame you for that fact that I forgot your birthday because you look the same age as last year!
— Unknown
I'm late, I'm late for a very important date!
— Alice In Wonderland
Today you are you! That is truer than true! There is no one alive you-er than you!
— Dr. Seuss
Age is a case of mind over matter. If you don't mind, it don't matter.
— Satchel Paige
You don't get older, you get better.
— Shirley Bassey
There are three hundred and sixty four days when you might get un-birthday presents, and only one for birthday presents, you know.
— Lewis Carroll
No wise man ever wished to be younger.
— Jonathan Swift
Nature gives you the face you have at twenty, but it's up to you to merit the face you have at fifty.
— Coco Chanel
The older the fiddler, the sweeter the tune.
— English Proverb
As you get older three things happen: The first is your memory goes and I can't remember the other two.
— Norman Wisdom
Grow old along with me! The best is yet to be!
— Robert Browning
It takes a long time to grow young.
— Pablo Picasso
Our birthdays are feathers in the broad wing of time.
— Jean Paul
Old age is like everything else. To make a success of it, you've got to start young.
— Fred Astaire
The year you were born marks only your entry to the world. Other years you prove your worth. They are the ones worth celebrating.
— Jarod Kintz
Times are tough, times are hard, here's your belated birthday card.
— Unknown
Middle age occurs when you are too young to take up golf and too old to rush up to the net.
— Franklin Pierce Adams
Because time itself is like a spiral, something special happens on your birthday each year: The same energy that God invested in you at birth is present once again.
— Menachem Mendel Schneerson
And I'm sure you would agree.. It couldn't fit more perfectly than to have a world party on the day you came to be.
— Stevie Wonder
Life's like a movie: Write your own ending, keep believing, keep pretending.
— Unknown
May the force be with you.
— Star Wars
That's the funny thing about birthdays, they are kind of an annual thing.
— Rapunzel
I wish you love and good will. I wish you peace and joy. I wish you better than your heart desires. And your first kiss from a boy.
— Bart Simpson
We never go out of style.
— Taylor Swift
Happy Birthday! Mother and I cooked up your favorite meal: tuna fish salad on white bread with mayonnaise, a tab and a couple of twinkies.
— The Jerk
Birthdays are good for you. Statistics show that people who have the most live the longest.
— Father Larry Lorenzoni
Happy birthday to you! You live in a zoo! You look like a monkey, aannnndddd you smell like one, too!
— Madagascar
Well if you are Santa, what song did I sing for you on your birthday this year?
— Elf
I love everything that's old: old friends, old times, old manners, old books, old wines!
— Oliver Goldsmith
If you survive long enough, you're revered—rather like an old building!
— Katherine Hepburn
The years between fifty and seventy are the hardest. You are always being asked to do things, and yet you are not decrepit enough to turn them down!
— T.S Elliot
For all the advances in medicine, there is still no cure for the common birthday!
— John Glenn
Youth is a wonderful thing. What a crime to waste it on children!
— George Bernard Shaw
We are always the same age inside.
— Gertrude Stein
The really frightening thing about middle age is that you know you'll grow out of it!
— Doris Day
Missing your birthday really only happens to me once every year! Hope it was wonderful.
— Unknown
I've been thinking about you lately.
Unfortunately too late-ly.
— Unknown
I'm not actually late on wishing you a happy birthday—I'm just being early for next year!
— Unknown
Since you are really special every day, it doesn't matter that I forgot your birthday!
— Unknown
I've decided to extend your birthday. That's why I am wishing you one now instead of yesterday!
— Unknown
Happy Belated birthday to the coolest, most beautiful, most loving and especially most forgiving friend.
— Unknown
First you forget names; then you forget faces;
then you forget to zip up your fly; and then you forget to unzip your fly.
— Branch Rikey
It's something unpredictable, but in the end it's right. I hope you had the time of your life.
— Green Day
You were born an original. Don't die a copy.
— John Mason
May you stay forever young.
— Bob Dylan
Why party like it is 1999 when you can party like it is your birthday?
— Prince
Go shorty. It's your birthday. We're gonna party like it's your birthday.
— 50 Cent
Happy birthday to you, you're so young — age is just a number, don't you stop having fun.
— New Kids On The Block
Well, it's time to celebrate your birthday, it happens every year. We'll eat a lot of broccoli and drink a lot of beer.
— Weird Al Yankovic
You can count on me like one, two, three and I'll be there.
— Bruno Mars
Happy Birthday to you. The good things I could say about you are infinite. But I will only take a minute to say the world is a better place with you in it.
— Carole King
Good friends are like stars. You don't always see them, but you know that they are always there. Happiest Birthday!
— Unknown
Any day spent with you is my favorite day. So, today is my new favorite day.
— Winnie the Pooh
The two most important day of your life are the day you were born and the day you find out why.
— Mark Twain
Youth is a gift of nature, but age is a work of art.
— Stanislaw Jerzy Lec
Nothing lasts forever, so live it up, drink it down, laugh it off, avoid the drama, take chances and never have regrets, because at one point everything you did was exactly what you wanted.
— Marylin Monroe
Laughter is timeless, imagination has no age and dreams are forever.
— Walt Disney
Although this birthday wish is really late, I just want you to know I think you're really great.
— Unknown
I'm either having a hot flash, or it is all those candles on your cake.
— Unknown
Just remember once you are over the hill, you begin to pick up speed.
— Charles Schulz
There isn't anything I wouldn't do for you, cause you've got a friend in me.
— Toy Story
Life is not about the amount of breaths you take. It's the moments that take your breathe away.
— Hitch
It's not the years honey, it's the mileage.
— Raiders of the Lost Ark
You're awesome. Enjoy being who you are.
Live in the now.
— The Spectacular Now
Oh, you're the best friend anybody ever had, and it's funny, but I feel as if I'd known you all the time.
— Wizard of Oz
Happy belated birthday to someone who has free reign to forget mine.
— Unknown
I didn't forget your birthday, I'm just fashionably late!
— Unknown
I am sorry I missed your birthday, you have had so many I lost track.
— Unknown
Sorry I forgot your birthday, my memory gets worse every year. I think you understand what I'm talking about.
— Unknown
Looking fifty is great if you're sixty.
— Unknown
If you don't do anything stupid when you're young, you won't remember something funny when you're old...
— Unknown
The way I see it, you should live everyday like it's your birthday.
— Paris Hilton
Age is something that doesn't matter, unless you are cheese.
— Unknown
May all your birthdays and unbirthdays be happy ones.
— Lewis Carrol
Count the night by stars, not shadows, Count your life with smiles—not tears, and with joy on today's birthday, count your age by friends—not years!
— Dixie Wilson
There is a fountain of youth: It is your mind, your talents, the creativity you bring to life and the lives of people you love. When you learn to tap this source, you will truly have defeated age.
— Sophia Loren
Act as young as you feel. You're not getting older: you're getting more entitled to be your fabulous self.
— Gwen Stefani
The best part about being 40 is that you did most of the stupid stuff before the internet!
— David Gwilt
Sorry I'm late! I wasn't sure if I should Tweet, Facebook, Instagram, SnapChat or just send you a card.
— Unknown
You grow up the day you have your first real laugh at yourself.
— Ethel Barrymore
I'll make it your birthday every day.
— Katy Perry
Tonight, we are young. So let's set the world on fire, we can go higher than the sun.
— FUN
Happy birthday my friend, here's to all the years we've shared together. All the fun we've had—you're such a blessing, such a joy in my life.
— Corinne May
Baby, you're a firework.
— Katy Perry
If you're gonna start lying about your age, I'd go with 27.
— 13 going on 30
Happy birthday! Sweet 16 (or multiple thereof)!
— Unknown
You know you are getting old when the candles cost more than the cake
— Bob Hope
Your birthday reminds me of the old Chinese scholar...Yung No Mo
— Unknown
Its never too late to be who you might have been
— George Eliot
Let us never know what old age is. Let us know the happiness time brings, not count the years.
— Ausonius
Life ain't about how hard you hit. It's about how hard you can get hit and keep moving forward. How much you can take and keep moving forward. That's how winning is done!
— Rocky Balboa
It does not do to dwell on dreams and forget to live, remember that.
— Albus Dumbledore
Be who you are and say what you feel because those who don't mind don't matter and those who matter don't mind.
— Dr. Seuss
They say it's your birthday, we're gonna have a good time - I'm glad it's your birthday, happy birthday to you!
— The Beatles
For those lucky enough to have a natural gift for writing, then this will be a breeze. But the majority of us need a little boost to get our creative wheels turning to come up with creative birthday wishes for your friend.
Birthday greetings do not always have to be sentimental or boring. In fact, depending on the birthday boy or girl's personality you'll want to include something in their birthday card that suits them the most. Some questions you may ask yourself are: Does your birthday friend love music and birthday songs? Movies? Inspirational quotes? Famous figures?
Hopefully this birthday wishes generator helped you out. Perhaps Stevie Wonder's Happy Birthday was your go-to or maybe you went with the The Beatles instead. We cross our fingers that it wasn't a belated quote! If that's the case, you may want to send over a dozen of our hand-dipped birthday strawberries and ask for forgiveness. Just remember, at the end of the day what matters is that you took the time to send birthday greetings.