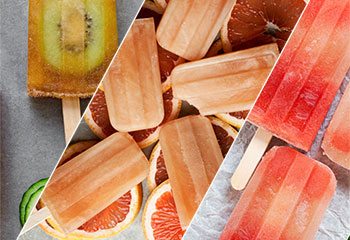 Recipes: 24 Summer Poptails
Poptails (Booze Included)
Don't be fooled by the small amounts of alcohol in these recipes. Since folks tend to eat a pop faster than they drink a cocktail, a little bit goes a long way.
Pimm's Cup Pops
Often served at English garden parties, a Pimm's Cup is the quintessential British summer cocktail.
Get the recipe at The Tiffin Box.
Strawberry Greyhound
This recipe takes the Greyhound, a classic pairing of grapefruit and vodka, and kicks it up a notch with fresh strawberries. It's a little tart, a little sweet and whole lot of fun.
Get the recipe at Endless Simmer.
Lemon Pale Ale Beer Pops
Hops, grapefruit and citrus give these pale ale pops a tartness that's refreshing for a summer day. Try them at an outdoor party; they go great with picnic fare.
Get the recipe at The Beeroness.
Red Wine Fudge Pops
Who doesn't love red wine and dark chocolate? These Fudgesicle®-inspired treats fuse the happy memories of childhood with a grown-up love of the finer things.
Get the recipe at A Beautiful Mess.
Campari Cantaloupe Pops
Sweet summer cantaloupe and Campari bitters combine for a melon pop that is out of this world. It's a delicious contrast that proves opposites really do attract.
Get the recipe at Shutterbean.
Cucumber-Lime Pops With Gin
Be as cool as a cucumber with these light and summery cocktail pops. The recipe has a few more steps than some of the others on this list, but one bite and you'll know it was worth it.
Get the recipe at Pepper & Chocolate.
Cherry Wheat Beer Pops
Get ready for a new summer favorite. These yummy beer pops combine fresh cherries with cherry wheat beer for layers of light, sweet flavor.
Get the recipe at Sweet Remedy.
Blueberry-Basil Martini Pops
Time and again basil has proven it pairs well with berries. This time it's teamed with blueberries in a frozen spin on a martini made for summer.
Get the recipe at Creative Culinary.
Bloody Mary Pops
The high alcohol content means these spicy pops won't last long before melting. Of course, they taste so good, you won't have to worry.
Get the recipe at Capitol Hill Seattle.
Gin and Tonic Frozen Pops
This recipe turns a classic cocktail into a delicious summer treat. The clever addition of rosemary sticks is also a fun way to incorporate fresh ingredients into a frozen cocktail.
Get the recipe at Wrightfood.
Pomegranate-Merlot Pops
Find a smooth Merlot with a fruity finish and you're halfway to making these grown-up pops. Just mix equal parts wine and juice with some simple syrup and freeze with fresh blackberries.
Get the recipe at 52 Kitchen Adventures.
Margarita Ice Pops
Seeing that so many of us already enjoy slushy margaritas, it's not too much of a jump to imagine these Mexican cocktails as an ice pop. This recipe uses traditional ingredients to make a margarita pop that's deliciously modern.
Get the recipe at Humble Crumble.
Tequila Rose Pops
Greek yogurt makes these pops cool and creamy. Blend with fresh strawberries, sugar and tequila rose liqueur for a summer party treat.
Get the recipe at Pass the Sushi.
Maple Brown Derby Cocktail Pops
Will bourbon still warm you up if it's frozen in an icy cocktail? Only one way to find out. A modern twist on the classic Brown Derby, this recipe substitutes maple syrup for honey and adds a dash of bitters.
Get the recipe at Hungry Girl Por Vida.
Raspberry Mojito Pops
We love the burst of flavor that raspberries bring to this mojito pop. Plus, if you have a blender, it's one of the simplest recipes to make.
Get the recipe at Karolina's Kitchen.
French 75 Pops
This Champagne-based pop is just the right mix of spirited and refreshing. This recipe doesn't require prepping the liquor, so you don't have to worry about standing over a hot stove in the middle of summer.
Get the recipe at Petite Kitchenesse.
Mimosa Pops
A swirl of strawberries adds color to delicious mimosa pops with just a hint of Champagne. They are lovely for a late brunch; just don't take them out of the freezer too soon as they melt a bit faster than regular pops.
Get the recipe at Culinary Concoctions by Peabody.
Spiced Strawberry Daiquiri Pops
Is it really possible to improve upon a strawberry daiquiri? Maybe. These pops have a few extra spices that enhance the flavor—cardamom and cinnamon.
Get the recipe at Red Shallot Kitchen.
Watermelon-Mint Tequila Pops
These frozen cocktails mix juicy watermelon with mint-infused syrup and a splash of lime and tequila. Fruity and sweet, this treat tastes like summer on a stick.
Get the recipe at Hungry Girl Por Vida.
Strawberry-Peach Vodka Collins Pops
Contrary to popular belief, you can freeze vodka—as long as you use the right ratio of alcohol and juice. This fruity Collins cocktail has the perfect proportions.
Get the recipe at Endless Simmer.
Boozy Bourbon Peach Pops
Mouthwatering summer peaches and smooth bourbon are the foundation of these creamy pops. However, it's the yogurt and vanilla that give it its classic peaches-and-cream flavor.
Get the recipe at An Appetite For Color.
Mocktail Pops (Booze Optional)
These next recipes can just as easily be made without alcohol. Enjoy a guilt-free mocktail pop in the middle of the morning or share these virgin treats with the kids.
Coconut Ice Pops
Mexican cinnamon takes these tropical treats into new territory. With subtly spiced coconut and an optional splash of rum, these frozen pops taste more like horchata than a colada.
Get the recipe at Kitchen Konfidence.
Arnold Palmer (John Daly) Pops
For those who don't know, a John Daly is the boozy version of an Arnold Palmer. Whether you choose to add the alcohol or not, this lovely mixture of lemonade and sweet tea will boost your spirits.
Get the recipe at Gingersnaps.
Kahlua and Coffee Pops
Do you love an ice-cold coffee in the middle of a hot day? Then you will love these pops made from coffee and a generous splash of coffee liqueur. Omit the Kahlua for a creamy coffee treat that's safe for underage drinking.
Get the recipe at A Popsicle Blog.
Cool Off
What poptail or iced mocktail did you make? Or do you have your own special recipe? Share in the blog comments. For more ways to cool off this summer, visit our Happy Hour board on Pinterest.