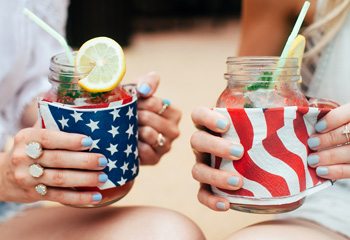 The best 4th of July drinks

Make it more festive
We hope our easy 4th of July drinks infographic inspires your next cocktail for America's birthday! Feel free to play around with the measurements depending on how sweet or sour you want the drink to be, or how boozy you can handle. If you want to make your Fourth of July cocktail a little more festive and fun, here are a few suggestions:
• Multi-colored straws or cups are an easy dress-up solution.
• Red, white and, blue candy like candy ribbon, gummy bears, lollipops and pop rocks automatically give you drink a boost.
• Star-shaped ice can be added. You can even make them colored depending on what juices go well with the drink.
• Fruit ice cubes add summery flair to clear drinks. Just cut pieces of fruit, mix with water in an ice tray and freeze. See which fruits are in season.
• Fresh herbs like rosemary, thyme, sage and mint add a hint of sophistication. The Cocktail Novice shows us how to use the most popular.
And last but not least, don't forget the treats! Add patriotic berries to your list or send them to your host if you're not planning your own party. Cheers!