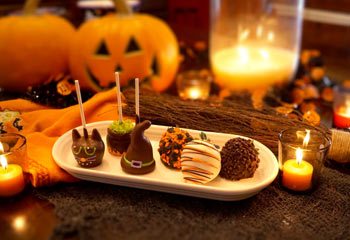 The Invitations
So, you've got your guest list and you're ready to spread the word. Skip the email invites and set the tone for your spooky soiree with these bewitching printable invitations.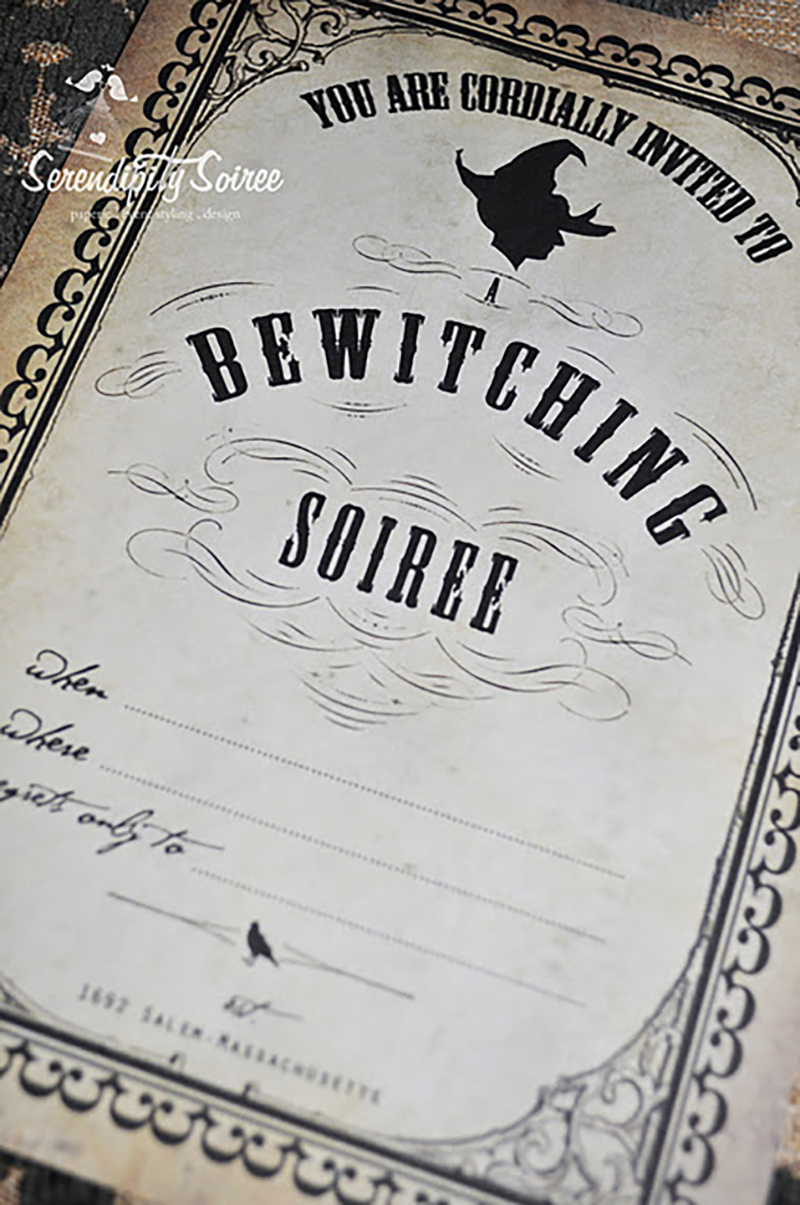 Or gather your favorite little witches and warlocks with something a little more playful.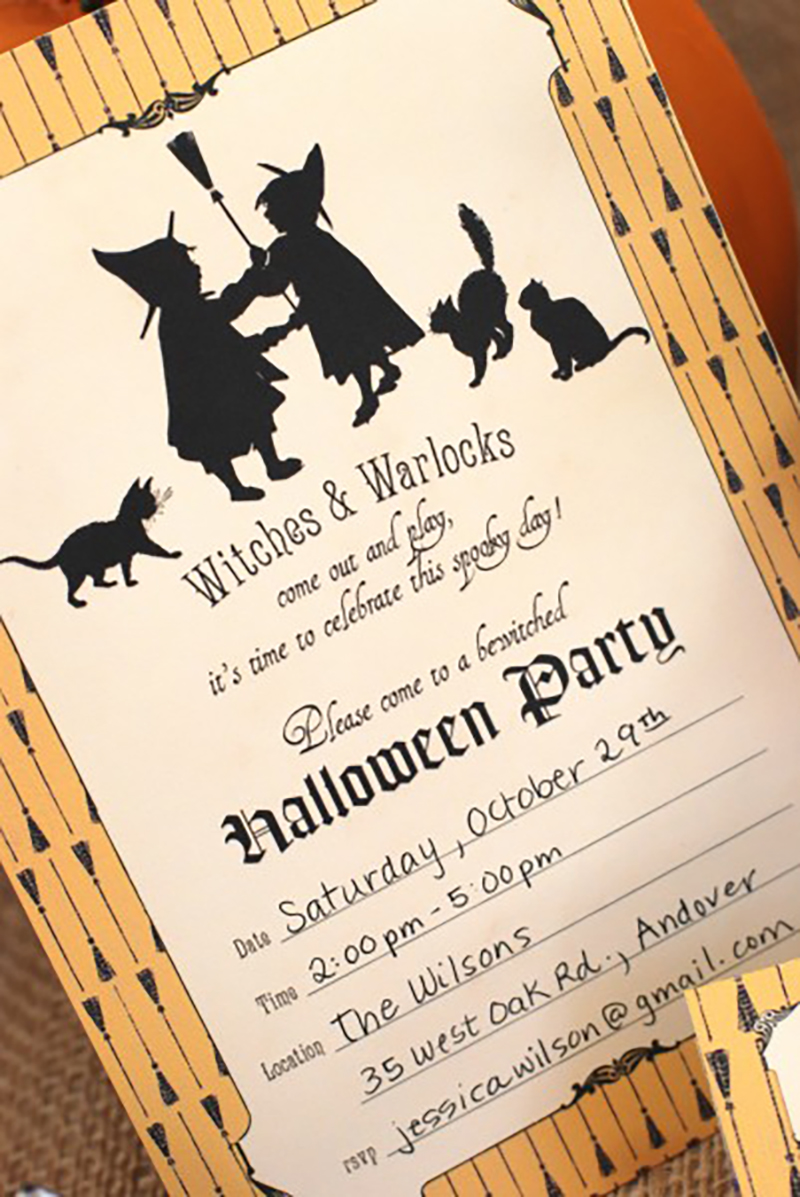 Everyone loves a good costume party, so entice guests to "Eat, Drink & Be Scary", dressed as their favorite Halloween characters.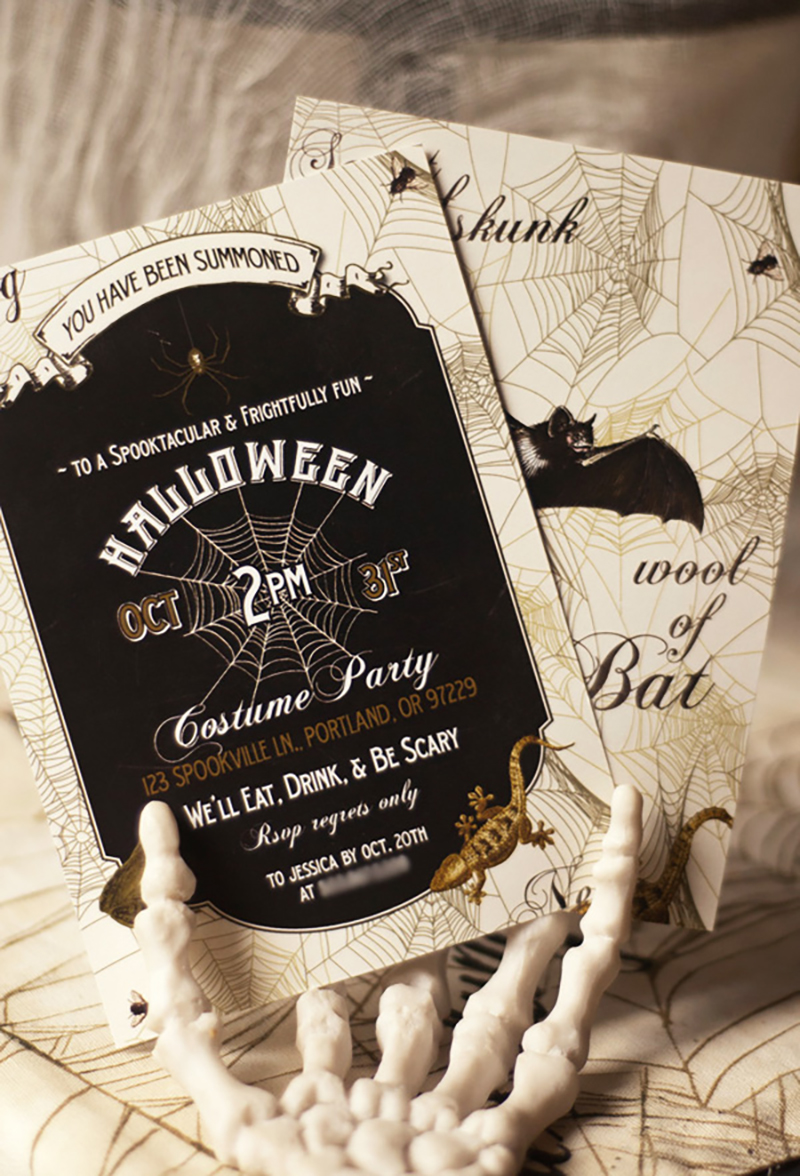 The Decorations
Now that your invitations are out, it's time to create a wickedly witchy atmosphere for your guests to enjoy. Black cats and broomsticks are a great start. Add in a few of these creative (and easy) tricks to complete the look. We love Hostess with the Mostess' idea of using cauldrons as serving dishes on a buffet or as a centerpiece for your table.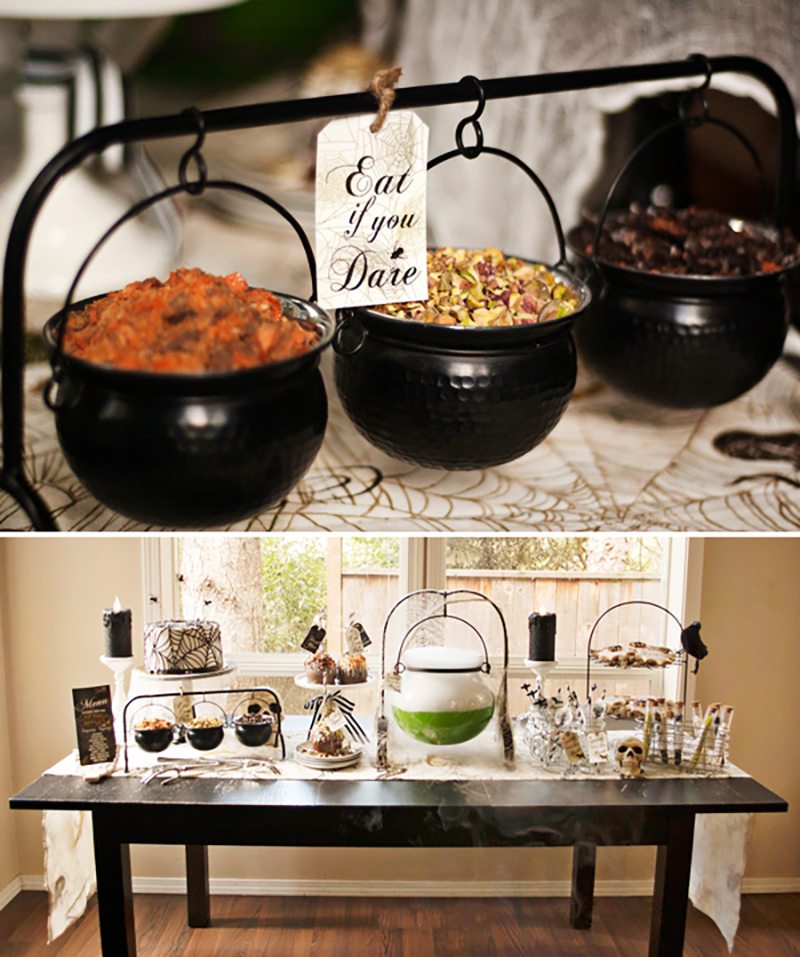 If you'd like to make your gathering a bit sophisticated, a black and white party, with decorations that include these simple, budget-friendly printables, could be just the thing.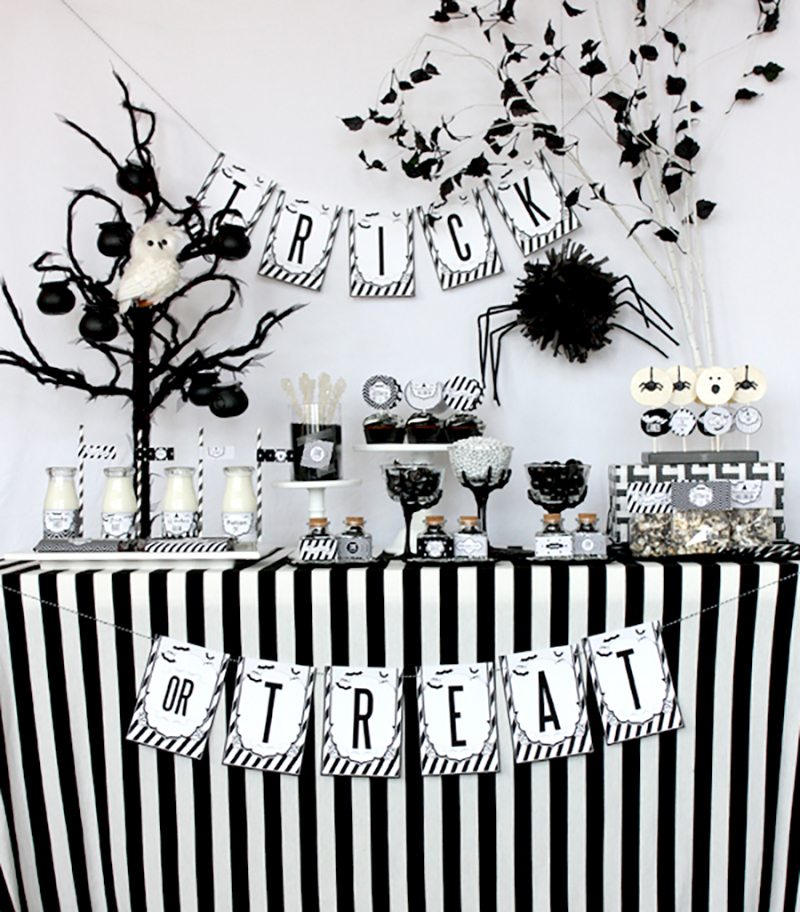 Add a pop of color to any Halloween party with a black, white and orange tassel garland.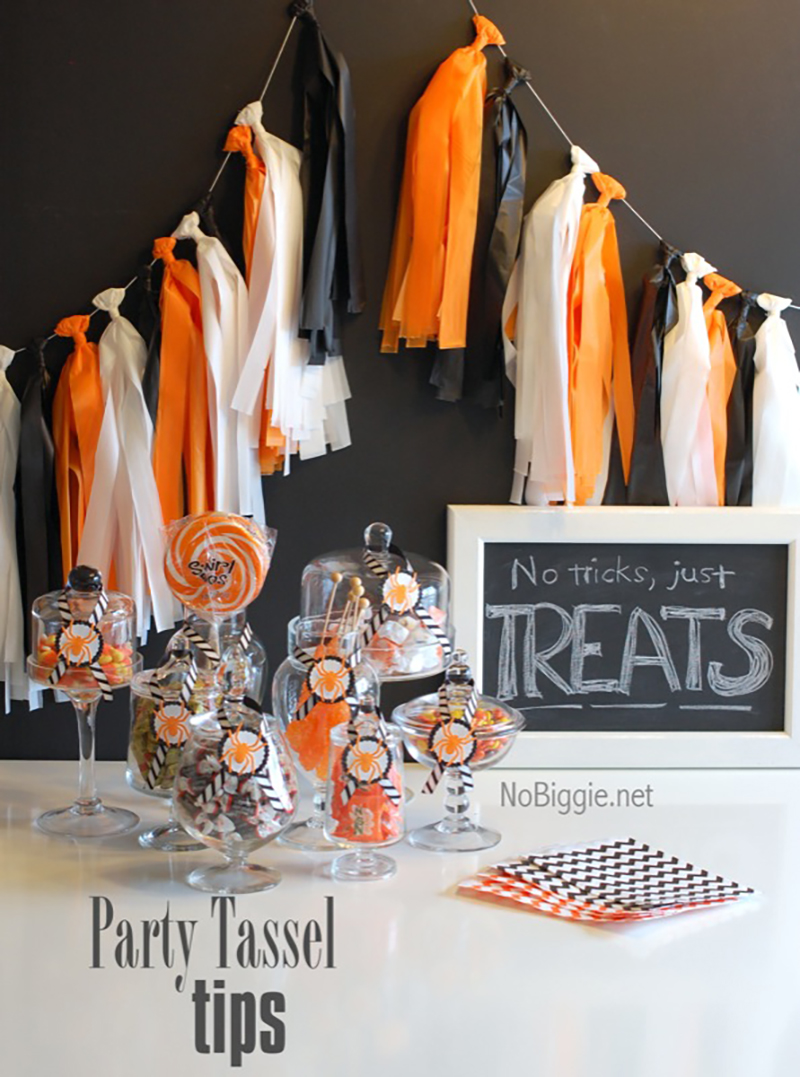 Having a dinner party, or a girls night in? Create a hauntingly elegant evening by setting your table with tarot cards and crystal balls. The air of magic and mystery they inspire is a perfect way to get your guests into the Halloween spirit.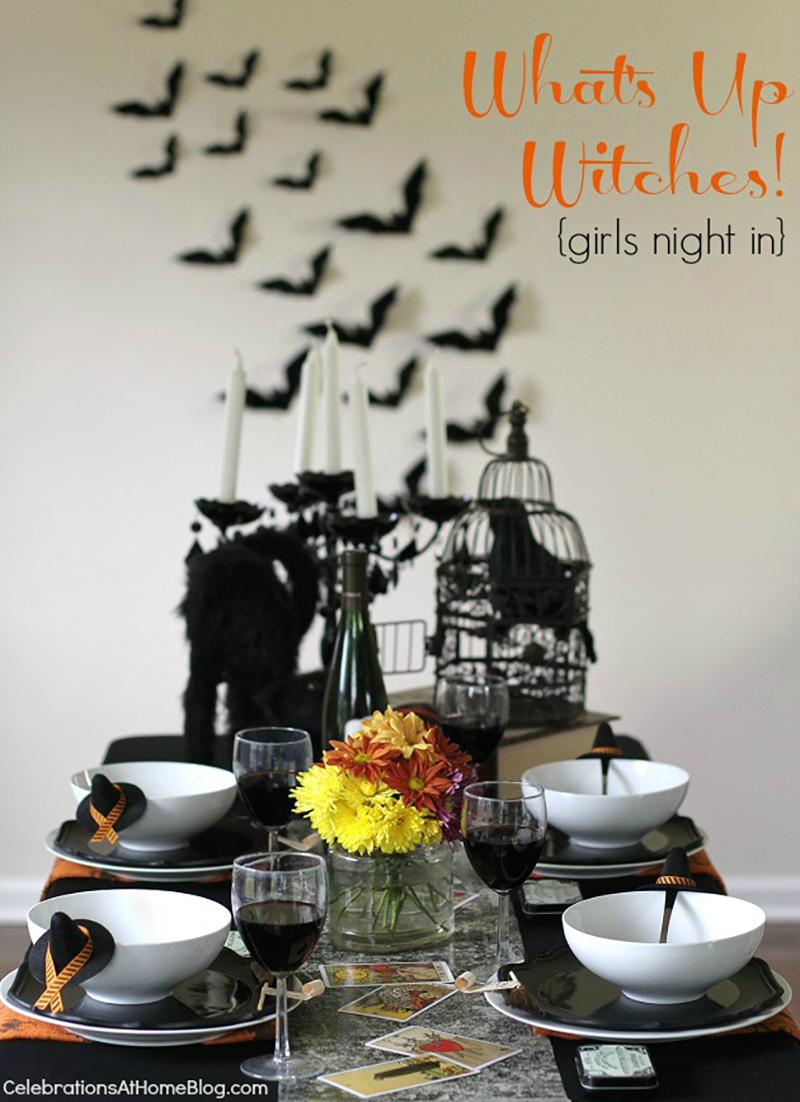 The Party Games
A party isn't a party—especially for kids—unless there are games. Work a witch theme into traditional party games, or choose some that are specific to Halloween. Witch Pitch challenges players to toss candy corn into a cauldron. It's easy enough for kids, and can be created using items that you might have around the house.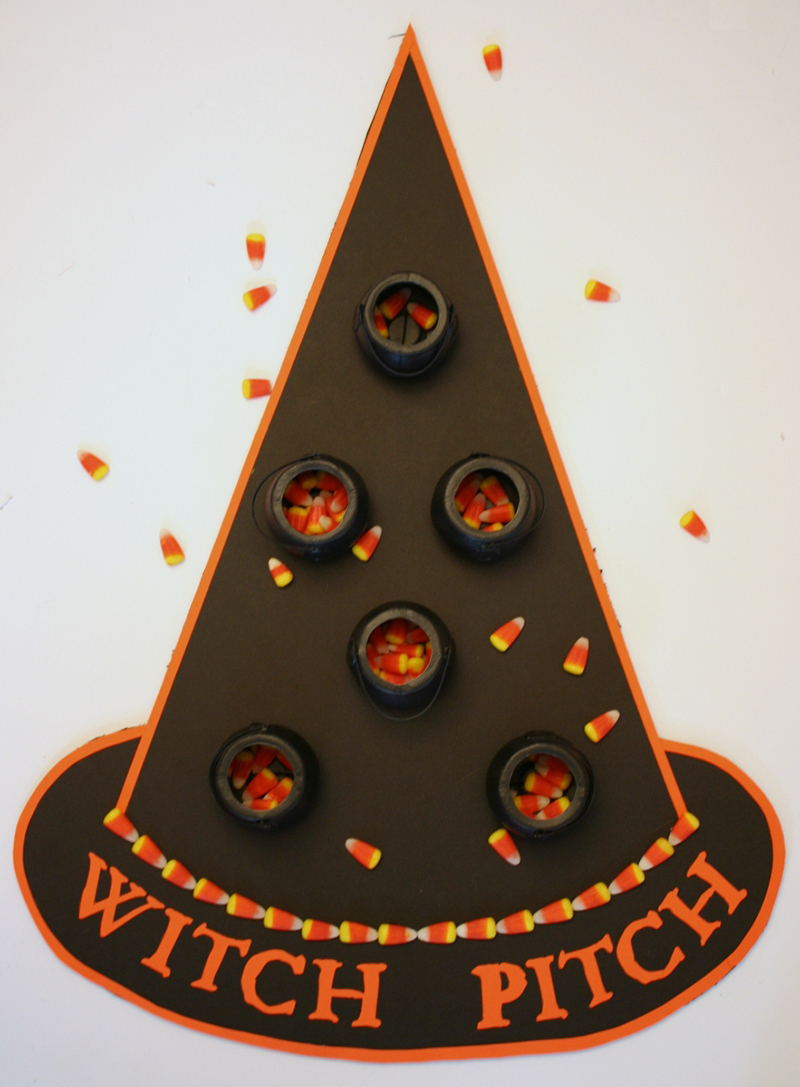 Bingo is a great ice-breaker if your guests don't already know one another. This Halloween Bingo card is easy to create—and, it comes with a special hack that makes it super-easy to recreate the board in as many different patterns as you need.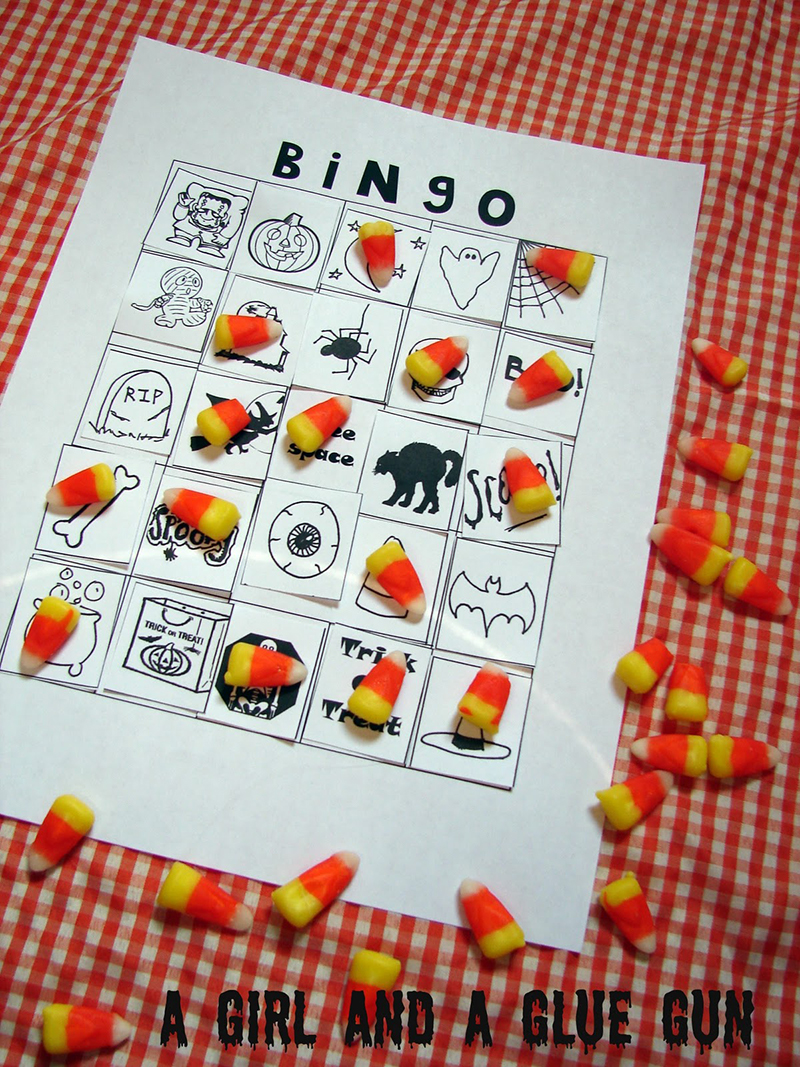 The Food
A cheese ball is usually a hit at any party, but a pumpkin-shaped cheese ball? Even better. This one is a combination of goat cheese, cream cheese, cheddar cheese and some herbs and spices. Not only is it delicious, it's a great Halloween, or fall centerpiece.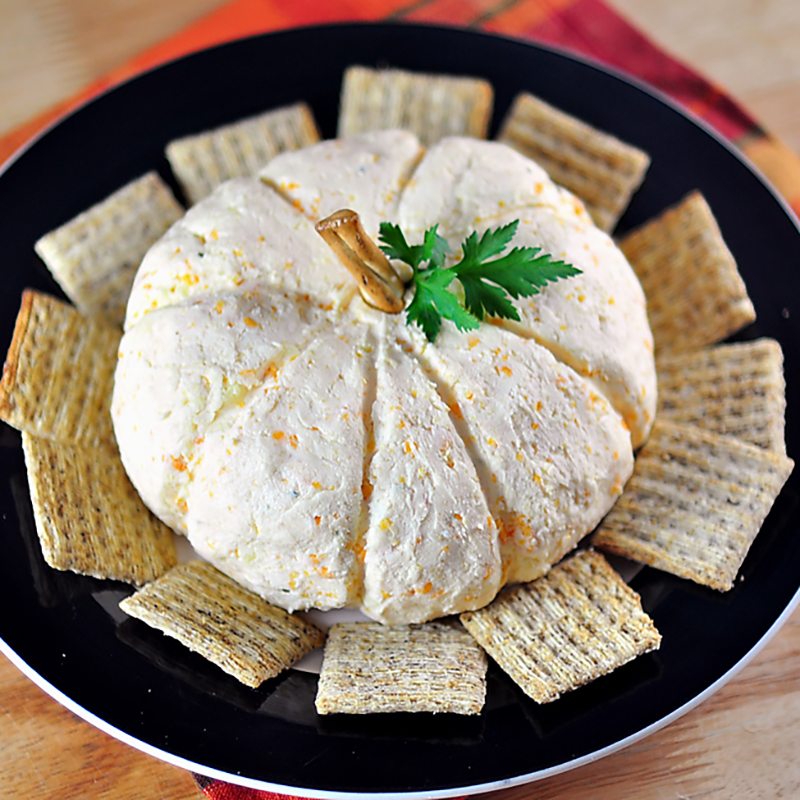 For an easy dessert, try these Broomstick Party Skewers. Simply slide a package (or two) of mini doughnuts along "broomsticks" made from bamboo skewers and raffia. No baking necessary!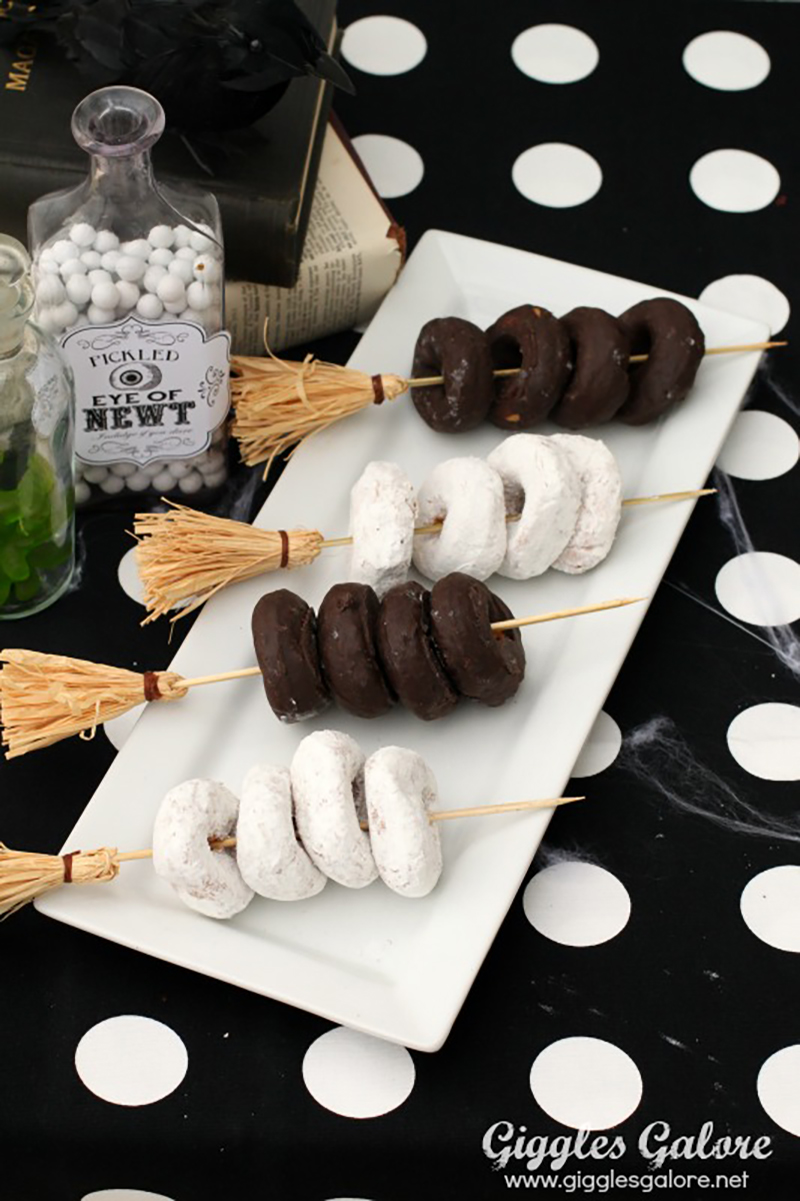 We love these creepy candy apples. Made like regular toffee apples, they're transformed into a Halloween treat with a few drops of black gel food coloring.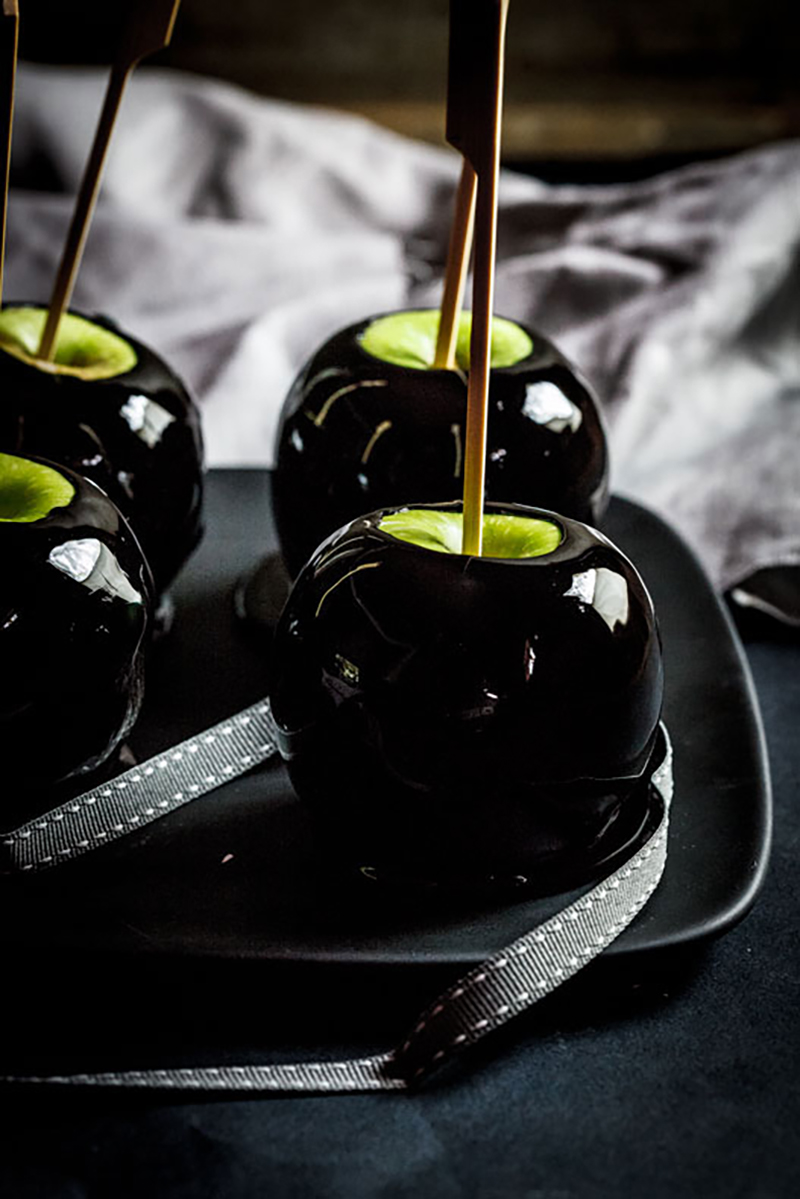 The Drinks
What drink do you choose when it's time to toast your guests? A witch's brew, of course! Check out this ghoulish concoction, made with bubbly limeade and Jell-O. Serve it in mason jars and add dry ice for a smoky cauldron effect.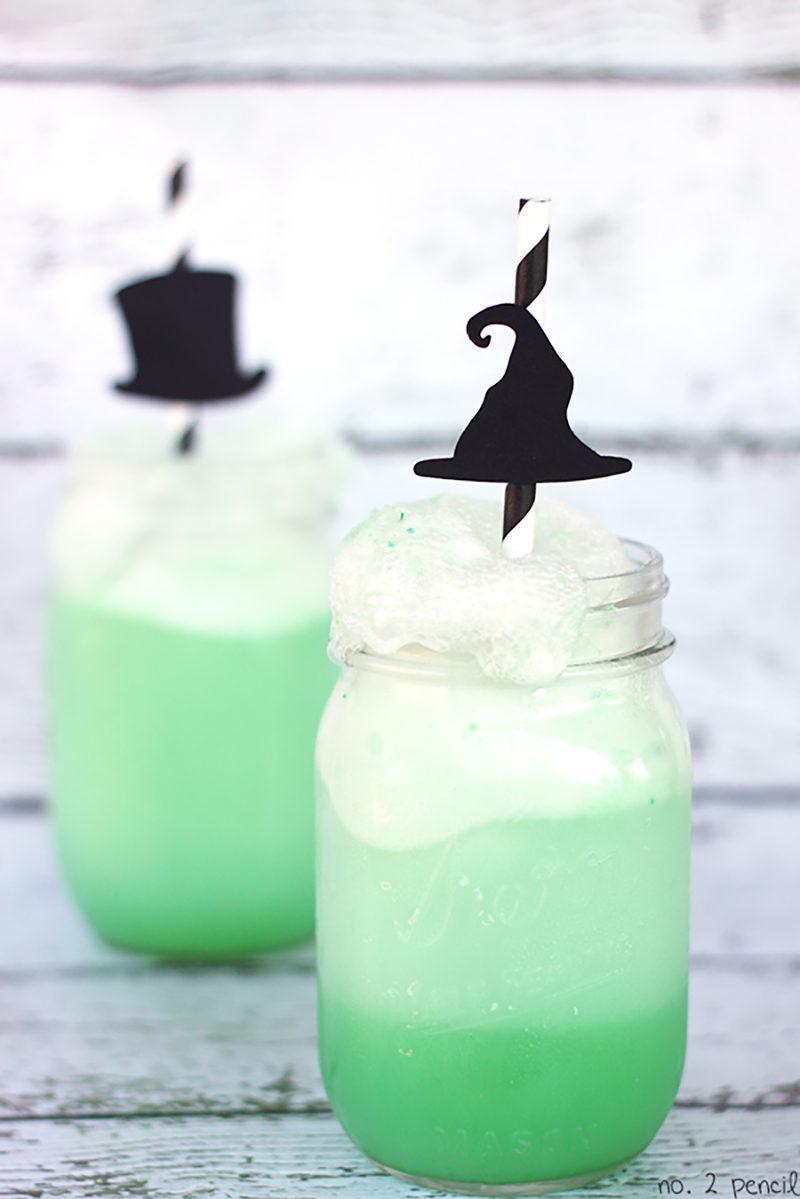 This pitcher, decorated with a dash of Halloween flair, adds the perfect touch to any buffet or dessert table.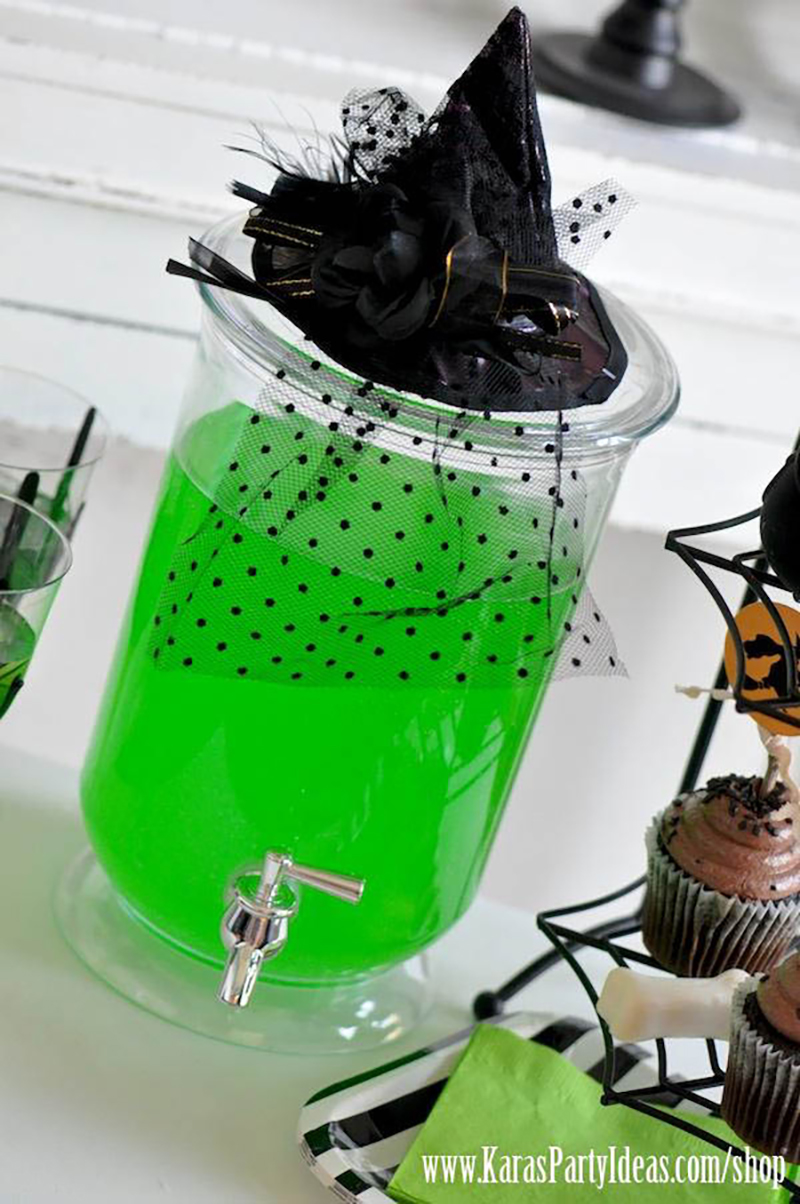 Some Halloween witch-themed drinks aren't for the faint of heart. Take these, for example: Wart Elixir and Toxic Bat Juice. Simply add some green and black food coloring to your favorite beverages and pour them into bottles decorated with these printable labels.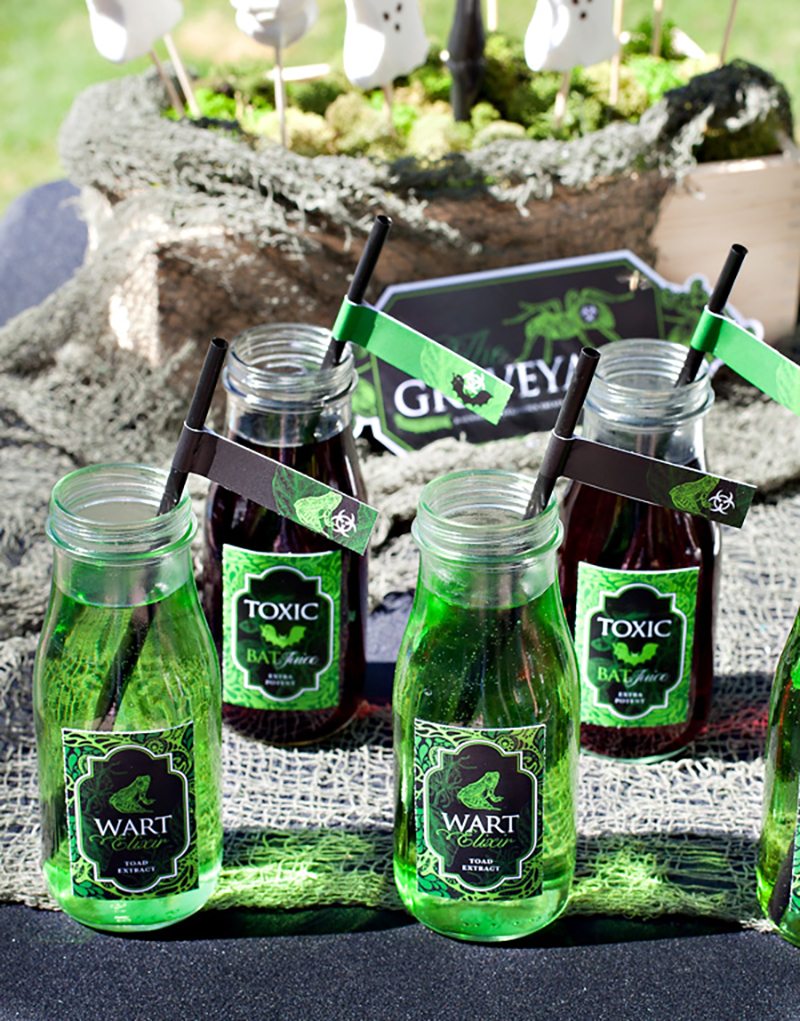 A Wickedly Good Party
Are you ready to throw a wickedly good Halloween bash? Or do you have your own party tips for an enchanted All Hallow's Eve? Tell us in the blog comments.