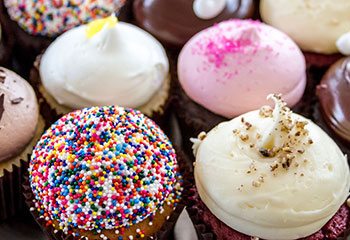 Which City Has the Biggest Sweet Tooth?
Our Sweet Science:
Using Google keywords, we were able to see how many people within a city searched for the terms "chocolate" and "bakery."
Then, using Facebook ad research, we investigated how many of each city's residents "like" the product pages of select chocolate brands.
Finally, we used Yelp to count the number of dessert places in each city.
After establishing a ranking in each category, every city was given a score (from 1 to 100). That score was then calculated into an average, with the lowest average deciding the number one spot on our list. Here's our countdown of the top 10 cities and how they ranked (on a per capita basis):
10. Richmond, VA
Richmond, the first (and smallest) city on our list, is home to an impressive number of sweets lovers. Our research showed that there are numerous cupcake shops to be found throughout the city, telling us that residents certainly value the sweetest of treats (with plenty of frosting and sprinkles, of course). We also learned that they adore chocolate, ranking 12th in how often they search for it on Google.
9. Cleveland, OH
When we looked at Cleveland's most popular dessert destinations, we learned that the city's residents have some unique choices when they want to satisfy their sweet tooth, like gourmet popcorn that tastes like cotton candy or strawberries and cream. This city also loves to indulge in chocolate, as it ranked 13th in page likes on the Hershey® Company's page.
8. Las Vegas, NV
Bright Light City has a lot of 24-hour options for satisfying sweets cravings. Whether they're kicking off their day, or wrapping up a night of entertainment and gambling, when Las Vegas residents and visitors want to indulge in something decadent chocolate is a popular choice. Las Vegas residents have proven their love of Hershey's by ranking sixth in likes on the company's Facebook page.
7. Minneapolis, MN
Whether it's an early-morning muffin or a late-night cinnamon roll, it's clear that citizens of the Land of 10,000 Lakes value their sweets. And because it's only hot enough for ice cream a few months out of the year, residents of Minneapolis tend to search for warmer and heartier treats. We discovered that bakeries and coffee bars are very popular here, as evidenced by the city's second-place ranking in searches for bakeries on Google.
6. Cincinnati, OH
Cincinnati residents have strong opinions about ice cream. One of the city's most hotly debated topics is "Which ice cream shop is best: Graeters or Aglamesis?" The topic was even featured on an episode of the Food Network show "Food Feuds." No matter which side of the argument they fall on, we're guessing that citizens of the Queen City are partial to Reese's® candy as a topping, since they ranked fourth in liking that page on Facebook.
5. Tampa, FL
The state of Florida is well represented on our list, with Tampa kicking off the top five. We learned that it's not just theme-park treats like cotton candy that excite Floridians; Tampa residents love their chocolate as well, ranking seventh in Hershey Company page likes.
4. Pittsburgh, PA
The city known for delicious sandwiches, like those from Primanti Brothers, seems to have a sweet tooth as well. Our research shows that residents of the Steel City really enjoy a good bowl of ice cream or a fresh pastry. They also love combining peanut butter and chocolate, as suggested by how many residents like the Reese's Facebook page.
3. Atlanta, GA
Atlanta's reputation for scrumptious comfort foods, particularly in the candy and sweets category, grabs them the number three spot on our list. It seems residents of the Big Peach just can't get enough chocolate, as they searched for it on Google the most out of all our surveyed cities.
2. Miami, FL
It appears that the residents of Miami turn to sweets for a refreshing break from the Florida heat. In addition to having ice cream shops aplenty, the Magic City had the most citizens using Google to find nearby bakeries.
1. Orlando, FL
It makes sense that the hometown of Disney World and Universal Studios, which attracts visitors from all over the world, has the biggest sweet tooth. However, it's not just tourists looking for the best local cupcakes. Our Facebook ad research ranked Orlando residents first in their love of these baked delights.
Sweets For You
What's your favorite place to grab a sweet treat? Did your city make the Top 10? If not, you can see the complete rankings for every city in each category here.