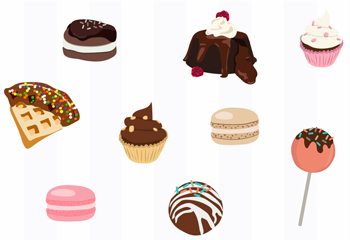 23 of the Trendiest Desserts of the 21st Century
Whether you're a fan of these dessert trends, or you prefer something simple, it's certainly interesting to see all the forms that sugar can take! We used Google Trends to find out when unique desserts were at their peak.
Right now unicorn sweets are all the rage, but do you remember what year chocolate bacon was all anyone could talk about? And you can't forget when all everyone wanted was cake pops instead of the traditional slice. Take a trip down memory lane with these iconic treats.

The trendy desserts don't stop there! Some other popular and unique sweets in the past few years have included cookie fries, frozen hot chocolate, ice cream flowers, mirror cakes, and ice cream tacos. Have you tried any of these popular indulgences? Maybe you even tried to make one or stood on line for hours to see what the latest craze was about.
Whatever your preference, there's one delicious treat that stands the test of time; grab some chocolate dipped strawberries to satisfy your craving!