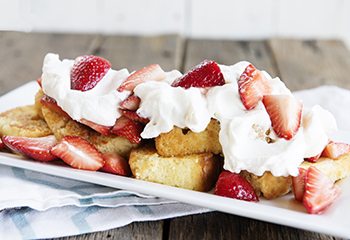 Recipe: Toasted Pound Cake With Balsamic Berries
I recently did something a little different with my favorite dessert and toasted the pound cake on a lightly buttered griddle. Adding a sweet, crispy crust to the outside of the pound cake was quite possibly one of the best dessert decisions I've ever made. While the pound cake is still warm from toasting, top it with balsamic berries and homemade whipped cream and you have a dessert creation worthy of big raves.
Serve this Toasted Pound Cake With Balsamic Berries for Easter dessert, Mother's Day or even just a random Friday to celebrate the start of the weekend. I hope you enjoy it as much as we did!
Toasted Pound Cake With Balsamic Berries
Ingredients:
1 loaf bakery pound cake, sliced into 1-inch thick slices
2 tablespoons butter
16 ounces strawberries, hulled and coarsely diced
¼ cup brown sugar
¼ cup white balsamic vinegar
1 cup heavy whipping cream
3 tablespoons sugar
Instructions:
Heat an electric skillet to 400°. Spread the butter over the skillet so it melts and covers the skillet completely.
Place each slice of pound cake face down on the skillet. Toast for 2 minutes, or until slightly browned.
Flip over and toast the other side for an additional 2 minutes, or until slightly browned. Remove from the skillet.
In the meantime, stir together strawberries with brown sugar and balsamic vinegar. Set aside.
For whipped cream, beat whipping cream and sugar on high until soft peaks form.
How to serve:
Place warm toasted pound cake on a plate and add 2-3 spoonfuls of balsamic berries. Top with homemade whipped cream and serve.
Kristen Doyle is the author of the award-winning blog, Dine & Dish. Through the use of simple, family-friendly recipes, tempting food photography, compelling storytelling and lots of coffee, Kristen has created a space on the internet that feels like home. Pull up a chair and see what's on her menu today.