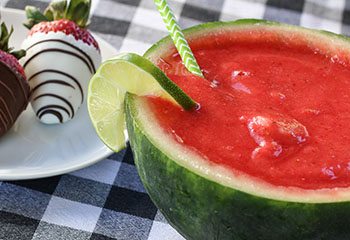 Summer Recipe: Strawberry Watermelon Margaritas
What makes this particular cocktail so wonderful (besides the amazing flavor combination) is the way it's served. When I found these adorable mini-watermelons, I knew they were destined for greatness. After using the inside of this sweet fruit for the cocktail, I put the outer rind to use as a bowl. Who doesn't want a cocktail the size of a small watermelon?
This drink takes a little advance preparation, but I promise it's not difficult and totally worth it. As I note in the recipe below, you'll want to scoop the flesh out of the watermelon and freeze it and the rind before getting your recipe started. On these hot summer days, the colder the better.
You could just sip on these frozen libations by themselves; however, I think some chocolate-dipped strawberries make them even better. These dipped drizzled strawberries are one of my favorites.
Let me show you how to whip up a pair of these delicious margaritas.
Strawberry Watermelon Margaritas
Ingredients:
1 small watermelon
2 cups strawberries, frozen
3/4 cup tequila
1/2 cup triple sec
1/2 cup sugar
1/4 cup lime juice
Lime slices for garnish
Directions:
Begin by preparing your watermelon. Cut the watermelon in half; then carefully remove the flesh from each half. Freeze the flesh and the rind separately for several hours or overnight.
In a blender, combine the watermelon, strawberries, tequila, triple sec, sugar and lime juice. Blend until smooth.
Pour into your watermelon rind bowls and garnish with a lime slice and straw. Sip and enjoy!
Once your watermelon is prepared, these are a breeze to make. If you need to make a larger batch, you can certainly use a large watermelon and serve these in glasses. I promise they will be just as amazing.
Cheers and have a fabulous summer!
Michael Wurm, Jr. is the blogger behind the widely popular lifestyle blog, Inspired by Charm, where he shares his love and tips for a decorated life. Whether it's ideas for easy decorating, a delicious recipe, entertaining inspiration, or a unique DIY project, his goal is to provide the tools and ideas for everyone to live a happy, colorful life.