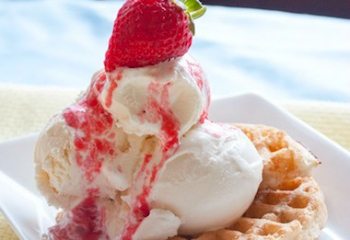 Strawberry Waffle Sundae Recipe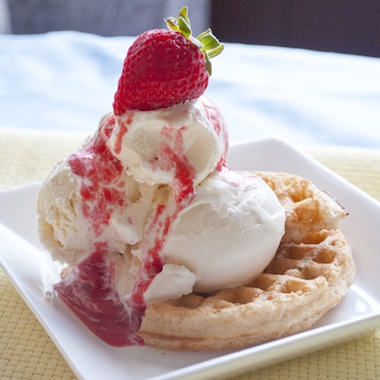 Did you know that in 1984 President Ronald Reagan proclaimed July National Ice Cream Month? Well we think he was far too conservative. Why not August too? A National Ice Cream Season, perhaps? In the Northern hemisphere at least, both months have plenty of hot, sunny days and ideal ice cream weather. Actually, ideal strawberry waffle sundae weather. That's why we're declaring August National Strawberry Waffle Sundae Month. We're sure we have the authority …
What you'll need
Make this recipe gluten-, sugar- and dairy-free by simply subbing gluten-free waffles, coconut-milk ice cream and your favorite sugar alternative.
1 frozen or fresh waffle
3 scoops of vanilla ice cream
Strawberry compote (recipe below)
Fresh strawberries (for garnish)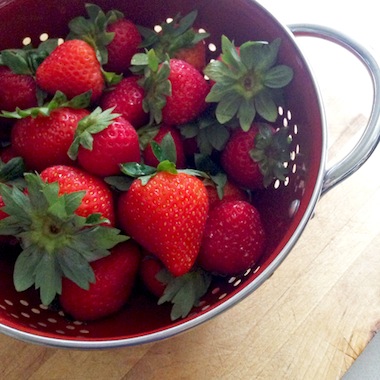 Making the strawberry compote
1 lb. or 16 oz. fresh strawberries
1 tablespoon water
2 tablespoons sweetener** (we used stevia)
**Eliminate water if using honey or maple syrup
Place shucked berries and water in a covered sauce pot on medium-high heat until they begin to bubble. Add sweetener and turn heat to low. Simmer 20 minutes or until fruit is soft enough to mash. Mash the berries with a fork until they reach a jam-like consistency. For a smoother texture, emulsify the mix in a blender. Let the compote cool and pour over an ice-cream-topped waffle.
Leftovers make a fresh and fruity sauce for French toast or pancakes. Or double the recipe and jar the extra, for a homemade gift of strawberry preserves. For an extra decadent sundae top it all off with our salty caramel almond-sprinkled dipped berries.