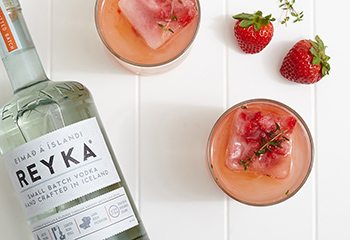 Recipe: Strawberry + Thyme Ice Cubes
First step: make the ice cubes. Our recipe makes it easy.
Muddled Strawberry & Thyme Ice Cubes
Ingredients:
Large silicon ice cube tray
18 medium-sized fresh strawberries
6 sprigs of fresh thyme
Mortar and pestle
Water
Directions:
Muddle strawberries with mortar and pestle.
Distribute evenly so each section of the ice cube tray is filled 2/3 with muddled berries. Each cube requires 2-3 berries.
Fill the rest of the way with water and then top with a sprig of fresh thyme. Freeze 4-5 hours.
When you slide the ice cubes out of the tray, they'll have a slight ombre look where you topped them off with water. Of course, you can tell everyone you did that on purpose, with your top-secret ombre ice cube technique.
You'll notice the spring of thyme that you placed on top of the ice cube freezes beautifully, like a lovely garnish. It adds a stylish pop of contrast color and greenery to any cocktail.
When you add the cubes to your drink, they'll infuse it with fresh strawberry and thyme as they melt. Make an agua fresca by adding them to regular water with a splash of sweetener. Add several to a pitcher of lemonade to keep it cold and infuse it with strawberry flavor. Or, if you're looking for something with a little more kick, check out our Strawberry Vodka Smash recipe below.
Strawberry Vodka Smash
Ingredients:
1 muddled strawberry ice cube (recipe above)
1 oz. vodka
4 oz. lemonade
Directions:
Place one muddled strawberry ice cube into a rocks glass. Pour 1 oz. vodka over the ice, top off with fresh lemonade. Enjoy!
The more the cubes melt, the more fresh strawberry flavor you'll taste. It's the perfect refreshment for a warm sunny day.
More Fresh Ideas
Get inventive, and substitute your favorite fruit and herb pairings in our ice cube recipe to create more fresh flavors. Cucumber works well too. Here are a few of our favorite combinations:
Lemon + sage
Basil + cucumber
Raspberry + mint
Lavender + blackberries
Mango + parsley
Do you have any fabulously fruity ice cube recipes? Give us all the details in the comments section.