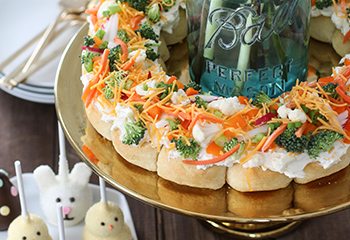 Recipe: Spring Veggie Pizza
Lighter fare and fresh vegetables become the star of the table. With spring holidays like Easter and Mother's Day in my thoughts, I always like to have in mind a few ideas for simple nibbles.
One of my favorite quick and flavorful appetizers is vegetable pizza. Although the base of the dish is pretty standard, you're free to use whatever vegetables you and your family love. This pizza is also a great way to use up any miscellaneous fresh veggies.
Crescent rolls form the crust of this pizza. Sliced and arranged in a circular pattern, the rolls create a wreath shape that is perfect for spring. I used a variety of veggies for my pizza including broccoli, cauliflower, orange pepper, green onions, radishes and carrots. I kept things mostly orange and green for a light and fresh look.
Now, back to that Spring Vegetable Pizza Wreath. Let me tell you how it's made.
Spring Vegetable Pizza Wreath
Ingredients:
2 packages (8 ounces) crescent rolls
1 package (8 ounces) cream cheese, softened
½ cup sour cream
½ cup mayonnaise
½ pack ranch dressing powdered mix
3 cups assorted vegetables, diced
¾ cheddar cheese, shredded
Directions:
Begin by preheating your oven to 350 degrees F. Remove crescent rolls from the package. Do not unroll. Cut each roll into eight slices. Arrange in a circle on an ungreased 14-inch round pan.
Bake for 15–20 minutes or until golden brown. Cool on the pan for at least 5 minutes before carefully removing to a serving plate to cool completely.
In a small bowl, beat together the cream cheese, sour cream, mayonnaise and ranch dressing mix until smooth. Then, spread this mixture over the baked rolls. Top with assorted vegetables and cheese. Chill for an hour in the refrigerator before serving.
Pretty simple, right? And perfect for spring entertaining. What spring treats do you look forward to? Share your favorites in the comments.
Michael Wurm, Jr. is the blogger behind the widely popular lifestyle blog, Inspired by Charm, where he shares his love and tips for a decorated life. Whether it's ideas for easy decorating, a delicious recipe, entertaining inspiration, or a unique DIY project, his goal is to provide the tools and ideas for everyone to live a happy, colorful life.