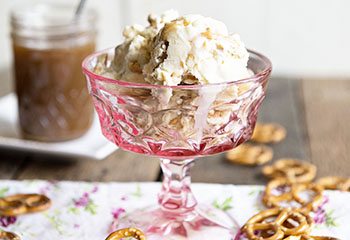 Recipe: Salted Caramel Ribbon Crunch Ice Cream
One of my favorite ways to impress guests is to doctor up a carton of vanilla ice cream. Sure, you can buy fancy flavors from the store, but why would you do that when you can make your own custom creations at home?
This Salted Caramel Ribbon Crunch Ice Cream is as unique as can be. Creamy vanilla ice cream is laced with a ribbon of rich caramel and then hand-blended with coarsely crushed salted pretzel twists. The result is an ice cream dessert that cures all of your sweet and salty cravings!
If you are someone who loves to dip a salty fry in ice cream, or if you think the only thing that could make a potato chip even better is a drizzle of chocolate, this is the kind of sweet and salty dessert creation you'll love. Enjoy!
Salted Caramel Ribbon Crunch Ice Cream
Ingredients:
1.75 quart good quality vanilla bean ice cream
1 cup caramel sauce (I prefer homemade)
2 cups small pretzel twists, coarsely crushed
Directions:
Spoon ice cream into a large mixing bowl. Pour caramel sauce over the ice cream. Using a large wooden spoon, gently fold the caramel sauce into the ice cream. Fold the pretzel twists into the caramel/ice cream mixture just until well incorporated. Tightly cover the bowl and place in the freezer for 4 hours. Remove from the freezer 10 minutes prior to serving to thaw slightly for easier dipping. Return covered leftovers to the freezer.
Kristen Doyle is the author of the award-winning blog, Dine & Dish. Through the use of simple, family-friendly recipes, tempting food photography, compelling storytelling and lots of coffee, Kristen has created a space on the internet that feels like home. Pull up a chair and see what's on her menu today.