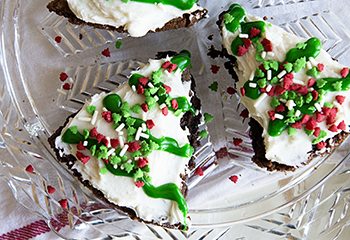 Peppermint Brownie Christmas Trees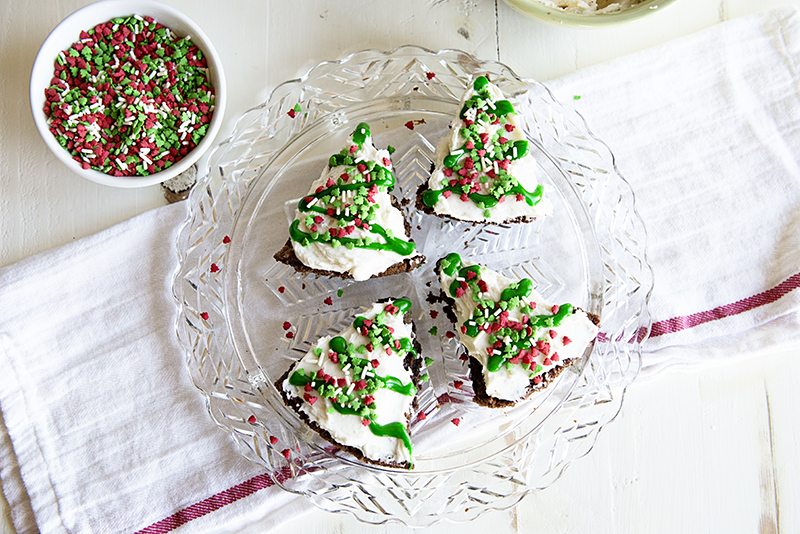 For example, my favorite time saver during the holidays is purchasing gifts online without leaving the comfort of my home. Convenience is key during the holiday season.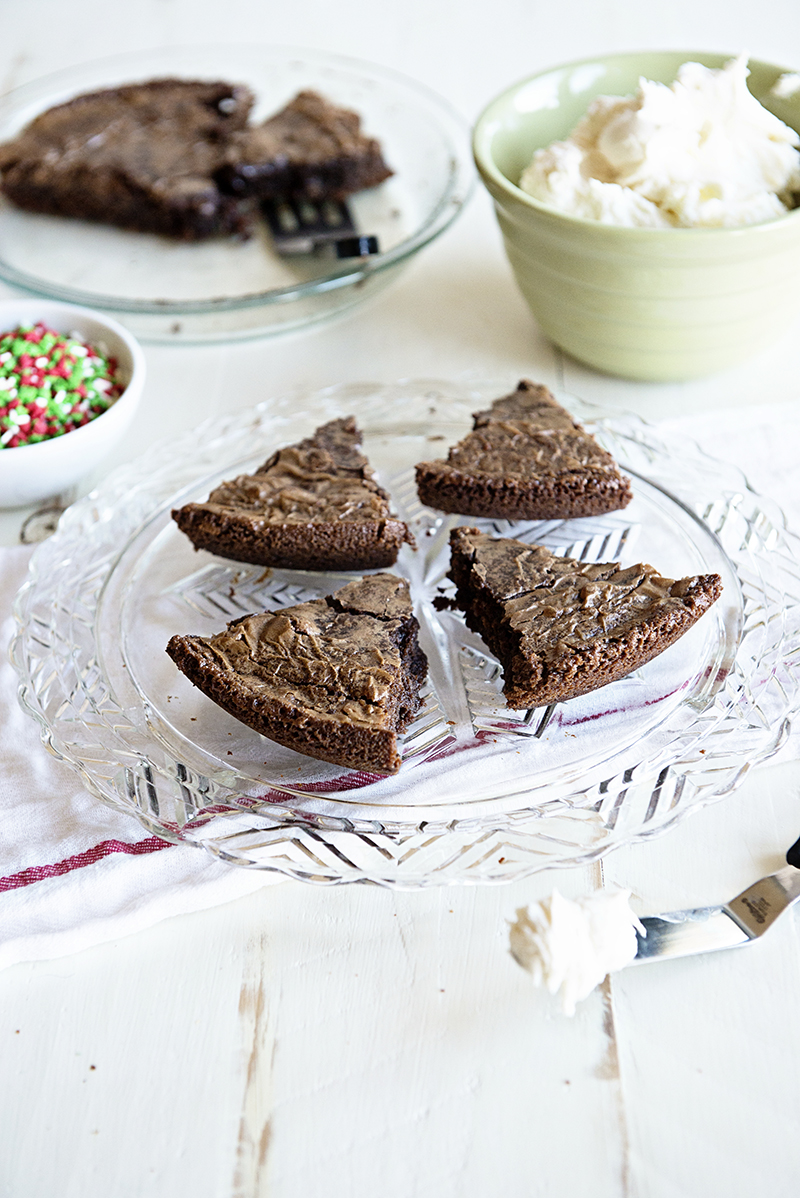 When it comes to cooking, convenience sometimes means using a box mix to help a recipe along instead of going for completely homemade and from scratch. It may be considered cutting corners, but I like to think of it as my magic way of finding more hours in the day.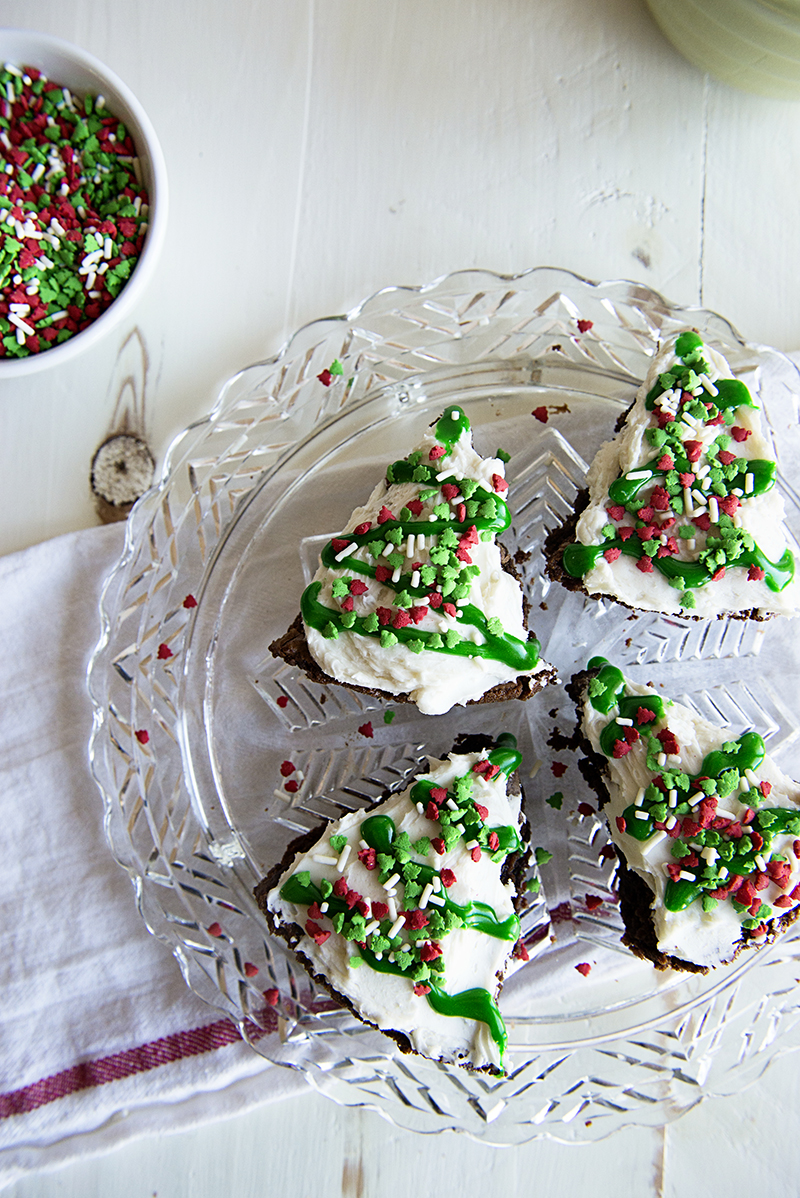 This recipe for Peppermint Brownie Pie uses a boxed brownie mix for the base, but then has a decadent homemade buttercream frosting to pull it all together. Finally, to turn it into a festive holiday dessert, I baked the brownies in a pie dish and sliced them into triangles. Peppermint Brownie Pie quickly becomes Brownie Christmas Trees, a fun and simple holiday dessert everyone will love!
Enjoy!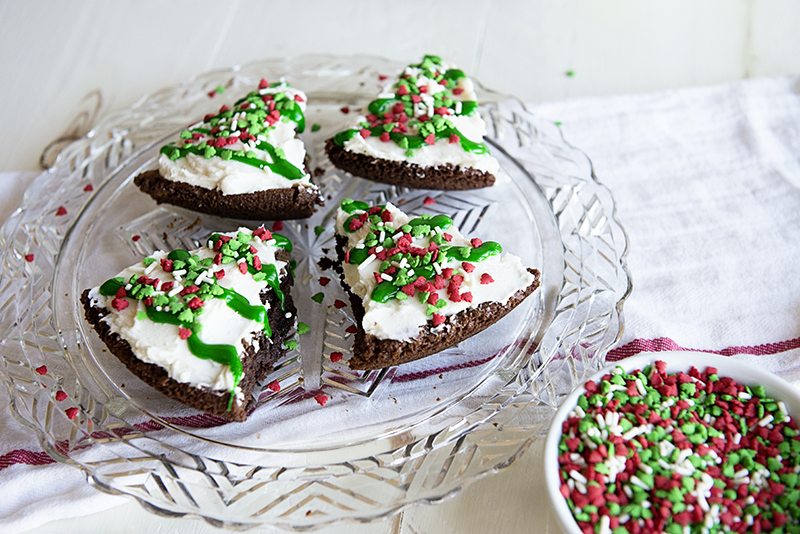 Peppermint Brownie Pie Christmas Trees
Prep time: 20 minutes
Cook time: 30 minutes
Serves 8
For the brownies:
1 box brownie mix, batter prepared to package directions
1 teaspoon peppermint extract
For the buttercream frosting:
4 cups powdered sugar
½ cup butter, softened
½ teaspoon salt
1 teaspoon vanilla
6 tablespoons heavy whipping cream
1 teaspoon peppermint extract
Holiday sprinkles
Directions:
Brownies
Preheat oven to 350°
Prepare brownies according to package direction, but mix 1 teaspoon of peppermint extract into the batter.
Spray a 9-inch pie pan with non-stick cooking spray. Pour the brownie mixture into the pie pan. Bake for 30 minutes, or until a toothpick inserted into the center comes out clean.
Set aside to cool.
Buttercream frosting
Mix together the powdered sugar, butter and salt in the bowl of an electric mixer. Beat for 2 minutes.
Add the vanilla, whipping cream and peppermint extract. Beat for 2-3 minutes, or until frosting is fluffy.
Turning your brownies into trees
Slice the cooled brownie pie into even triangles (you should get 8 triangles). Frost the tops of each brownie with buttercream and top with sprinkles. If desired, use food coloring to color part of the buttercream frosting and pipe onto the brownie trees for additional decoration.
Kristen Doyle is the author of the award-winning blog, Dine & Dish. Through the use of simple, family friendly recipes, tempting food photography, compelling storytelling and lots of coffee, Kristen has created a space on the internet that feels like home. Pull up a chair and see what's on her menu today.