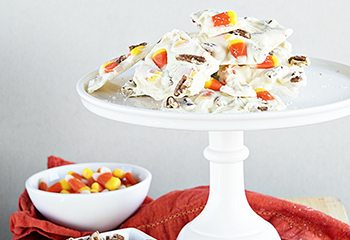 Pecan and Candy Corn White Chocolate Bark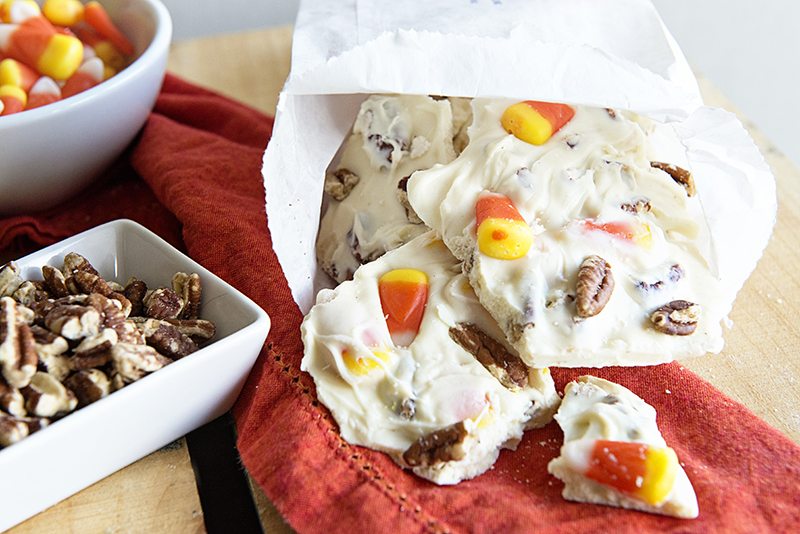 I love to eat a handful of candy corn right away but then I usually save the rest to experiment with in recipes. Cupcakes, cookies and even cocktails … the possibilities for creating fun Halloween treats which include candy corn are endless.
We have an upcoming Halloween party to attend, and I wanted to make something incredibly simple, yet festive and fun. Chocolate bark is one of those retro foods that has become so popular again over the past few years. I decided it would be a fun idea to make a seasonal bark using just three ingredients: white chocolate chips, chopped pecans and candy corn. The result was this Pecan and Candy Corn White Chocolate Bark which will be perfect to nibble on during the Halloween party.
What I love about bark recipes is that they are so versatile. For example, with this particular recipe I used pecans, but you can easily switch out the pecans for pralines or almonds or any kind of nut you'd like. Candy corn made it festive, but you can also use up some of the leftover Halloween candy from trick-or-treating and add it to the bark. Really, anything goes and there isn't a whole lot off limits when it comes to creating delicious chocolate bark.
Give this Halloween bark recipe a try today, and let us know if you switch up any of the ingredients. Enjoy!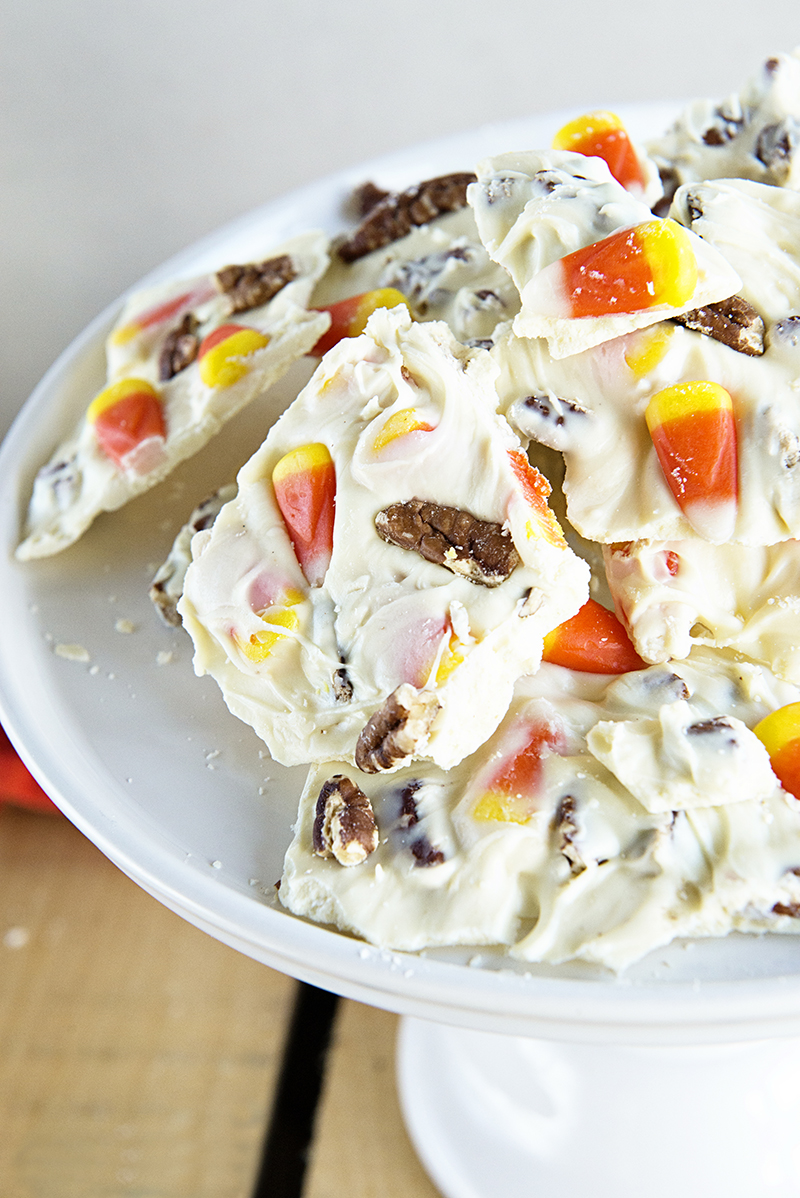 Pecan and Candy Corn White Chocolate Bark
Prep time: 5 minutes
Cook time (includes cooling): 35 minutes
Serves: 6 – 8
3 cups high-quality white chocolate chips
1 cup chopped pecans, divided
1 cup candy corn, divided
Line a baking sheet with parchment paper. Set aside.
Fill a stockpot halfway with water, then place a slightly smaller metal bowl inside (you are creating what's called a water bath). Bring water to a boil. Pour the chocolate chips into the pan and allow to melt, stirring continuously until smooth. This should take no longer than 3-4 minutes. Remove from heat as soon as chocolate melts.
Fold in ¾ cup chopped pecans and ¾ cup candy corn.
Pour the chocolate mixture onto the parchment lined cookie sheet.
Using the back of a large spoon or a spatula, spread the chocolate mixture out across the parchment paper, until approximately ¼ inch thick (you will not go all the way to the edge of the pan). Top with remaining pecans and candy corn.
Allow to set until hardened, approximately 30 minutes. Once hardened, break into uneven pieces and serve.
Halloween Bark Remix
Did you switch up any of the ingredients to create your own bark recipe? Or do you have another favorite Halloween bark recipe we'll love? Let us know in the comments.
Kristen Doyle is the author of the award winning blog, Dine & Dish. Through the use of simple, family friendly recipes, mouth watering photography, compelling storytelling and lots of coffee, Kristen has created a space on the internet that feels like home. Pull up a chair and savor some time to connect, today.