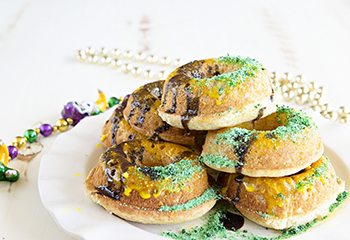 King Cake, Reinvented: Mardi Gras Doughnuts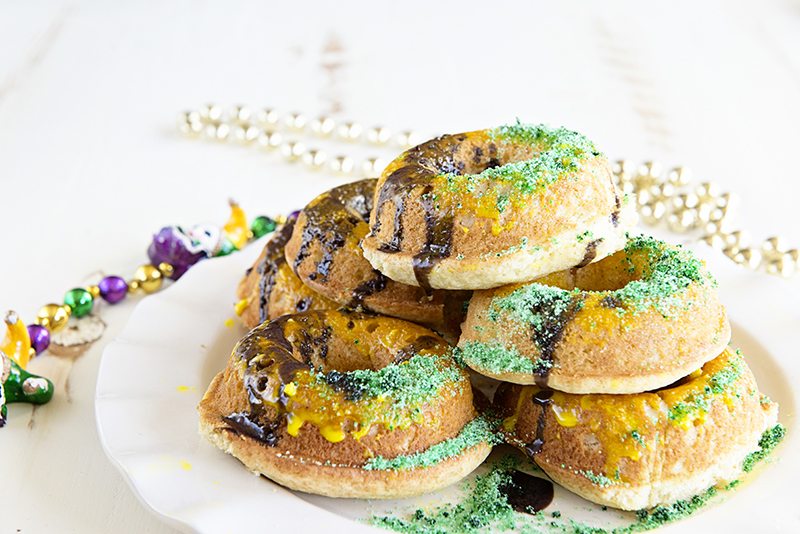 For locals, Mardi Gras is all about family, food and extended celebrations. It's a time for people to take off work, children to be released from school, and friends and family togetherness. Parties overflowing with amazing food are planned before and after the extravagant costume balls and parades. Everyone gets into the Mardi Gras spirit and participates in the fun.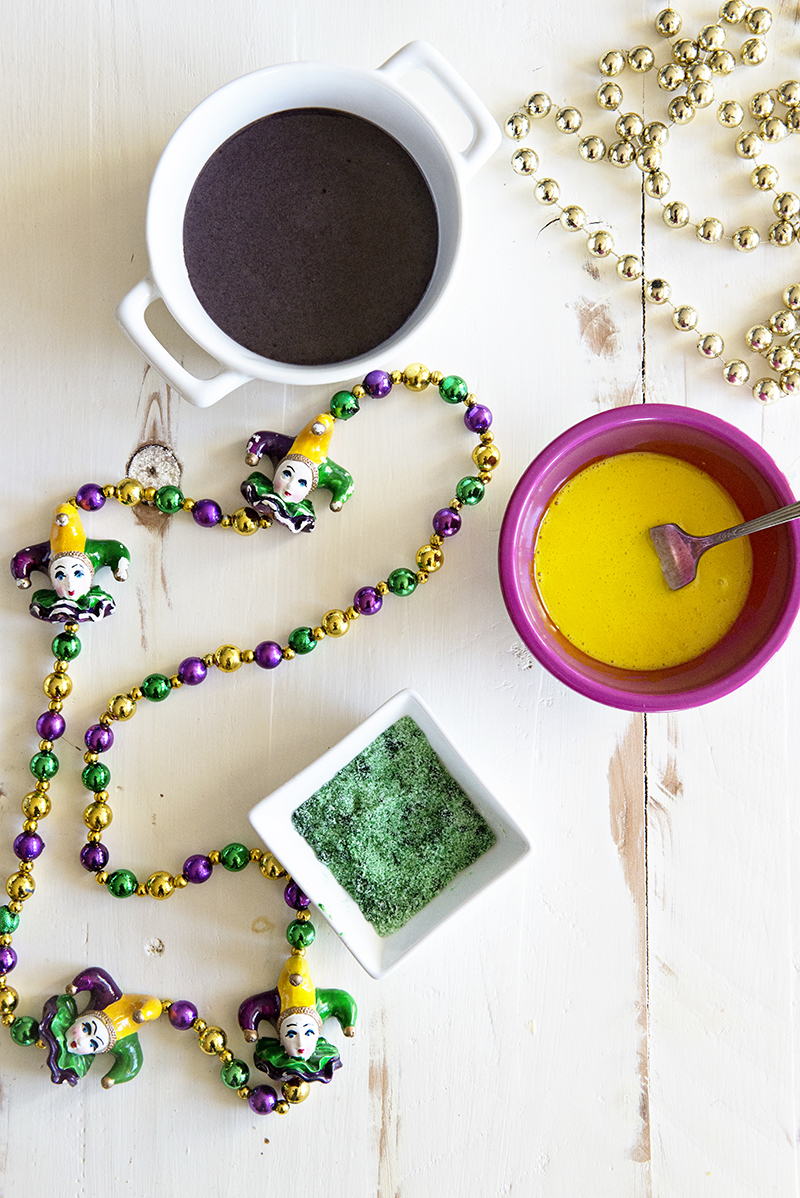 Even if you aren't in New Orleans for Mardi Gras this year, you can celebrate at home by enjoying food reminiscent of a Mardi Gras celebration. From Jambalaya to King Cake, there are plenty of options when it comes to Mardi Gras party food, however, one meal I feel often gets ignored when it comes to Mardi Gras is breakfast. That's why I decided a day of Mardi Gras celebrations wouldn't be complete without some festive baked doughnuts.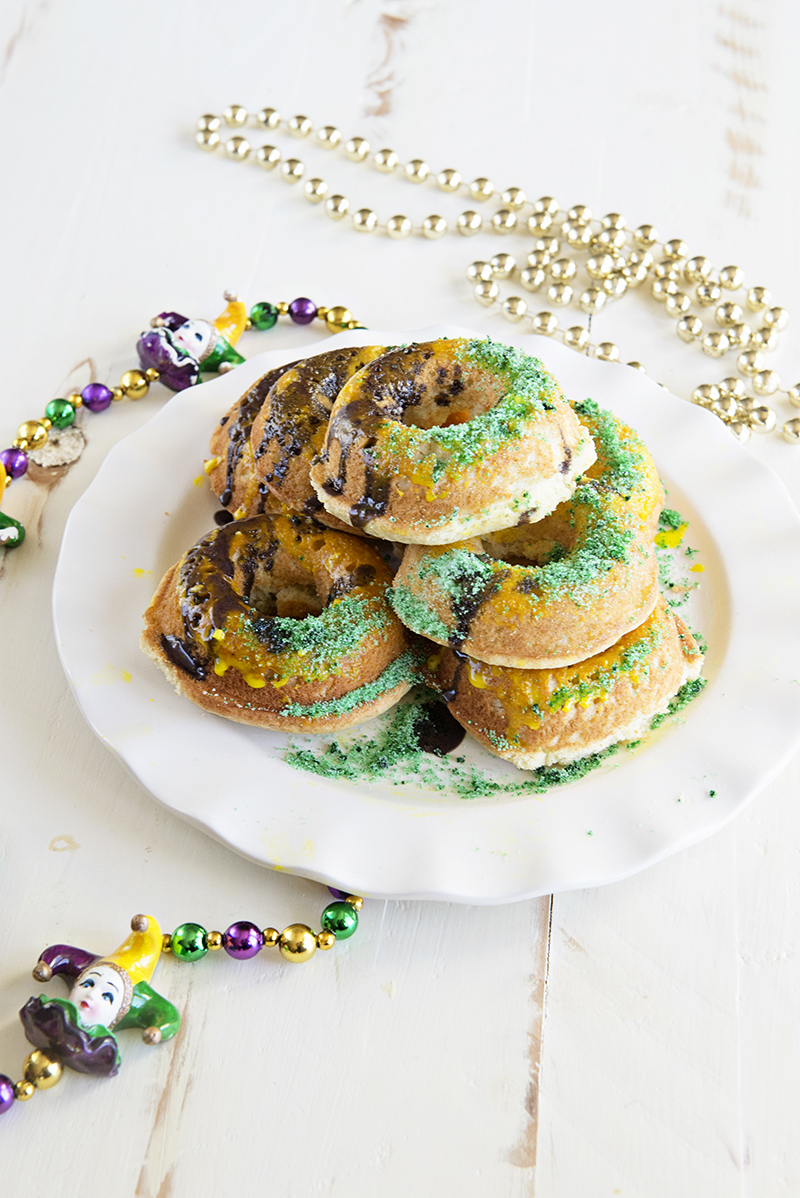 These doughnuts are baked, not fried, and are brushed with a sweet glaze tinted with the signature colors of Mardi Gras—purple, yellow and green. They are the perfect way to get in the Mardi Gras spirit, no matter where you are celebrating. Enjoy!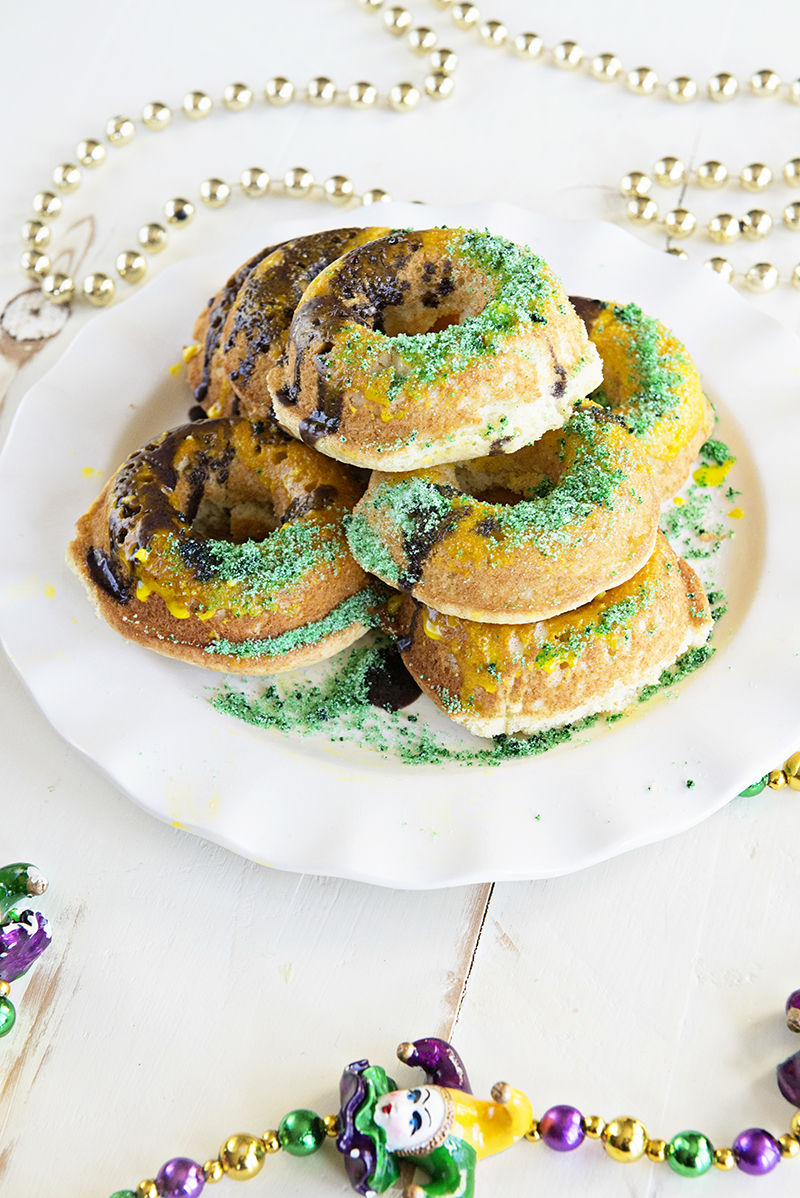 Mardi Gras Baked Doughnuts
Yield: 3 dozen doughnuts
Prep Time:30 minutes
Cook time:20 minutes
Ingredients:
¾ cup butter, softened
1 ¼ cup sugar
2 eggs
1 cup buttermilk
3 cup all purpose flour
4 teaspoons baking powder
1 tablespoon vanilla
½ teaspoon salt
For the glaze:
2 cups powdered sugar
3 tablespoons milk
1 teaspoon vanilla
Purple and yellow food coloring
For colored sugar:
¼ cup granulated sugar
Green food coloring
Directions:
Preheat oven to 350°F
In the bowl of an electric mixer, place softened butter, sugar and eggs. Mix until mixture is light yellow in color, approximately 3 minutes.
Slowly add the buttermilk. Mix on low until well incorporated.
Add the flour, baking powder, vanilla and salt. Mix on medium speed for 3 minutes, until a soft batter has formed.
Prepare a doughnut pan by spraying with non-stick cooking spray. Using a small spoon, fill each section of the doughnut pan ⅔ full.
Bake for 20 minutes, or until doughnuts are cooked through.
Remove from pan immediately and place on a wire cooling rack.
Repeat until all the doughnuts are baked.
These can also be made in a muffin tin. Simply increase cooking time by 3-5 minutes.
For the glaze:
In a medium bowl combine powdered sugar and milk. Once the glaze is formed and no lumps appear, add the vanilla.
Divide the glaze into 2 bowls equally. In one bowl stir in the purple food coloring. In the other, add the yellow.
Brush each doughnut when warm with yellow glaze. Drizzle purple glaze over half of each doughnut.
Mix ¼ cup of granulated sugar with a small amount of green food coloring. Sprinkle green colored sugar over the remaining half of the doughnuts.
Serve warm and enjoy!
Kristen Doyle is the author of the award-winning blog, Dine & Dish. Through the use of simple, family friendly recipes, tempting food photography, compelling storytelling and lots of coffee, Kristen has created a space on the internet that feels like home. Pull up a chair and see what's on her menu today.