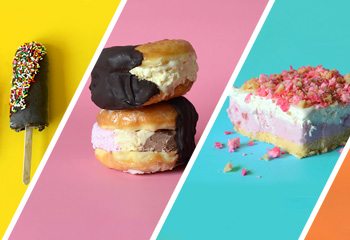 5 Summer Desserts Inspired by Ice Cream Truck Favorites
Most tempting ice cream truck treat
What was your favorite ice cream truck treat growing up?
In a survey done last year, the Drumstick® was the most popular treat. Our Drum Dream shake is sure to take you back to those summer days, minus the ice cream dripping down your hand. Go ahead, pile on the whipped cream. We won't judge.
Better yet, mix and match ingredients and fun toppings to recreate your own version. Make your ordinary fudge bar extraordinary by rolling it in nuts and rainbow sprinkles. Oh and that strawberry cake frozen bar? It can be eaten neatly with a fork while you're sitting at your work desk.
Of course if you don't mind the mess, our neapolitan donut ice cream sandwich is the way to go. You can even make some of these recipes dairy free by substituting almond milk, coconut cream and cacao.
Ice cream + cookies
Want to really make someone's summer? Surprise them with the perfect compliment to their favorite ice cream—dipped cookies! They're delish as a sundae topping or the ingredients in a homemade ice cream sandwich.