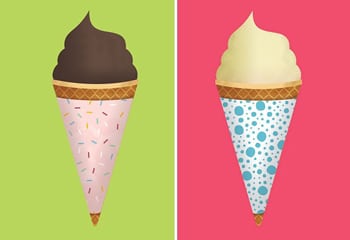 DIY Ice Cream Cone Wrappers for a Sweet Summer
I scream, you scream, we all scream for…you guessed it, ice cream!
Since the weather is warming up, there's no better way to celebrate the turn of the season than with an ice cream cone (or two)! This sweet treat is perfect for satisfying any sweet tooth and an even better way to cool off that summertime heat. Whether fruity or decadent, in a cone or piled high with toppings, this delicious dessert is fit for any occasion because there's always an excuse for ice cream.
Hosting a kid's birthday party? Serve ice cream with plenty of toppings. Having a bad day? Whip up a cone with three scoops — that's right, three! Having a girls' night? Set up an ice cream bar complete with stylish additions like chocolate dipped toppings and one-of-a-kind sleeves.
The only way to make an ice cream cone better is to wrap it in a stylish sleeve. Ice cream cone wrappers are a fun and easy way to dress up any ole' ice cream cone. These wrappers are just as functional as they are stylish, helping to catch any melting ice cream!
We're helping you stylize your next ice cream cone to match any event with our collection of printable wrappers. Browse through the entire collection below and save your favorites for your next ice cream event.
It's time to satisfy your sweet tooth with flare!
Ice Cream Cone Wrapper Supplies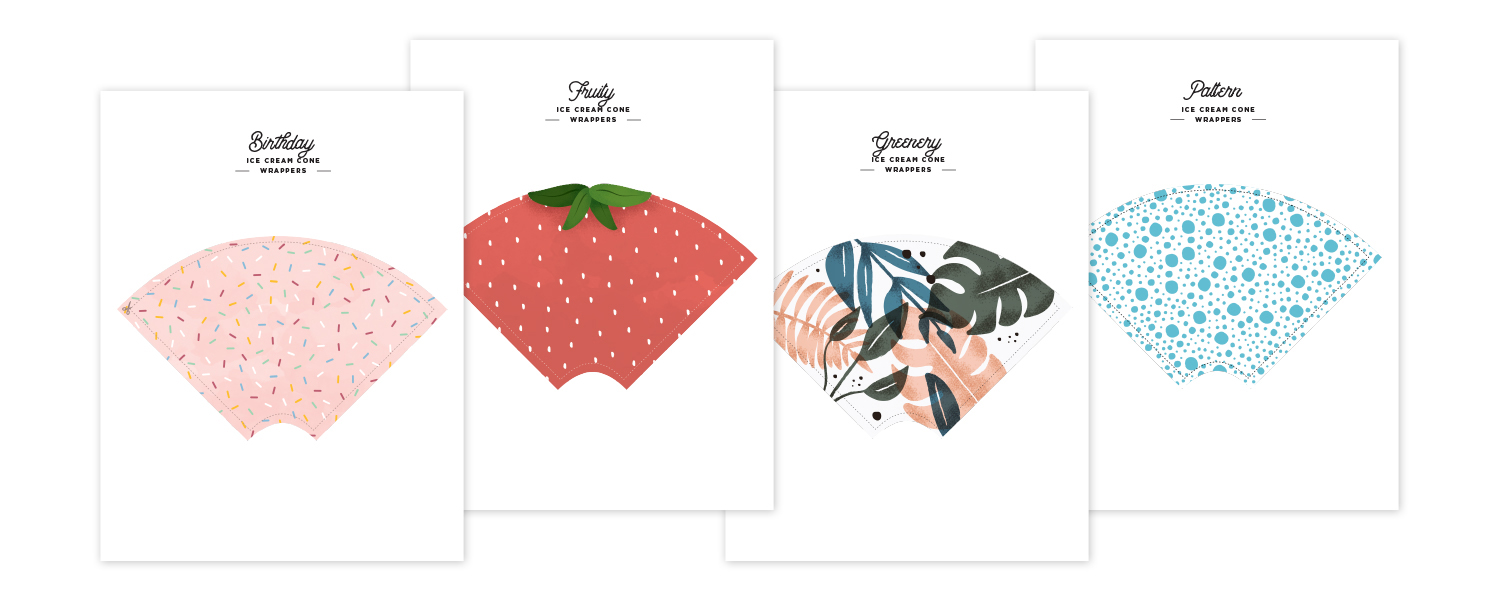 Before you browse our variety of designs, take a peek at the supplies you'll need to complete the project. It isn't much of a list, so that's even more reason to use the wrappers at your next event or get-together.
Printable ice cream cone wrapper template (pick your favorite below)
Ice cream cone (sugar or cake)
Scissors
Double-sided tape or glue
Browse by theme or download the full collection of printable wrappers by clicking the button below. You'll find wrappers for both sugar and cake cones, so just be sure you're printing the proper wrapper for your preferred ice cream cone.

Instructions for Your DIY Ice Cream Cone Wrapper
Follow these step-by-step instructions to dress up any ice cream cone!
Print out the template of your choice. Standard printer paper should do the trick. Just be sure to print the proper template for your ice cream cone. There are different dimensions for sugar cones versus cake cones.
Carefully cut your wrapper out of the desired template using the "cut here" guidelines.
Wrap the sleeve around the ice cream cone.
Use double-sided tape or a dot of glue to adhere the edges. Be careful while using the glue. You don't want to get any on your yummy cone.
Scoop your ice cream, add your toppings and enjoy!
Now that you have everything you'll need for the project, it's time for the best part. We've separated our printable options based on different themes fit for sweet occasions like birthdays and milestone moments! Take a peek at each below!
Berry Fun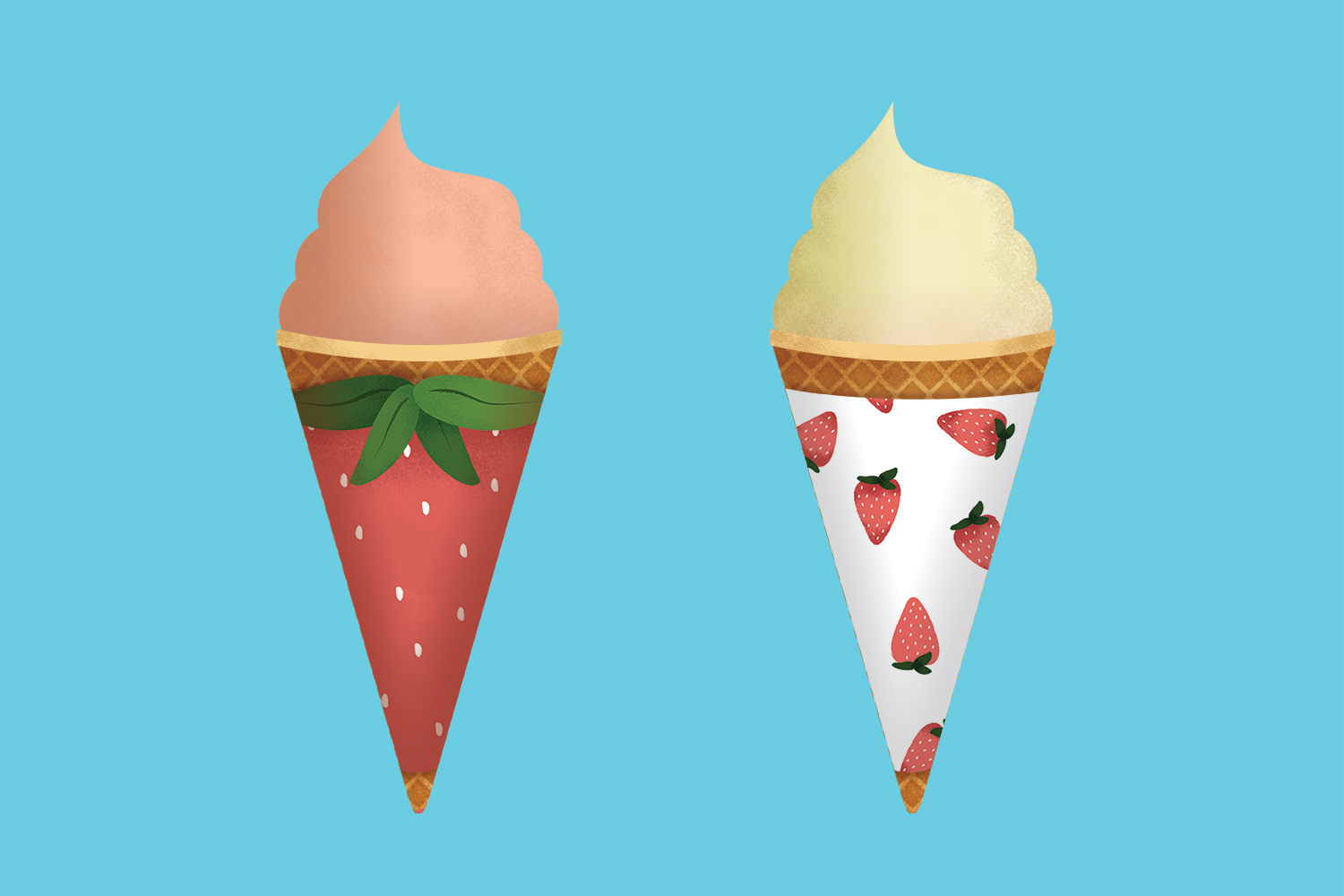 Nothing is more reminiscent of the summer months than fruit-inspired patterns and bold colors. These fruity ice cream cone wrappers will complement any summertime party. Whether you're hosting a backyard barbecue or a back-to-school celebration, enjoy your cone with some extra pizazz!
Let's Get Tropical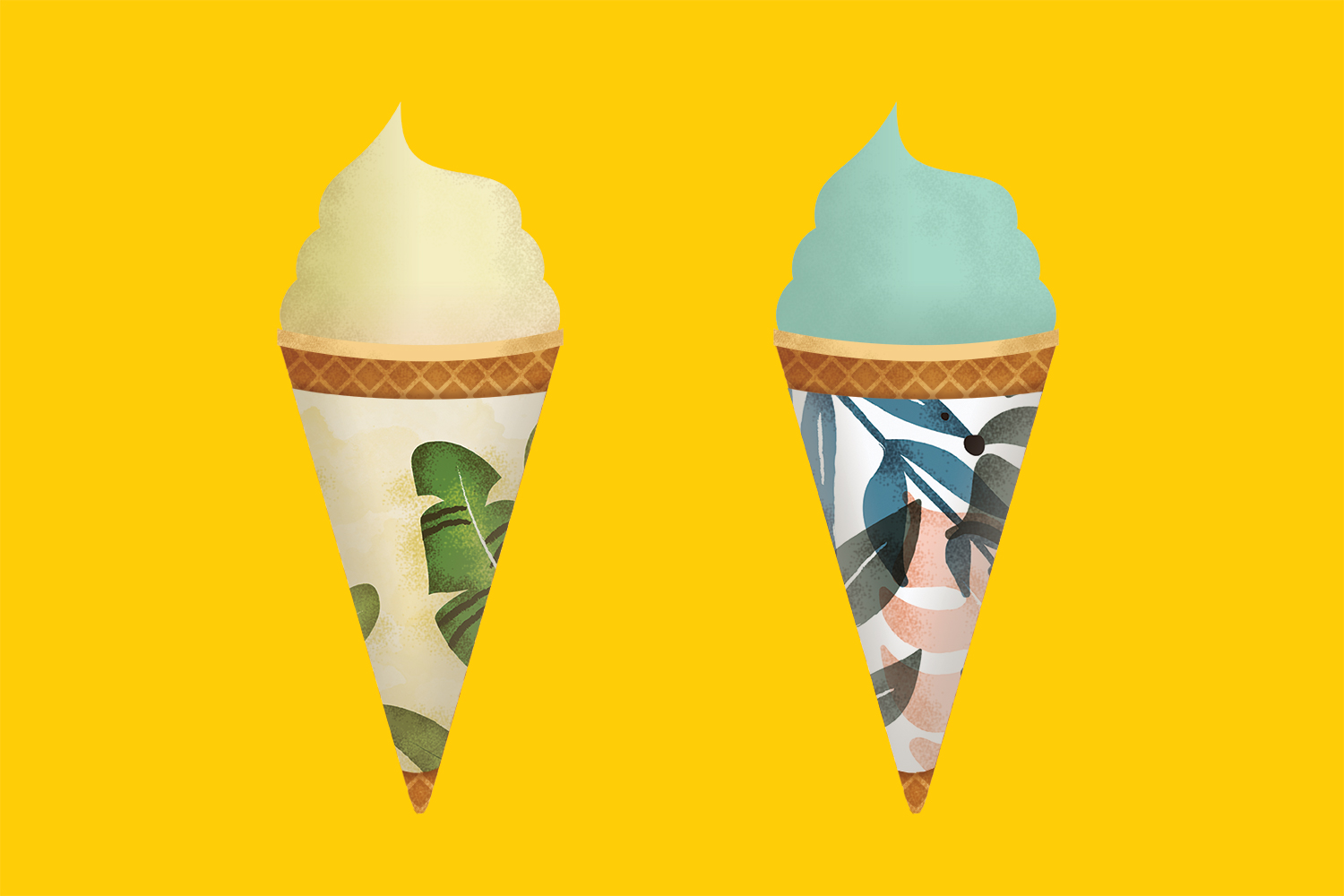 The tropical ice cream cone wrappers is a trendy option fit for bridal showers and girls' nights in. Create a fun party activity to go with your decorative sleeve by hosting a homemade ice cream station where guests can try their hand at unique flavors. Once you've perfected the recipe, serve up your chilly treat in your decorative sleeve and get ready to celebrate.

Hip, Hip Hooray!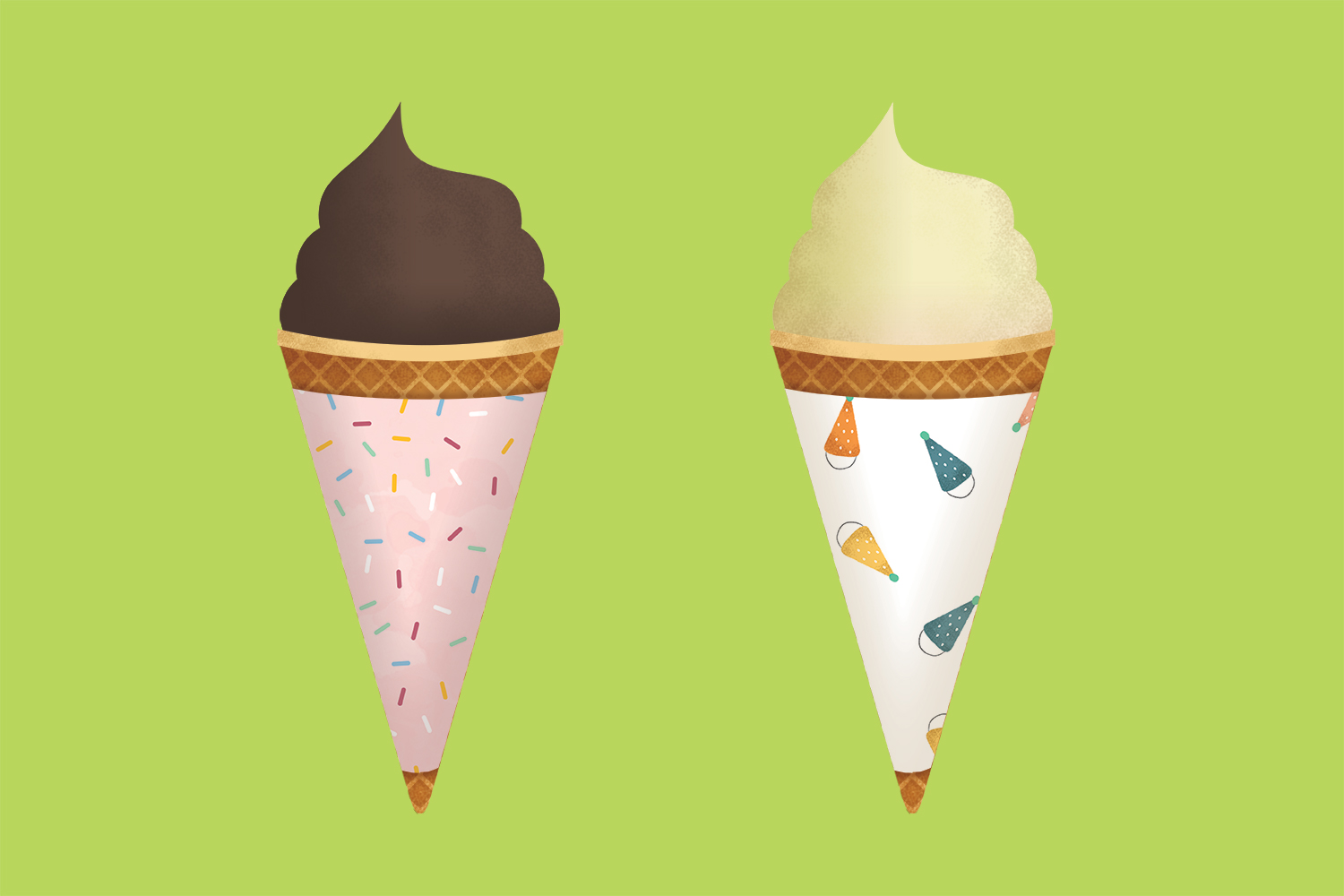 It's time to celebrate another year around the sun. Host a birthday party with an ice cream cone bar that everyone will want to be a part of. These birthday-themed sleeves make a great addition to an ice cream cone at a kid's party or an adult's event. Plus, they'll make the guest of honor feel extra special on their big day. You can also create an ice cream cone bar and make the sleeves a party activity. Provide extras like washi tape and adhesive items so that kiddos can customize their cone wrapper. Make sure to decorate before scooping so that the little ones don't get overly excited.

Pattern Party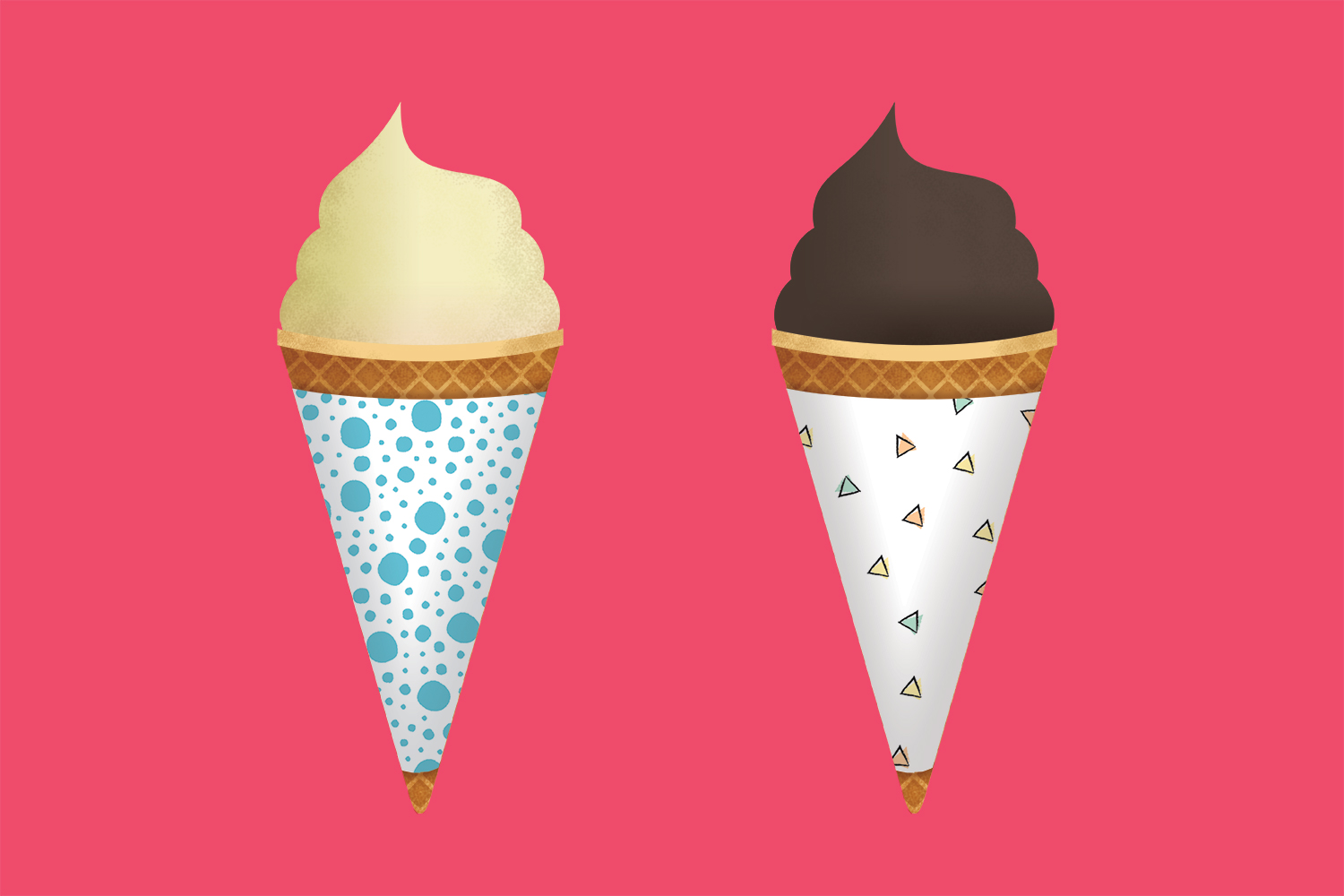 A patterned cone wrapper works well for a just-because event like a family night or movie night. They also make a cute addition for milestone occasions like a baby shower. These sleeve designs are simple, but make a statement. Add a few hefty scoops of ice cream and colorful toppings to create an ice cream cone that's almost too pretty to eat.

Have fun with the ice cream cone sleeves; mix and match flavors with the decorative wrappers. If you're hosting an ice cream social, provide a variety of topping options like chocolate dipped strawberries and chocolate truffles. No matter what ice cream cone wrapper you choose, don't forget to enjoy your sweet treat. If you're looking for more sweet party ideas, take a look at our DIY donut wall or nice cream recipes!