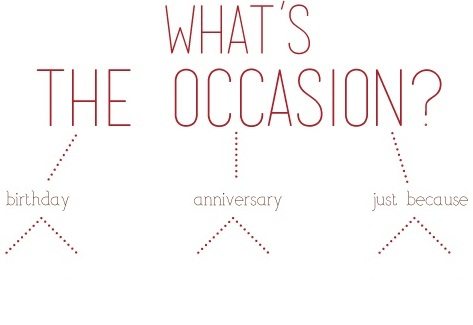 How to Pick the Perfect Present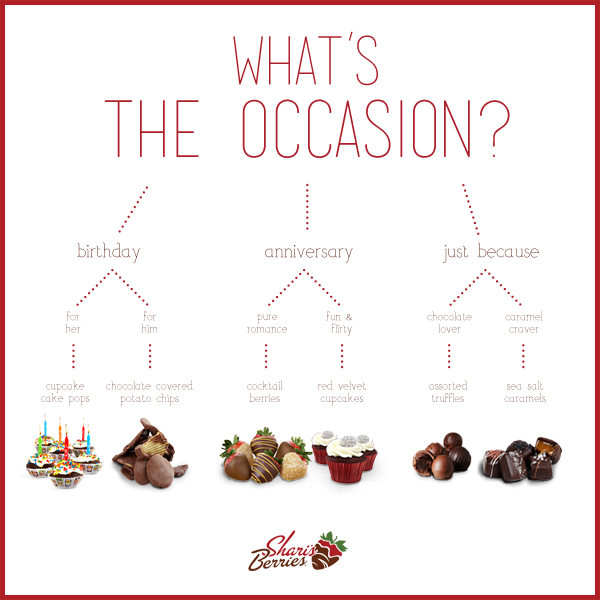 So, you have a special occasion coming up. And what's the first thing that pops in your head? "What in the world am I going to get them?!" Take a breath and don't worry. We've done the heavy lifting for you and picked our most giftable gourmet treats for every occasion.
Birthday
For him
Finding a gift for him is always a little tough. Steer clear of the cutesy teddy bears and go with the old adage of, "the way to his heart is through his stomach." Chocolate covered potato chips are a great birthday gift idea for men who love that salty sweet combo.
For her
A handmade gift is always appreciated. Sure, you didn't hand make these chocolate Birthday cake pops we did, but we'll keep that between us. Whether she's 8 or 80, these are delicious, fun and just downright adorable.
Anniversary
Pure romance
Turn down the lights and light a candle…it's about to get real romantic. When you're going for pure romance, our favorite romantic gifts are classics with a twist. Think about our Cocktail berries, which have hints of butter rum, amaretto and champagne. Pair that with a tall glass of champagne and prepare to make hearts swoon.
Fun & flirty
A wink here, a nudge there…some relationships are a little bit more playful. Cupcakes are always a fun and flirty dessert to share.
Just because
Chocolate lover
There's a special bond between some people and their chocolate and we respect that. Our favorite chocolate gift is our classic Assorted truffles. With fillings from raspberry to chocolate, they're sure to find a favorite (or 5).
Caramel craver
We can't think of a better gift to get out of the blue than Handmade sea salted caramels. They're buttery, chocolaty and just a little bit salty. Prepare for compliments. Tell us – which gourmet gift will you send next?