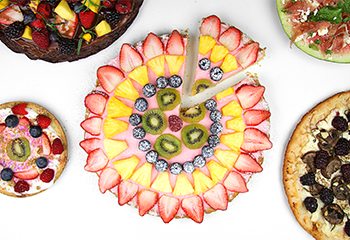 How to Make Fruit Pizza Like a Pro
How to Make Fruit Pizza
Step 1: Grease your pan
Adding cooking spray, butter or oil will help prevent the cookie dough from sticking. The best thing to do if using oil or butter is to spread it on a paper towel first and wipe it on the pan.
Step 2: Spread out cookie dough to cover pan
Whether you are making your own cookie dough or buying it at the store, make sure you spread it evenly. A good tip is to keep some flour and oil handy in case the dough gets too sticky. There's no way to completely avoid bumps while doing it by hand, but just make sure you cover the whole pan.
Step 3: Bake at 375 for 15 min.
Not all ovens are the same, so make sure you keep a close eye on the cookie crust while it bakes. If your cookie dough is store bought, follow the instructions on the label.
Step 4: Make the frosting
Place 8 oz of butter (2 sticks), ¼ cup of powdered sugar, 8 oz of cream cheese, and 1 drop of red food coloring into a bowl.
Step 5: Mix frosting ingredients
Mix all the ingredients together, add one drop of food coloring into the bowl and mix again. Then set it aside.
Step 6: Cut your fruit
Carefully cut your fruit into the shapes you want.
Step 7: Spread frosting on cookie crust
You don't have to completely cover the cookie. Just make sure you've spread it enough so that the fruit stays in place.
Step 8: Cover cookie with your fruit
You can either create a pattern or randomly place fruit on top of the cookie crust. Place the bigger fruits on the outside.
Step 9: Sprinkle powdered sugar
Wait to sprinkle the sugar until you are ready to serve. Otherwise, the sugar will get soaked by the juice in the fruit.
Fruit Pizza Ideas for Every Occasion
Since making fruit pizza is a breeze, why not play around with different crusts, fruits and flavors? We've gathered 5 different fruit pizza recipes for every occasion. From a birthday party to a summer soiree, we guarantee you'll want to try them all.

Pizza in a Basket
Know a friend or family member who would love fruit pizza? We know a great way to inspire them to create their own sweet and savory masterpiece. Give them one of our gourmet gift baskets. We have fruit gift baskets and meat and cheese baskets too. They'll be halfway to fruit pizza heaven! All they'll need is the crust and a few more ingredients.