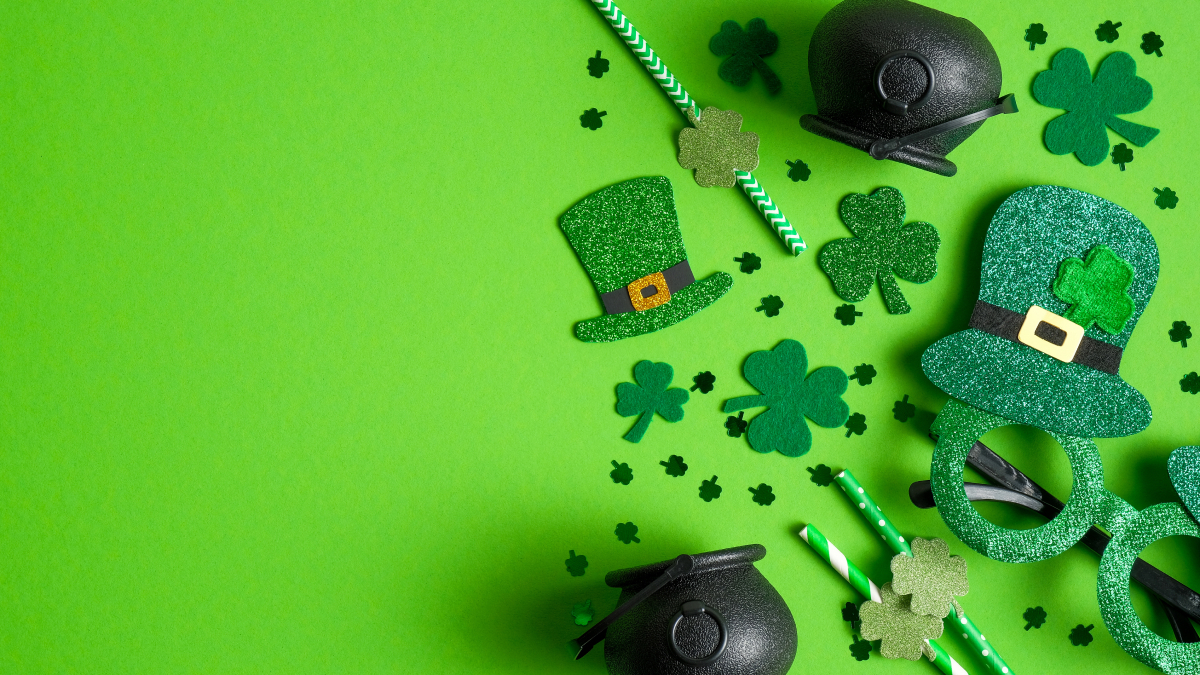 Green Desserts to Pinch-Proof Your St. Patrick's Day
Whether you want to add a little green using natural ingredients like matcha or are looking for a bright green cake to wow your friends with, there are tons of ways to celebrate St. Patrick's Day with desserts.
Matcha green molten lava cake
Matcha not only makes for great flavor, but also adds a bright green color to your desserts. Crack open these beautiful green lava cakes from Kirbie Cravings for a tasty St. Patrick's Day surprise.
St. Patrick's gelatin parfait
Want an easy and bright dessert? These simple gelatin parfaits from Life Love Liz require two ingredients but look stunning! They're perfect for a last minute sweet treat to give you some Irish luck.
Mint chocolate cheesecake
There is never a bad occasion for cheesecake. This bright green one from Pack Momma has a mint chocolate twist for the icing. Though the inside may look colorful, it still has that traditional cheesecake flavor everyone loves.
Matcha coconut cake
This matcha coconut cake is so beautiful you may want to use Oh Sweet Day's recipe for more occasions than just St. Patrick's Day. The best part? Not only is it beautiful on the outside, but the inside is layered with two different types of cake—coconut buttercream and matcha.
Mint chocolate chip cookies
Give yourself two cookies in one with these mint chocolate swirls from Sweet and Savory Meals. With one layer of mint and the another chocolate with chocolate chips, these cookies make for a beautiful treat that's also great to eat.
Chocolate mint dipped cookies
If you're looking for a quick treat everyone is guaranteed to love, look no further than these chocolate mint dipped cookies from Life Love Liz. With only three ingredients, you can whip up this crowd-pleaser in no time for everyone to enjoy!
Shamrock crinkle cookies
For a simple yet classic flavor, these soft cookies from Pack Momma are a great for treat for your St. Patrick's Day parade. The bright green color will make you pinch-proof, if you can withstand not eating them all!
Tangy lime snaps
For those who prefer less sweet green desserts, try adding a bit of lime to your recipes for a twist. These tangy lime snaps from This Grandma is Fun are a must for your cookie platter, especially as an alternative to rich, chocolatey options.
Matcha donuts
Who says you can't have dessert for breakfast? These matcha donuts from My Three Seasons are baked instead of fried, so even if you want to save a few of these for later, you can do it guilt-free!
Irish ombre cake
Try all the different shades of green with this ombre cake from A Bajillian Recipes. Made with Irish cream cake and buttercream, this boozy cake is sure to bring you the luck of the Irish!
Matcha coconut macaroons
Love coconut? Combine coconut and matcha to make a delicious macaroon. These macaroons from Oh Sweet Day are colored green naturally from matcha, making them perfect for St. Patrick's Day.
Matcha green tea macaron
If you love macarons, you'll love this healthy version from Desserts With Benefits. They're made completely without artificial dyes, so you can enjoy a lucky treat without any added guilt.
Matcha coconut bounty bites
Inspired by the delicious chocolate Bounty bars, these healthier alternatives from Spicy Ice Cream are a great choice for the health conscious. Drizzled in dark chocolate with an added matcha twist, you'll be sure to want more than one.
St. Patrick's mint chocolate coated candy cookies
With a chocolate batter and mint chocolate coated candies, you can't go wrong with Two Sisters Crafting's St. Patrick's Day treat. While the cookies are soft and chewy, the candies add a nice crunch, making these wildly addicting!
St. Patrick's marshmallow pops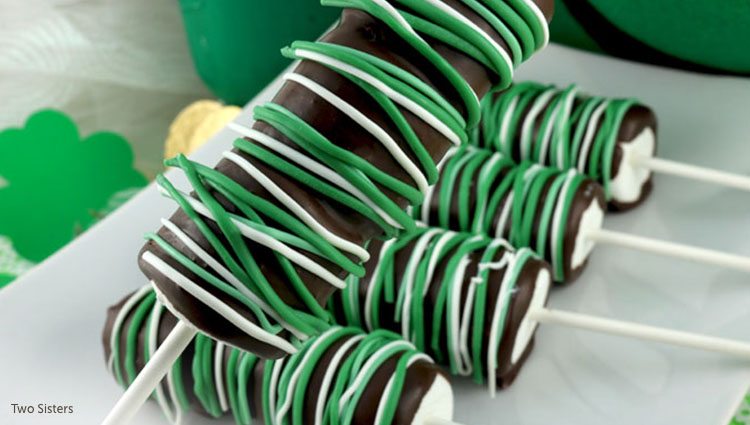 If you love s'mores, you'll love these chocolate marshmallow pops from Two Sisters Crafting. With several marshmallows stacked onto a stick and then covered in chocolate, you really can't go wrong with this simple but creative recipe.
Pistachio chocolate leprechaun cookies
Want a twist on the chocolate chip cookie? These leprechaun cookies from I Heart Naptime are whipped up with pistachios, walnuts and green chocolate coated candies for a bit of luck.
Mint fudge
If you still want the chocolate flavor from fudge but still want that Irish luck, make this mint chocolate fudge from Scattered Thoughts of a Crafty Mom. It's covered in shamrock sprinkles for extra luck!
Chocolate mint brownies
Just because theses desserts have "brown" in the name doesn't mean you can't add a bit of green for St. Patrick's Day. With green peppermint icing on top, these brownies from Chef Savvy have a refreshing but decadent flavor for your sweet tooth.
Mint chip ice cream
Homemade ice cream may seem like a huge undertaking, but this mint chip ice cream from What the Fork is easy to replicate with an ice cream machine. Just add in all the ingredients and churn until you've got homemade St. Patrick's Day ice cream!
Mint chocolate chip pie
Pie doesn't always have to have fruit! This sweet mint chocolate chip from Barbara Bakes is made with cookies for a crust and then filled with mint chocolate chip ice cream. It's perfect for a warm spring celebration or St. Patrick's Day parade!
No bake shamrock cake
Mini desserts are great for celebrations, and these no bake shamrock cakes are no exception. Topped with a marshmallow clover, these single-serving cheesecakes from The First Year Blog are perfect for a party or gathering with friends. Just don't be surprised if people go for seconds!
Drunken grasshopper fudge
Fudge doesn't always have to be made from chocolate. This boozy grasshopper fudge from Sweet Recipeas is made with creme de menthe to give you a cool, peppermint flavor. It's melt-in-your-mouth good and covered in shamrock sprinkles to give you good luck!
Grasshopper ice cream dessert
This fluffy mint ice cream dessert from Julie's Eats and Treats is a great way to cool off and enjoy St. Patrick's Day. Plus, it's a no fuss recipe so you can whip it up quickly and enjoy!
Frozen margarita pie
If you love the tangy flavor of a margarita, you'll love this margarita-flavored pie from Scattered Thoughts of a Crafty Mom. Its sweet flavors coupled with lime and lemon make for a refreshing afternoon dessert!
Shamrock sugar cookies
Cookie decorating doesn't have to be just around Christmas time! These shamrock-shaped sugar cookies from The Endless Meal give you twice the luck with their four-leaf clover shape and bright green color!
Flourless mint brownies
You can never go wrong with a brownie, even on St. Patrick's Day. What the Fork fills her flourless brownies with mint buttercream for a pop of green sure to make you pinch-proof.
Mint white hot chocolate
If your St. Patrick's Day is colder than expected, you'll want hot beverage to keep you warm. The Gracious Wife's mint white hot chocolate is your solution. With a creamy flavor and bursts of peppermint, you're sure to feel refreshed in no time!
Muddy buddies
Muddy buddies don't have to just be for Christmas. These green muddy buddies from Frugal Mom Eh! have lucky charms mixed throughout so you can get an extra dose of luck!
Mint cookie trifle
For an English twist on your green dessert, make a trifle using mint. Thrifty DIY Diva whipped up the perfect recipe for chocolate lovers. Plus, you can even take it on the go and enjoy it anywhere!
Irish rainbow cookies
Even if you've never had Venetian cookies, you have to try this Irish twist on the Italian dessert. With layers of almond cake sandwiched between apricot jam, these beautiful cookies from Always Order Dessert give you every shade of green you need for St. Patrick's Day.
Matcha hot chocolate
End your St. Patrick's Day celebrations with a warm cup of cocoa—green, of course. This healing matcha hot chocolate from Sprig and Vine has a creamy bittersweet flavor, perfect for those who don't like overly sweet cocoa.
Green gobbler meringue
If you need green desserts for kids, look no further than these green gobbler meringues from Garden in the Kitchen. With only a few ingredients you can whip it up for your kids—or yourself—in no time.
Matcha white chocolate financiers
Muffin-sized cakes are great single-servings for your St. Patrick's Day celebration. These matcha white chocolate financiers from Crumbs and Cookies have a gooey matcha white chocolate ganache in the center that is sure to delight.
Matcha lemon bars
If you love lemon bars and want to celebrate St. Patrick's Day with them, Phenomenal Phoods has your green solution. These matcha lemon bars are inspired by matcha lemonade and offer a perfect way to enjoy lemon bars while still getting your green dessert fix.
Dipped strawberries
You can still enjoy a dipped strawberry on St. Patrick's Day without worrying about good luck. Strawberries covered with shamrocks and green icing make for an easy way to enjoy both!
Matcha Swiss rolls
A little matcha goes a long way with these green tea Swiss rolls from Domestic Batch. With a whipped cream swirled in the center, it doesn't matter how perfect your roll is—it's sure to taste amazing!
Lucky marshmallow milkshake
For the ultimate St. Patrick's Day milkshake look no further than By Gabriella's boozy marshmallow milkshake. Made with mint ice cream and topped with tons of lucky marshmallows, you're sure to get your ultimate green dessert fix.
Vegan mint chocolate bark
For a crunchy dessert any guest can enjoy, try Salted Plains vegan mint chocolate bark. Not only does it look like beautiful marble, but it's even dusted in gold for a bit of extra luck!
Mint cookie truffles
If you love Girl Scout cookies you'll love these mint cookie truffles from Just a Taste. Perfect for a small bite of chocolate after a meal—or a full dessert—these truffles are sure to go quick!
Shamrock sugar cookies bars
Take sugar cookies to the next level with sugar cookie bars. With fluffy white frosting and a cherry on top, Inside Bru Crew Life's cookie bars toe the line between cookie and brownie in the best way possible.
Grasshopper pie cheesecake
Though this marbled green cheesecake from Feeding My Addiction is anything but traditional, the swirled mint and chocolate make for an addicting combination. Plus, the bright green color ensures you'll have a festive and lucky St. Paddy's Day.
Ultimate grasshopper cookie
These grasshopper cookies from Your Cup of Cake take cookies to the next level. With a chocolate cookie base, mint frosting, chocolate glaze and extra mints on top, you'll find it hard to resist having just one of these.
Grasshopper pie dessert cup
Instead of baking a traditional pie, why not serve your pies in a dessert cup? Today's Nest whipped up a mint pie with cookie crumbles at the bottom giving you a crunchy pie texture.
Mint chocolate chip cookies
You can never go wrong with a classic chocolate chip cookie. These gooey cookies from The Food Charlatan are simple, but still check all the boxes for a green St. Patrick's Day dessert.
There are so many different ways to make green desserts for St. Patrick's Day it can be hard to decide what to bake, especially when everything is so mouthwatering. If you can't decide what to bake or want to send Irish luck to a loved one, order them a box of dipped berries to someone you love!