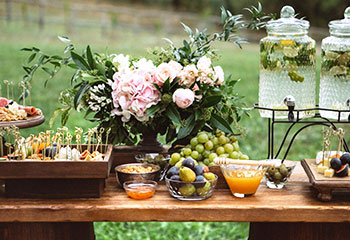 21 Grazing Table Ideas for Your Big Day
The traditional wedding reception buffet has been upgraded. Say goodbye to chafing dishes and say hello to the grazing table. This new trend — sometimes called a feasting table — is essentially an elevated charcuterie board that covers an entire table. This Australian wedding custom is starting to replace passed cocktail canapés, dessert tables and even main courses at weddings all over the world. As the trend grows in popularity, creative caterers and chefs are experimenting beyond traditional meats and cheeses. Grazing tables with all types of food help create a unique and memorable dining experience for everyone.
It's common knowledge that food brings people together, and these gorgeous spreads are sure to spark conversation as your guests pick and choose which bites to graze on. Not only is the grazing table a practical idea for serving a large group of guests, the food also serves as a visual feast if arranged well. If you're thinking of incorporating a grazing table into your wedding reception, keep reading for some of the best food and display ideas for your big day.
Tropical Grazing Table Ideas
If you like piña coladas… and serving fruit to your wedding guests, then try a tropical grazing table. Turn your wedding into an oasis with colorful fruits and greenery. These tropical tables are perfect for spring or summer weddings. The bright fruit paired with soft cheese is so delectable your guests won't be able to stay away.

Photos courtesy of: Lush Platters | Grazing Acres
Dessert Grazing Table Ideas
It's fitting for the sweetest couple to have the sweetest table! Dessert tables have been a staple at weddings for years. For a new twist, try adding other desserts to your wedding cake table or replace the cake altogether. Personalize the table with your wedding colors and flowers.

Photos courtesy of: Kalm Kitchen | Eddie Judd Photography
Charcuterie Grazing Table Ideas
Charcuterie boards are perfect for large gatherings. Mingling with family and friends while nibbling on artisan cheese, meat and fruit is always enjoyable. Scale the classic charcuterie board up for your big day and impress all of your guests with a plentiful bounty. Try mixing texture and color with ingredients that are in season for the freshest, most cost-effective produce.

Photos courtesy of: Dawn Derbyshire Photo | The Wilderness Chef | Ultimo Catering and Events
Breakfast Grazing Table Ideas
In recent years, brunch weddings have become a popular trend. Whether you're getting married early in the day or serving breakfast for dinner, these breakfast grazing table ideas are sure to inspire. Add a mimosa station to the table to complete your beautiful breakfast bash.

Photos courtesy of: Kalm Kitchen | Philippa Sian Photography | Hooray Magazine
Crudités Grazing Table Ideas
These aren't your typical grocery store veggie party platters. If you're looking for lighter fare to be served during cocktail hour or before your main course, try a crudités grazing table. These fresh displays are perfect to tide your peckish guests over until dinnertime.

Photos courtesy of: Kalm Kitchen | VLA Photography | Mullers Photography
Floral Arrangement Grazing Table Ideas
You spent time picking out the perfect flowers and colors for your bouquet, so why not use them on your grazing table? Once you decide on the perfect food, finish the masterpiece with flowers and greenery. Use seasonal plants to add to the aesthetic.

Grazing tables are perfect for any wedding. Whether you're having a summer wedding with 30 people or winter wedding with 150 people, your guests will be impressed and enticed by your beautiful spread. Your wedding is a celebration of the very special love between you and your partner. Use these ideas to create a grazing table that is just as creative as you are.
After you decide which grazing table ideas to incorporate at your wedding, consider adding some dipped berries or cookies! No matter what idea you choose, your grazing table is sure to be a hit on your big day!
Sources:
Waterloo Chronicle | Brides.com | Williams Sonoma | One Fab Day | Green Wedding Shoes