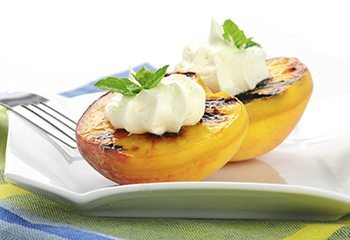 Grilled Peaches With Honey-Ginger Cream Cheese Fluff
This simply delicious A Kitchen Addiction recipe uses the grill to caramelize the natural sugars in fresh peaches. The slight tang of honey-ginger cream cheese fluff complements the fruit's sweetness.
Chocolate Strawberry Croissant
Don't toss those leftover brunch croissants. Take a cue from Oh, Sweet Basil and toast them on the grill. Then top them off with chocolate hazelnut spread and whipped cream.
Grilled N' Glazed Strawberries
Crème de la Crumb makes fresh strawberry skewers even more irresistible with a quick and easy vanilla cream cheese glaze.
Grilled Pineapple and Strawberries With Bourbon White Chocolate
Bourbon white chocolate sauce and an unexpected secret ingredient (psst … it's white chocolate coffee creamer), give these fruit skewers from A Zesty Bite a hint of decadence.
Espresso Glazed Coconut Doughnuts
Half Baked Harvest remixes this breakfast favorite by first grilling the doughnuts, and then dunking them in homemade mocha coconut ganache.
Grilled Pineapple With Cinnamon Sugar Glaze
Serve these grilled pineapples from Lollyjane as a side dish with grilled pork or chicken. Then, after everybody's finished the main course, add a scoop of ice cream and turn them into a simply refreshing dessert.
Stone Fruit & Almond Mascarpone Dip
Dessert for Two breaks out of her usual mold with this party-friendly recipe made with peaches, plums, apricots and pluots.
Figs With Vanilla Ice Cream and Strawberry Sauce
The Hungry Australian pairs fresh, grilled figs with ice cream drizzled with strawberry sauce for a cool, sweet dessert that only takes five minutes to make.
Pears With Cinnamon Drizzle
A House in the Hills discovers that warm cinnamon honey glaze is the "Best. Thing. Ever.", especially when drizzled over grilled pears.
Grilled Pound Cake With Berries
For a simple-yet-elegant way to round off any meal, try Paula Jones' grilled pound cake topped with yogurt, blueberries, fresh mint and powdered sugar. See the full recipe on the blog Bell'alimento.
Grilled Pizza With Fresh Ricotta & Strawberries
A heavenly dessert (or breakfast according to Food Babbles) this sweet twist on pizza features ricotta cheese made from scratch and strawberries soaked in sugar and Grand Marnier®.
Grilled Pound Cake With Sweetened Mascarpone & Berries
This fool-proof dessert from Sugar & Cloth doesn't require much measuring and takes about 10 minutes, or even less if you buy a pound cake from the store.
Fruit Pizza With Hazelnut Spread
It all starts with pre-made cookie dough. Then Lollyjane adds rich, sweet hazelnut spread and fresh fruit for a crowd-pleasing dessert that you can whip up in seconds.
Grilled Angel Berry Skewers
A salute to fresh summer berries, this no-fuss recipe from Living Better Together is full of natural flavors and sweetness.
Vegan Deconstructed Boozy Mocha Drenched Grilled Banana Coconut Cream Pies
The name pretty much says it all. Luckily this boozy, chocolaty, creamy creation from Half Baked Harvest is easier to make than it is to say.
All up in Your Grill
We want all the details. What's your favorite grilled summer dessert? Was it on our list? Let us know in the comments.