Easter Egg Decorating: The Complete Guide
Now that you know how to prepare your eggs – it's time for the fun! There are many different styles and elements to choose from for Easter egg decorating. Whether you are decorating with your kids or just need some pretty ornaments around the house – we have no doubt you will want to try them all. Check out our ideas below!

Don't want to spend too much on materials? Don't have dye around the house? Here are some fun and easy ways to decorate.
MARKERS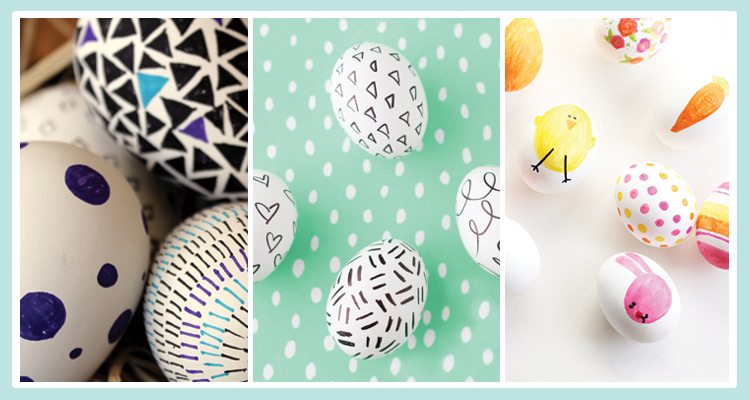 Almost every kid has markers in the house. Having them scribble and draw fun shapes on the eggs is a quick and easy way to get all of your decorating done. For fun marker ideas check out TMTOMH, Paper & Stitch and Little Peanut.
MELTED CRAYONS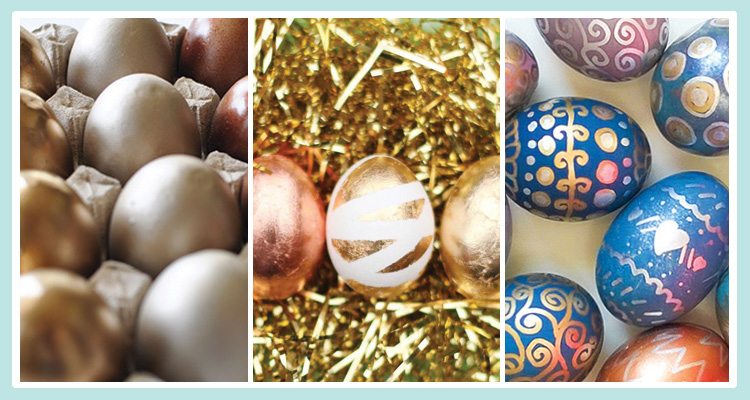 Crayons are a great way to get creative, but beware it can get messy! The best thing to do is to decorate while the egg is still hot, just be careful not to burn your hands. This will allow it to melt when it touches the surface. For fun instructions and tutorials go to A Thrifty Mom, Lesson Learnt Journal and Instructables.
METALLIC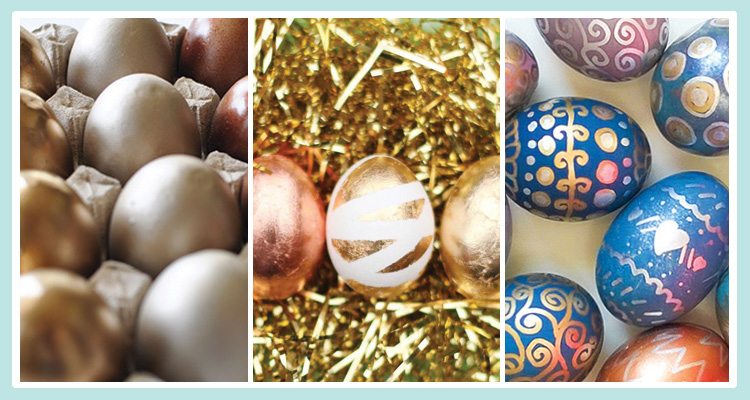 All you need is some metallic spray paint (copper, silver, gold), metal leaf + spray adhesive or metallic pens . Be very careful when spraying and make sure you are in a ventilated area when doing so. Go see some glam over at Delineate Your Dwelling, Miss Renaissance and Bunny Peculiar.
NATURAL FOOD COLORING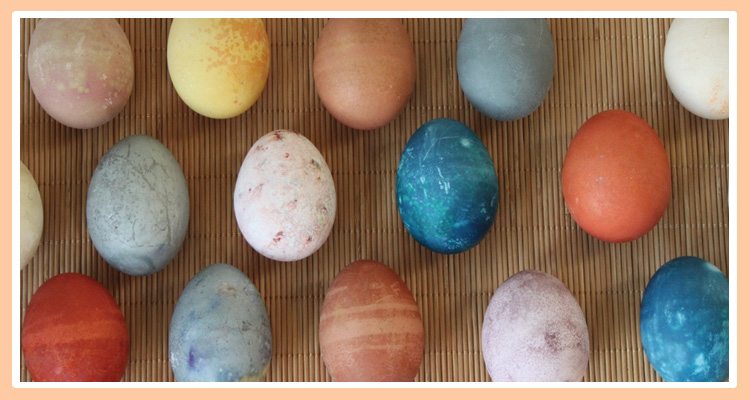 Natural dyes are great for many reasons, and if you are worried about chemicals this is the way to go. Coffee, beets, blueberries and a variety of spices and veggies can help make your eggs look colorful and fun! Thanks to Itsy Bitsy Foodies for her Natural Dye egg picture and tutorial.

The intensity is based on the amount used. Play around with it for a bit. Boil the hue for about 12 minutes and make sure you add 2 tbsp of vinegar to the water. All of these will produce a soft color.
For bolder and brighter colors add more (and for an extra boost of color, try adding some cream of tartar to the water).

GET CRAFTY!
If you and your kids are feeling crafty try pressed flowers, tattoos, ribbon, watercolors or even marbling—these are all fun ways to make your ordinary egg stand out.
TATTOOS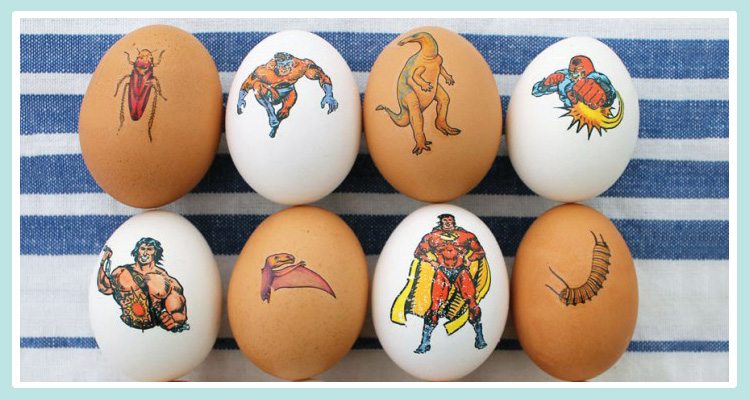 If your kids like to stick tattoos on their arms and legs, they'll love using them on Easter eggs. Not only is it super easy, but now the eggs will be decorated with their favorite characters! Simply place the tattoo on the egg, add some water as you normally would on your body and press. Thanks to Brit+Co for this awesome idea for Tattooed Easter eggs.
RIBBONS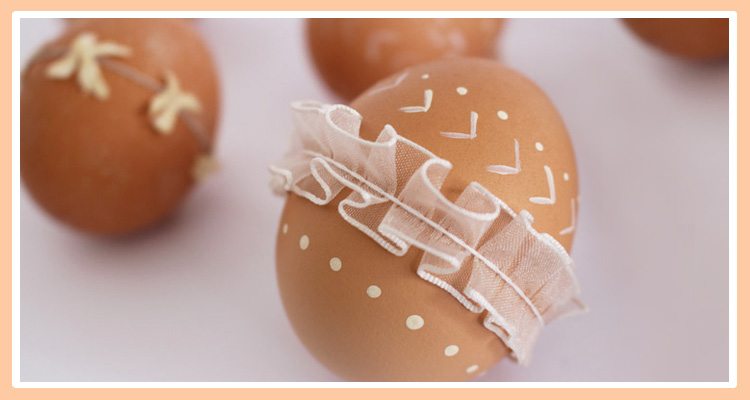 If you have leftover ribbons from Christmas or from birthday parties, a creative way to utilize them is to glue them onto the easter eggs. A glue gun is ideal but dots of glue will also work just fine — just make sure to press a little harder. Check out The DIY Dreamer for more ribbon ideas for Easter eggs.
MARBLED EGGS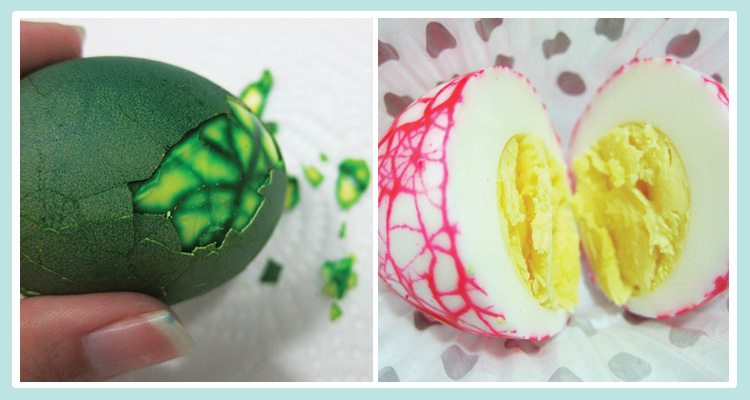 These eggs are for those that like a fun surprise when peeling. A beautifully marbled egg! Once you've taken the eggs out of the water and they have cooled off, gently tap the egg to create small cracks. And slowly fill the bag with dye. You'll need to stick each egg in a separate bags for each color. Head over to Narcissism is Necessary for a step-by-step marbled Easter egg tutorial.
PRESSED FLOWERS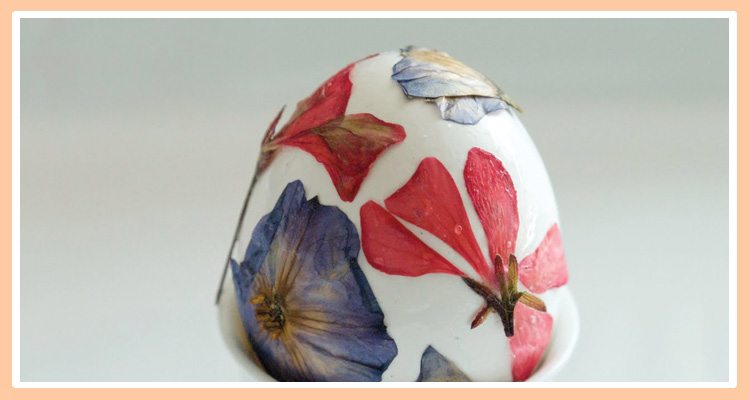 Sadly, your beautiful flowers are starting to dry out… but that's ok because you can use them on your Easter eggs! This one requires a bit more time and patience as the flowers need to be pressed first but the end result is well worth it. All you need are flowers, two boards (or an encyclopedia) and some glue. Thanks to The Magic Onions for her pressed flower Easter egg step-by-step.
WATERCOLORS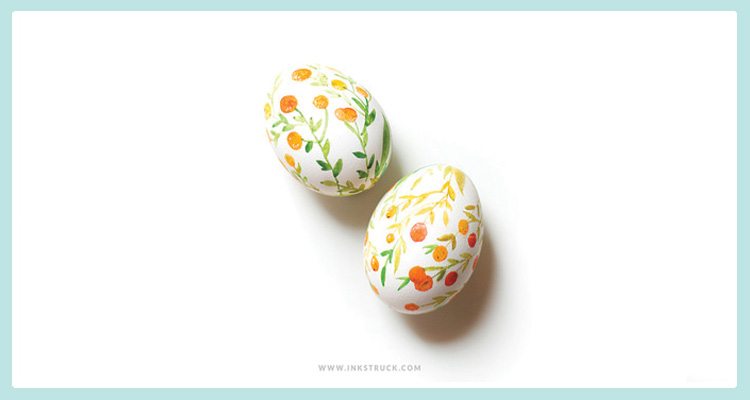 There's nothing more soothing and relaxing than painting. Watercolors are easier to clean up and it allows you to use your favorite colors and designs. You'll need a couple of watercolor paintbrushes, a roll of tape (to keep the egg standing) and watercolor paints, of course. Check out the amazing watercolor Easter egg design from Inkstruck.
CHARACTERS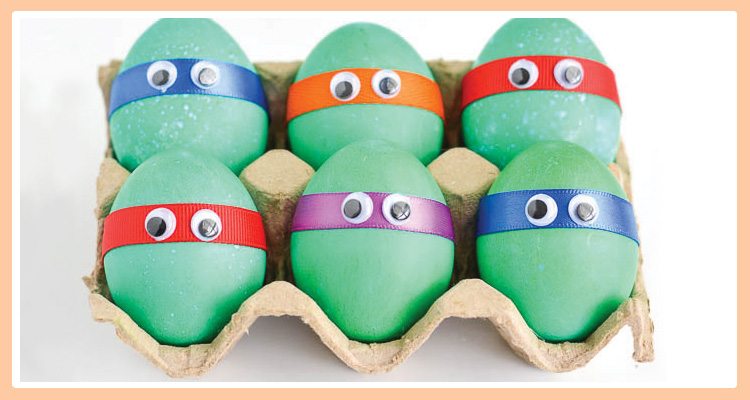 Do your kids have a favorite character? Why not try and recreate them on an Easter egg? A Pumpkin and a Princess decided to cowabunga with their Teenage Mutant Ninja Turtle Easter eggs. For these, you'll need green dye, vinegar, ribbon, eyes and glue.
DECORATIVE EASTER EGGS
While Easter egg decorating is always fun for kids, we can't allow them to have all the fun, right? If you are looking for decorative Easter eggs – perhaps for a centerpiece or party, there area ton of ways to dress them up.
SILK TIES
We are not suggesting to grab every silk tie in your husband's closet! But, silk ties make a great stamp onto eggs and it's quite easy. Along with the ties you need a pillow case, some scissors, string and hot water. Check out Our Best Bites for a step-by-step visualization for these Silk Tie Easter Eggs.
EMBROIDERY EGGS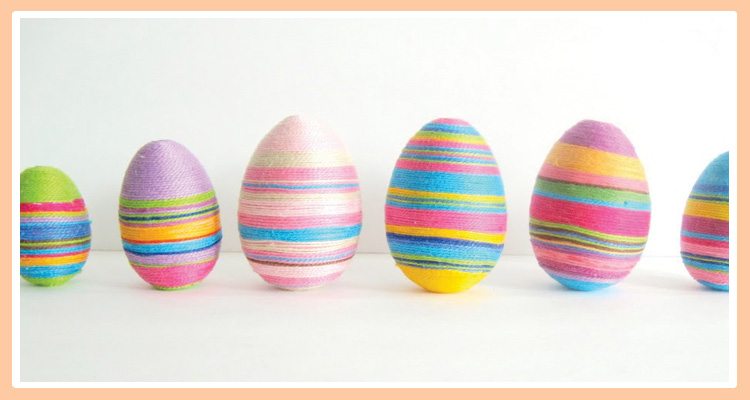 With colorful thread and the right glue, you are well on your way to making these spectacular embroidered eggs. Mix up the colors to fit your party setting and voilá – instant decoration. Head on over to Craftberry Bush for the Embroidery Eggs tutorial.
EASTER EGG PIÑATAS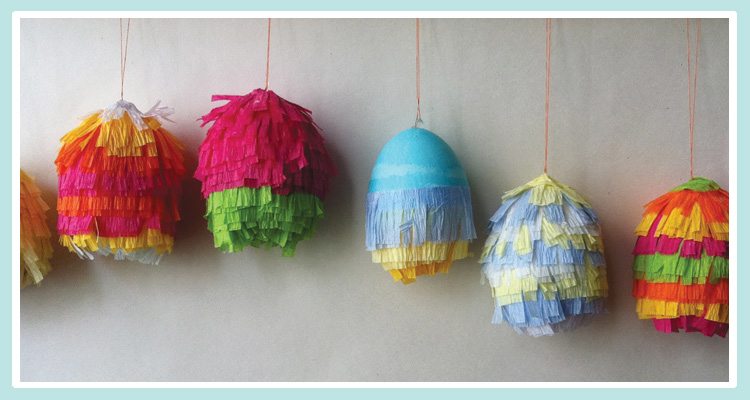 With just the right amount of ruffled crepe paper and bright colors, you can turn your Easter party into a fiesta! For some added fun, throw some confetti in there and have your guests break them. Dance your way to Blogging Corner Blog for the full guide on how to make these fun Easter Egg Piñatas.
THUMB TACK EASTER EGGS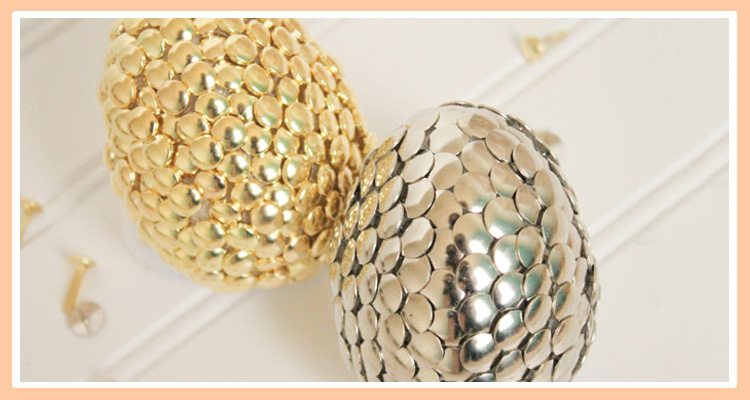 Ok, so there is a little cheating with this one, but nonetheless very fun to create! You'll need foam eggs, silver or gold thumbtacks and some fasteners. You'll enjoy pinning away and your guests will enjoy the fancy decorations. Enjoy this Thumbtack Easter Egg tutorial by 36th Avenue.
CHALKBOARD EASTER EGGS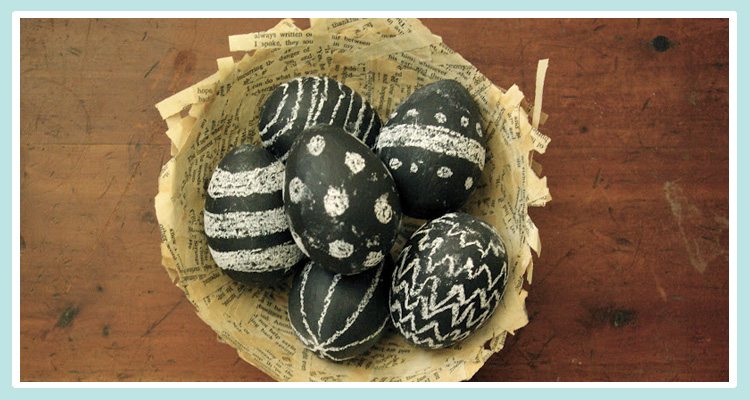 What better way send an Easter message, or customize the table with these awesome chalkboard eggs? Two important items: chalkboard paint and chalk. This one was specifically done with paper mache eggs which you can purchase at a craft store, but it works on real eggs too! Thanks to Oleander and Palm for their creative Chalkboard Easter Egg idea.
SILHOUETTE EASTER EGGS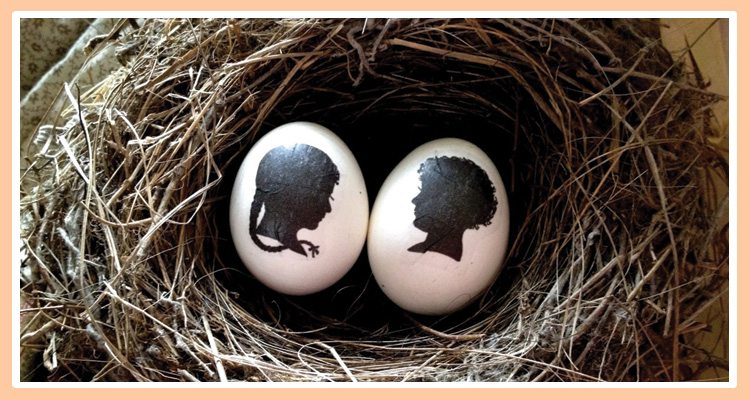 These may require a bit of patience, but the reward is well worth it. You'll need copy paper, glue stick, scissors, white tissue paper, silhouette images of your choice, and a paint brush. A nice step away from the usual spring palette. We loved seeing how Rook No.17 developed these Silhouette Easter Eggs.
Easter Treats
Can't be there to decorate eggs with your friends and family? You can still celebrate the holiday by surprising them with our delicious dipped Easter treats.