The Thankful Tree: Thanksgiving DIY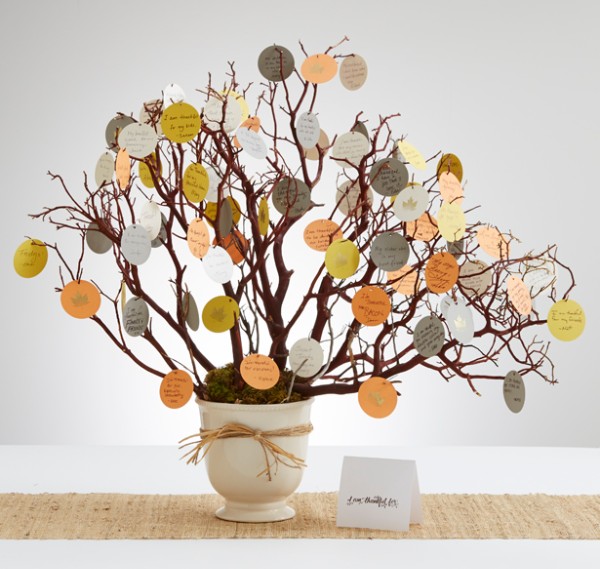 Sometimes it's hard to take a moment to think about why you're thankful when you're fretting over a Thanksgiving turkey that's taking eons to roast, or trying to keep your pie-eyed children from sneaking a spoonful of pumpkin pie before it makes it to the table. Enter the Thankful Tree. Creating one with your family can be a great way to take the focus off the feast and put it back on gratefulness, even if Uncle Steve is only thankful for the football.
Set up the tree with your relatives on Thanksgiving, or gather the family a few days before to get a head start.
A Thankful Office
Spread a little thankfulness 'round the office too, like we did. On our thankful tree our team shared all the things they're grateful for, from bacon and strawberry pie, to friends, family and beloved pets.
Your DIY Thankful Tree
What you'll need: a vase or mason jar, moss or filler rocks, branches, a 2-inch circle cutter (pre-cut circles or paper leaves will also work), a hole punch, cardstock or construction paper in autumn colors, raffia ribbon, stamps in autumn shapes (leaves, cornucopia), autumn-colored stamp ink, autumn-colored ink pen
1. Use your circle cutter to cut circles out of your cardstock or construction paper (or purchase pre-cut leaf or circle shapes)
2. Punch a small hole at the edge of each circle or leaf so you can hang them off your tree.
3. Stamp 3 – 5 circles with your autumn shapes in your autumn-colored ink.
4. Tie the raffia ribbon around the vase in a festive bow.
5. Arrange moss or filler rocks in your vase and set the branches in there carefully.
6. Recruit family and friends. Have them each fill out a circle highlighting something they're thankful for before Thanksgiving, if possible, and hang on the tree. Mix in with the stamped circles or leaves.
7. On Thanksgiving, have your guests add to the tree with their thankful thoughts. By the end of your meal, your tree will be in full bloom!
No Running With Scissors
Don't trust the kids with ink or scissors? Simply pass our printables 'round the Thanksgiving table.
Click on the image below for the full-size printable PDF.