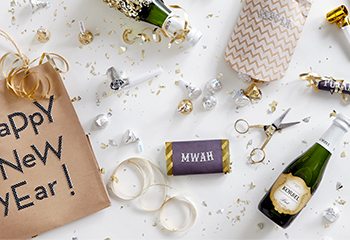 DIY: New Year's Eve Party Favors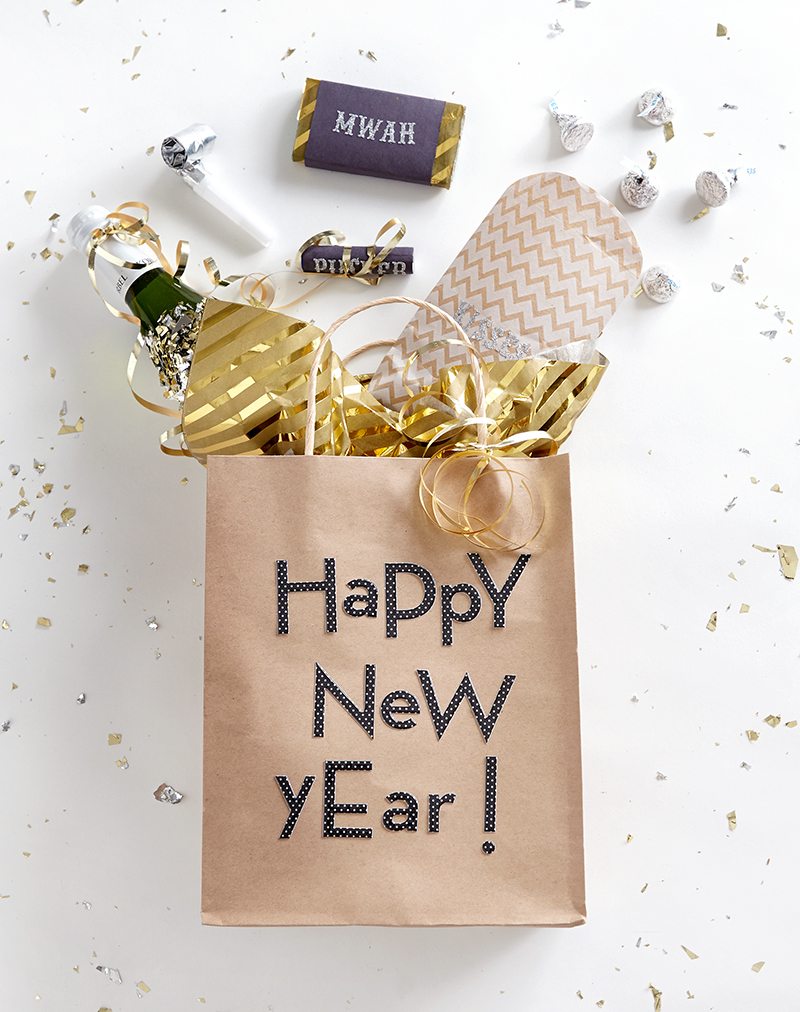 Swag Bags
Get started with these fun and fabulous bags for all your New Year's swag.
You Need:
Directions:
Write New Year's messages on the outside of the bags in stickers. Be creative. Happy New Year! Cheers! 5,4,3,2… Create unique messages for your guests to choose from, and you won't have to use the same letters over and over again. So you'll go through less sheets of stickers. Add some bling by tying gold ribbon to the handle and stuffing the bag with gold tissue paper.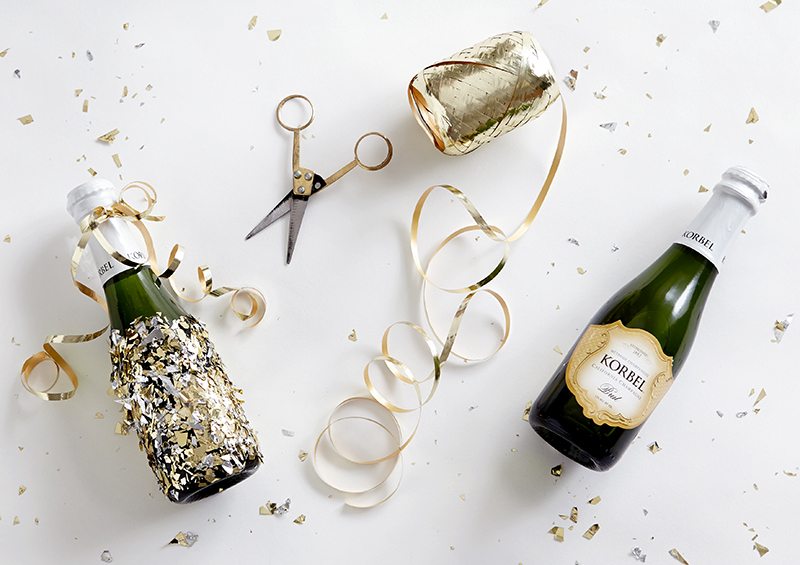 A Fizzy Toast
Pop. Fizz. Clink. Give everyone a chance to pop a cork at midnight with individual bottles of champagne.
You Need:
Mini bottles of champagne
White Elmer's glue
Gold/silver glitter or confetti
Gold ribbon
Directions:
Glam up the bottles by coating them in white Elmer's glue and rolling them in glitter or gold and silver confetti. Finish them off by tying the top with gold ribbon.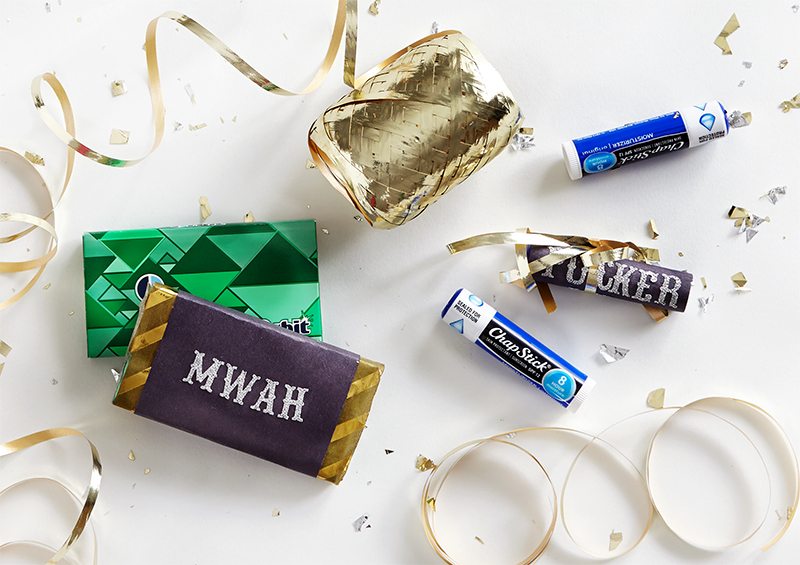 Pucker Up
Make sure all your guests are ready for the midnight kiss.
You Need:
Packs of gum (or mints)
Lip balm
Black/gold paper
Silver letter stickers
Gold ribbon
Directions:
Decorate the favors by wrapping them in black or gold paper. Then write fun smooch-inspired messages on the outside with silver stickers like "mwah" and more kissing sounds and words. Pucker up. Lip smack. You get the idea …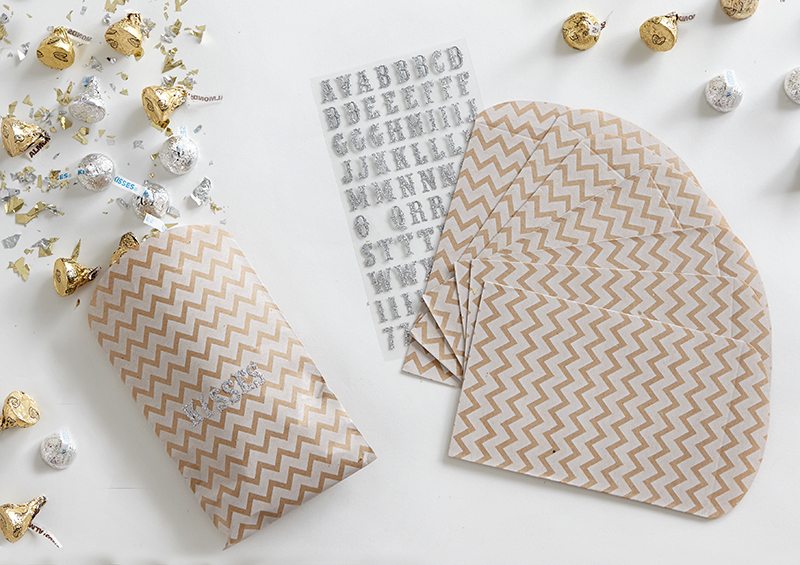 Midnight Kisses for All
No one is going home from your party without a kiss at midnight. Even if it's the chocolate kind.
You Need:
Mini favor bags
Stickers
Confetti
Hershey's Kisses
Write "kisses" or "midnight kisses" on the outside of the favor bags and fill them with chocolate Hershey's Kisses.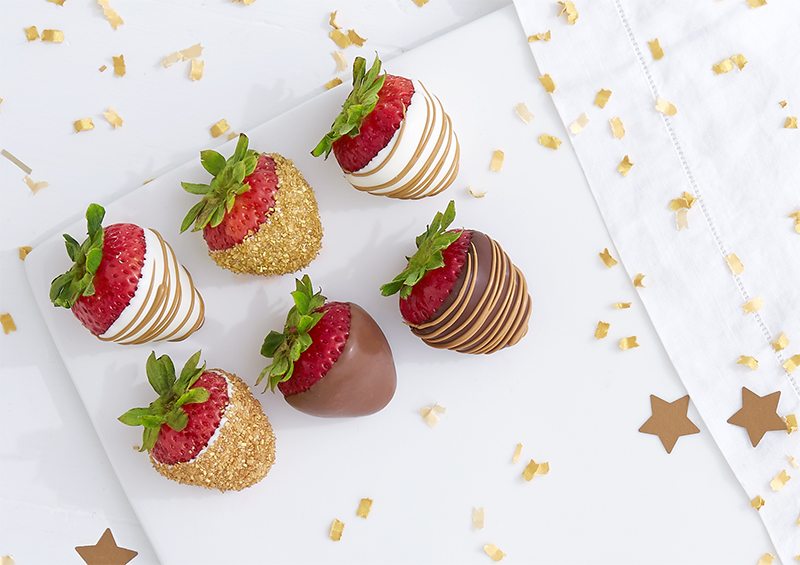 A New Year's Twist
Remix the traditional champagne toast with our gold sugar-shimmered champagne or cocktail strawberries. They're a great way for designated drivers, kids and friends that don't drink to join in the fun.