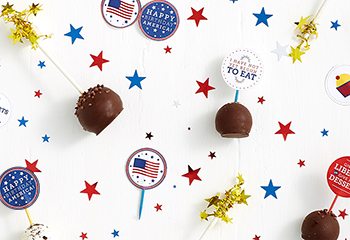 DIY: Fun 4th of July Food Flags
You'll Need:
Scissors
Toothpicks
Sticker paper or glue stick
Our free printable food flags
Gold star garland (optional)
Step 1
Print flags on a sheet of sticker paper or regular paper. Cut out printables. Or, if you printed on sticker paper, take off the backing and wrap around a toothpick. If you printed on regular paper, rub a glue stick on the back of the printout and then wrap around a toothpick.
Step 2
Insert toothpick flags into all your bite-sized desserts and snacks. Make your table even more spectacular by wrapping gold star garland around some of the sticks so they look like exploding fireworks.
Step 3
Celebrate! And don't forget to quiz your friends on the historical quotes. If they guess the original quote and the person who said it, reward them with sparklers, flags and other 4th of July swag. Or find more quotes to riff on and print them out and create a more challenging trivia game.
The Desserts Are Coming!
Can't be there to salute the flag (and nosh on red, white and blue sweets) with friends and family? Surprise them with star-spangled dipped strawberries and more festive 4th of July desserts.