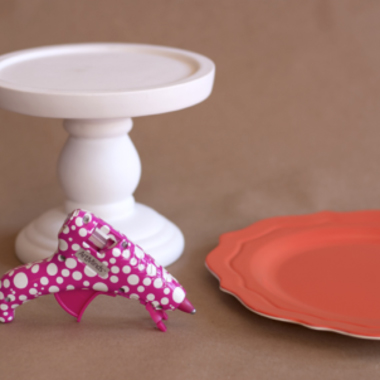 Let's keep it real here. You see these amazing DIY projects all over the place and you promise, you promise yourself you'll make one of them. But then as you're about to dig in, you realize you need 15 different pieces from 3 different stores, a blowtorch and a gallon tub of glitter. Not exactly do it yourself.
But this DIY project? Well, it's impossibly easy. It only requires 3 materials and barely 5 minutes to assemble an awesome looking cake stand, if we do say so ourselves.
Materials
Plate
Candlestick or candle pedestal
Glue gun
Step 1
Choose your plate and candlestick or candle pedestal. We chose a bright pop of color plate and a classic white candle pedestal. The options are endless.
Step 2
Place a generous amount of hot glue on the candle pedestal, where the plate and pedestal touch. Set the plate on top and give it a good press. Top with heavy books to set the glue.
Step 3
Add your favorite treats. We have a few delicious ones here.
And there you have it – your very own DIY cake stand.