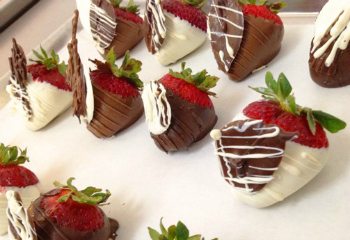 Behind the Scenes: Berry Dipper's Masterpieces
Our berry dipper Alice Ferguson loves letting her creative side loose. The other day, after she drizzled enough strawberries for our photo shoot, she could have left the studio and called it quits. But then that rich, creamy leftover confection and a basketful of un-dipped berries beckoned to her.
She couldn't resist. So she decided to follow her bliss and drizzle freestyle. The results were these tempting masterpieces. When we gaze at Alice's works of drizzle art we starting thinking, just as we would any gallery or museum, about what we see…
Abstract Decadence
The slight splatter of confection, the organic splashes of sweetness in this shot reminds us of Jackson Pollock and his abstract style of drip painting (or in this case, dipping).
Surreally Sweet
Is it just us or does this surreal drizzle not make you think of Salvador Dali? A landscape of a palm tree with a nose perhaps? Or maybe just a giraffe…
Divinely Deco
The bold architectural lines and the lavish flare of the drizzle on the star of this collection (berry, bottom center) brings to mind designs from the Art Deco age of the 1920s. Like the spire of New York's Chrysler building. Or a glamorous Art Deco brooch.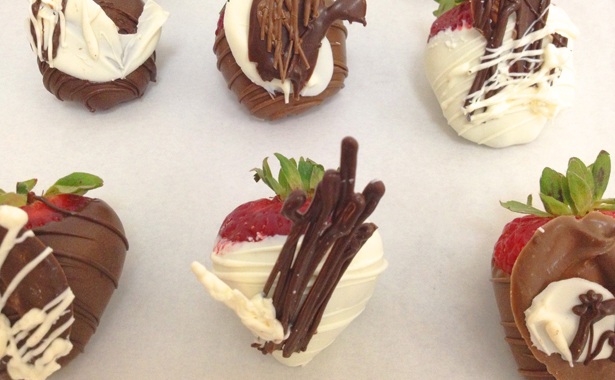 Open to Interpretation …
What about you? What do you see when you ponder Alice's drizzled creations? Besides a decadent dessert that looks ready to eat.