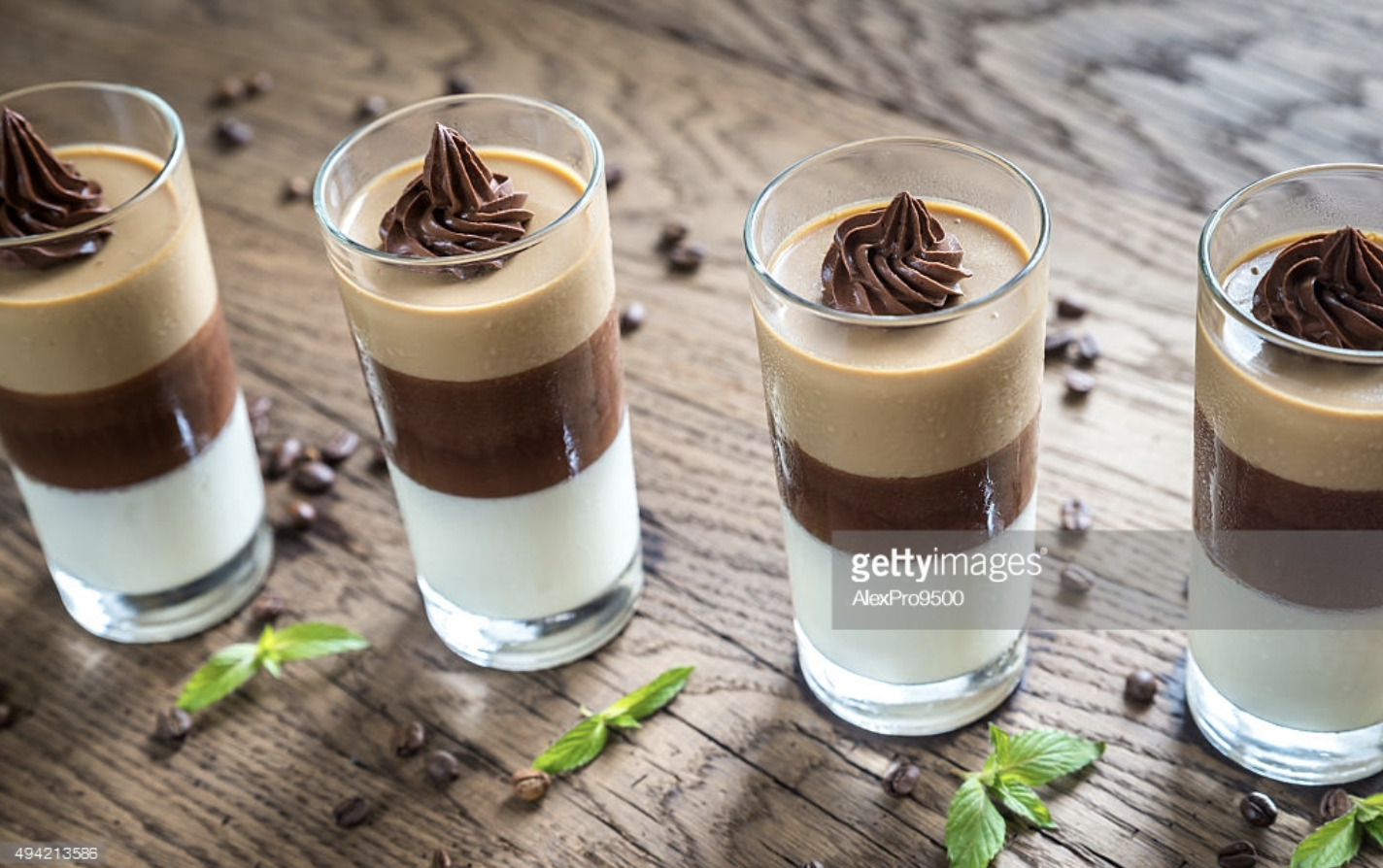 24 Dessert Shooters For Your Next Party
Want to offer your guests something sweet and perfectly portioned at the end of a filling meal? Dessert shooters just might fit the bill perfectly. They are just as portable and convenient as they are pleasing to the eye. Whether your party is large or small, your guests will be equally appreciative for these petite treats.
Cake Batter Cheesecake Dessert Shooters
Sugar Spun Run has taken this classic flavor to a whole new level with these cake batter cheesecake dessert shooters. We love the cherry on top, too. Perfect for birthday parties, try assembling these treats on a tiered cupcake tray.
Almond Cake Trifle Shooters
The English dessert everyone loves with a fun twist. Chocolate + Connie has created an elegant dessert that is sure to impress and satisfy. We wish that the layers would never come to an end.
Rainbow Mousse Shooters
Is there anything not to love about Club Crafted's stunning shooters? Your guests, kids and adults alike, will love seeing all of the colorful layers through the glass. Not only will they enhance the aesthetic of your party, but these white chocolate desserts are easy on your prep and cooking time too.
Mandarin Delight Dessert Shots
These super light and slightly sweet mandarin delight dessert shots from Holly's Cheat Day are the spring and summer time treat we've been dreaming of. Creamy and accented with citrus, they are reminiscent of the melty orange desserts we loved so much as kids, minus the sticky orange hands.
Turtle Cheesecake Shooters
Treat your guests to a delicious chocolate, caramel, creamy cheesecake combo. Miss Candiquik has made it even easier with this no bake, no measuring recipe. Want to add a pop of color to this delicious combo? Try these with a strawberry or raspberry on top.
Limoncello Mousse Shooters
The famous Italian aperitif makes an appearance in these delicious shooters. The Swearing Mom's Guide to Life's shooters stand alone. But these treats, photographed by Barron Norris, could also be a sweet ending to a classic cena italiana.
S'mores Cheesecake Dessert Shooters
This camping favorite has been elevated to new grounds. Sugar Spun Run has done it again with these adorable s'more shooters. All of your happy campers will surely be asking for s'more.
Raspberry Shooters
These raspberry shooters by Cooking on the Front Burner ooze elegance and a delicate simplicity. Creamy, fruity and refreshing, these shooters are perfect in the summer when berries are at their peak. Try them out for your next patio or garden party!
Salted Coffee and Kahlua Milkshake Shots
Similar to the mudslide, but so much tastier, Natalie Paramore has created this creamy, salty, booze-infused, coffee creation. Your friends will love these dessert shots! There are a variety of ways to serve this dessert, but our favorite is the shot glass with the salted rim, yum!
White Chocolate Champagne Cheesecake Shooters
The First Year Blog's white chocolate champagne cheesecake shooters really give you a reason to celebrate. You don't need to save these for a special occasion—they work with any party or theme. The sprinkles and chocolate encrusted cherries are a perfect topper to the creamy champagne base.
Berry Cheesecake Shooters with Pie Crumble
This delicious dessert features juicy berries, cool, smooth cheesecake and crispy pie crumbles for a great texture. The red, white and blue color scheme make it perfect for the Fourth of July, but we say why not be patriotic year round! Bonus! Cook. Craft. Love's recipe comes with instructions for the multifunctional pie crumble that you can use on other dishes for your party.
Shamrock Dessert Shooters
Just in time for St. Patty's Day, these shamrock dessert shooters are perfect for your party. Brownie Bite's treats are minty, fresh, sweet and light and sure to delight your guests' taste buds. Make them as pale green or as bright as you'd like. Or, try preparing them with a variance of color saturation for a beautiful ombre presentation.
Fluffer Nutter Butter Hot Cocoa Shooters
Lydi Out Loud has found a way to make us even more obsessed with hot chocolate. These delicious shooters have been spruced up with peanut butter and are perfect for a backyard fire pit or bonfire party. This recipe is cocktail and mocktail friendly, depending on your crowd, or what type of party you wish to throw.
Key Lime Pie Shooters
Zangy, tangy and sweet, these key lime pie cheesecake shooters are fluffier and lighter in color than a typical key lime pie. We love how they won't weigh your guests down after a big meal. This recipe comes from The Sugar Coated Cottage and they recommend that the shooters be chilled for three hours before serving, super refreshing!
Pumpkin Pie Shooters
Tatyana's Everyday Food has created a super fun way to serve pumpkin pie. Her video tutorial makes it very easy to follow the recipe, too. Some people think that pumpkin is strictly an autumn-time treat, but we say life is short and if you love pumpkin, enjoy it year round! Or pin this to your fall inspiration board if you really want to wait.
Vegan Pumpkin Pie Dessert Shooters
If you or your guests are vegan, pumpkin pie enthusiasts or both, then you are in luck. Love Me, Feed Me has created dessert shooters to satisfy vegans and non-vegans alike. Again, perfect for the year round PSL lover or for a fabulous fall soiree.
Banana Cream Pie Dessert Shooters
The banana cream pie is a perfect flavor combination for a dessert shooter. We love how Mama's Gotta Bake has crafted these dessert shooters so elegantly. You get the satisfaction of this rich dessert without the guilt of eating too many slices of pie. Sign us up!
Cherry Almond Smoothie Shooters
Healthy and beautiful, these smoothie shooters from Garnish With Lemon are sure to please the health conscious friends on your guest list. We think they would work perfectly for a brunch, as they are a perfect breakfast/lunch crossover dessert. Whoever said that healthy food couldn't be delicious, never tried these.
Frozen Grasshopper Shooters
The First Taste's frozen grasshopper shooters are a perfect alcoholic addition to your St. Patty's Day bash. They are super easy, sweet and fun too. Thicker than the typical grasshopper, these boast a cool and creamy milkshake-like consistency. So good you'll want to keep 'em coming, just remember to pace yourself!
Peanut Butter Pie Shooters
Peanut butter and chocolate are a match made in heaven and Pinch of Yum created a perfect balance of the two with these delicious dessert shooters. The cups create the ideal portion for this rich dessert. Smooth peanut butter pie filling complimented and contrasted by crunchy bits of cookie, need we say more?
Purple Sweet Potato Mousse Shooters
These purple sweet potato mousse dessert shooters by Craving Nature are no-bake and hassle free. We are obsessed with the gorgeous purple hue and unique flavor profile. These are perfect for you if you are looking for something tasty and pretty that your guests have most likely never tried before!
Butterscotch Pudding Shooters
These butterscotch pudding dessert shooters are equal parts beautiful and delicious. Mama's Gotta Bake has included homemade pudding, cinnamon spice whipped cream and a gingersnap crumble in her rendition of this classic dessert. Be careful, because once your guests try this, regular pudding will never be enough.
Raspberry Panna Cotta Shooters
Cook. Craft. Love. has created a simple Italian-inspired dessert that is sure to impress your guests. A great feature about these shooters is that they can be topped with any preserves that you prefer to match the other food on your menu. The delicate balance of cream with fruit is simply belissima!
Irish Coffee Milkshake Shooters
These are the quintessential post-dinner treat. A three for one, Culinary Ginger's recipe combines coffee and alcohol with the sweet dessert qualities of a milkshake, and it is pure genius. After drinking these dessert shooters, your guests will be dreaming about your next dinner party.
We hope that you found the perfect dessert shooter for your next party! Let us know which one was your favorite in the comments below. And when you're pressed for time, these sweets can be delivered to your doorstep. They never fail to make your party to-do list lighter and your guests happier!