Pop Quiz: Modern Dessert History, Part 3
Labor Day has come and gone, so it's back to the books for students young and old. To show our school spirit we've created this short and sweet pop quiz series (we're such easy teachers; we'll give you an A just for trying). The subject is modern desserts. Here's the final question. No need to cheat. The answer's at the end of this post.
Question 3: What restaurant made dipping fruit in chocolate a popular U.S. trend?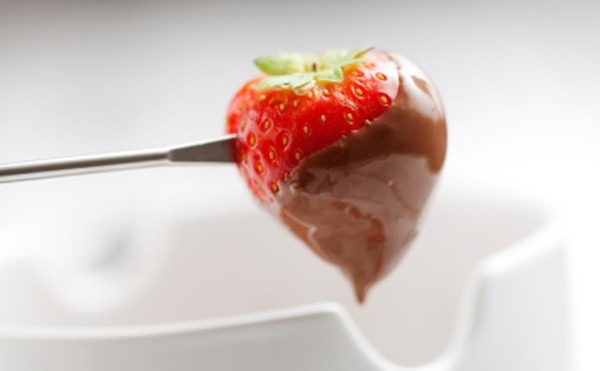 The Answer: Chalet Suisse
The first U.S. restaurant to serve up desserts dipped in chocolate fondue was Chalet Suisse in New York City. In the mid-1960s, Swiss-born chef and owner Konrad Egli was moving his restaurant to a new location, and brainstorming ways to revamp his Swiss menu. Meanwhile, just a few blocks stood the New York branch of the Swiss National Tourist Office, where one day Egli met a woman who was trying to create big American buzz around a new Swiss chocolate and nougat bar called Toblerone (you might have heard of it). This inspired Egli to create a sweet fondue that mixed the Toblerone, heavy cream and kirschwasser, or fruit brandy. To dip in the sweet concoction, each diner was given small puff pastries, fresh Mandarin orange slices, small meringues, cubes of white cake, fresh strawberries and slices of banana. One reviewer raved that the fondue "caught on like wildfire at the restaurant" and even though Chalet Suisse has long been closed, dessert fondue lives on!