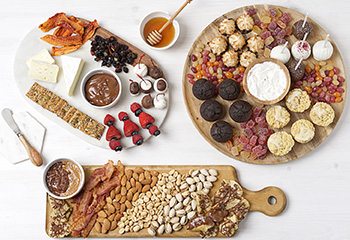 Dessert Charcuterie Board Ideas for Your Next Party
What do you do when you want to try multiple desserts, but only have room for one? You sample bites of a dessert charcuterie board! Dessert charcuterie boards are fun because they provide guests with a variety of ingredients and treats in small portions. This allows them to try a little bit of everything and craft a dessert that fits their tastes.
Charcuterie Board Recipes
Before you create your dessert charcuterie board, you need to choose a theme! Your favorite flavor combinations or a certain ingredient like a specific candy or fruit can help inspire your board's theme.
Once you've chosen a theme, consider what ingredients will add visual interest and texture to your dessert platter. If you're not sure what to include, these dessert charcuterie board recipes will give you a place to start!
Fruit Lover
Enjoy fresh fruit paired with creamy melted chocolate for a sweet surprise! An assortment of dried fruits and berry kabobs are perfect to dip into a melted mound of chocolate. A side of brie and fruit crackers are perfect for pairing with tangy and bold fruit flavors. Add in a handful of hand-dipped cherries to top off this candied board.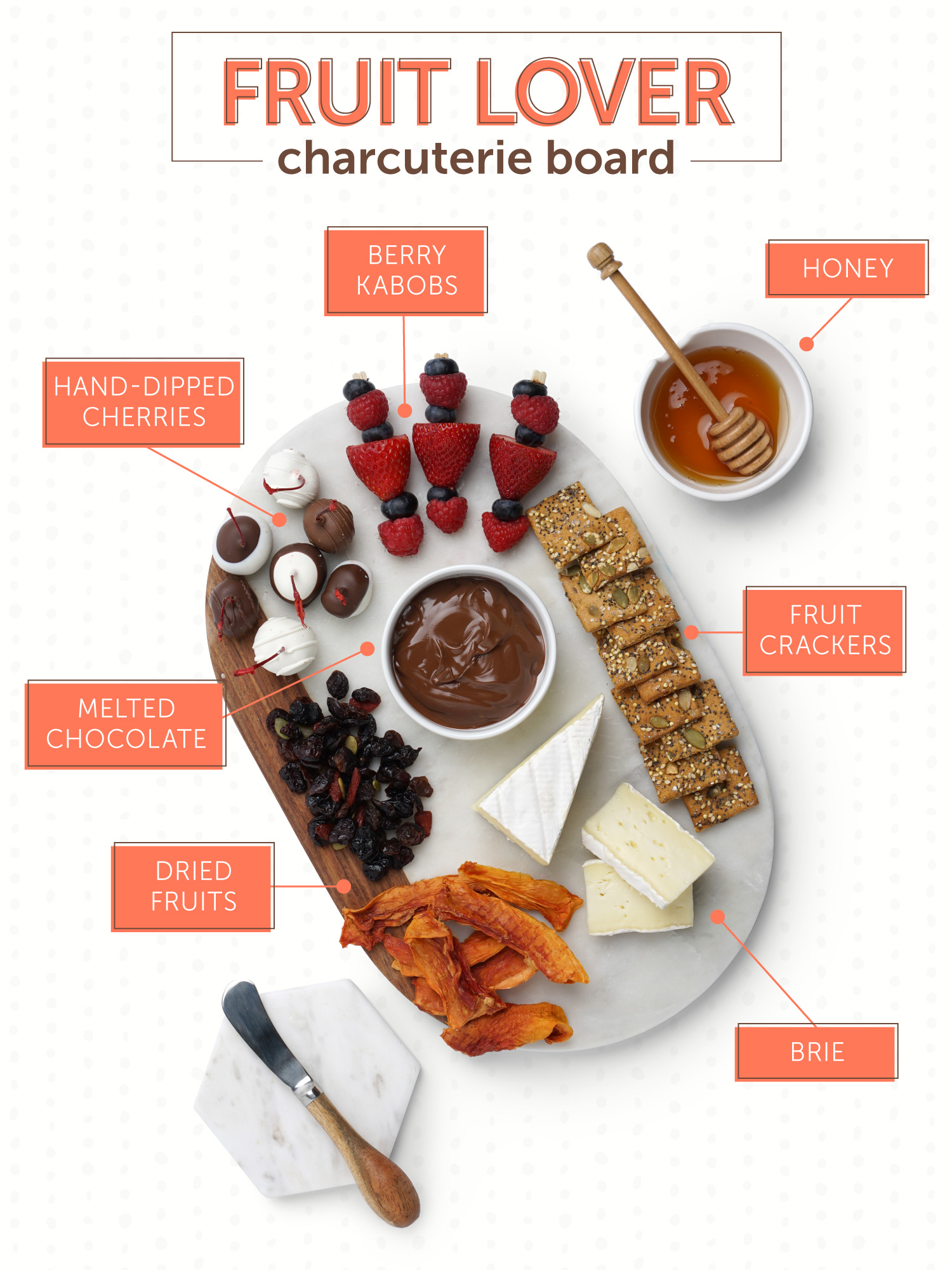 Sweet and Salty
Satisfy both of your cravings at the same time with this dessert charcuterie board. Compile savory snacks like crunchy bacon and salted nuts to pair with a mixed hazelnut and chocolate spread. Dark chocolate with sea salt and chocolate potato chips are also great options to wake up your tastebuds!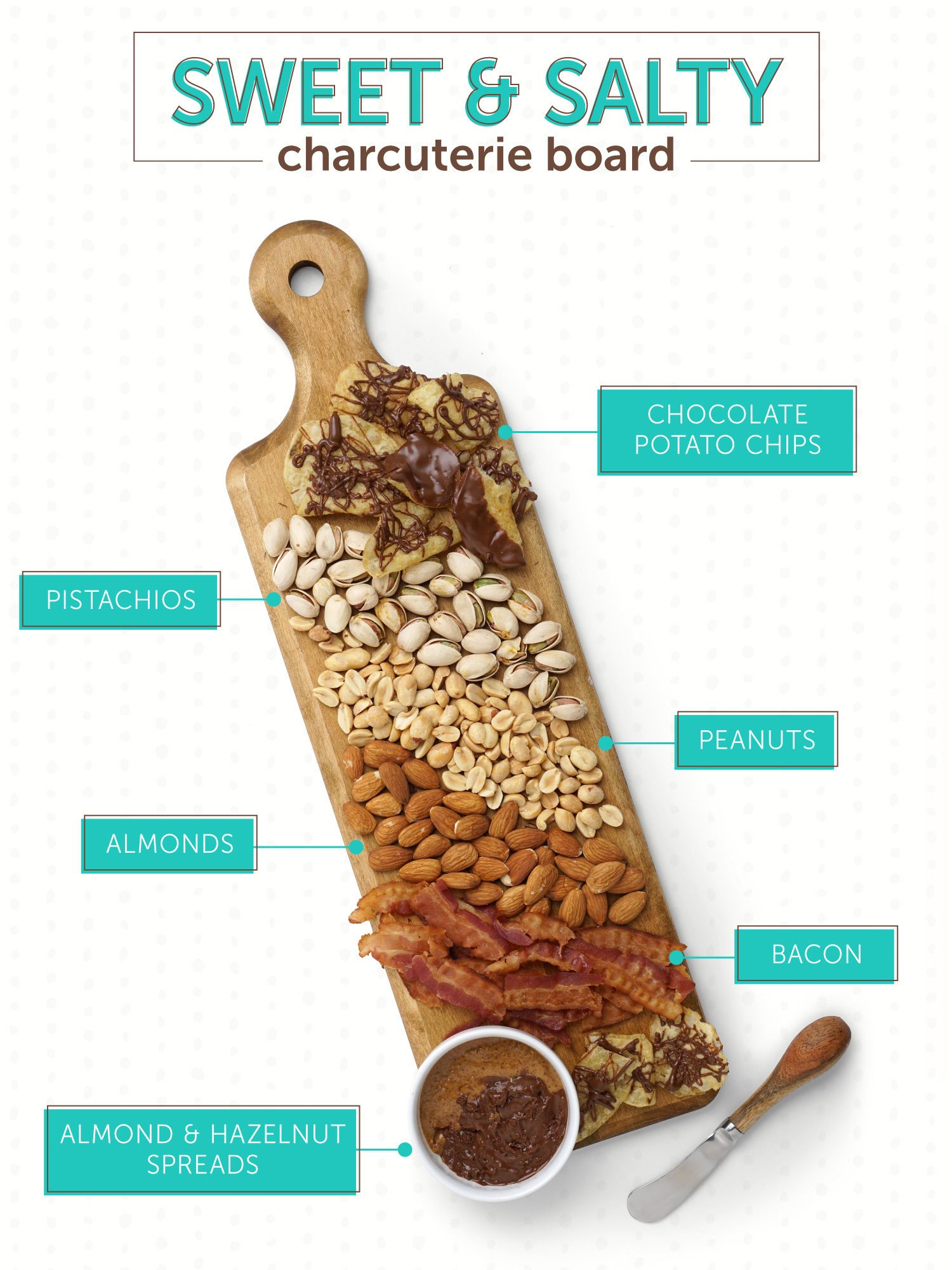 Candy Shop
If you're a fan of fluffy, frosted treats, then this board is for you! Perfect for a playful party, a combination of candy and baked goods is a great way to satisfy everyone's sweet tooth. Opt for easy-to-grab treats such as brownie bites, chocolate covered cake pops and mini cupcakes for guests to easily hold while they chat. A bowl of icing and assorted gummy candies are sweet additions to top off the dessert!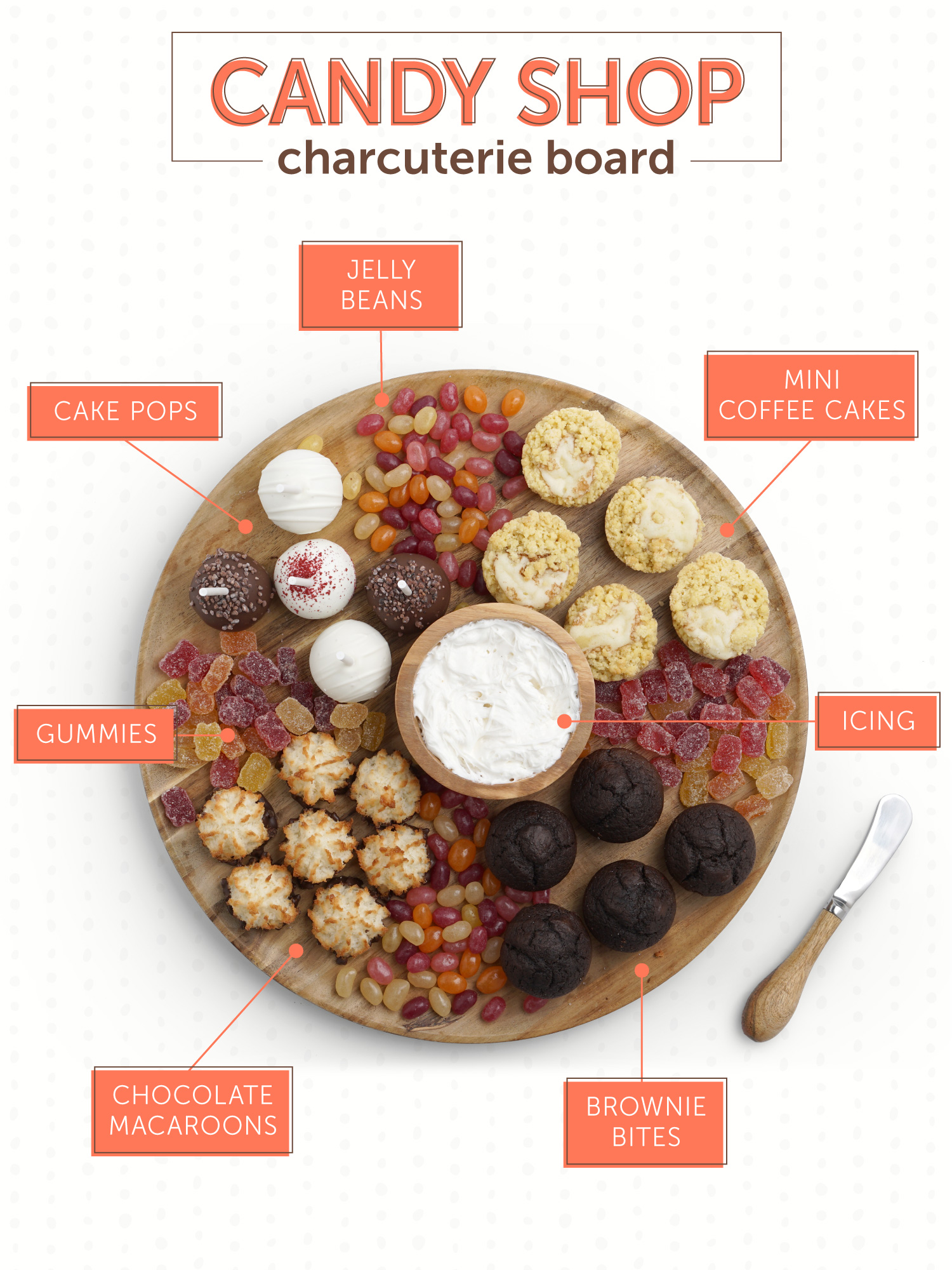 Charcuterie Board Styling Tips
Using the right size boards and utensils will make assembling and serving that much easier! Before you begin, choose the right size board to display your treats on. Place the necessary bowls and utensils on before adding food to assess how much space is left over and then add in your other ingredients around this. If space allows, place extra ingredients such as sauces and dips on the outside of the board. Last but not least, make sure to add in some color! A mix of bright shades will attract the eyes of your guests, but it will be the fun flavor combinations that keep them coming back!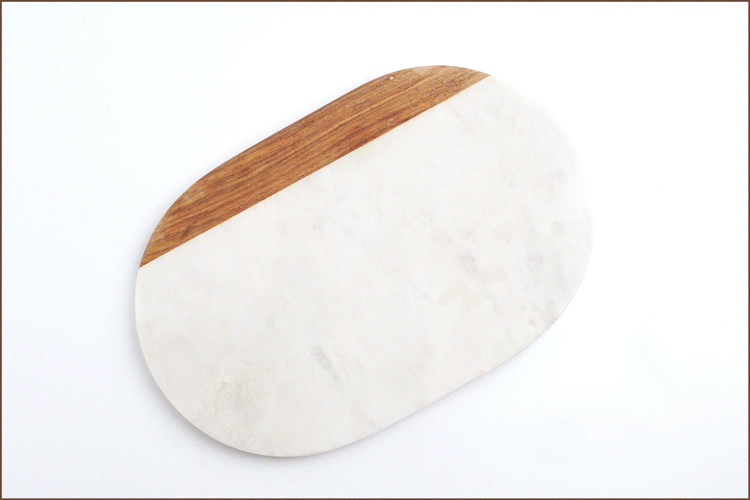 Place bowls on the board first

,

then build your other ingredients around them.

Add pops of color

to make your board more inviting.

Use the space around the board

for extra ingredients.

Use mini serving spoons

for perfect portions.
Charcuterie Board Ingredient Ideas
Choosing flavors that go well together is your first priority when creating a dessert charcuterie board. Your second is providing a variety of ingredient types that guests can both eat alone and combine to make a tasty, sweet creation.
There are five ingredient categories you want to consider when creating your dessert charcuterie board: breads, candies, fruits, nuts and cheeses. Frostings, dips and spreads are also an added bonus!

Not only is a dessert charcuterie board a yummy after-dinner treat, it's also great for a cocktail party or girls' night if you want something sweet and salty to snack on. If you're having a larger party, try creating two or three different types of dessert charcuterie boards. They're sure to impress your guests and make your party sweet as ever!