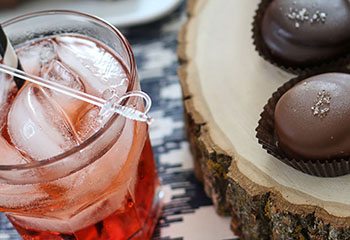 Cheers to Dad! Cinnamon Whisky Cocktail
While Fireball Cinnamon Whisky has been around since the '80s, lately it's been making a comeback. Known for its spicy cinnamon kick, similar to a red hot candy, it's the perfect drink to give Dad a taste of the past while still making him feel cool and hip.
And don't worry, this cocktail is so simple to make. All you need is just three ingredients and some ice.
Now, let's not forget a few treats for Dad, either. Chocolate is a must. Since you'll be busy shaking up cocktails, why not plan ahead and order some sweets. This year, I'm loving all things sweet and salty. Whether it's Handmade Caramels, Salted Caramel Chocolate Covered OREO® Cookies or Homemade Pretzel Bark, Dad is going to be in chocolate heaven with these treats.
Sounds like a pretty good plan, right? So go ahead and give Dad the day off and fill his plate (and drink glass) with all kinds of goodness. Let me show you how to make the cocktail.
Cinnamon Whisky Cocktail
Ingredients:
2 ounces Fireball Cinnamon Whisky
3 ounces nonalcoholic ginger beer (or ginger ale)
Splash of grenadine
Hot Tamales® candies for garnish
Directions:
In a short glass filled with ice, add the cinnamon whiskey, ginger beer and grenadine. Stir. Garnish with Hot Tamales skewered on a toothpick.
I hope you'll give this a try for Dad on Father's Day. If not then, whip one up for yourself. Trust me, this is a mighty fine libation! A big Happy Father's Day to all the dads out there.
Michael Wurm, Jr. is the blogger behind the widely popular lifestyle blog, Inspired by Charm, where he shares his love and tips for a decorated life. Whether it's ideas for easy decorating, a delicious recipe, entertaining inspiration, or a unique DIY project, his goal is to provide the tools and ideas for everyone to live a happy, colorful life.