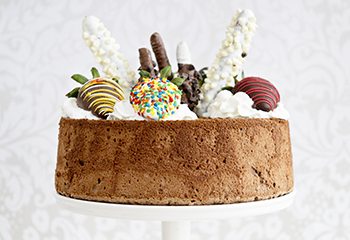 Recipe: Chocolate Angel Food Birthday Cake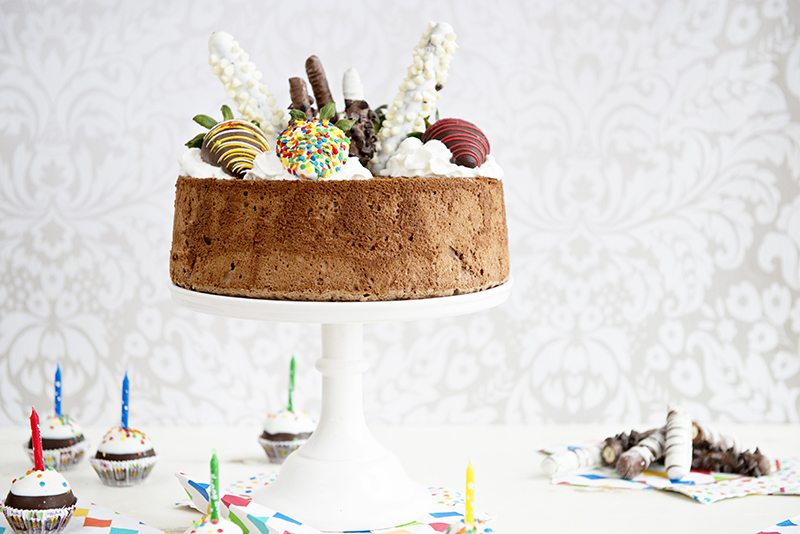 As a mom, I've happily taken on the part of carrying on birthday traditions with my own family. My kids love birthday week—who wouldn't? The only thing is, I'm not the best cake decorator in the world. I just don't have the same kind of talent my mom had when it comes to making specially decorated birthday cakes.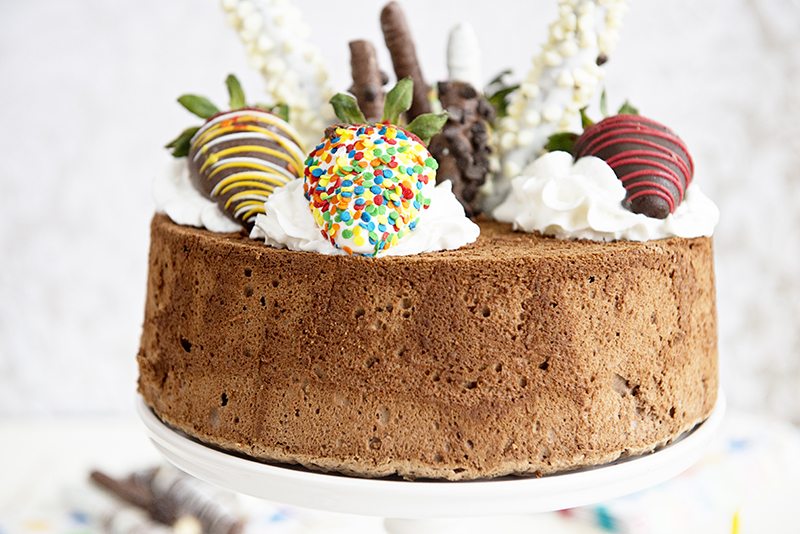 Luckily, every one of my family members' favorite cake is angel food cake. They love it simply made, with a little whipped cream and strawberries. I've always tried fancying it up some, but haven't had much luck, until now.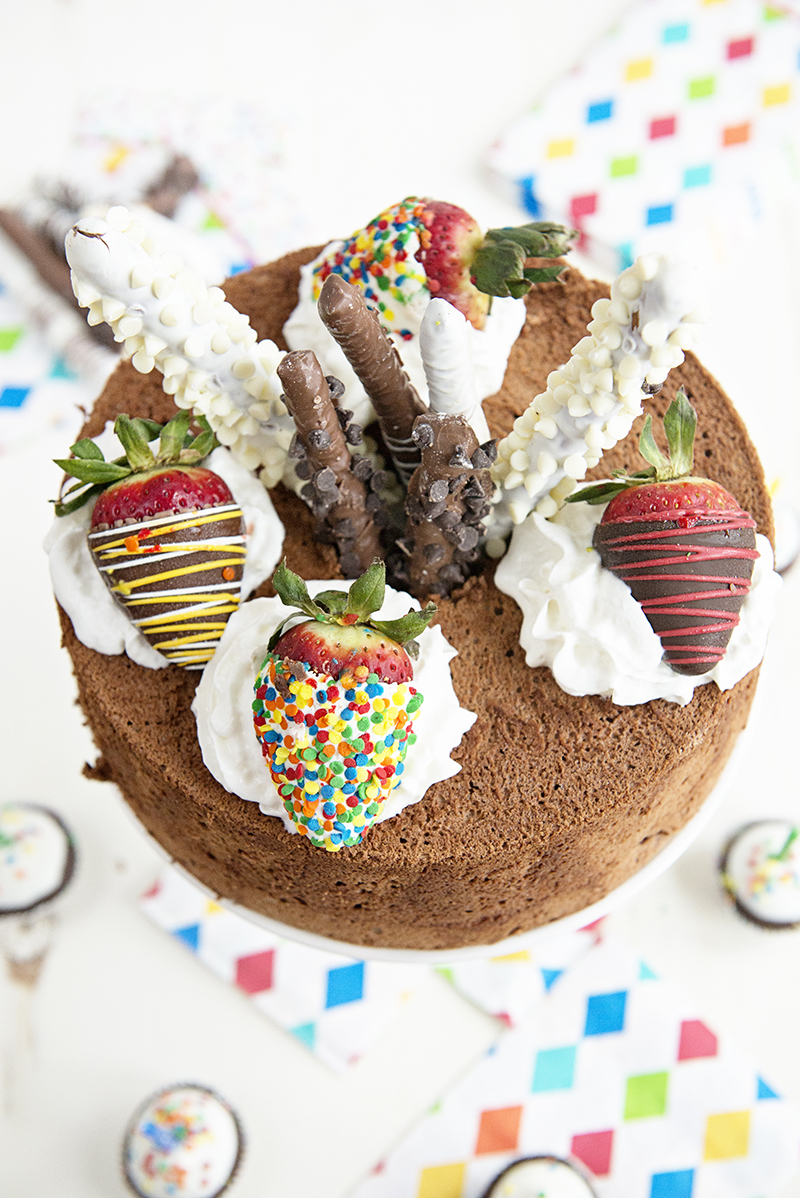 For my husband's recent birthday, he wanted angel food cake. Knowing how he loves chocolate, I decided to make a chocolate angel food cake. Then, I took some of my favorite products from Shari's Berries to fancy up his cake. Dipped Strawberries on top of pillows of whipped cream made a simple cake look absolutely stunning! I also added a few Chocolate Dipped Pretzels to the center for extra effect. To make it even more festive, I decorated the table with a few Birthday Brownie Pops. My finished cake was worthy of a birthday celebration as special as my husband.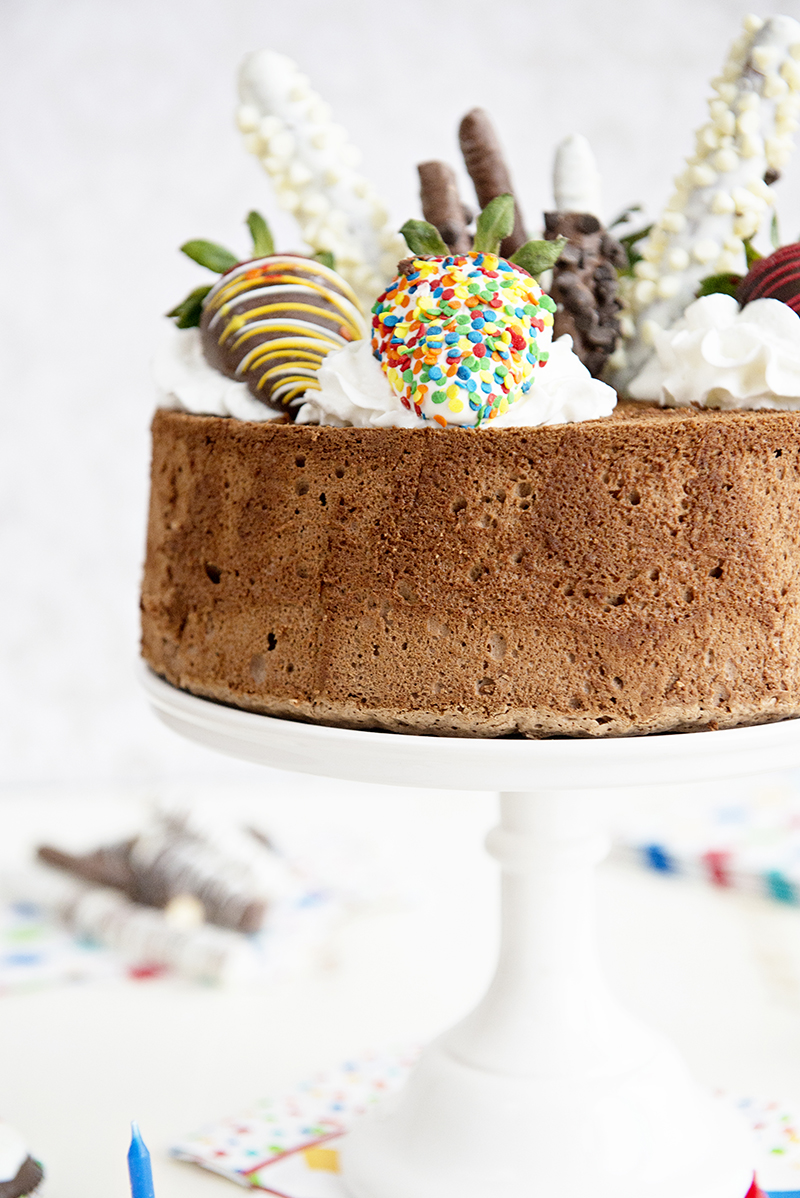 When you are decorating a birthday cake, think beyond rich buttercream frosting and look to other treats, like Shari's Berries Dipped Strawberries, for a beautiful presentation. It's definitely one way to make a birthday extra special.
Chocolate Angel Food Birthday Cake
Ingredients:
1 cup cake flour
3/4 cup plus 2 tablespoons sugar
¼ cup high-quality dutch cocoa
12 egg whites
1-1/2 teaspoon cream of tartar
1/4 teaspoon salt
3/4 cup sugar
2 teaspoons vanilla
Directions:
Preheat oven to 375°.
In a small bowl, whisk together cake flour, 3/4 cup sugar plus 2 tablespoons sugar and ¼ cup cocoa powder.
In a large mixing bowl, beat egg whites, cream of tartar and salt until foamy.
Add second amount of sugar, 2 tablespoons at a time, beating on high speed until meringue holds stiff peaks. Remove mixer bowl. Gently fold in vanilla.
Sprinkle flour/sugar mixture, 1/4 cup at a time, over meringue, folding (not mixing) in gently until flour mixture disappears.
Spoon batter into ungreased 10-inch tube pan. Gently pound the bottom of the pan on a hard surface (countertop) to remove air pockets.
Bake 30-35 minutes until top is browned and springs back when touched with finger. Invert pan over a glass long-neck bottle, like a ketchup bottle, until completely cool.
Take a knife and run it around the edge and center of the pan, gently removing cake. Invert onto a cake stand. Top with dipped treats.
Serve with whipped cream and strawberries, or powdered sugar.
Kristen Doyle is the author of the award-winning blog, Dine & Dish. Through the use of simple, family-friendly recipes, tempting food photography, compelling storytelling and lots of coffee, Kristen has created a space on the internet that feels like home. Pull up a chair and see what's on her menu today.