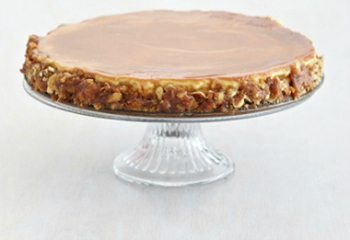 Recipe for Salted Caramel Pretzel Cheesecake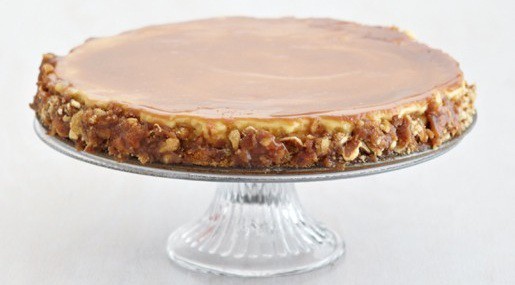 Wednesday is here. Again. And you know what that means? The only thing that could possibly make it feel like it's almost the weekend is this cheesecake recipe. Oh, man…is it good. And it's a surprisingly easy cheesecake recipe, just to make it even more tempting.
Ingredients
Crust
1/2 stick butter (melted)
3 tablespoons granulated sugar
Cheesecake
4 8 oz. packages of cream cheese
1 cup granulated sugar
1 large egg yolk
3 large eggs
2 teaspoons vanilla extract
Caramel
1 cup granulated sugar
2 tablespoons water
1/2 stick butter
1/2 cup heavy cream
A few pinches of sea salt
Instructions
For the Crust
Preheat your oven to 325°F and place a rack in the middle.
Butter the bottom and sides of a 9-inch spring form pan.
Mix together the caramel pretzel rods, butter and sugar in a bowl until combined.
Evenly press the mixture into the bottom and sides of the pan. We used the bottom of a drinking glass to evenly distribute the mixture.
For the cheesecake
Mix the cream cheese and sugar on medium speed until light and smooth. Add the yolk first and then the whole eggs one at a time. Add the vanilla extract and blend.
Pour the mixture into your prepared pan and bake for 40 minutes or until a toothpick inserted into the cake comes out clean. Turn the oven off and leave the door slightly open to allow the cheesecake to cool completely.
For the caramel
While the cheesecake is baking, stir together the sugar and water in a small saucepan over medium-high heat.
Bring it to a boil and let it boil until it turns amber in color, about 4 minutes. Immediately stir in the butter.
Remove from heat and add the cream. Set aside to cool to room temperature.
For the final presentation
Pour the caramel over the cooled cheesecake and sprinkle with sea salt.