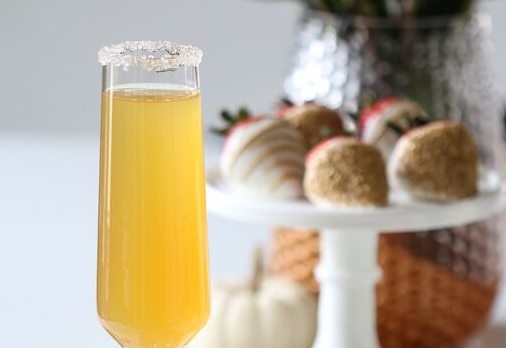 Fall Cocktail Recipe: Caramel Apple Sparkler
When September and October roll around, many of us think about ghosts, goblins, and all things pumpkin. After all, Halloween will soon be here. Today, however, I thought I'd switch gears and look at this time of year in a different way. I'm going to give you a few ideas for hosting a small but sophisticated celebration of fall. Plus, I'll be sharing my recipe for Caramel Apple Sparklers.
Just because it's fall doesn't mean every celebration needs to be black and orange. Take this little birthday celebration as an example. When it comes to any party, I always start with color as my inspiration. For this elegant occasion, I thought white would be a great starting point. Access to white pumpkins has grown in recent years, so using them will also allow me to incorporate a festive fall detail.
To complement the white, I added metallic accents. Not only are gold and copper perfect for fall, they also bring life and sparkle to the table.
When you have a few elements like these in place, it's much easier to pull the rest of the party together.
No matter what time of year, I adore the drama of fresh flowers. They instantly add natural beauty to a table. Here, I'm using white roses in a copper dipped glass vase.
To keep things light and simple, I decided to serve some hand-dipped champagne strawberries. The colors fit with my theme perfectly and the flavors will set off my cocktail wonderfully.
Speaking of cocktails, let's talk about these Caramel Apple Sparklers.
During the fall, I will use any excuse to incorporate apple cider in my recipes. For these Caramel Apple Sparkles, I've combined caramel vodka, apple cider, and sparkling white wine. This combination creates a delicious cocktail that's appropriate for this seasonal celebration.
Caramel Apple Sparklers
1 ounce caramel vodka
3 ounces apple cider
2 ounces sparkling wine / prosecco / champagne
Honey and coarse sugar for garnish
Dip the rim of a champagne flute into honey and then into coarse sugar to create a sparkling rim for your cocktail.
Then, to the glass, add the caramel vodka and apple cider. Top with sparkling wine.
Now you're ready to party!
That's all you need for a festive, fall celebration. I hope you found a few of my tips helpful. Enjoy the cocktail. Cheers!
Michael Wurm, Jr. is the blogger behind the widely popular lifestyle blog, Inspired by Charm, where he shares his love and tips for a decorated life. Whether it's ideas for easy decorating, a delicious recipe, entertaining inspiration, or a unique DIY project, his goal is to provide the tools and ideas for everyone to live a happy, colorful life.