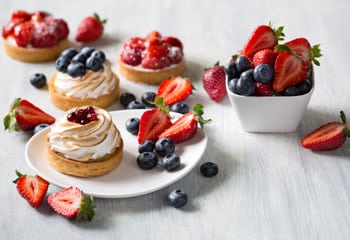 41 Bite-Size Desserts to Wow Your Guests
If you can't figure out what sweet addition to make for your next get-together, look no further. These 41 bite-size desserts are adorable and even more delicious. Each of these grab-and-go goodies is the perfect size to make your tastebuds scream when you need just a dose of something sweet. Below are fun, festive and familiar classics broken down into bite-size form.
1. Gluten-free berry cupcakes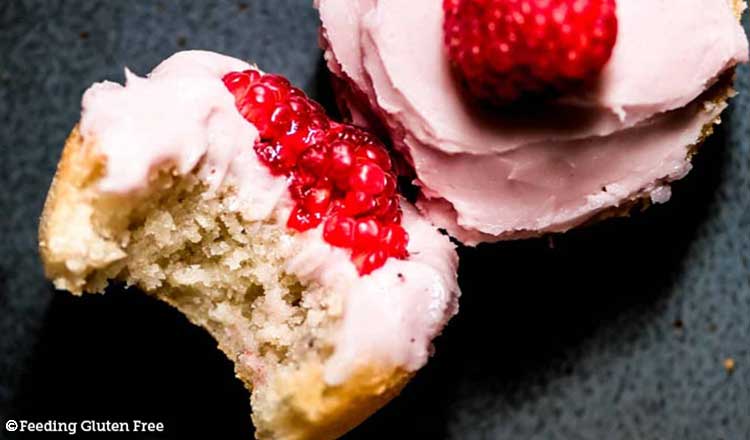 Beautiful in color and rich in flavor, these gluten-free cupcakes from Feeding Gluten Free are perfect for baby showers, weddings and more! Surprise natural ingredients like pumpkin puree give these cupcakes their smooth, rich texture. Top with fresh, seasonal fruit and you're ready for a celebrated, gluten-free dessert choice!
2. Churro bites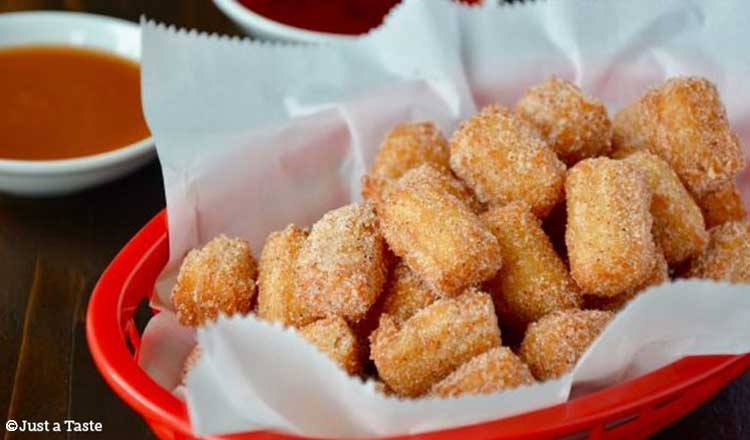 Churro fans, rejoice! These easy churro bites from Just a Taste take just five minutes to cook and come out. Roll them in cinnamon sugar and serve with your sauce of choice (our faves are chocolate and caramel!) for a divine tasting dessert.
3. Strawberry cheesecake ice cream bites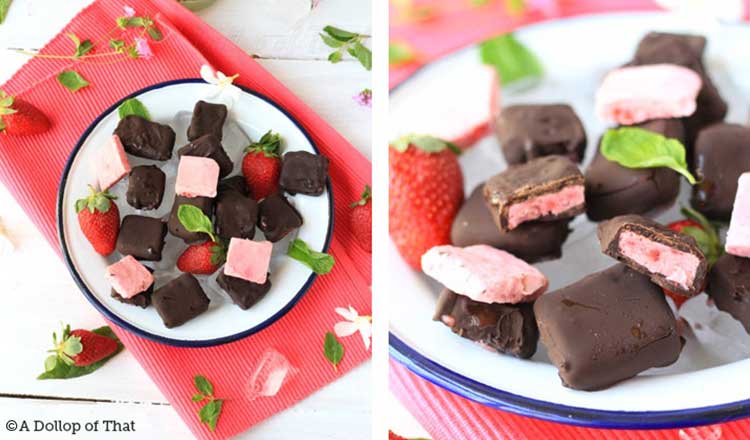 You can never go wrong with cheesecake, and this dessert from A Dollop of That! adds strawberries and ice cream into the mix. Topped with a chocolate coating, these bonbons create a tangy, tart and perfectly sweet masterpiece.
4. Mini lemon meringue pies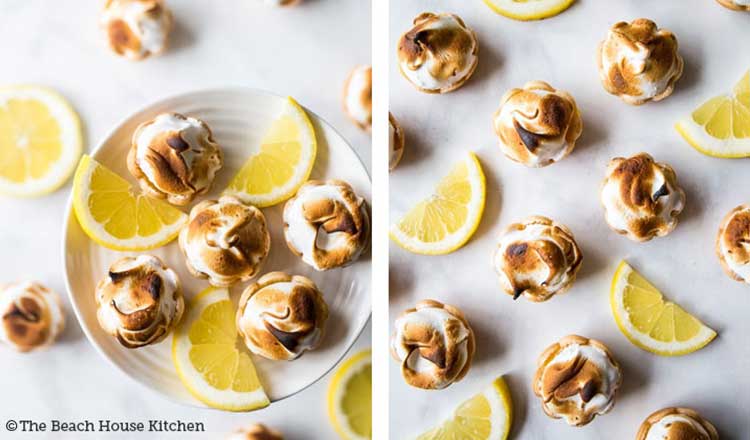 These lemon meringue pies from The Beach House Kitchen feature a rich lemon zest and beautifully topped meringue that's great for the holidays or any other festive get-together! They're quick and easy to make — you can even use a store-bought pie crust to cut down on prep time. For extra cuteness, go with a flower-shaped cookie cutter!
5. Keto chocolate muffins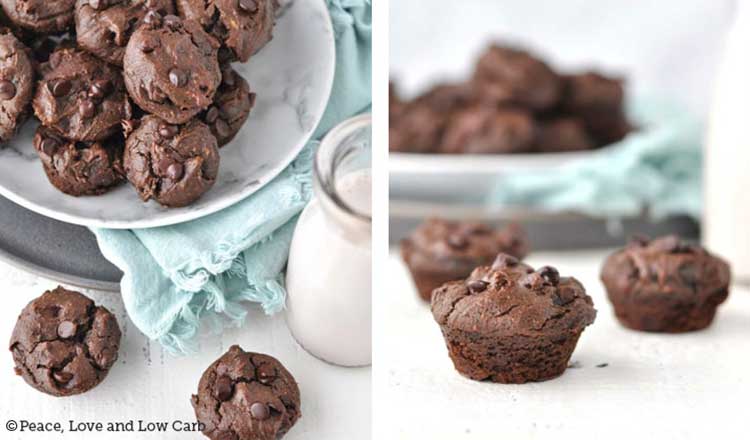 These keto chocolate muffins from Peace, Love and Low Carb are sure to curb any sugar craving. They get their decadence from ingredients like creamy almond butter, all while staying low-carb, gluten-free and dairy-free!
6. White chocolate raspberry brownie cups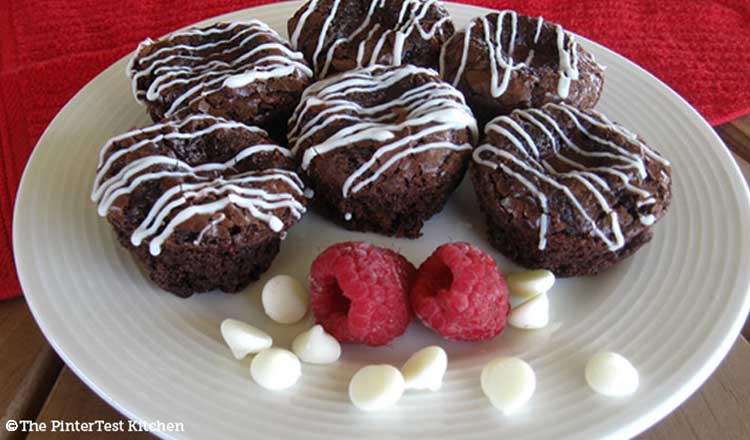 With only four ingredients, these white chocolate raspberry brownie cups from The PinterTest Kitchen are sure to be a massive hit. They're low-maintenance, yet decadent and moist! Drizzle or dip them in white chocolate to finish, and don't be afraid to get creative with sprinkles and fun designs!
7. Sea salt nut butter chocolates
There's really no better combination than nut butter and dark chocolate, which is why these sea salt nut butter chocolates from Artful Palate always do the trick! Any chocolate lover's dream, the flavors come together to create a salty, sweet, bite-size treat!
8. Chocolate pretzel bites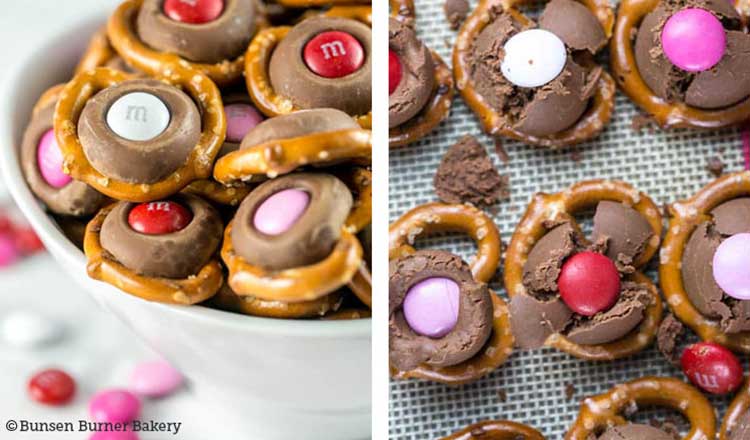 These chocolate pretzel bites from Bunsen Burner Bakery combine all your favorite chocolate candies into one bite-size treat. Great for Valentine's Day or a fun kids' snack, this dessert has a smooth texture and crunchy finish for the perfect pop of flavor!
9. Blueberry mini muffins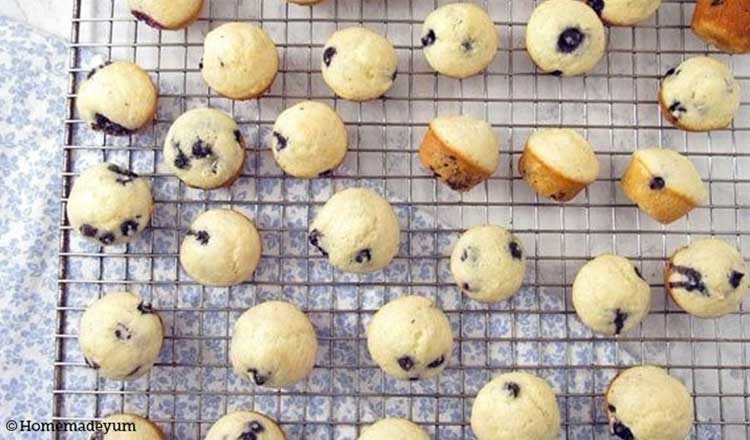 Who doesn't need a classic blueberry muffin from time to time? These homemade ones from Homemadeyum will surely satisfy your craving! Perfectly snack-sized and easy to make, the muffins will be tempting the entire family for seconds. You can even freeze them to enjoy in the future!
10. Frozen yogurt granola cups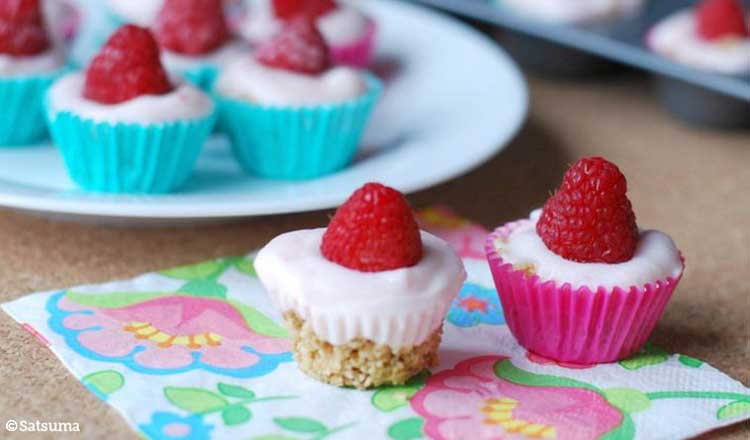 These frozen yogurt granola cups from Satsuma are the ideal refreshing treat for summer! Using everyone's favorite cereal, you can guarantee kids will devour and adults will sneak seconds. Freeze for an hour and then they're ready to enjoy!
11. Cranberry bakewell mini tarts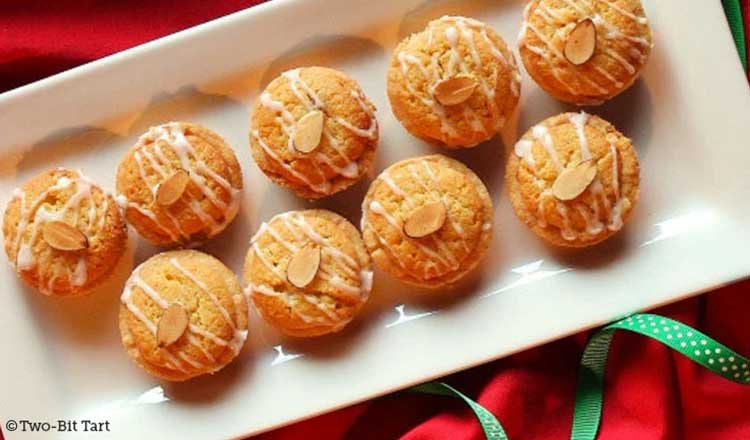 This British-inspired concoction from Two-Bit Tart tastes every bit as good as it looks, and certainly will not disappoint. With a shortbread crust, almond crème filling and sweet glaze overtop, these mini tarts will take the cake at your next gathering!
12. No-bake raspberry cheesecake bites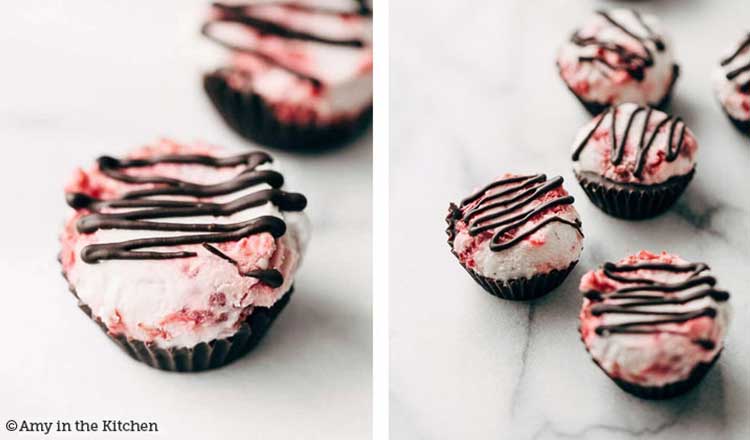 Not much pairs better than raspberries, chocolate and cream cheese! Perfect for any holiday party or get-together, these no-bake raspberry cheesecake bites from Amy in the Kitchen will delight every single taste bud (no fork or knife needed)!
13. Chocolate-coconut baskets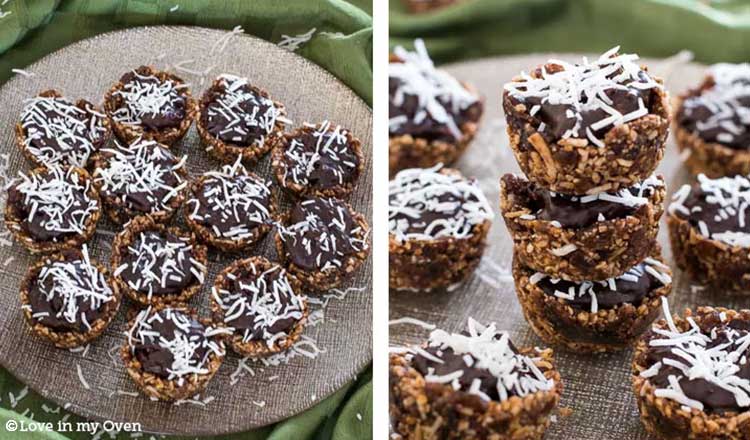 Straying away from well-known classics, Love in my Oven's innovative dessert features a drool-worthy creamy coconut and chocolate ganache filling. Medjool dates give it a caramel-like texture that adds to the yumminess of this bite-size dessert.
14. Cranberry apple apple pies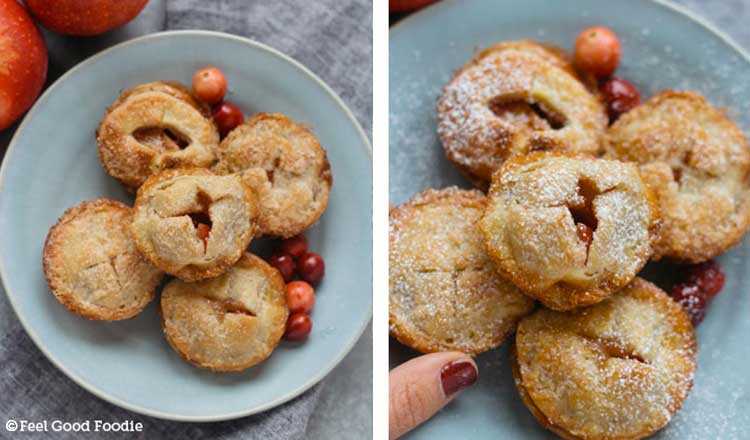 What's better than your classic apple pie? An apple pie with cranberries! Feel Good Foodie's cranberry mini apple pies might just be your new, go-to dessert. The tartness of the cranberries balances out the sweet cinnamon apples and rich pie crust perfectly, so don't hesitate to add this dessert to your queue!
15. Paleo bite-sized pumpkin pies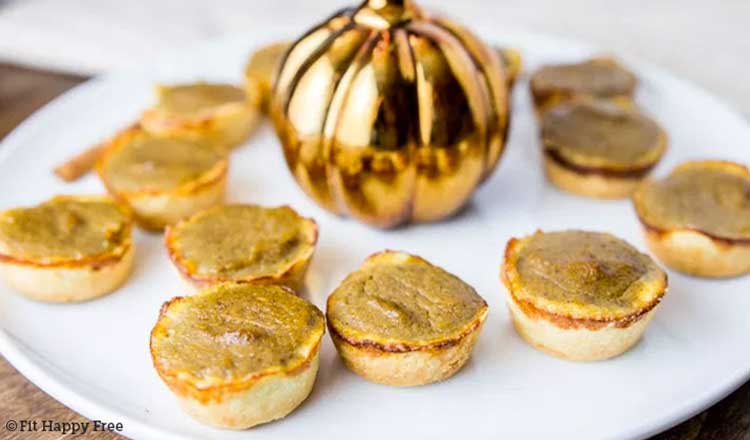 Pumpkin pie is always a crowd-pleaser, and this bite-sized adaptation from Fit Happy Free caters to your paleo friends as well! The recipe makes about two dozen, so get to baking and instantly become the hit at your next party!
16. Chocolate almond butter truffles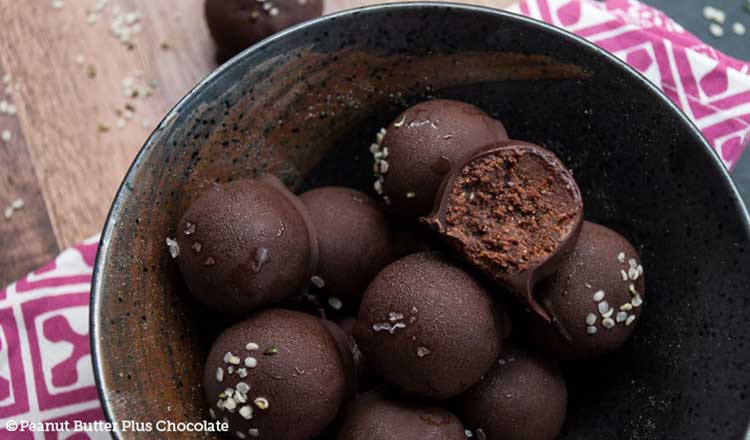 You can never go wrong with truffles — this version from Peanut Butter Plus Chocolate is the perfect go-to when your chocolate craving hits! Melt in your mouth delicious, these no-bake truffles use healthy ingredients like protein powder and agave to give a sweet, yet good-for-you taste.
17. Mini cinnamon rolls
Who doesn't crave cinnamon rolls from time to time? These mini versions from Belly Full are finger lickin' good! Easy to create, these cinnamon rolls feature a fluffy dough filled with butter, cinnamon, brown sugar and nuts (all the good stuff)! Plus, they're topped with a maple glaze to give it that extra special finish.
18. No-bake cookies and cream cheesecake bites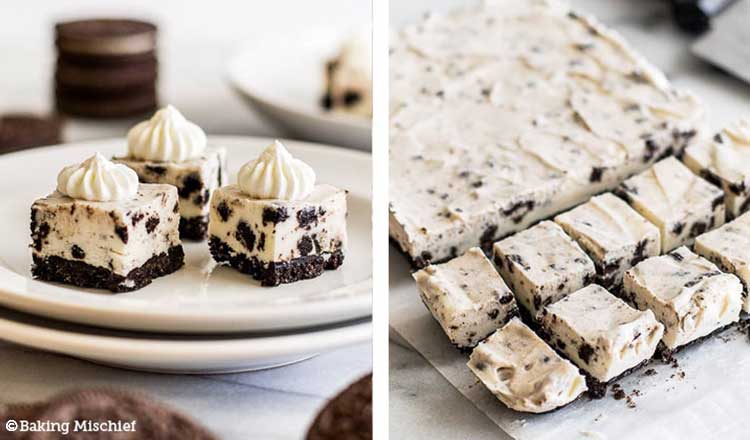 This recipe from Baking Mischief is perfect for all the cookies and cream enthusiasts out there. These cheesecake bites feature a cookie crumb base and cheesecake layer of whipped cream, cream cheese, vanilla and more cookie bits. Sounds like a dream right?
19. Mini ice cream cupcakes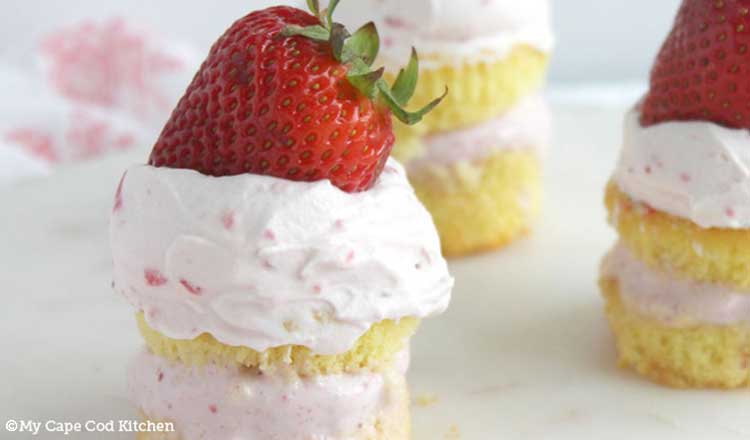 Just about anything ice cream related is a guaranteed win, especially in the summer heat! My Cape Cod Kitchen's mini vanilla cupcakes feature vanilla ice cream with freeze-dried strawberries, all topped with a vanilla yogurt whipped cream. Can you say yum?!
20. Mini guava cheesecakes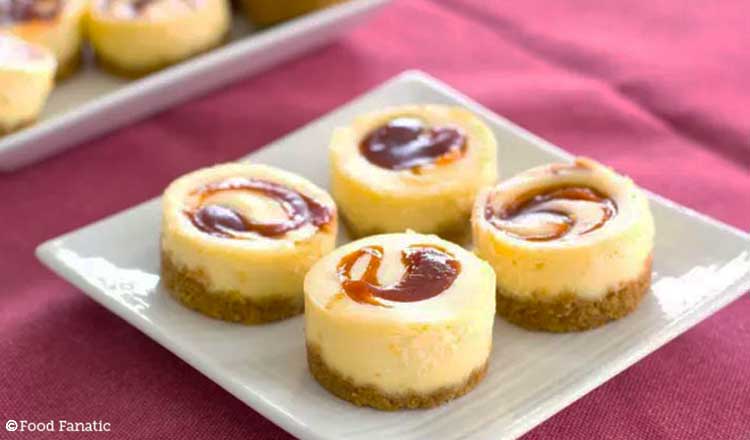 Add a Caribbean spin to your dessert recipe collection with this guava-infused cheesecake bites from Food Fanatic. The sweetness of the guava complements the tanginess of the cream cheese perfectly. Finished with a graham cracker crust, this mini dessert will have guests swooning!
21. Puff pastry cheesecake cups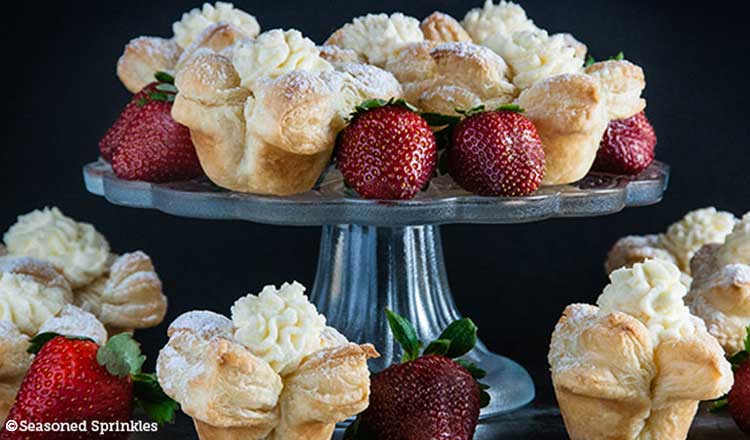 These beautiful flower-like cheesecake cups from Seasoned Sprinkles are the perfect pillowy treat for any occasion. With a creamy cheesecake filling topped with powdered sugar, this bite-sized dessert comes together in a cinch!
22. Mini heart pie pops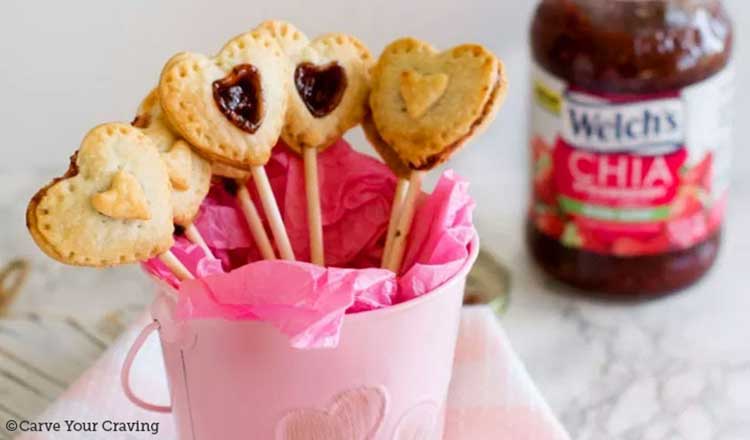 All you need are two simple ingredients to create these adorable heart-shaped pie pops from Carve Your Craving. Grab your favorite fruit spread (this recipe uses chia strawberry) and pie crust — it's that simple! A delicious and simple way to show your love in bite-sized form for Valentine's Day or any special occasion.
23. Chocolate covered cherry cheesecake bites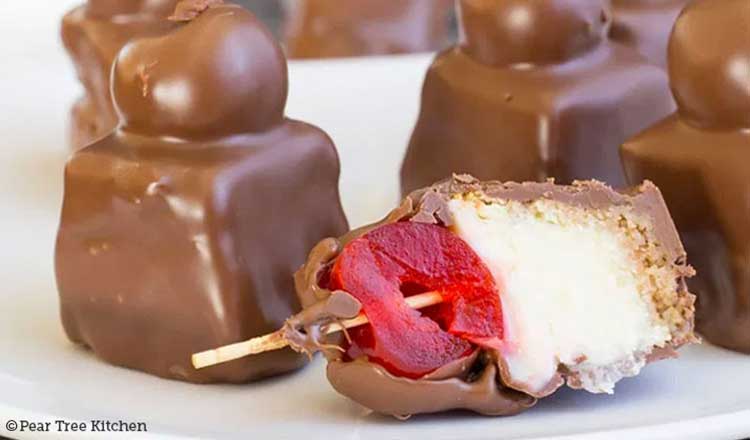 Chocolate covered anything is always a hit. Add cherry cheesecake into the mix, and you have a recipe crafted to perfection! Pear Tree Kitchen's chocolate covered cherry cheesecake bites use real maraschino cherries for a surprise delight when you bite into these adorable mini desserts!
24. Mini mint chocolate cheesecakes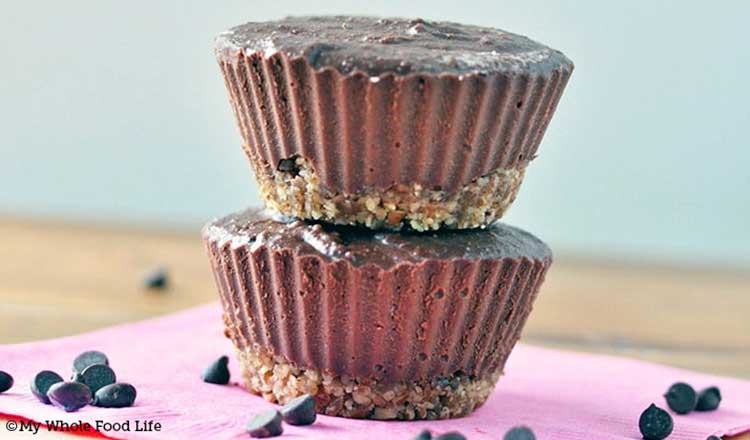 My Whole Food Life's mini mint chocolate cheesecakes are so delicious, you'd never guess they were vegan, gluten-free and paleo approved! Enjoy a explosion of chocolatey mint flavor in every last bite! Best of all, there's no cooking required, so they're perfect for any busy host.
25. Raspberry shortbread thumbprint cookies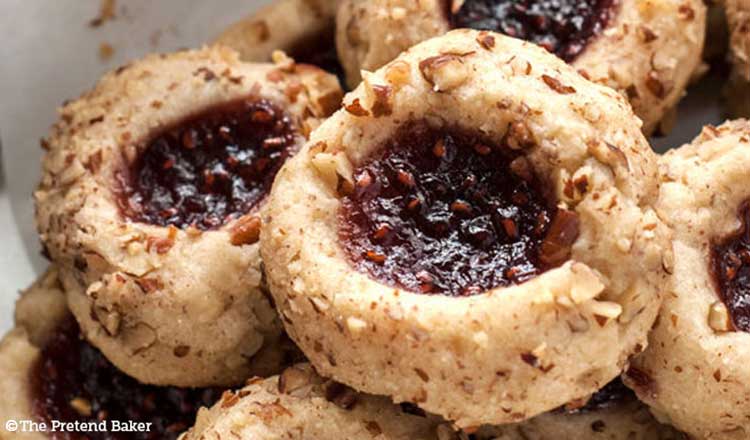 The Pretend Baker's raspberry shortbread thumbprint cookies scream Christmas morning. With a smooth, buttery flavor and toasty pecans on the outside for a nutty crunch, you won't be able to stop at one of these yummy cookies!
26. Bite-sized lemon tarts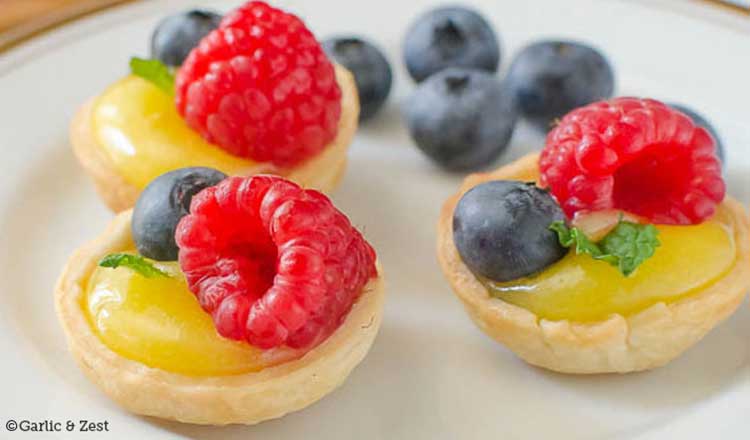 Garlic & Zest's bite-sized lemon tarts will be the new star of your gatherings! Filled with sweet lemon curd, topped with fresh berries, and then garnished with mint, every bite will give you a refreshing burst of flavor. Make any spread look more delectable instantly with these fun, fruit-filled dessert bites.
27. Monster cookie dough bites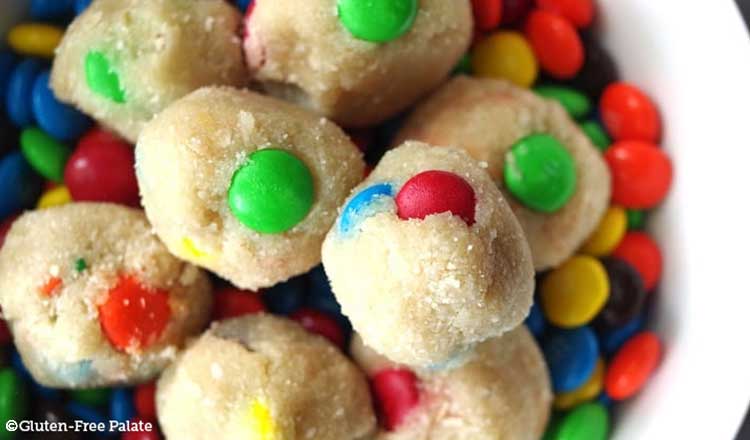 Who doesn't love sneaking bites of cookie dough batter when making a fresh batch? If that's you, Gluten-Free Palate's monster cookie dough bites are calling your name! Smooth and creamy with just the right touch of sweetness, this egg-free dessert option will be a huge family hit!
28. Black bean brownie truffles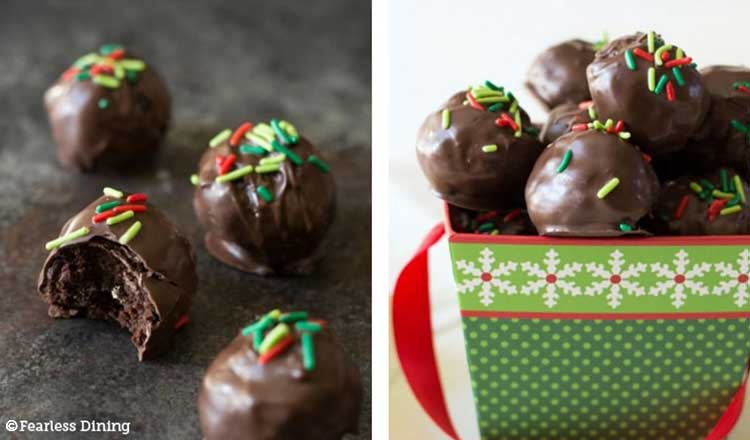 Have you ever baked with black beans? Well, now's your chance to try! Fearless Dining's black bean brownie truffles are so good, no one will ever guess their secret nutritious ingredient! Dipped in dark chocolate and covered with sprinkles, these bite-sized truffles are melt-in-your mouth delicious.
29. Little jam squares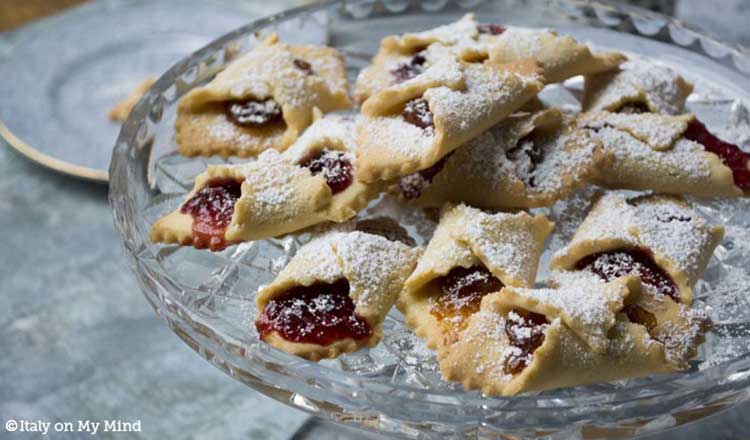 These tiny jam squares from Italy On My Mind are fruity, flaky and delicious! Inspired by an Italian pastry called fazzoletti con marmellata — which literally translates to "hankes with jam," this homemade dessert uses fluted-edge dough, a decadent jam and sweet powdered sugar to create a masterpiece.
30. Pretzel s'mores bites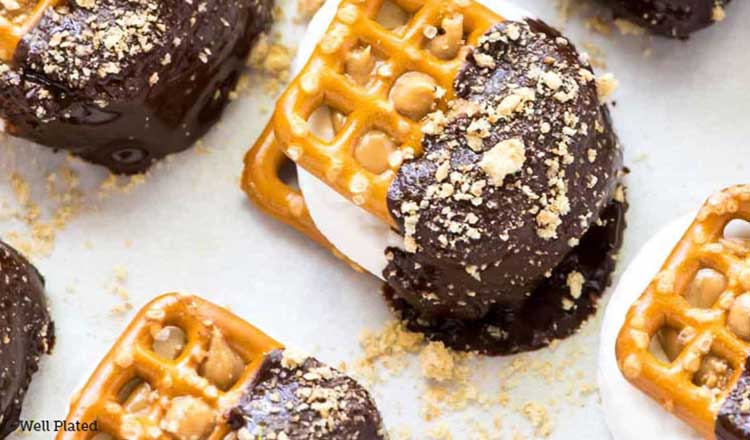 Obsessed with s'mores? Well Plated recreated this campfire favorite in bite-sized form! Pretzels, marshmallows, dark chocolate, graham crackers and peanut butter come together in this recipe to create a sweet and salty combo adults and kids alike will devour!
31. Blueberry meringue kisses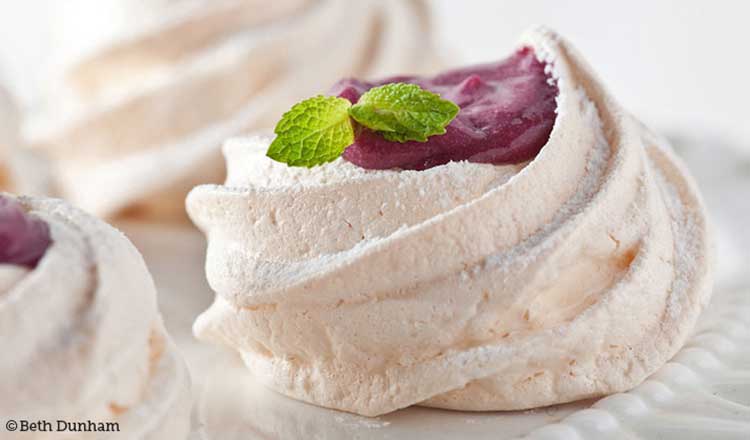 Beth Dunham's blueberry meringue kisses are perfectly crispy on the outside with a creamy blueberry curd filling on the inside. The tartness of the fruit makes for a lovely, elegant-looking dessert for your favorite occasion. Garnish each with a mint leaf for the perfect finishing touch!
32. Bite-sized raspberry popsicles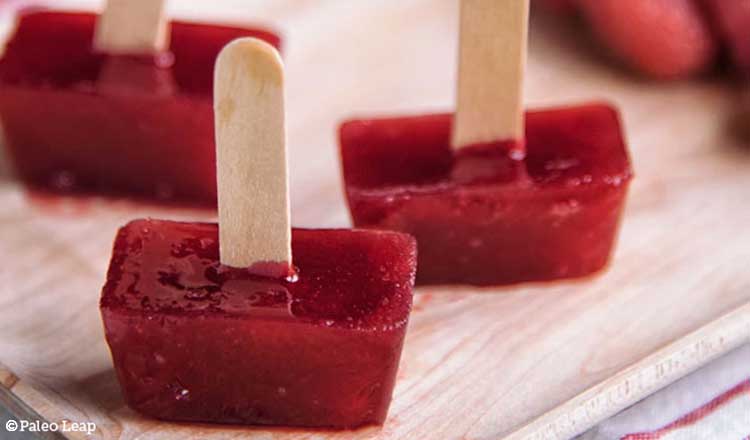 These popsicles are the perfect size to devour before they have a chance to melt! Paleo Leap's cool and refreshing treat uses fresh raspberries without any artificial sweeteners, so they're paleo-friendly too. The ideal naturally sweet snack for a hot summer day!
33. Chunky monkey bites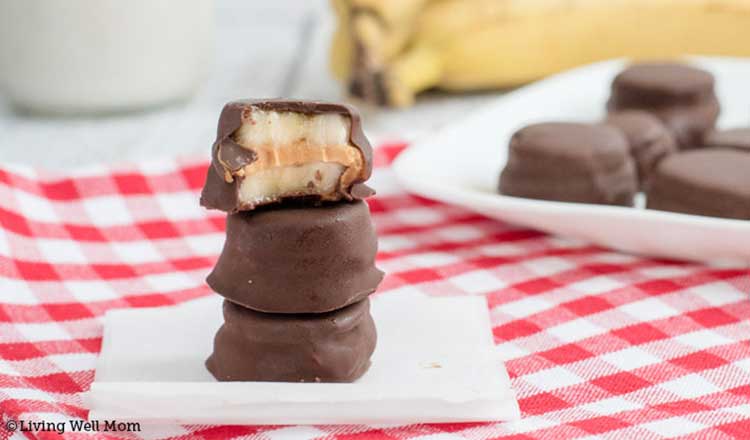 Who doesn't love chunky monkey? Living Well Mom's dessert plays on the classic with just three simple ingredients: bananas, peanut butter and chocolate. You can't go wrong with that combination! Careful, this bite-size dessert will disappear before you know it!
34. Chocolate cranberry baklava bites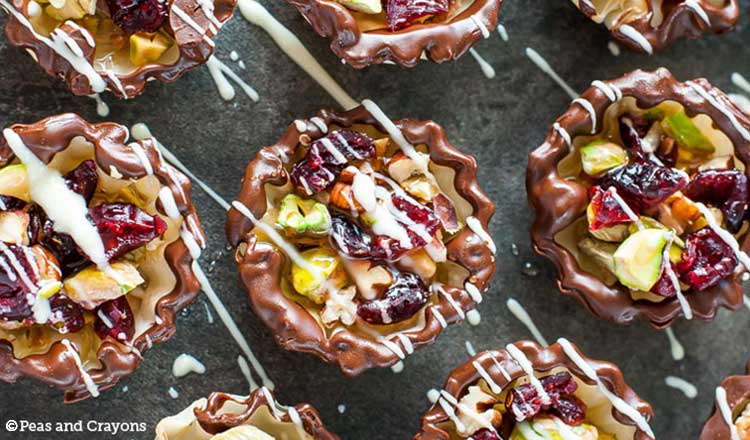 If you've never cooked baklava before, now is your chance to try it! Peas and Crayons' cranberry baklava bites are dipped in chocolate, drizzled in honey and filled with a sweet and salty combination of nuts and fruit. There's no baking required!
35. Mini banana pudding sandwiches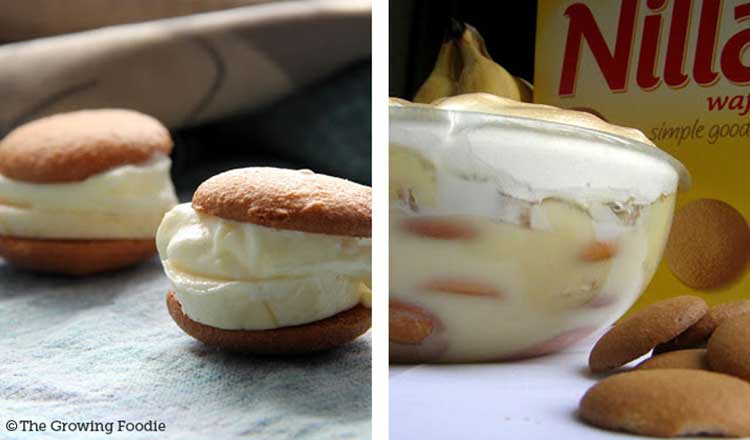 A fun twist on a classic, The Growing Foodie's mini banana pudding sandwiches feature a sweet vanilla pudding, vanilla wafers and fresh bananas. This decadent dessert has the perfect mix of textures to be an instant hit in the home, office or at your next party.
36. Butterless brownie bites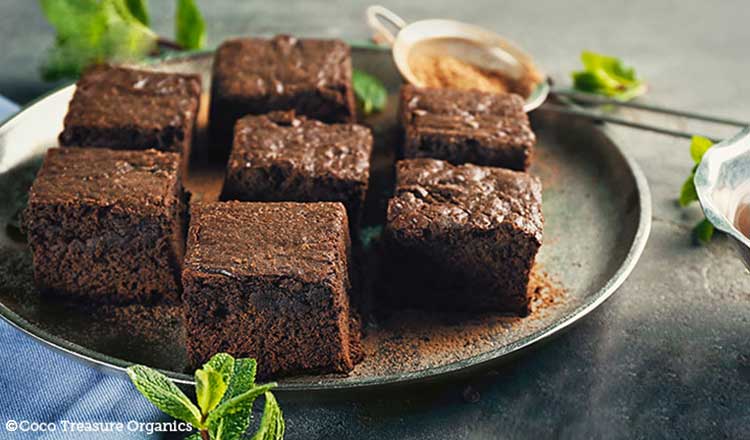 Coco Treasure Organics' butterless brownie bites will curb all your chocolate cravings. This tasty, vegan brownie recipe lends way for a fudgie, airy dessert with a decadence that will have you licking the batter bowl for more. Give these homemade brownies a try!
37. Danish aebleskiver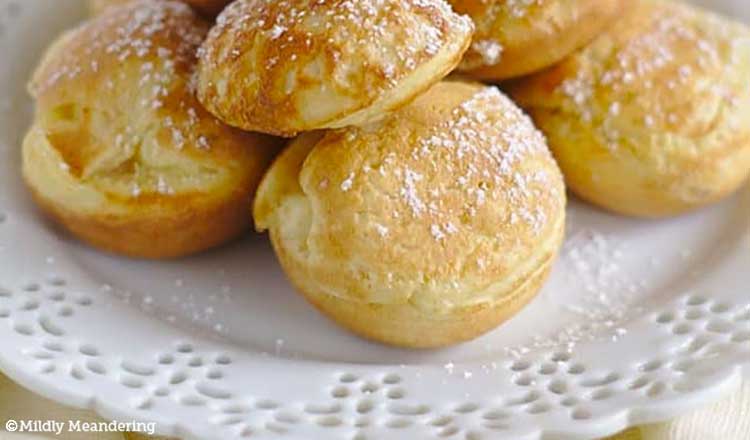 Who says you can't have dessert for breakfast? Aebleskiver is a delectable Danish breakfast in the form of a puffy, light pancake bite. It's a must-try, and Mildly Meandering's version will have you making the recipe over and over again. Try them with an apple filling, maple syrup, powdered sugar – the possibility are endless!
38. Apple pie energy bites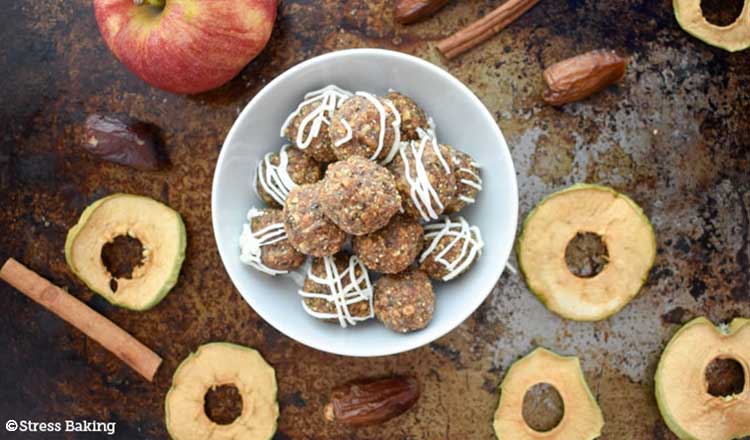 For a healthier take on the classic apple pie, Stress Baking's energy bites are raw, bite-sized and naturally sweet, but still give that gooey cinnamon sugar and warm apple flavoring we all crave. This recipe uses dried apples with a drizzle of white chocolate for a dessert that leaves the guilt behind!
39. Pumpkin pie bites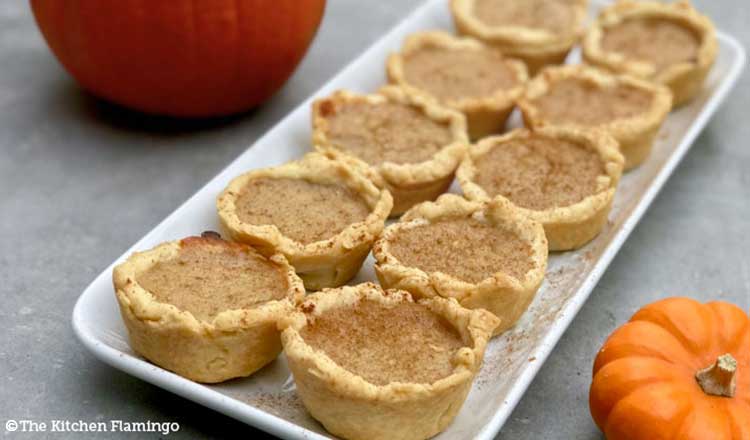 These adorable, mini pumpkin pies from The Kitchen Flamingo will satisfy your pumpkin craving all year round. Enjoy a spiced, pumpkin-flavored custard filling and a flaky crust that melts in your mouth! Warning: it's impossible to just have one.
40. Mini jam tarts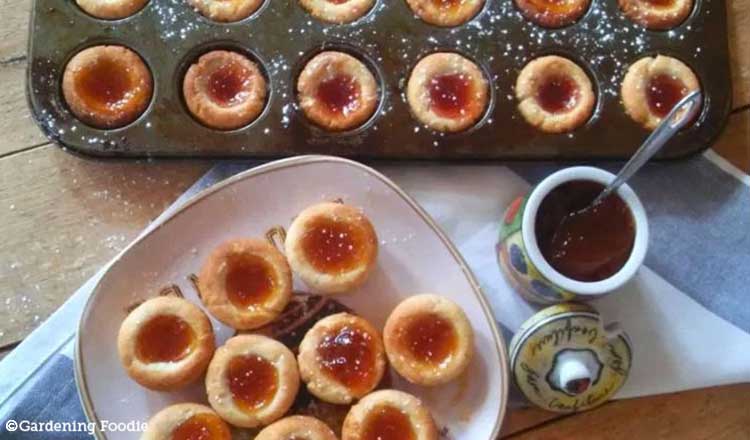 These quick and easy mini jam tarts from Gardening Foodie get their adorable shape from a mini muffin tin! With a smooth, apricot jam filling and golden brown pastry crust, they're sure to be a hit at your next party!
41. Chocolate peanut butter buckeyes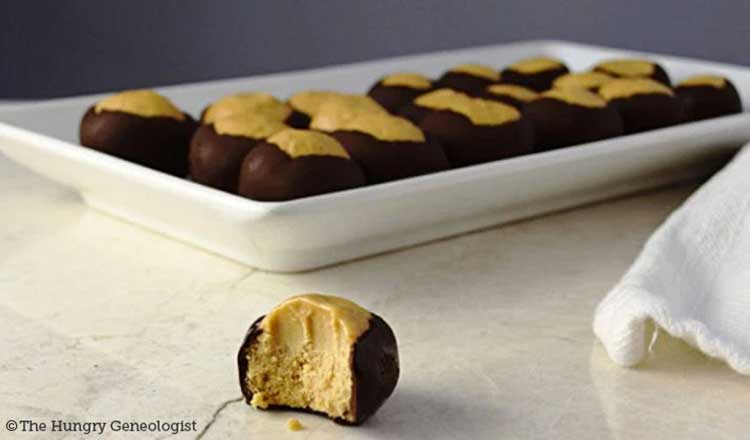 If you've never had a buckeye before, you're in for a treat! The Hungry Genealogist's recipe for this traditional Ohio snack combines peanut butter and chocolate to create a delicious, pop-in-your-mouth dessert. They're decadent, rich and always a crowd-pleaser!
Whether you're whipping up your favorite dessert for a baby shower or anniversary, or you just feel like baking for fun, bite-size desserts are the way to go! We've rounded up our favorites in the form of chocolate, cheesecake and fruity deliciousness as inspiration for your next recipe. We hope you have as much fun creating these teeny sweets as you do devouring them up after!